Today was the day to take on Runyon Canyon. After a quick breakfast consisting of a mixture of cornflakes, bran and granola with a banana on top, we were fired up and ready to go.
It was only a short 15 minute walk to the entrance of the hike and by that time we were already toasty warm. We chose a path and got going.
The walk was a mixture of tough hills with a beautiful views at each lookout  as a reward. While we didn't see any celebrities taking in their morning exercise, we did find another off the track path that we put on the list for tomorrow mornings adventure.
An hour of trekking around the hot deserty landscape, we make our way back to our room as next on the agenda was posting off one of our statues that we got at the Lakers game just the other night.
With package in hand, we walk another 15 minutes to the UPS Store to send off our little swinging Shaq statue to its new owner. Costing a little more than we would like, the little bugger was now off to Daniel in Downey, LA.
We make our way back to the room again to prepare for the days highlight, going to see a taping of Conan at Warner Bros Studios. Heres hoping he has some A listers as guests!
Off to Conan
Our Uber picks us up around the corner and we are off! Even though our ticket said Gate 8 and we put Gate 8 into the Uber drop off location, our muppet of a driver couldn't find it. So he drops us at the Warner Bros Tour building instead.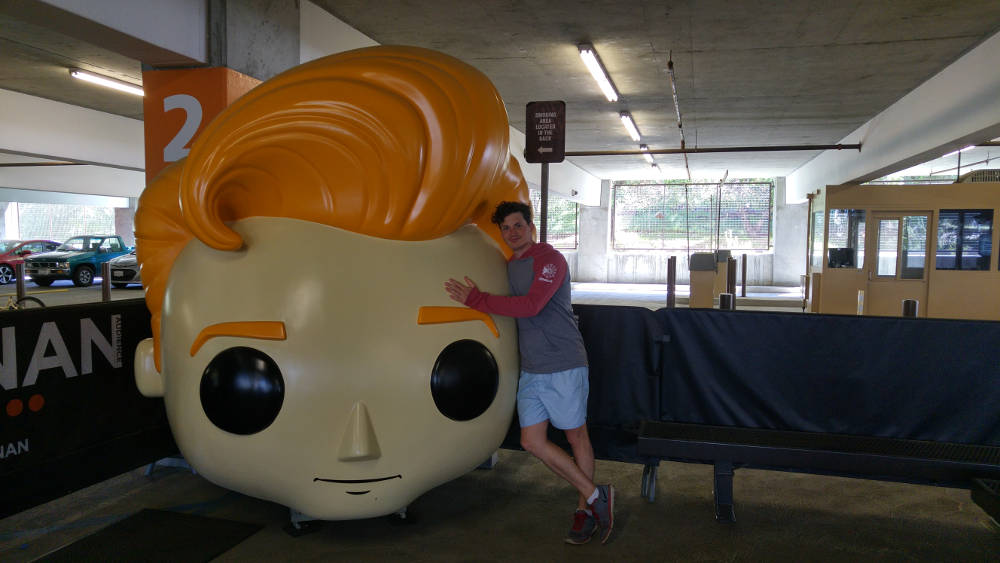 We go inside and surprise surprise, Gate 8 is, in fact, on the other side of the entire lot and walking there would take about 40 minutes. So we call up another Uber driver to take us the 6 minutes around the corner and voila, we are there!
Checking into the show took us a whole 2 minutes, we were given a number to secure our place in the queue and were told to be back in two hours. Sweet, no waiting around for hours in a queue, this way was much more time efficient.
So we wander off down the road in search for some lunch and spot an old friend The Smoke House restaurant.
As it turns out, the very first time we had ever gone to Warner Bros we came to this restaurant as it is one of George Clooney's favourite places to eat when he is on set.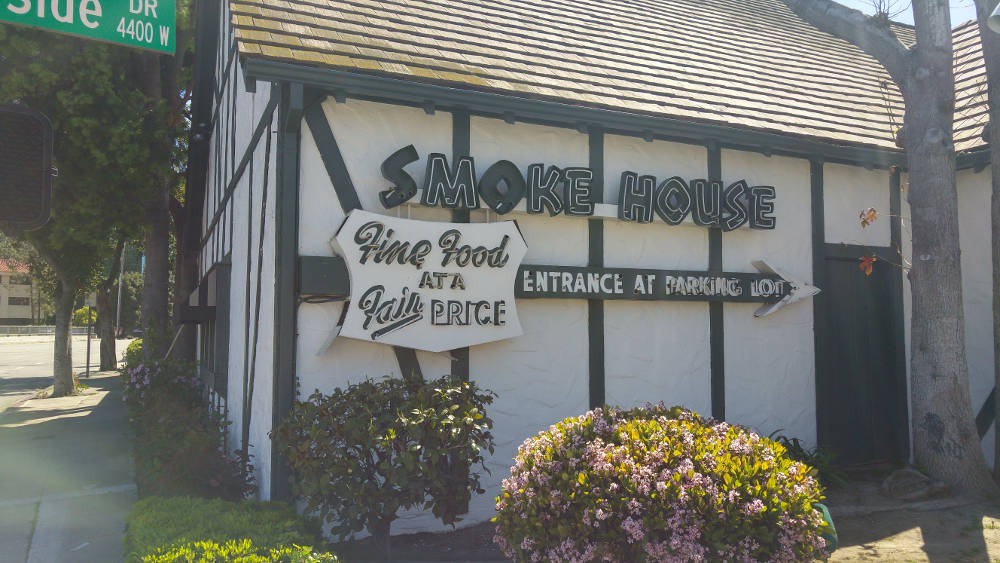 One veggie wrap (even though we ordered 2) and a side of fries down the hatch, we make our way back to the Gate 8 and await our turn to be ushered into the studio. A bit of a long walk through the huge lot, we finally make it to the set and are taken to our seats. With luck on our side we are taken to 2 seats in the very first row right in the center! Hell yeah!
After a quick audience pump up by a Michael Pope wannabe, Conan comes strolling out and the show is about to start. The guests on the show were Dax Shepard, Michael Pena and Kaitlin Olson. Not quite the A-Listers we were hoping for but, but it was still awesome to see.
There were laughs a plenty throughout the show and it was great to see how a talk show was run. No second takes, no mistakes and no script edits, the show was run like a well oiled machine and before we knew it it was over. A far cry to the long arduous hours we spend at tv shows back home where your hands throb from clapping so hard.
A great time was had, but it was time to move on. With Universal Studios city walk only a 5 minute drive away, we cant resist the pull and order up another Uber called Veronica. Poor old Veronica had been driving people around since 9am, it was now 6pm, what a job!
The citywalk is the part people can walk through before they enter the actual park, sort of like a big open air mall full of shops and restaurants. This is where we decide to have dinner. Not overly spoilt for choice, we settle on the Karl Strauss Brewing Company where Adam decides on a Red Trolley Ale.
With our stomachs full, this time from delicious and nutritious food, we head back out to wander around the citywalk. This was short lived as the wind was CRAZY! We make tracks for the metro station, literally prancing down a hill with the wind throwing dust and leaves into our faces.
Happy to be underground, we ride the one stop back to Hollywood and Highland, grab a coffee from Starbucks and head back to the safety of our little room for the night, listening to the wind howling behind the closed door.
Universal City Photos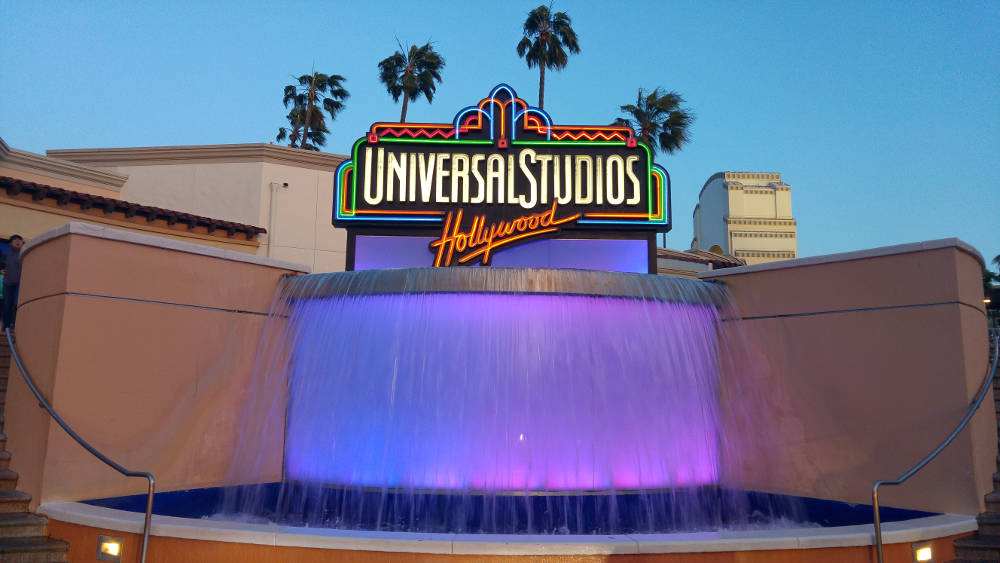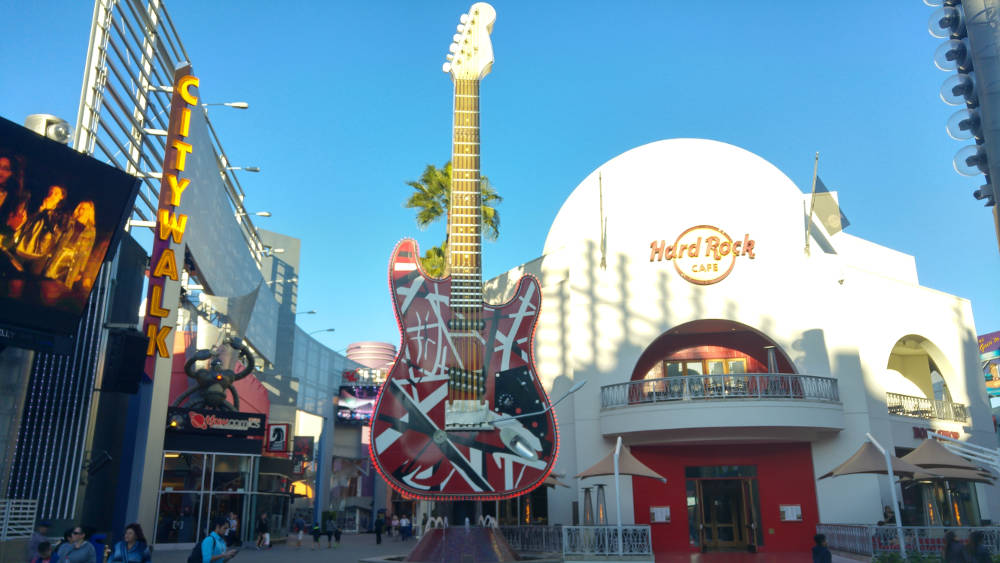 Where We Stayed in Hollywood