Today began with our phone alarm blaring, waking us up at about 9am. It was another nice sleep in, given we had a big day planned today. We were doing an NBA double header.
First things first, we made ourselves some breakfast with the groceries we bought yesterday; Cornflakes and berries. Then it was off for a wonder to Hollywood & Vine.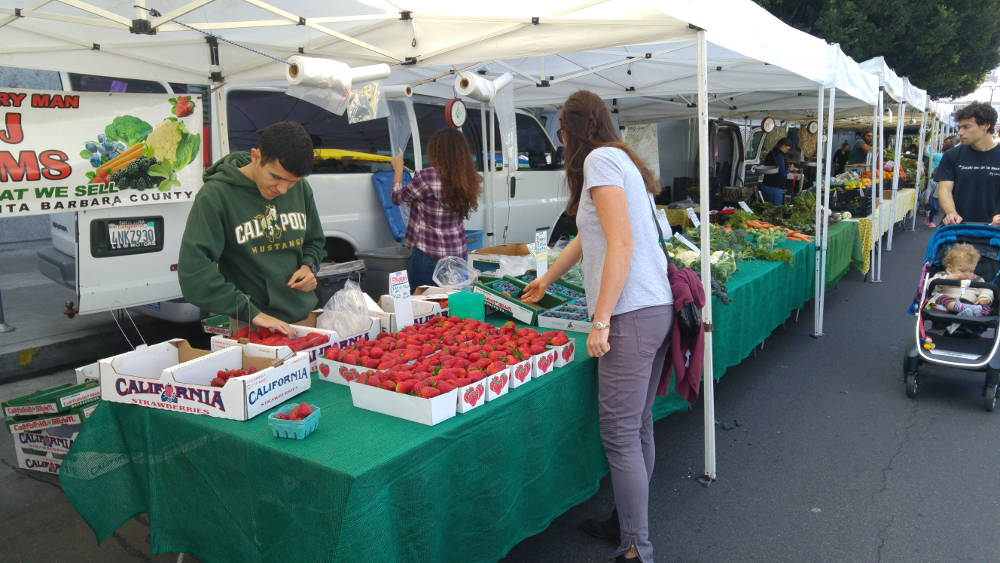 But before heading off, Linnie checked the eBay listing from the previous night. We decided to try and sell our little Shaq replica statues to see if we could recoup some money. To our surprise, it sold for $90US, or roughly $120AU. Bingo!!
We originally planned to walk Runyon Canyon, but decided on doing that on Monday instead given our NBA double header kicked off at 12:30pm. Instead, a Farmers Market at Hollywood & Vine was on the cards.
Los Angeles is well known for their Sunday markets and this particular one was massive. They had shut down several streets and filled them with craft and food stalls. A lot larger than we are used to at home.
After strolling around for a while, we bought ourselves some strawberries and blueberries. They were damn delicious, plus they were the biggest strawberries we'd ever seen. In fact, they were so big they barely fit in our hands!
Now it was time to head to Downtown Los Angeles and make our way to the Staples Center for our second dose of NBA action of this trip. We'd become pros at navigating the metro train system now and rocked up about 3-minutes before the next train arrived, which was quite handy.
The trains were quite busy and we had to stand, before we saw someone move from one of the eats, which we quickly snapped up. Within 5 seconds of sitting down we realised why the previous guy moved, as the man in front stuck of dog shit. About 5 seconds later we were back standing where we originally were.
On the way to Staples Center we took a quick stop at Starbucks and bought our regular order; Adam a grande cappuccino, Linnie an iced water. Now it was time for our NBA double header!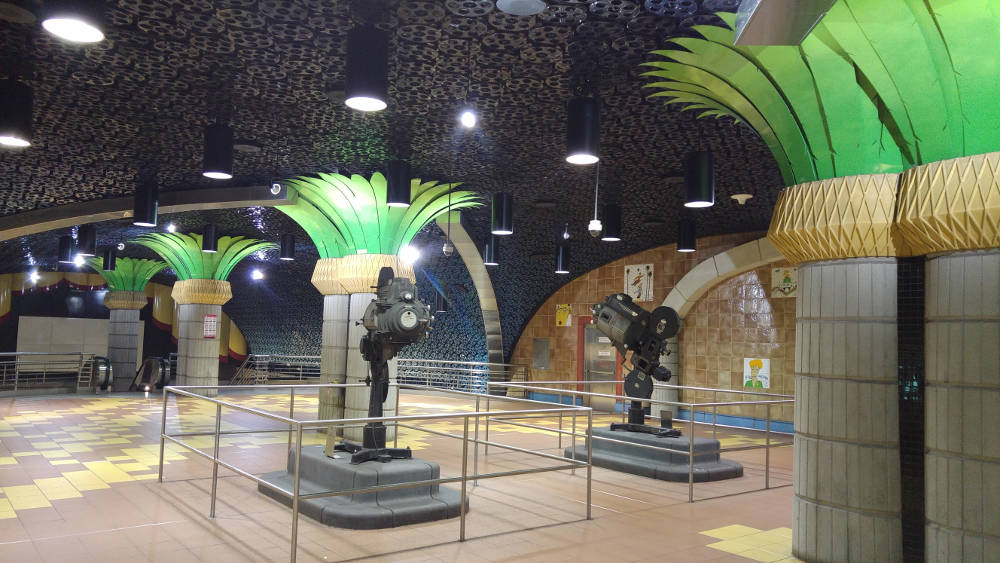 Game 1: LA Clippers vs Sacramento Kings
The first game on the agenda was the visiting Sacramento Kings taking on the Los Angeles Clippers, with tip off set for 12:30pm. There was certainly less activity outside the stadium compared to the Shaqtown evening on Friday night!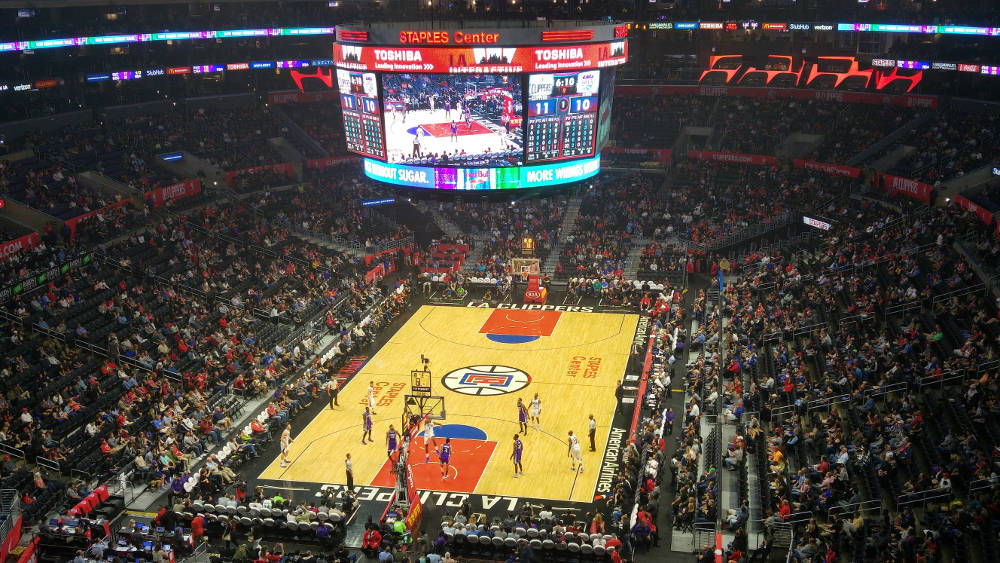 Our seats were up on the top level again in section 308, right on the fence. They were literally the same seats that me and Ned had at the LA Clippers vs Golden State match last month which was a coincidence.
It wasn't the most exciting game. The Kings got out to an early lead, but the Clippers clawed their way back and broke out to a big lead on the back of some Chris Paul and DeAndre Jordan magic.
The Clippers took a 76-65 lead into the fourth quarter and then extended it to an 18-point lead midday through the fourth quarter. It was getting quite dull and we even spotted some people leaving, however things soon changed quick.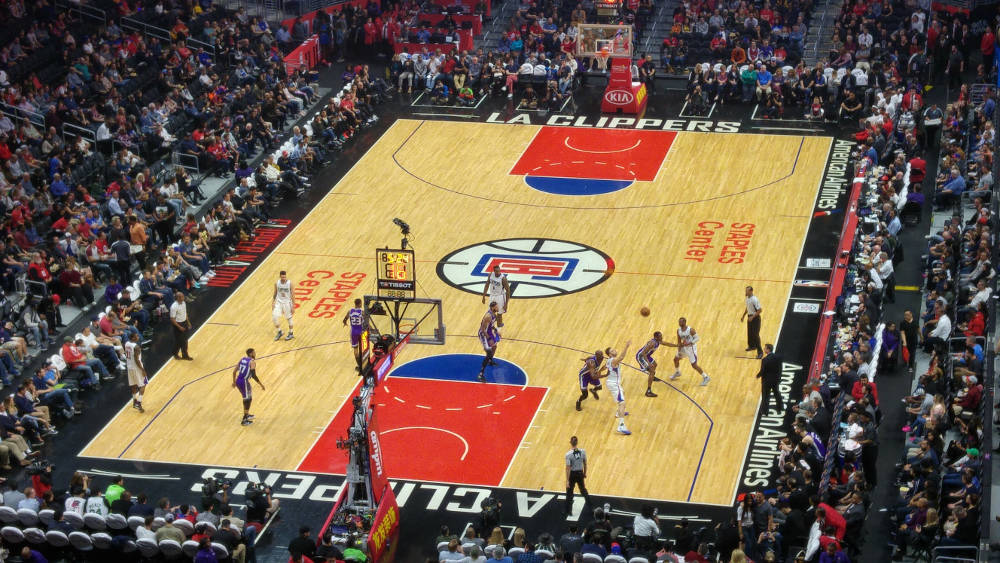 Sacramento made a few baskets and reduced the lead to 12 points, then some Buddy Hield magic brought them back to within 6 points when he hit two threes within a couple of seconds. Suddenly it was game on!
Somehow the Kings magically took the lead 98-97 with just 1.8 seconds remaining on the clock. We'd found ourselves with the Clippers shooting at the buzzer for a win. Chris Paul took the final shot, but agonisingly missed by just millimeters.
Game Over! The Kings commit daylight robbery and win a classic. Nobody could believe what they had just seen. That now makes two great games in a row and we left feeling happy.
The Grammy Museum
Here we were, half time in our NBA double header day. We had 3-hours to kill and not much to do, so we decided to go for a stroll in the sunshine.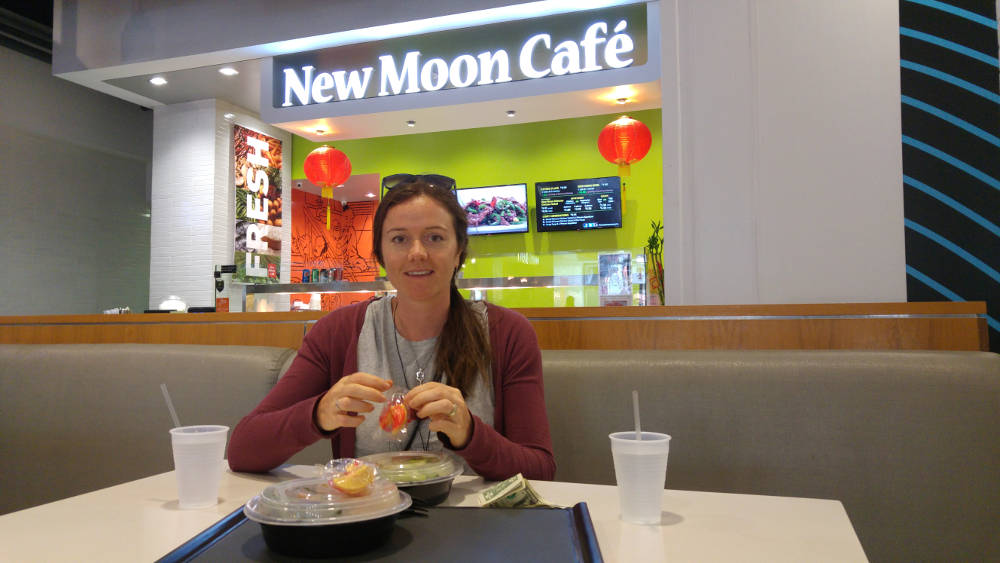 We found our way to a shopping plaza where we tried on a few clothes and Linda bought herself a new USB stick to save some files on.
There was also a food court where we got ourselves some fried rice and stir fry from a place called New Moon Cafe. It was actually delicious for what looked like an average food court.
Then we went for another stroll and stumbled across The Grammy Museum. We thought this would be a great way to spend an hour before the next match so we bought ourselves some tickets and headed inside.
It was well worth going to as it turns out. The museum was a dedication to The Grammy's (as the name suggests) and it was four levels of memorabilia, history and interactive games.
The best bit was the interactive stage where we could play on instruments like drums, piano, keytar and even deejay equipment. We spent a good 15-20 minutes playing around here.
After walking around and learning more about The Grammys on the other floors, it was now time for the second match of our NBA double header.
Game 2: LA Lakers vs Portland Trail blazers
The second match of the day was the Portland Trail Blazers up against the LA Lakers. We were stuck up in the nosebleed section for this one, literally the second row from the very top.
Sitting up so high took away a bit from the atmosphere, but it was still ok. The match started with the scorers stuffing up by awarding Lakers points to the Blazers and vice versa.
During the quarter we noticed a row of empty seats on the front row a few bays to our right, so at quarter time we moved over and found ourselves in much better seats.
Still, we weren't happy sitting that high up, especially given we had very similar seats for the previous two matches. We looked down to courtside and noticed there were a few spare seats in the front row just behind the courtside seats. Surely we couldn't sneak down there, could we?
Turns out we definitely could. We carefully worked out the aisle number (section 112) and during the half time rush we snuck in when the attendant was occupied. We took our seats in the front row and that is where we spent the remainder of the match!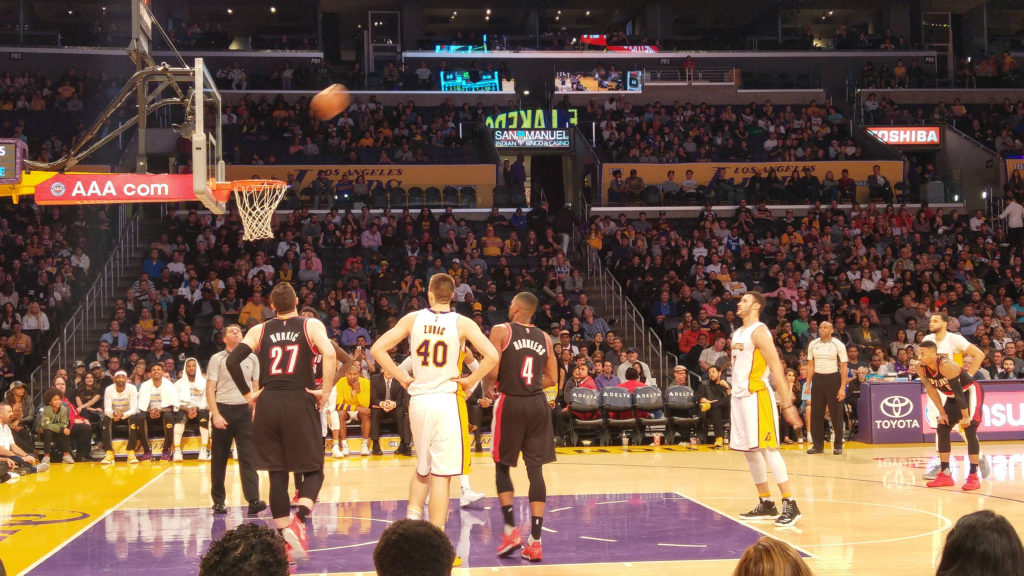 As for the game itself, it was rubbish. The Trail Blazer ran out 97-81 winners on the back of some Damien Lillard magic. He scored 22pts, 7 rebounds, 5 assists and 3 steals.
While it was a dull match, the kickass seats for the second half well and truly made up for it. It was an incredible experience watching NBA action up so close and sitting in seats for free that usually cost $500+.
After anther awesome day, it was time to head back home. On the way back to our apartment we grabbed ourselves another coffee from Starbucks, then called it a day back in the room.
More NBA Double Header Photos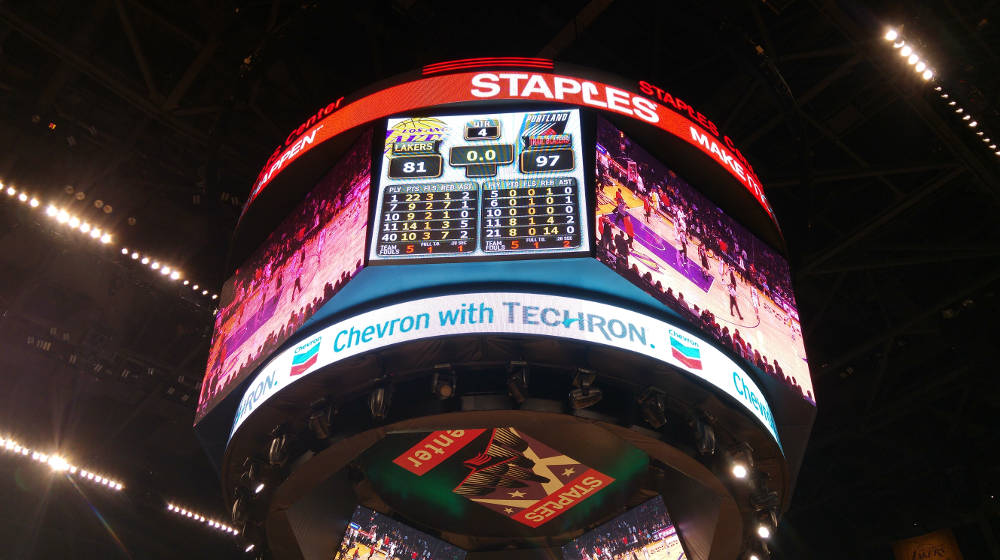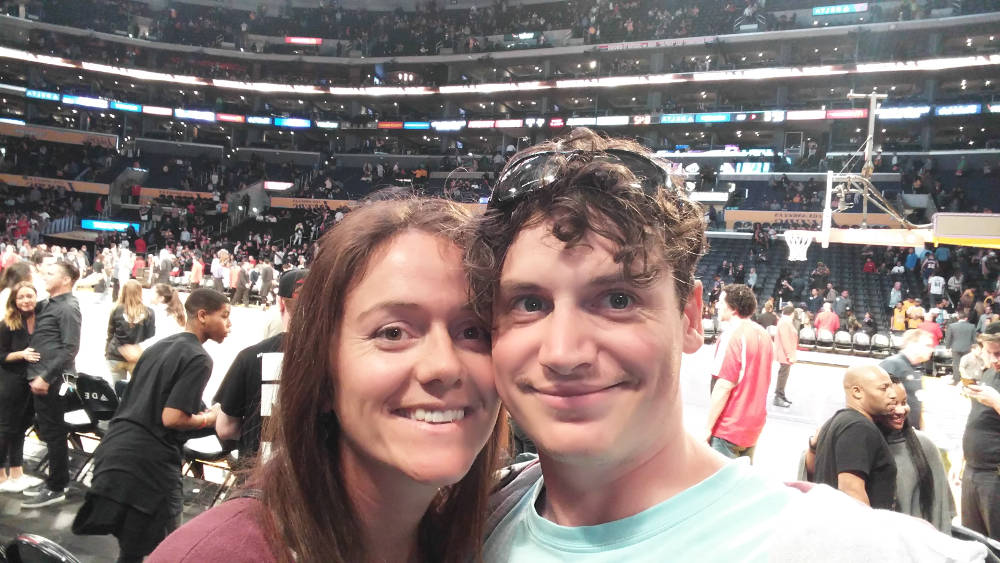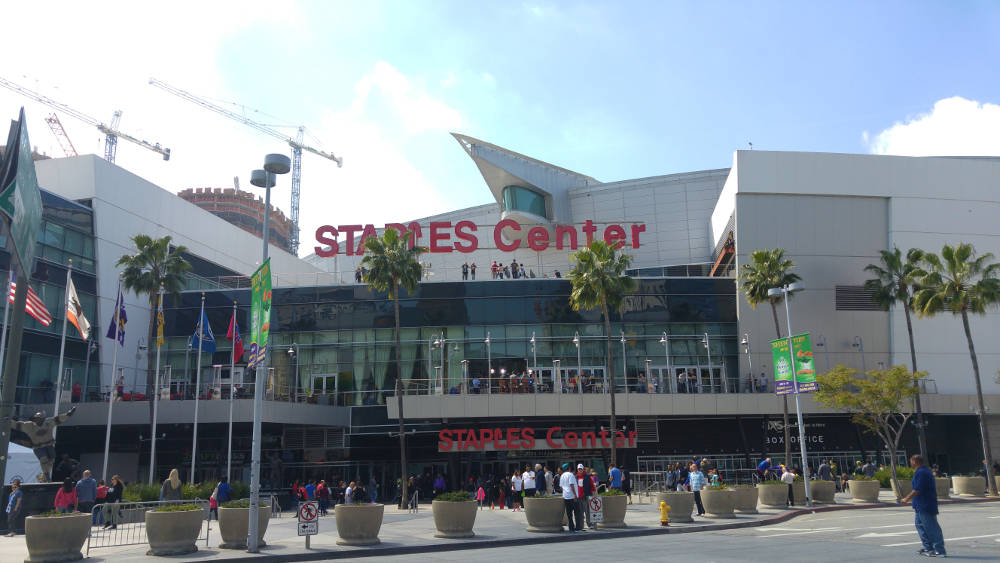 Where We Stayed in Los Angeles