This will go down as one of our most unique trips to date and still one of our favourites. It was memorable for three main reasons.
One, this is where we got engaged. Two, we got our first taste of World Cup fever and Three, we got to camp in 'Tent City' with a thousand other Australian fans!
It was also our first trip to the continent of Africa. However considering we had only just got back home from a fortnight in Asia just two weeks earlier.
Plus the fact it took 36 hours travelling in a plane, car and bus from Ballarat to Durban, it was fair to say we were pretty jet lagged by the time we touched down!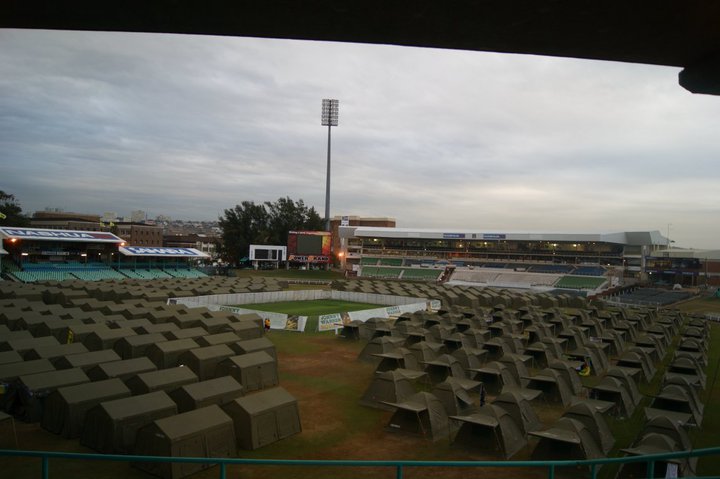 Our base was at Sahara Kingsmead Stadium in Durban on a tour with The Fanatics. This was a trip like no other though as we camped in tents with a thousand other fans. It was our own little escape for three weeks.
Everything we needed was in the stadium including food shops, portable showers on a trailer, an undercover area with multiple big screen television and beanbags, plus a computer and internet area to check up on things back home.
To gain entry we needed to scan our thumbs on the scanners, so it was pretty secure and safe from outsiders.
We even had concerts with Powderfinger, Fatboy Slim and Electric Mary all performing for us. All the gigs were sensational and we got front row at a couple.
But the most exciting part was yet to come. We still get shivers when we think back on that first match we went to. We were blessed with a good draw with our first game in Durban, so 1500+ Aussies all walked to the stadium with the main street shut down. It was about as epic as you'll get.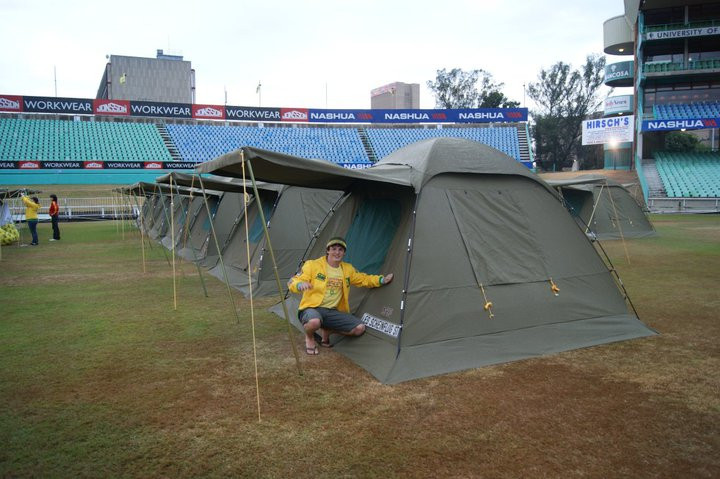 The World Cup Matches
All in all we saw eight matches. We saw the three Socceroos matches, four other matches in Durban, plus the England vs Germany blockbuster in Bloemfontein.
Things did not start too well for Australia as we kicked off our campaign with a 4-0 loss to Germany which left us all feeling pretty deflated. The Germans jumped us from the get go and we did not have the defence to contain them.
A 12 hour bus trip to Rustenberg to see Australia take on Ghana was next up. We put in a much better show this time around drawing 1-1.
It was pandemonium when we took the lead thanks to a Brett Holman rocket after 11′, but Ghana replied back at 25′ thanks to a dodgy handball penalty.
Our last match was against Serbia in Nelspruit, another long bus journey which went overnight. This was perhaps the best stadium we have ever seen as it was designed to resemble giraffes and zebras.
Anyway, we finished off the World Cup with a stunning 2-1 win over the Serbians and the crowd absolutely lapped it up.
We also attended five other games thanks to Durban hosting several matches. We saw Nigeria and South Korea in an exciting 2-2 draw, Switzerland defeat eventual champions Spain 1-0 (dunno how!!) and two of the best teams in the world Brazil and Portugal battle it out for a dull 0-0 draw.
Durban was also the venue for the Second Round match as the Netherlands went on to beat Slovakia 2-1.
We were also lucky enough to see powerhouses Germany and England meet and it does not get much bigger than this. Germany won 4-1 in a flogging, but it was one of the best matches we saw.
All in all we were pretty blessed. We saw 22 goals across eight games, saw two Second Round matches and got to see some of greatest teams/players on the planet.
We also got to see Spain and Netherlands play, the two teams which made the final. Can't ask for much more than that!
Our Matches
Australia 0-4 Germany
Australia 1-1 Ghana
Australia 2-1 Serbia
Brazil 0-0 Portugal
Germany 4-1- England
Nigeria 2-2 South Korea
Netherlands 2-1 Slovakia
Spain 0-1 Switzerland
Getting Engaged
Perhaps the most memorable part of the trip was surprising Linda by asking her to get married. I'd bought the ring planning to ask her to get married over there, but I had not thought how I would do it.
On the day of the first match, June 13th, we were knocking about up near the scoreboard at the stadium we were camping at.
It was pretty magical up there as you could see the entire stadium and the 'Tent City'. This was a spot we spent a lot of time at during the trip.
This is where I surprised her, at 9:27am (which is our special time – don't ask, long story!). I didn't get down on one knee though, I hate clichés. Needless to say she said yes and now the rest is history.
Chip Twisters
This trip will be best remembered as the time we got introduced to Chip Twisters, perhaps the greatest food invention of all time!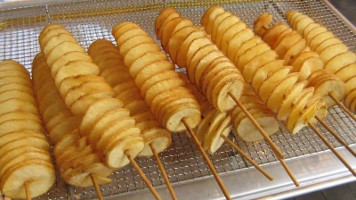 They are basically potatoes that are deep fried and wrapped on to a stick with any topping you like. We ate tons of these a day and I still have no idea how we didn't get fat.
To our excitement they have now made their way to Ballarat!
Overall the food was great though. There were plenty of little food stores open all the time where you could get special African dishes, hot dogs, home made meals like Lasagne and heaps more. It was one of the more unique things on the trip and something we absolutely loved. The beer was chap too!
Other Highlights
There were so many highlights of this trip. One was the fact we were so close to the beach which we walked to most days. They had a big screen on the sand and you could swim whilst watching the games. It was an epic beach too with huge waves and warm water.
The city was tidied up pretty nicely and it felt clean and safe, despite reports it was supposed to be unsafe. We were within walking distance to everything which was handy and they even had a pretty cool water theme park which was good fun.
Going on an African Safari was another highlight. Seeing the wildlife from a little safari jeep was spectacular and we saw animals like Giraffes, Zebras, Hyenas and Elephants etc. We were up pretty early and it was a long drive to get there, but it was worth every cent.
We will never forget the games arcade in one of the shopping centres, this was where we were first introduced to the old game Sunset Riders. We spent many a dollar in that place trying to get the high score and by the time we left we held 8 of the top 10 highest scores. Yes, we're awesome!