2012 was the year we finally got to visit the United States. It helped that we had a good excuse to get away given it was our Honeymoon, meaning we could get off work and go for a bit over nine weeks.
One of our bucket list things was to go to a Kentucky Derby, so we planned this trip around that event.We kicked things off in San Francisco and drove down to Miami, one side of the country to the other.

In the end this trip turned into a bit of a sports tour as we saw four NBA matches, two NHL matches, three MLB matches and even sat ringside at a WWE Raw show! All in all it was a pretty incredible trip.
Highlights of the road trip was the Kentucky Derby, spending a few nights in Vegas, checking out Bourbon St in New Orleans, seeing Alcatraz and the Golden Gate Bridge in San Fran, spending a sunset at the Grand Canyon, visiting Elvis Presley territory at Graceland in Memphis
Also watching the likes of LeBron James, Dwayne Wade, Chris Paul and Blake Griffin live in the NBA Playoffs was a huge highlight, as was visiting Disney World and Yosemite National Park.
But perhaps the biggest highlight of them all was surprisingly enough the WWE Raw show in North Carolina. We sat ringside, front and centre with the television camera on us the entire time. Could even get high-fives from the wrestlers. Was a pretty awesome experience.
Leaving the car behind
We left the car behind in Miami and caught up with Mike and Stace for a few nights in Miami, before heading to New York for seven nights.
Now we understand why they call this one of the greatest cities in the world. Seven days was not nearly enough to see all the attractions, but some of the cool things we saw included the top of the Empire State Building, Times Square at night, the Seinfeld Diner and visiting Ground Zero where the World Trade Centre used to be.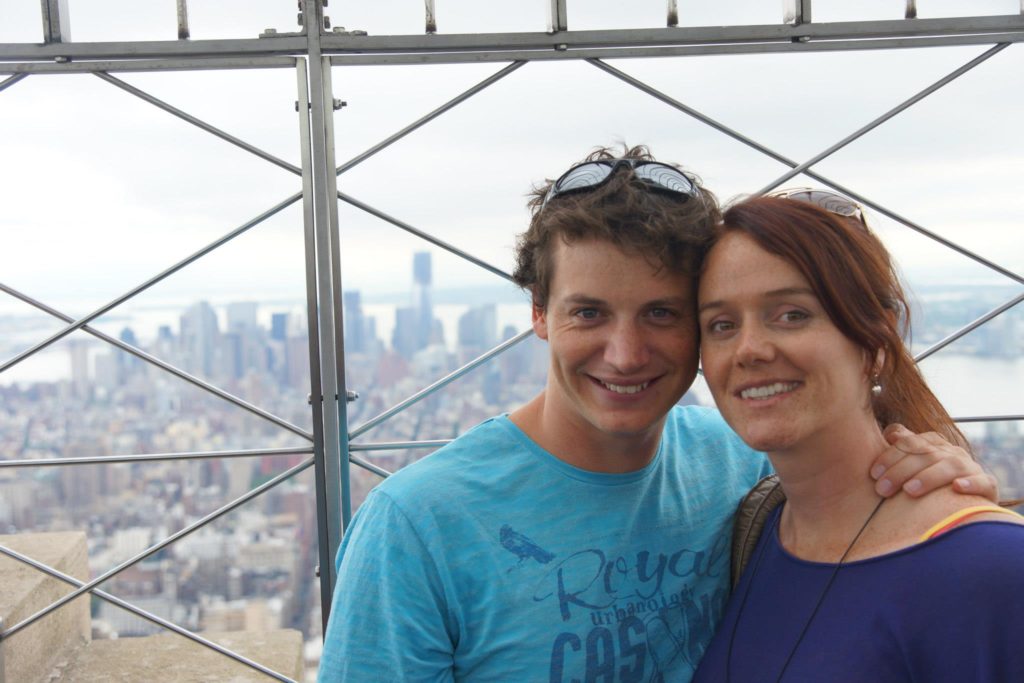 We were even lucky enough to get to head to a game at the famous Madison Square Garden. It was Game 5 of the NHL Conference Final with the New York Rangers taking on the New Jersey Devils. The atmosphere was electric and we had pretty good seats.
Next stop was Boston. We caught a 3 hour train and got to visit some pretty cool restaurants and check out the city. Sport was the highlight again as we went to Fenway Park to watch the Boston Red Sox take on the Detroit Tigers.
It was then time to say goodbye to Mike and Stace after 14 nights, and time to head to Canada.
Next Stop: Canada
Yep, next stop was Canada. We flew out of Boston to Toronto after a nightmare going through customs. To say security is over the top to go to Canada is an understatement.
Toronto was one of the better cities we visited on the trip. There is so much happening and there are plenty of attractions.
However one night was rather scary with a gunman opening fire on a shopping mall two blocks from our hotel. We actually shopped there earlier in the day, so it was a little close for comfort.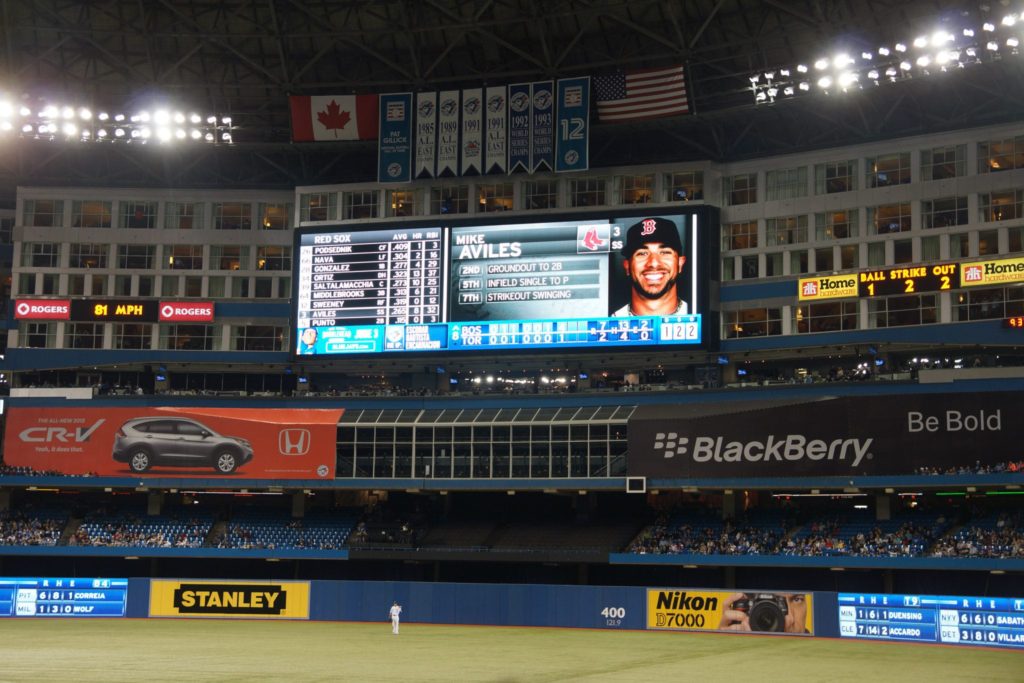 We did a tour of the Air Canada Stadium where the Raptors and Maple Leafs play their matches. Plus we caught an MLB match at the Rogers Centre.
This is an amazing stadium, it has a retractable roof and is home of the Toronto Blue Jays. They were playing Boston Red Socks, so it was pretty cool to say we saw the Red Sox play twice in four days, in two different countries!
Toronto is also home to the biggest sports bar in Northern America called the Real Sports Bar & Grill. To say this place was big is an understatement.
It was heaven in there with screens everywhere playing just about any sport you can imagine. With the NBA and NHL Playoffs in full swing the place was packed and the vibe was electric.
Next stop was Niagara Falls which is a fantastic little town. It is full of attractions and games arcades and other cool things. We even got to go on a little ferry which took us out a few metres from Niagara Fall.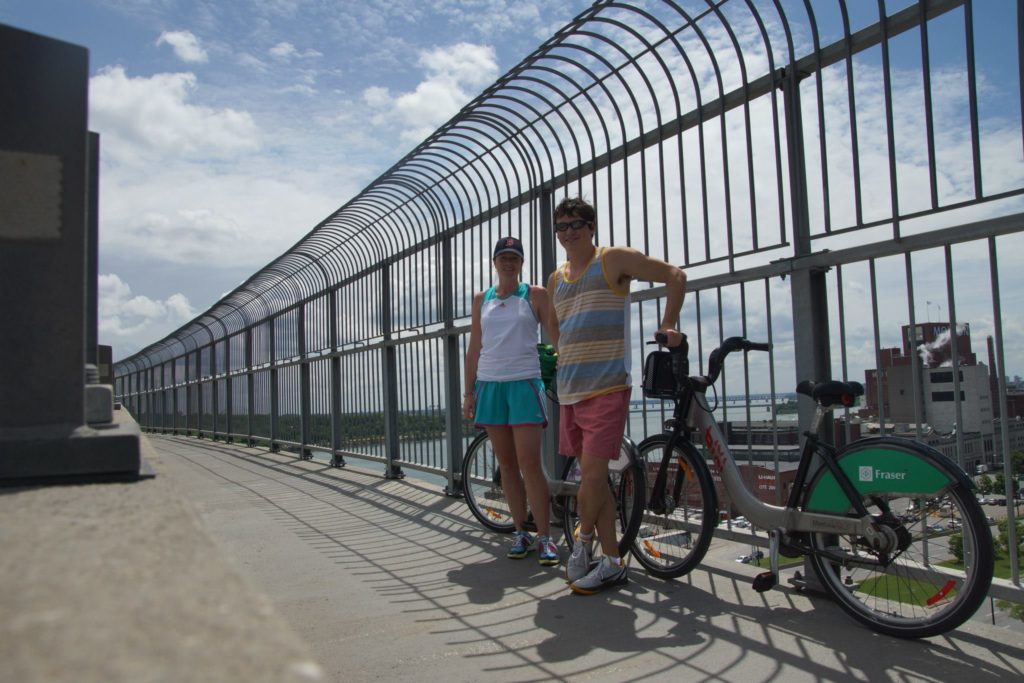 The journey then continued on to the capital city of Ottawa. We spent two nights here and it was more just a relaxing couple of days, walking around checking out the sites and heading to a movie.
We finished off Canada with a three night stay in Montreal. Things were pretty difficult here with the language barrier as they spoke French as their first language and all street signs and menus were written in French.
Montreal is a beautiful city, really vibrant and colourful with plenty to do. It was great fun exploring and on one of the days we hired a bike and went all over the city.
Highlights included visiting the Olympic village as of course they hosted the 1976 Olympic Games.
Back to the States
It was time to board a plane and head back to the States. This was the leg Linnie was most looking forward too, 9 nights in Los Angeles!
The first four nights were spent in Santa Monica and we got some pretty awesome weather. We didn't really swim much but we spent a bit of time at the beaches and around the Santa Monica Pier that had attractions and rides and stuff.
We went to a sports bar one night and watched some of the NHL Finals. Unbeknown to us if the Kings won that game they would be playing in LA for the title match, so we made plans to go should they win.
And win they did! So then it was mad rush to find some tickets as the game was in a couple of days.
Our final stop on the trip was Hollywood. We booked a pretty lavish hotel as this would be the last place we'd visit. We spent 6 nights at hotel right next to the Dolbi Theater, which made Linnie happy.
Highlights were meeting the cast of Storage Wars, a show we'd been watching during the trip. We also went to Universal Studios, the Wax Museum, went to an LA Dodgers vs LA Angels MLB game, shopped at Rodeo Drive, did a TMZ Tour, checked out Beverly Hills and saw a movie at Grauman's Chinese Theatre.
But perhaps the biggest highlight of the LA leg was going to the LA Kings vs New Jersey Devils NHL Game 6. This was the NHL Final and we were there when they lifted their first every trophy, just 3 rows from the glass. It is still one of the best experiences we have ever had and one we will never forget.