Next on our journey was Goulburn, a town of 33k people. It looked like a nice spot to split up our trip, so we booked 3 nights here.
The town itself was quite lovely, but the caravan park left a lot to be desired. We considered shortening the trip due to the park, but in the end decided to suck it up. It was a pretty lazy few days indeed!
Wednesday, Oct 11th – (Day 188)
Again we got a nice sleep and by the time we packed up and were ready to set off, it was 10am already. So time to hit the road for Goulburn.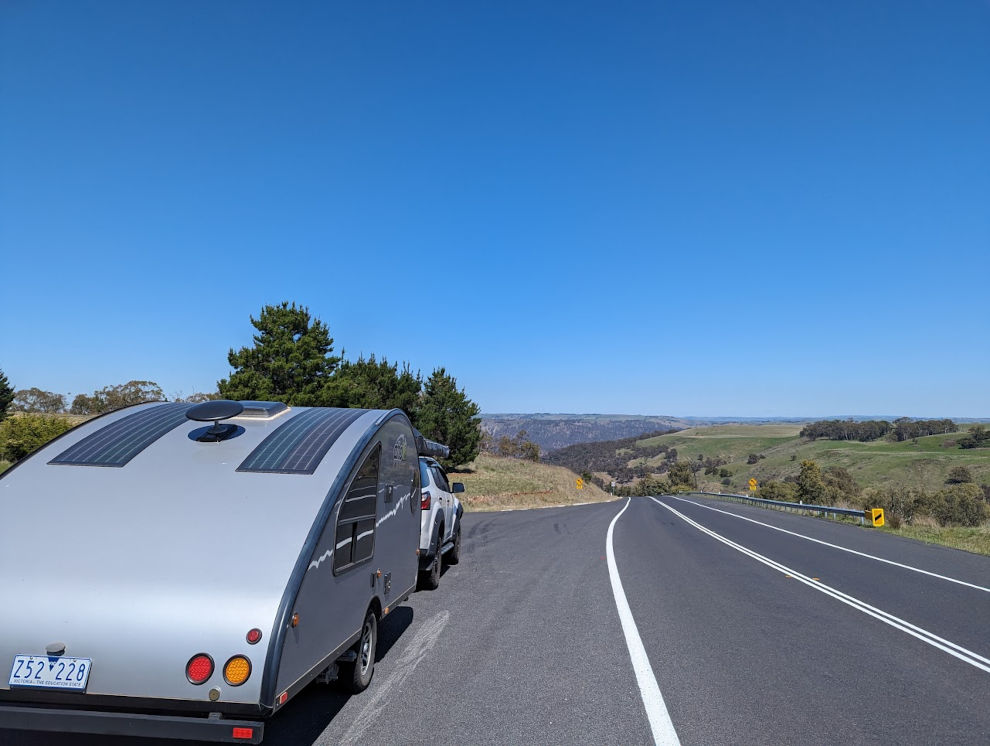 Well this morning quickly turned into a disaster. It was only a 2 hour journey, but along the way we hit a bit of roadkill that was unavoidable. There was a bit of a bump but we didn't think much of it.
About half way we decided to swap driving and for a quick pee stop, then we noticed a bit of mess around the caravan wheel. Yep, there was blood and guts all over the wheel and under the caravan around the movers. God damn it was revolting.
Along the way we realised we were running low on fuel and by the time we were on the outskirts of town, the petrol light was flashing!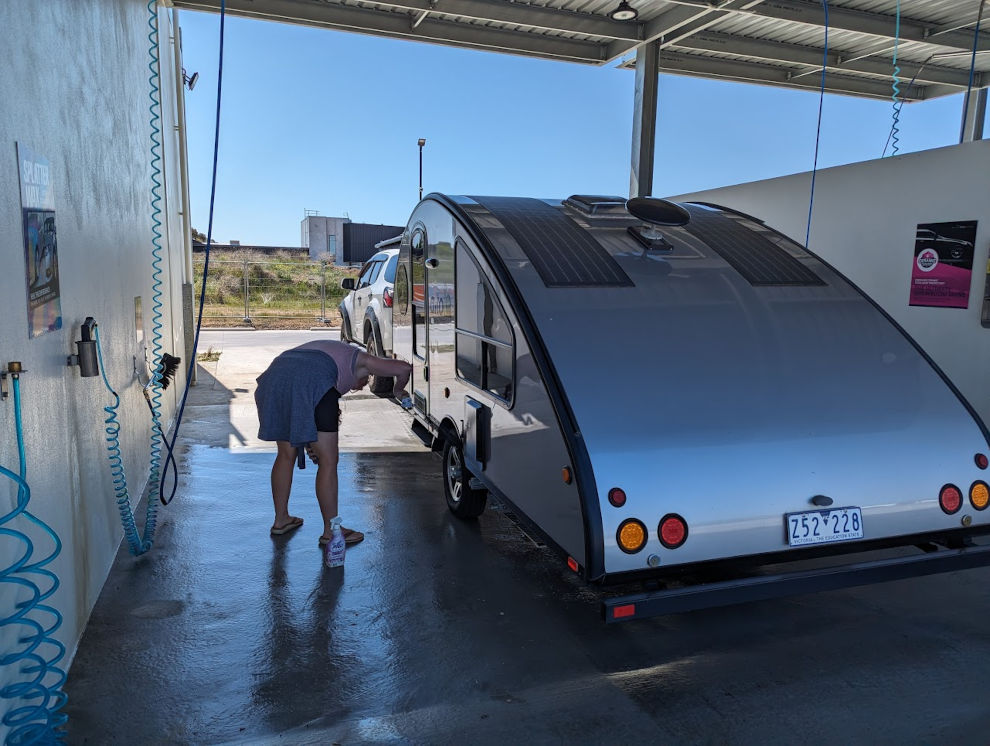 First stop was a car wash where we spent a fair while high pressure washing the caravan and getting rid of all the mess, then we went and got some fuel. On the way out, we accidentally scaped the side of the caravan and left a bit of a scratch.
Then we noticed the smell was still there and still revolting. So we got some cleaning stuff and went back to the car wash. By now we'd spent about 15-20 minutes at the car wash and spent about $20+ on products trying to clean it.
By the time we got to the park it still stunk, so we spent the rest of the arvo on our hands and knees picking out bits of flesh from under the caravan and trying not to puke. It still stunk at the end, but wasn't as bad. It would have to do.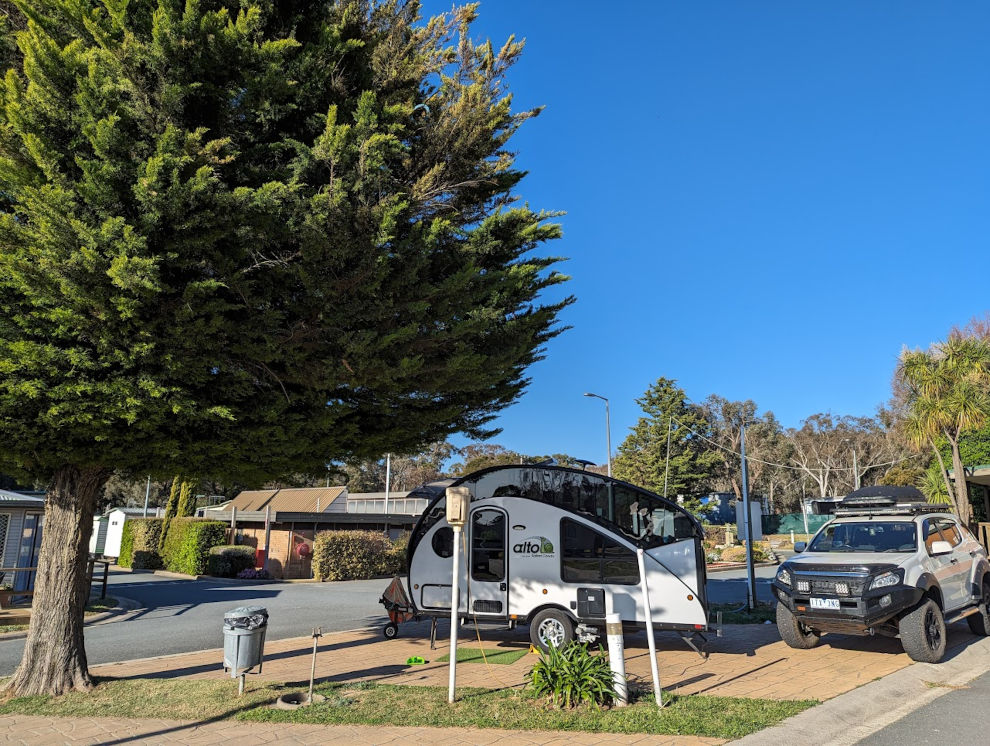 We then had a shower and a rest, then went back into town to Coles and Woolworths to get stuff for nachos. After tea we played some games online with Jamie, Rach and Varun.
Thursday, Oct 12th – (Day 189)
Another sleep in! It's rare you can get a sleep in at caravan parks on this trip, but given this park is pretty terrible, there aren't many here so that is one flip side of staying at a shitter.
We spent all morning lounging around in the caravan, then after lunch decided to go for a drive into town for a look around.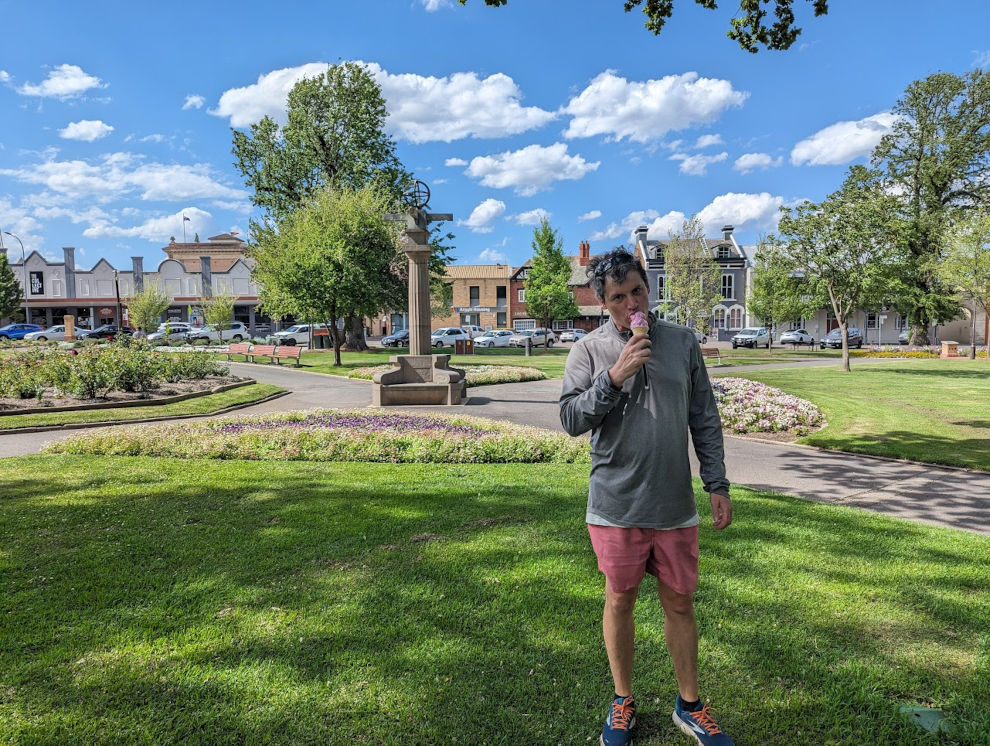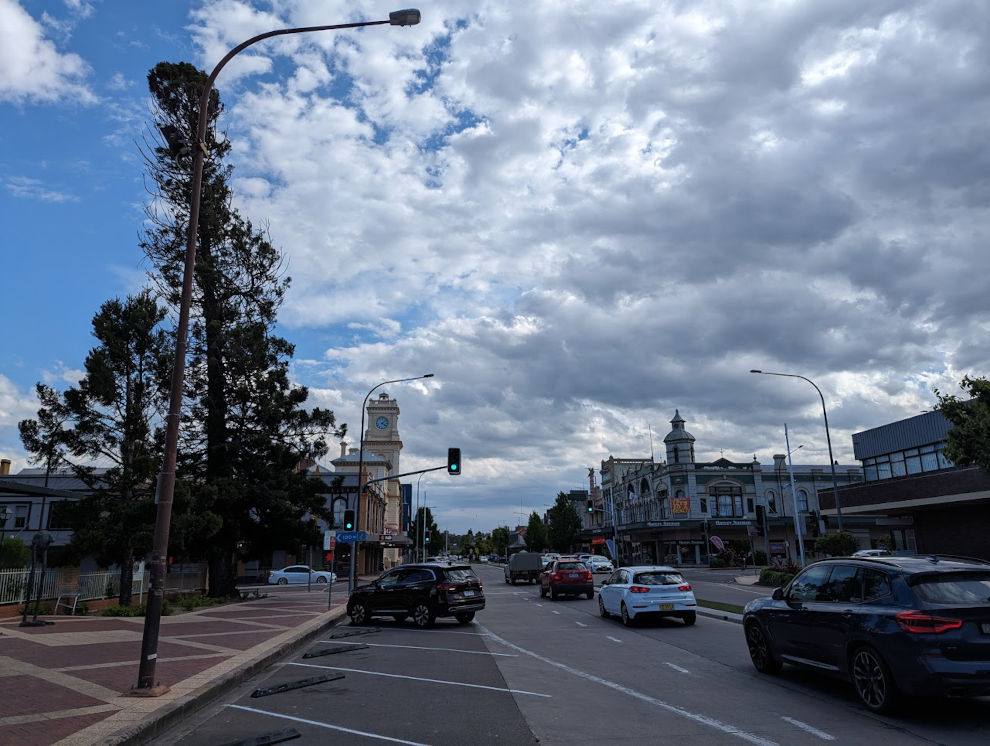 It's actually a lovely little town. The town is more or less one long strip with a few side streets either side. But the town was bustling, there were lots of people out and about and it was a lovely day.
In the middle of town was a big square with lots of grass and gardens etc. So we stopped here for an ice cream and then went for a walk up and down the street.
We found a pub that could be a good spot to do some work at tomorrow, then we stopped at Coles to get some groceries for the next few nights, then it was back home.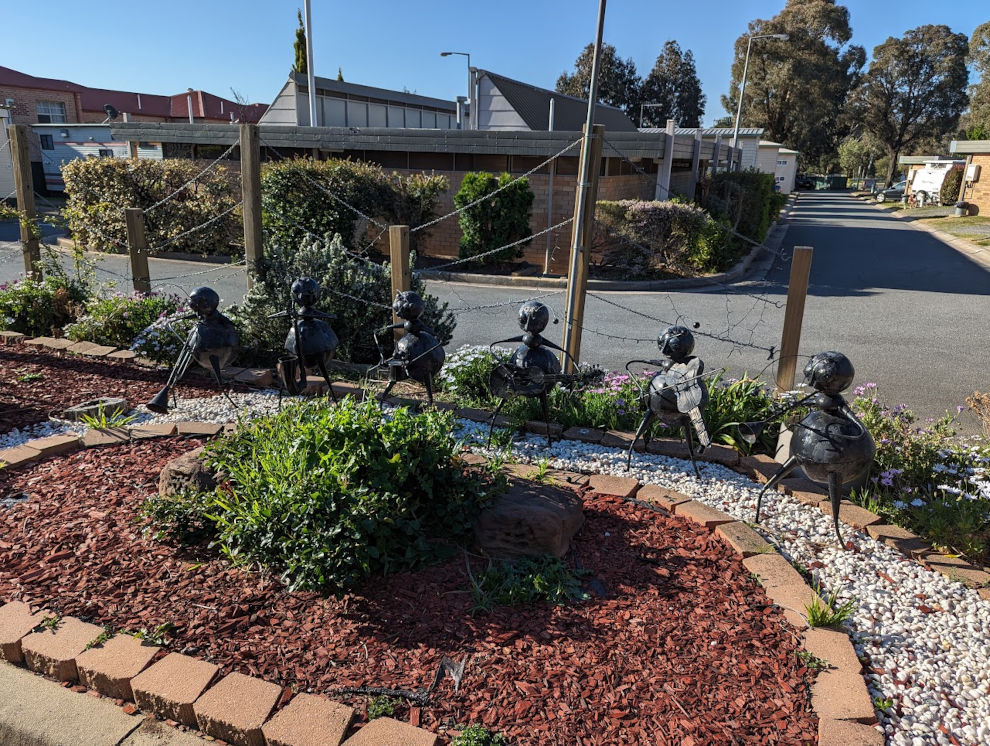 The rest of the arvo was pretty lazy. Later in the evening we started the new season of Sex Education, but the show seems to have gone downhill a fair bit unfortunately. Ah well!
Friday, Oct 13th – (Day 190)
Our last day here! Again we had a sleep in and enjoyed a pretty relaxing morning hanging around the park.
Damn there are some strange people here though. One guy was coughing so much we thought he was about to die, then about 5 minutes later he was out the front for a smoke. Meanwhile there were many other strange characters walking around aimlessly.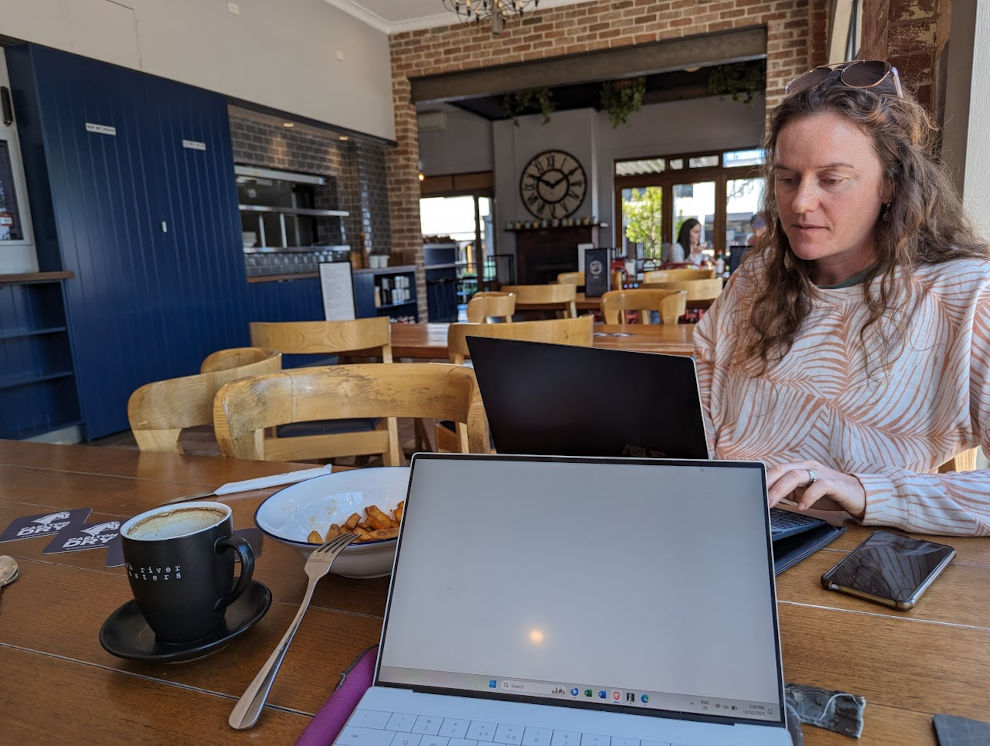 Rather than hang around here, we decided to go back into town for a look around. We took our laptops and found a nice little cafe to do a business meeting and catch up on some work.
On the way back home we grabbed some groceries and then the remainder of the arvo was spent at the park.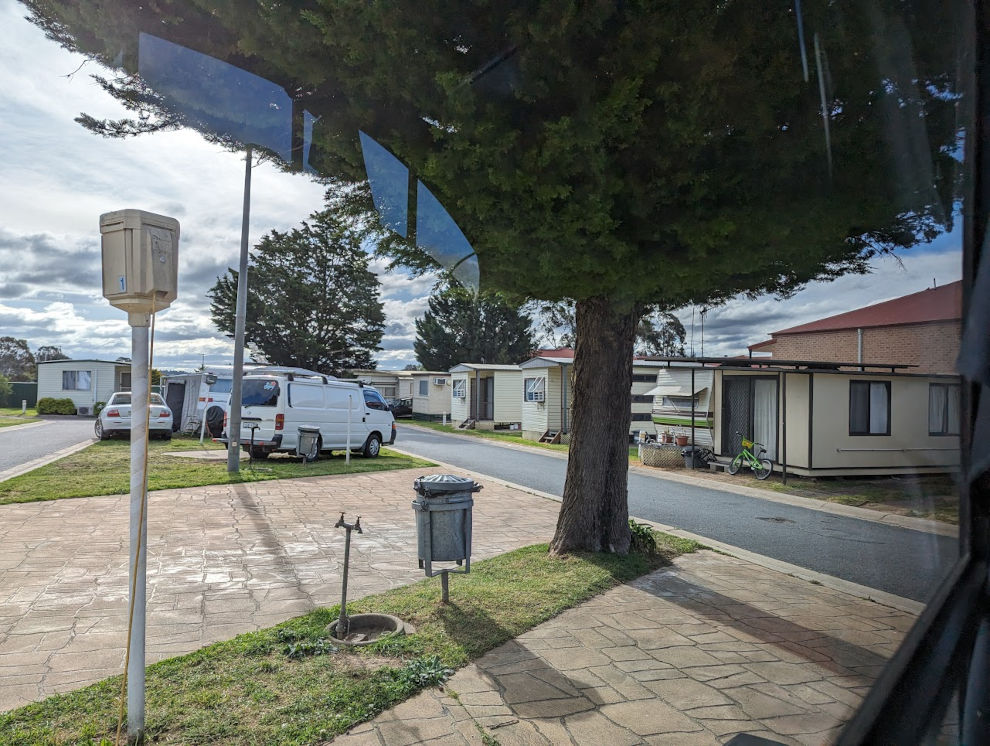 When we did dishes later on that evening there were three older people in the camp kitchen. They were a dead ringer for Ruth, Beryl and Keith from the book we're currently listening to.
We finished the night watching the season finale of Love Is Blind. It was the worst season of the show yet. Hopefully the reunion show on Sunday night will save it.