Next stop on our NSW rural adventures was Dubbo. It was a bit of a last minute decision but it looked like a decent stop on the way back home.
It has a population of roughly 43,000 people so is a reasonable size. Our caravan park was just out of town but given it was in the middle of school holidays, the sounds of children running wild was a common occurrence.
Thursday, Oct 5th – (Day 182)
Today we're on the move with a 3h30m drive to Dubbo. But before hitting the road properly, we made a quick detour to the Golden Guitar, a popular monument in Tamworth.
As luck would have it, there was a polling booth across the road for The Voice referendum thing. Strangely it was at the back of a church, so we had to walk past a funeral that was in progress and we got angrily eyeballs as we walked past. Pretty weird spot for a polling booth!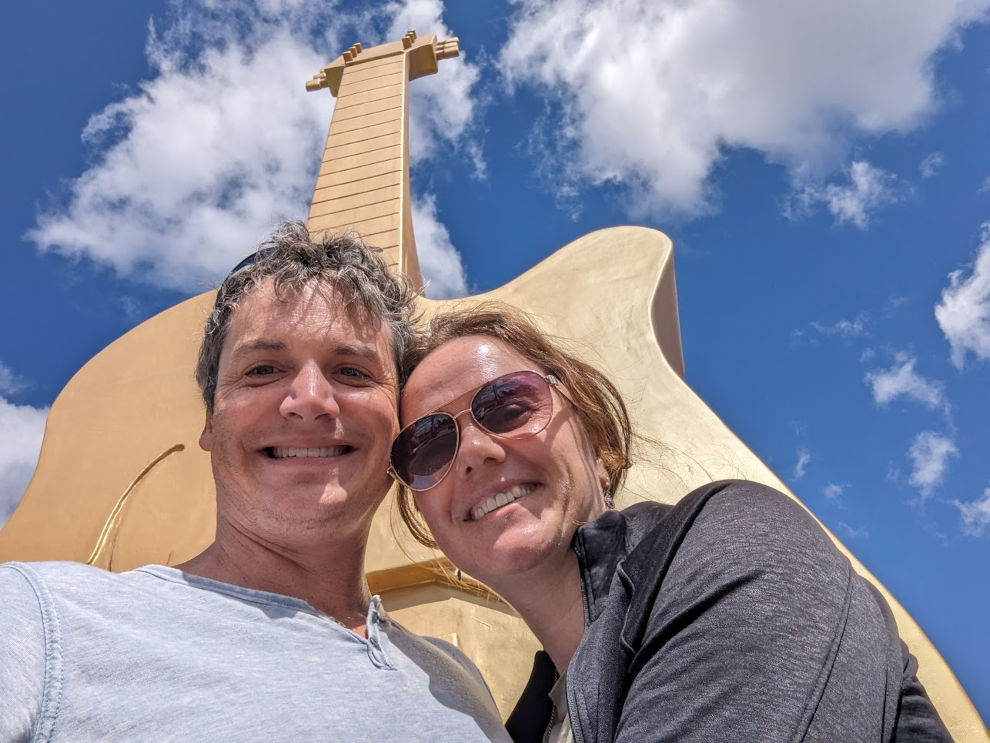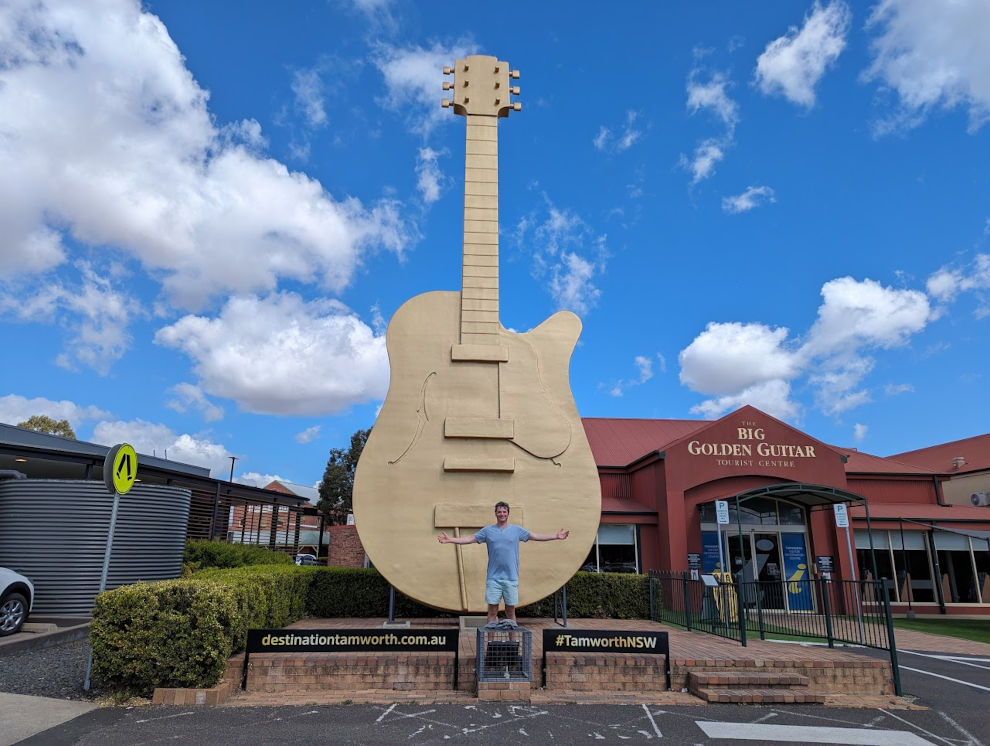 On the way out we heard someone yell out Adam's name. It turns out it was one of Adam's trading buddies that we forgot lives here. So we had a little chat for a while, then it was time to hit the road.
I'm not sure if the roads are average around here, or if the GPS stitched us up, but it was a lot of long and winding roads. We stopped about half way in a random place called Dunedoo, the home of Hugh Bowman.
Then we finally arrived at Dubbo around 3:30pm to what was one of the most unorganised front desks we've seen. We shouldn't have expected any less, as they refused to answer their phones for days leading up to this trip when we tried ringing them.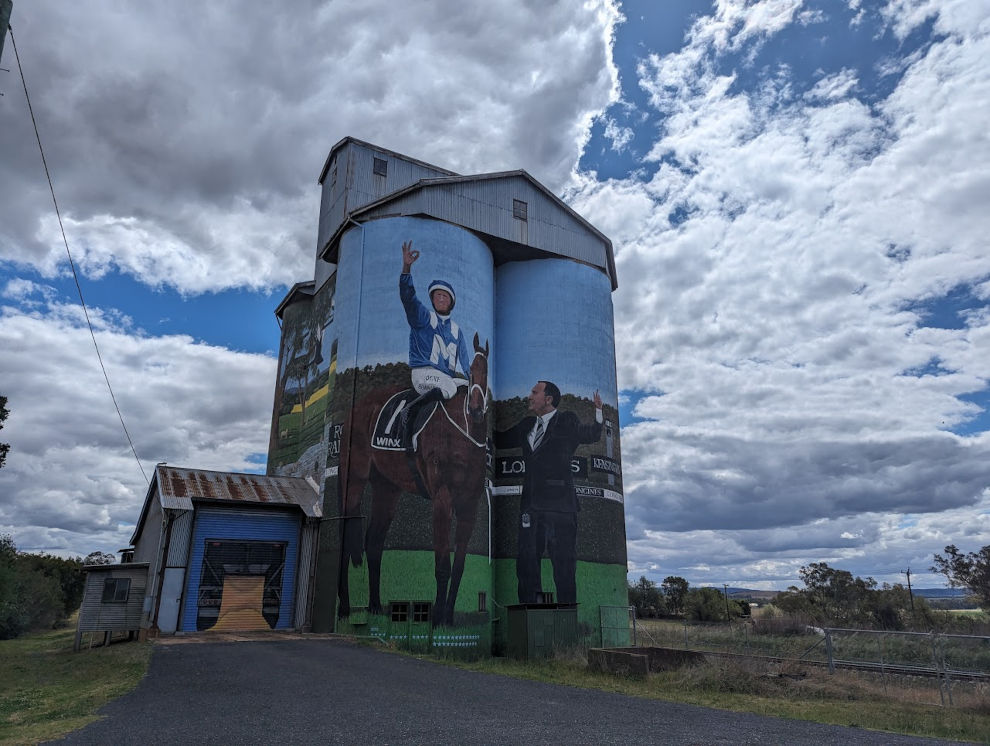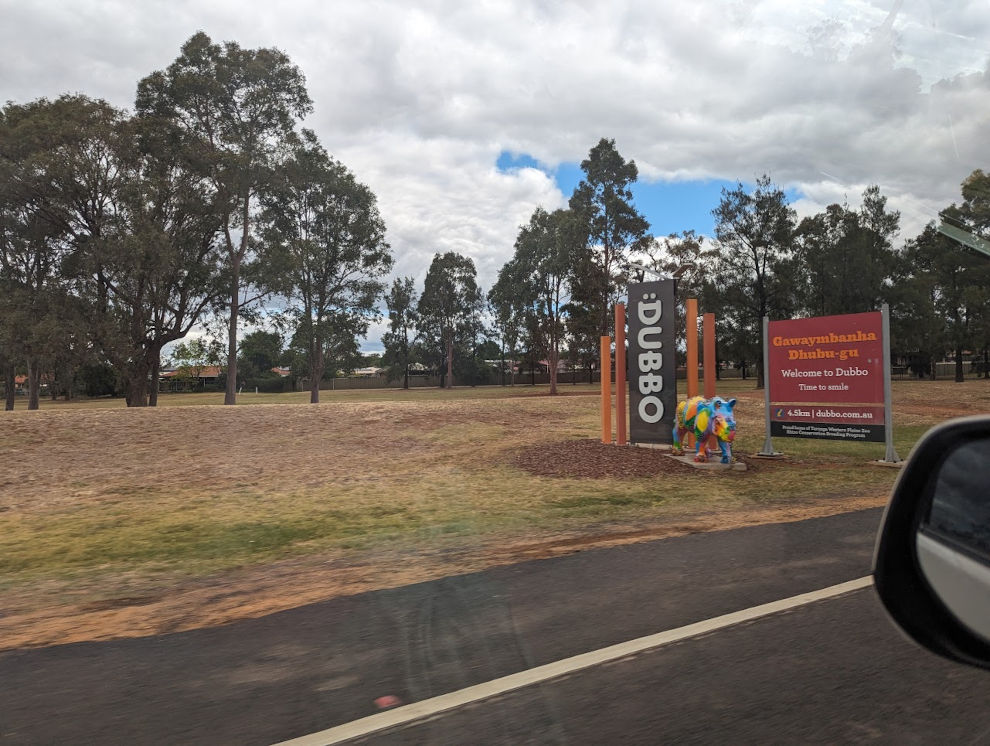 Our spot was pretty horrible too, kind of stuck out the back in a westy area. After setting up, we chilled out for a while, then thought we should go explore a little before shops shut.
The main street was really lovely. It was a hive of activity, like what Bridge Mall could be if it had nice shops and was busy. They had a cinema, a Myers and lots of nice restaurants and cafes, plus an old historical gaol in the middle of town.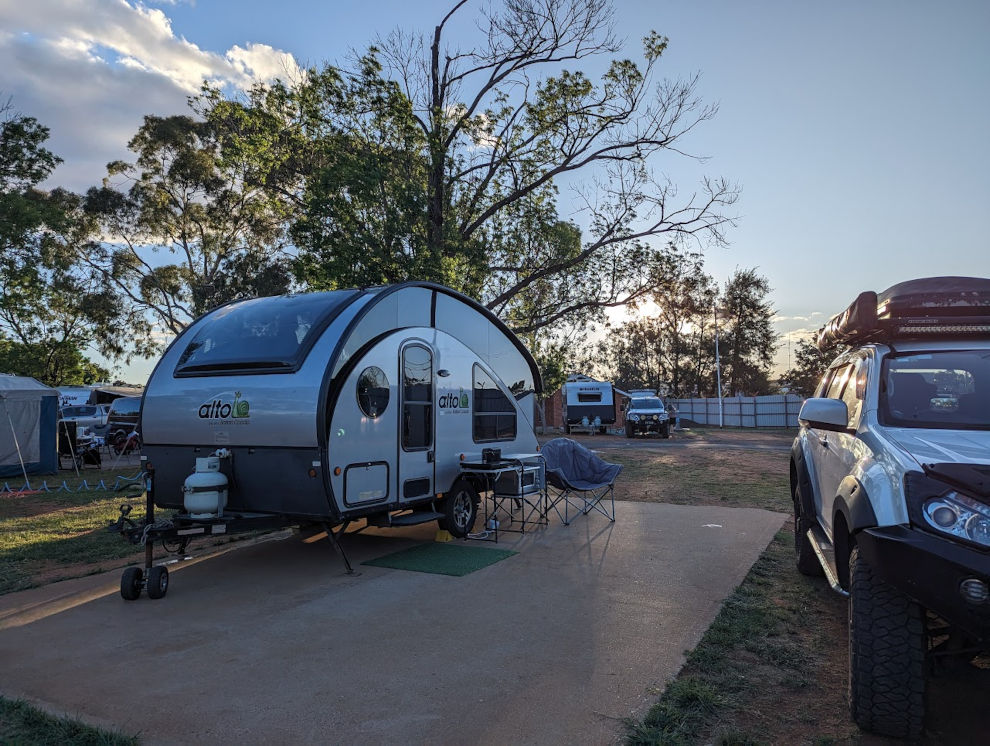 Oh, it also had a bloke sitting on a park bench chugging a bottle of cast wine like an athlete would be drinking water after a marathon.
We stopped in to Woolworths to grab some supplies and then headed back to the park. Once the sun went down it got pretty darn cold here, so we snuggled up and watched the next episode of Love Is Blind.
Friday, Oct 6th – (Day 183)
Todays plan was to go in to town for a walk, but we thought we'd chill out at the park for the morning.
This park was beginning to great on our nerves, mainly because it was full of kids again. The family next to us had 3 young kids and the father spent the majority of the morning yelling and swearing at them while they cried. Great fun!
Around midday we went for a walk into town which was about 25 minutes away. Our plan was to have a baked potato, but the shop had terrible options so we went to the plaza and got some fried rice and noodles instead.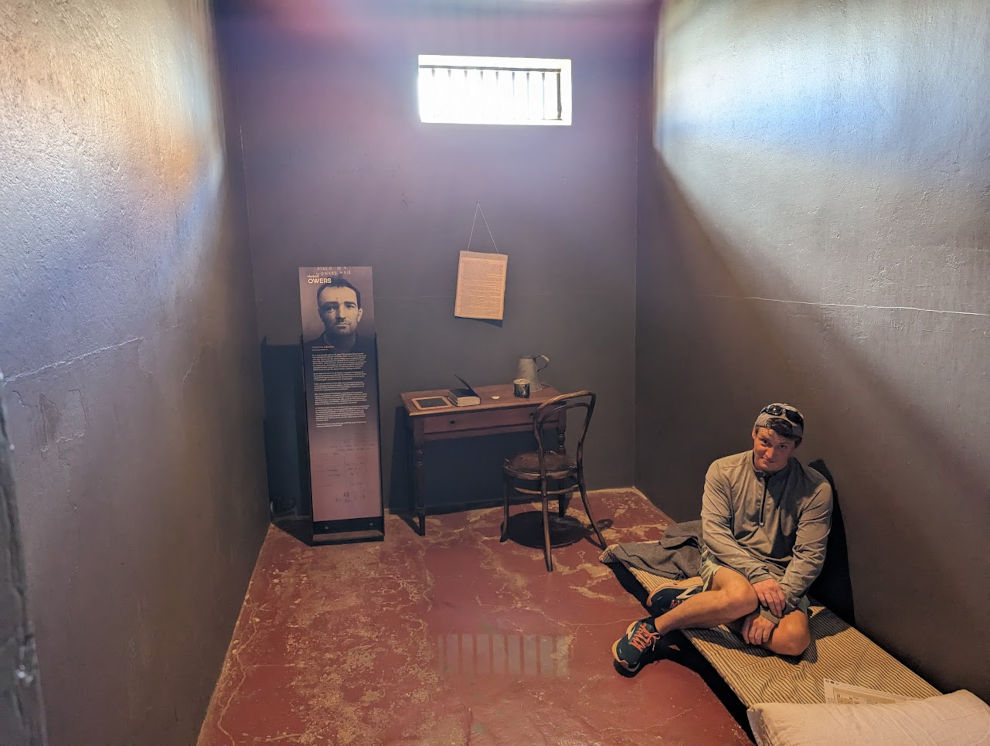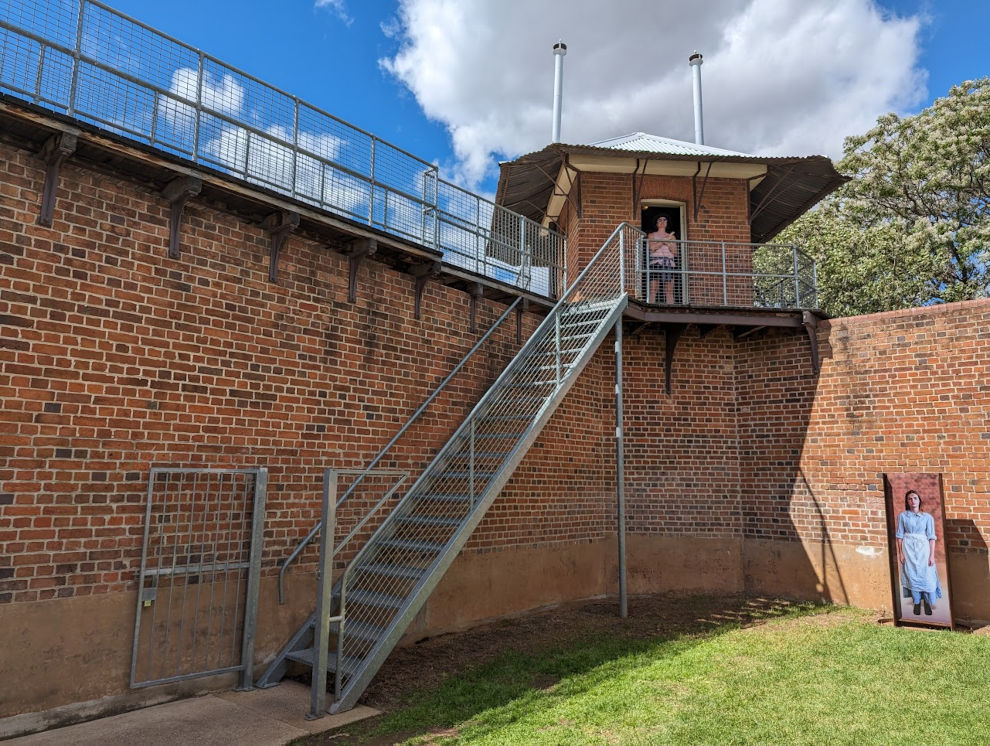 Then we went for a stroll to the Old Dubbo Gaol which is a landmark of the main street. It was built in 1847 and was one of those gaols with a brutal history that used to hang people and had some crazy inmates over the years.
It wasn't bad fun. We spent a good hour or so walking around and learning about it. The good thing was it was pretty interactive which made it fun.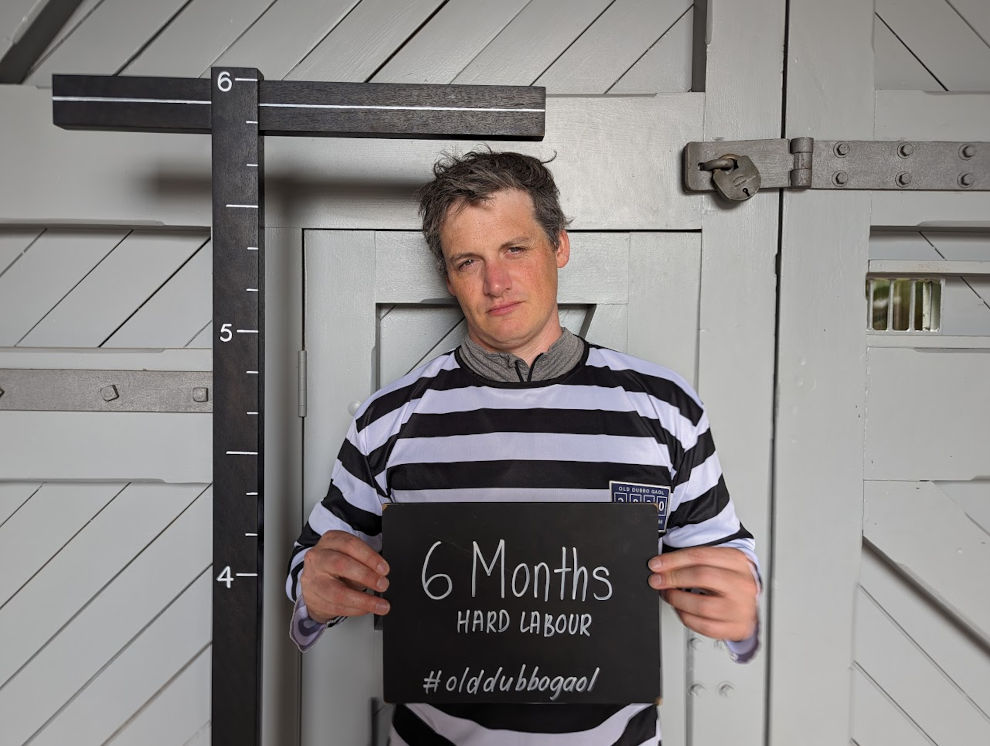 After that we went for a walk to find some food, found another Officeworks, found a toy store and then walked back home.
Oh, we also made a decision to open the Airbnb's again and make some money next year, so we gave Leonie a call and got her to kick some tenants out for us. Next year would be a work year!
After hanging out at the park for a bit, we decided to go to the IGA up the road to grab some stuff for tea. But when we got there, it was shut. Weird for 6:30pm.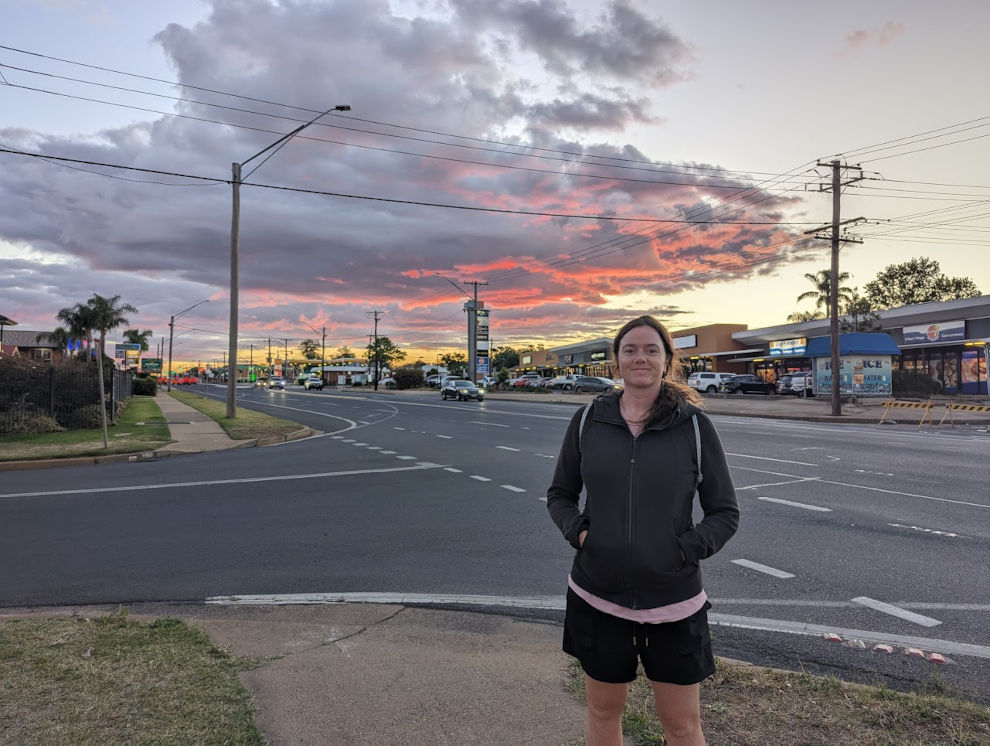 All the restaurants nearby seemed a little dodgy looking, so we decided to make a makeshift tea with all our leftovers. Then finished the night with another episode of Love Is Blind.
Saturday, Oct 7th – (Day 184)
Zoo day! Today we planned to go to the Taronga Western Plains Zoo which we'd heard good things about. We didn't need no alarm, as we were awoken to children getting told off all morning next to us.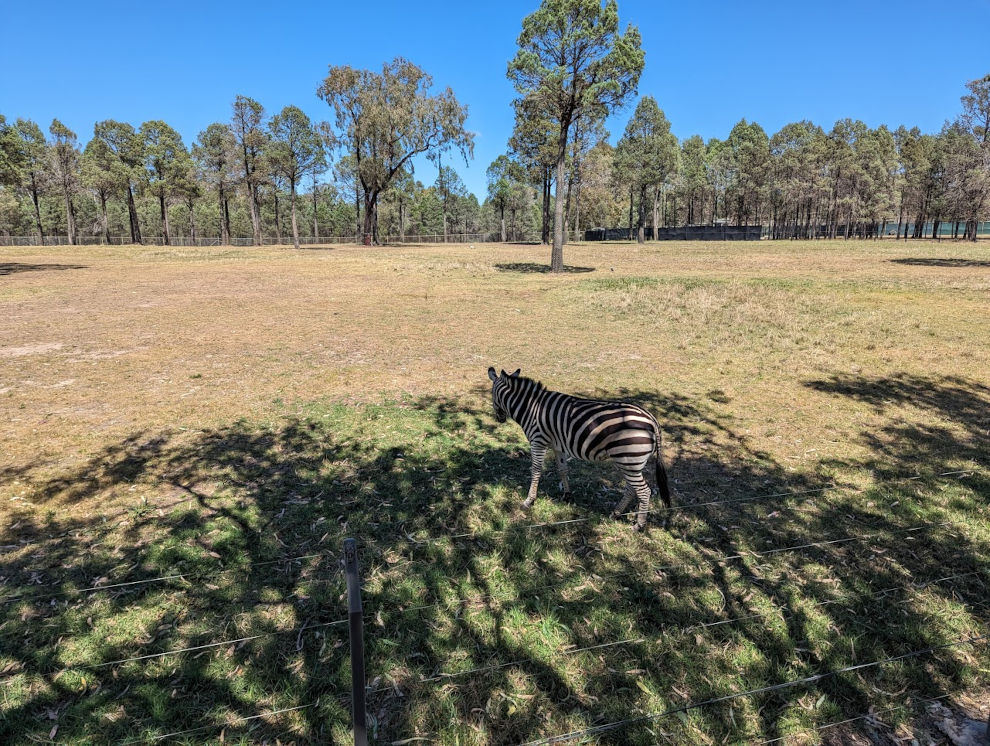 We headed off to the zoo at around 11am and it was only about 8 minutes up the road. It turns out it was more like the Werribee zoo than Melbourne zoo.
So it was more safari themed and the enclosures were much larger. It was so big that they recommend hiring gulf buggies or bikes to get around, or you could even take your own car in. But we opted to walk to get some exercise.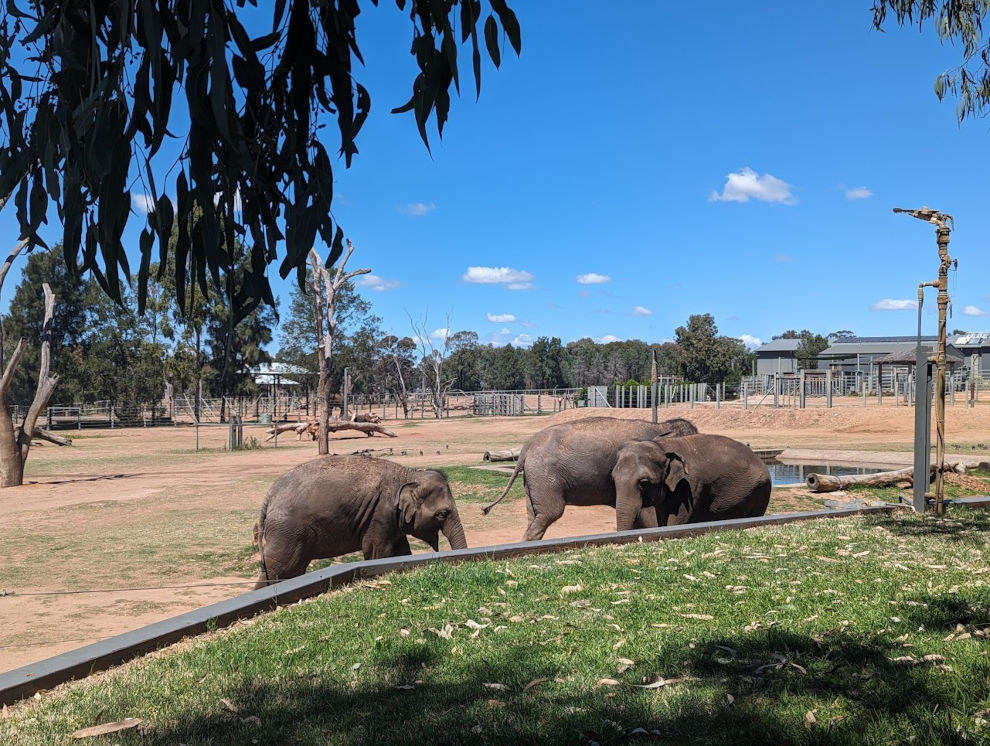 The first half of the zoo was the zebras, giraffes, gazelles, elephants, etc. Then it was time for lunch with a picnic that we had made and brought with us.
After lunch we did a little safari bus tour around the open range zoo and saw cool things like rhinos, ostriches and African animals like that.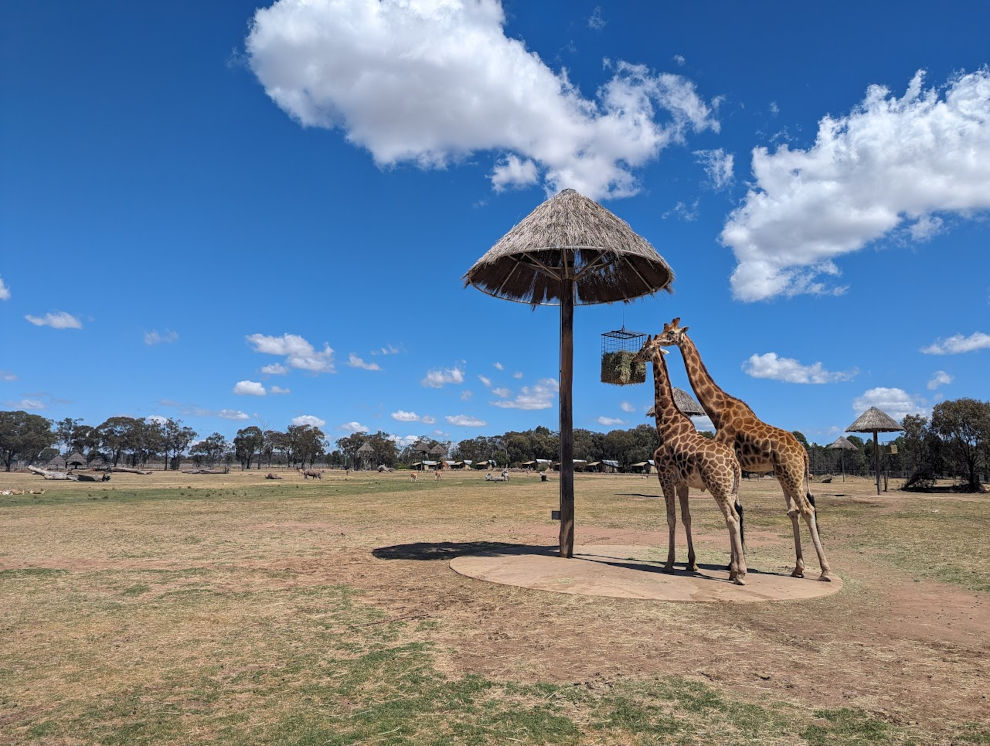 Then it was back on foot for the rest of the day and we saw otters, hippos, and heaps of other animals. The highlight was both the tiger and the lion enclosures.
By now we had probably walked about 10km and we were feeling pretty wrecked, so it was time to head back to the park.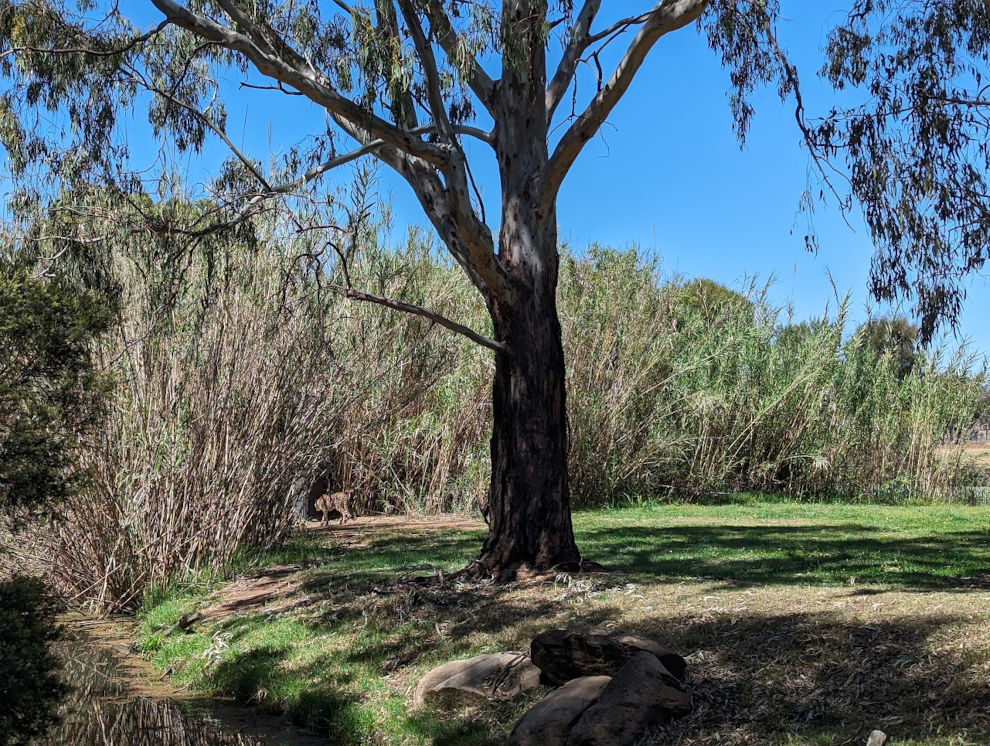 Given we were heading to Parkes tomorrow to see the satellite dish and Adam had never seen the movie The Dish, we decided to watch it tonight so we'd appreciate Parkes more tomorrow. We watched another Love Is Blind and then headed to bed.
Finally our last night at this crappy park was over! Downwards to Parkes tomorrow for a quick one nighter.