This is it, our final stop on this around Australia road trip. The original plan was to stay in Bright for 6 nights and then make a stopover somewhere on the way to Ballarat, but we extended Bright to 7 nights.
Bright is not a spot we'd ever been to before, but it actually turned into one of our favourite places on the entire trip. There was green everywhere, the little town had everything we liked and it felt like a happy place.
Tuesday, Oct 17th – (Day 194)
The big return to Victoria! And also the day we would be catching up with Linnie's parents again, as well as Graham and Janette.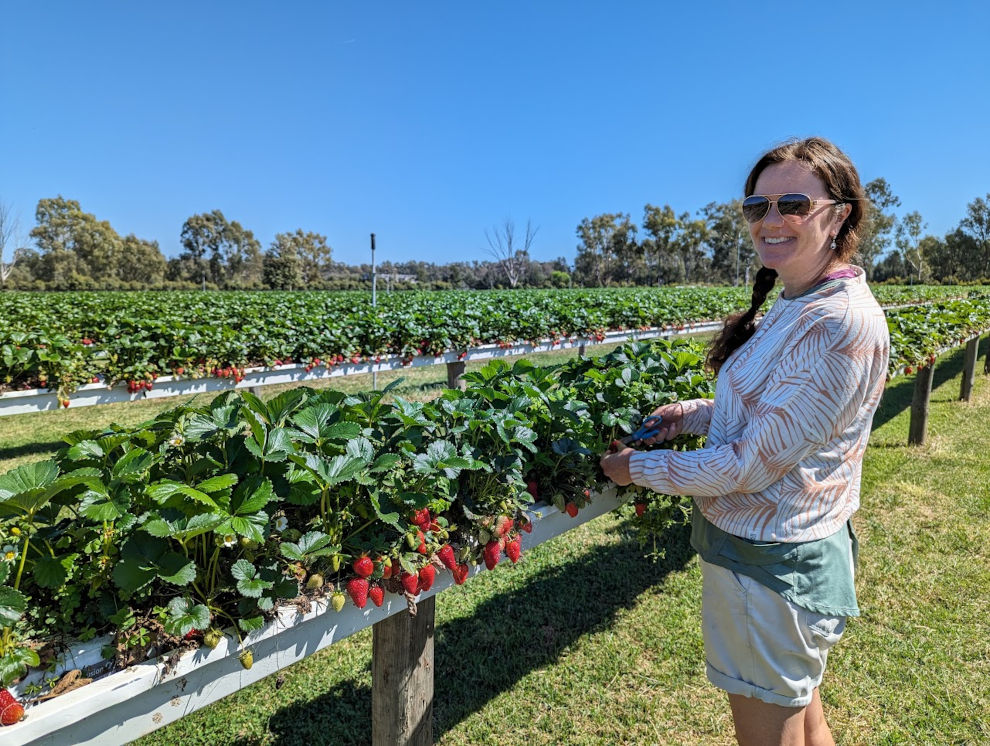 But first we had some strawberry picking to do. We originally planned to go do this yesterday, but the weather was pretty ordinary. It was at a place called Bidgee Strawberries & Cream.
There were rows upon rows of strawberries that kept us busy for a while, but given we weren't allowed to take fruit across the border, we just stocked up enough for snacks in the car.
Then it was time to hit the road. We plugged in Beechworth into the GPS which was slightly off course, but seemed like a good stop for lunch.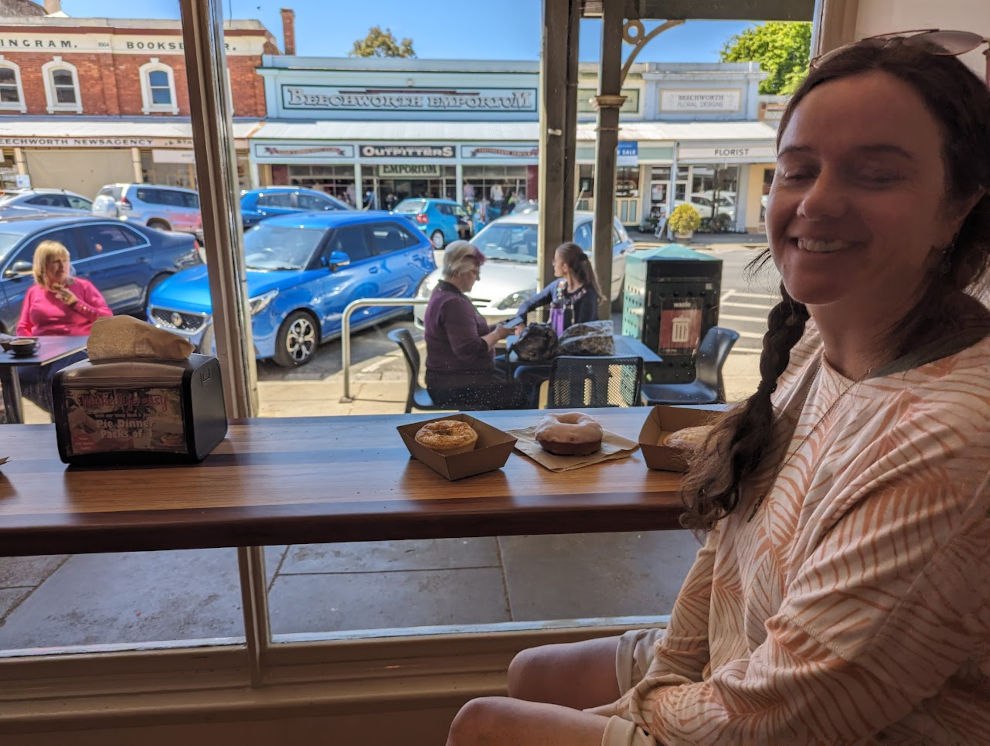 What an awesome little town Beechworth is! It reminded us of a Sovereign Hill type place with the hold historic buildings and architecture. We had lunch at the original Beechworth Bakery and got a donut that the lady recommended to us.
After lunch we went for a walk around Beechworth, then we set our GPS to Bright which was a 48 minute drive.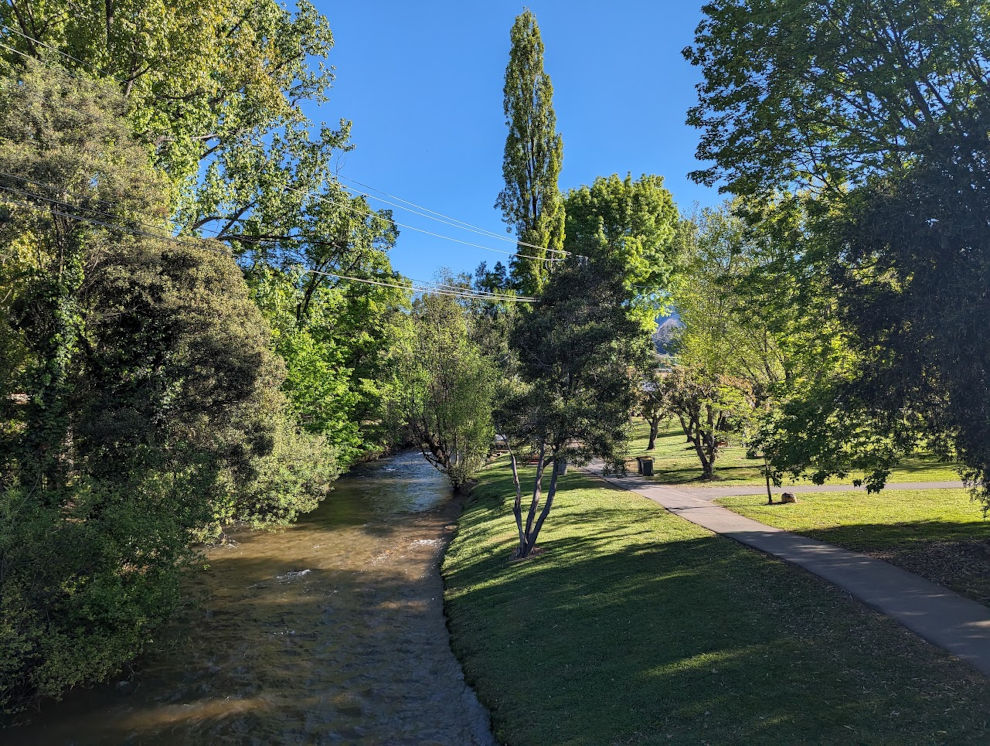 The scenery on this drive was absolutely stunning. And I mean the best scenery we have seen so far on this trip. This area is beautiful and green with amazing mountains and trees everywhere. We need to come back again!
We got to Bright not long after 3pm and while we were setting up, everyone else arrived. So we spent the next hour or two catching up, then decided to go for a walk into town.
This looks like our kind of town. Lots of breweries, shops, walking tracks, even ducks! We will leave those things for later in the week.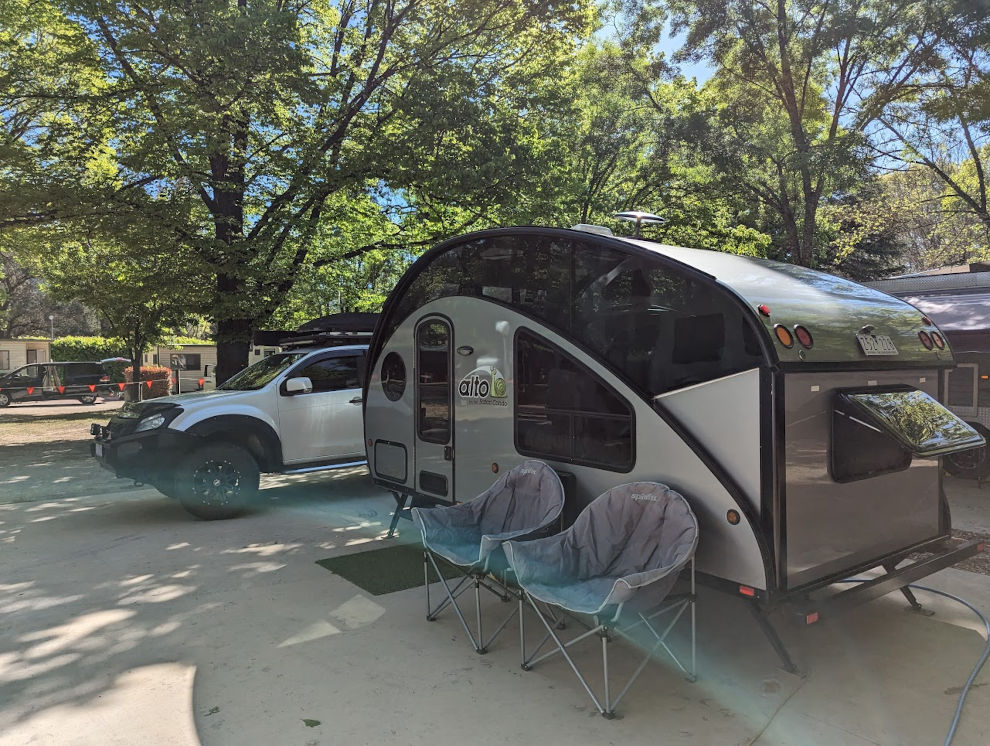 When we got backed we cooked some tea, had a shower and even had to get the heater out as it was chilly. Then finished the night watching episode 10 of Billions. Only two left now, ever!
Wednesday, Oct 18th – (Day 195)
This morning we had another decent sleep in thanks to the park being really quiet. It has been great lately!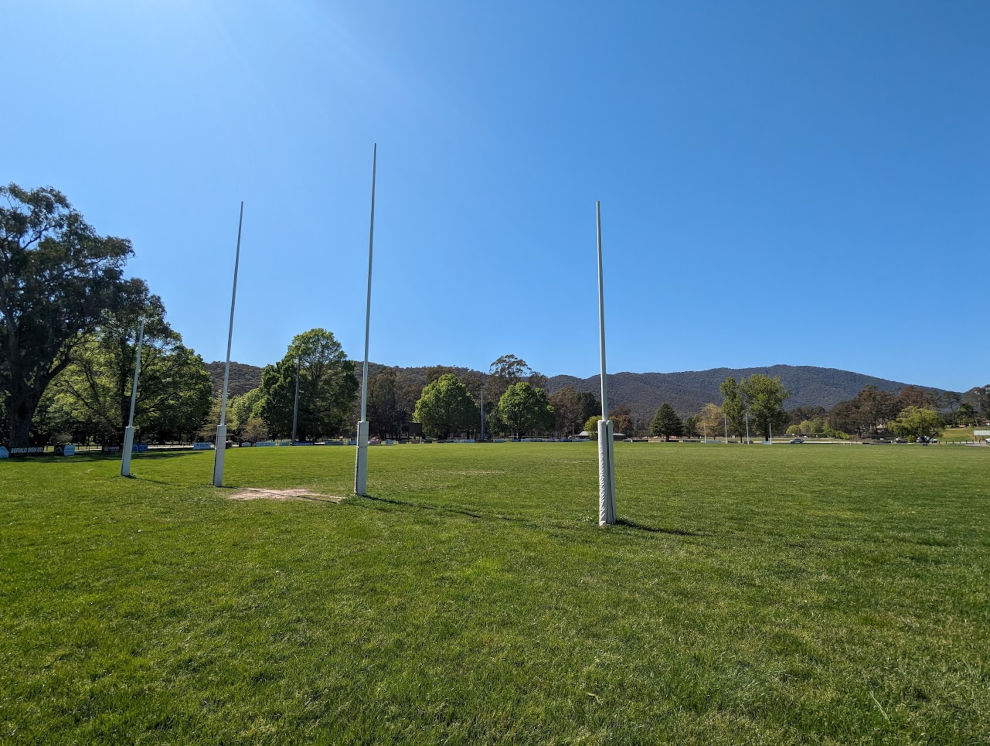 Also this morning, Adam decided to start his pre season fitness campaign given we're now back in Victoria. He ran 1km without stopping and plans to add 0.1m minimum every day until he can get to 6km, ie. Lake Wendouree distance.
Seven months of slamming down boxes of shapes and frequenting breweries has paid a heavy toll on the fitness. Only 2.5 months until the basketball carnival begins!
After the run, we all decided to go for a walk along the river which ended up turning into a 1.5hr walk. The scenery here is stunning and this walk showcased it perfectly. We were lucky to have an absolutely perfect day weather wise.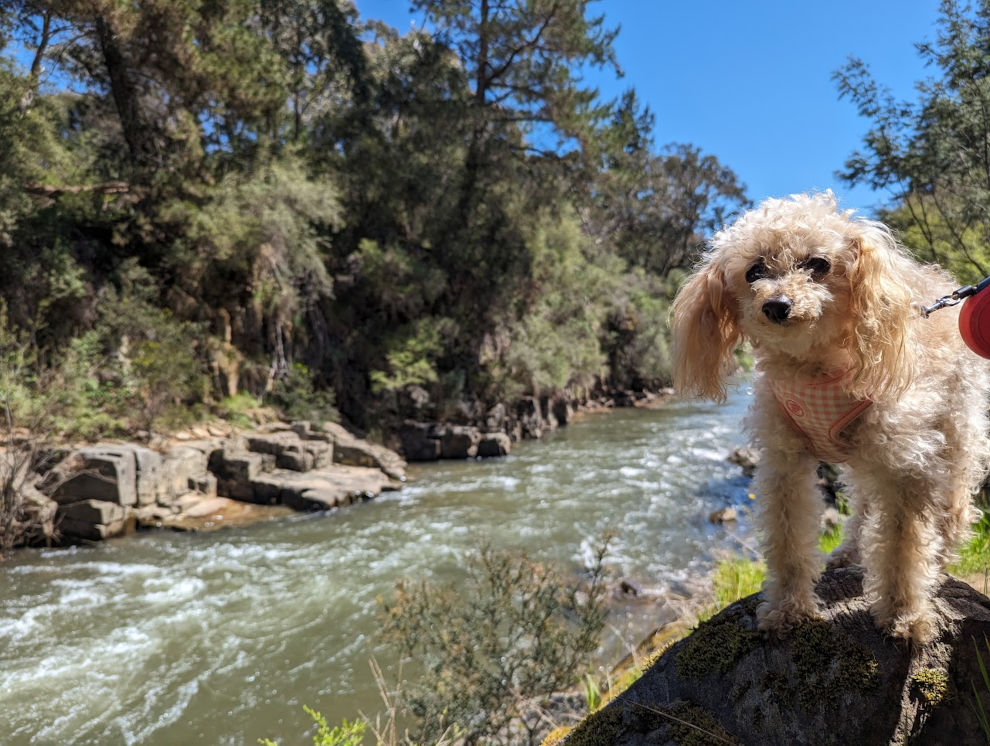 When we got into town we decided to go to Clean Bowled for lunch, which is a healthy poke bowl type shop with awesome meals and smoothies.
We left that place feeling real full, but still had room to stock up on some bakery items for later on. On the way back home we walked through the other caravan park which looks really lovely as well. A potential stop in the future, maybe?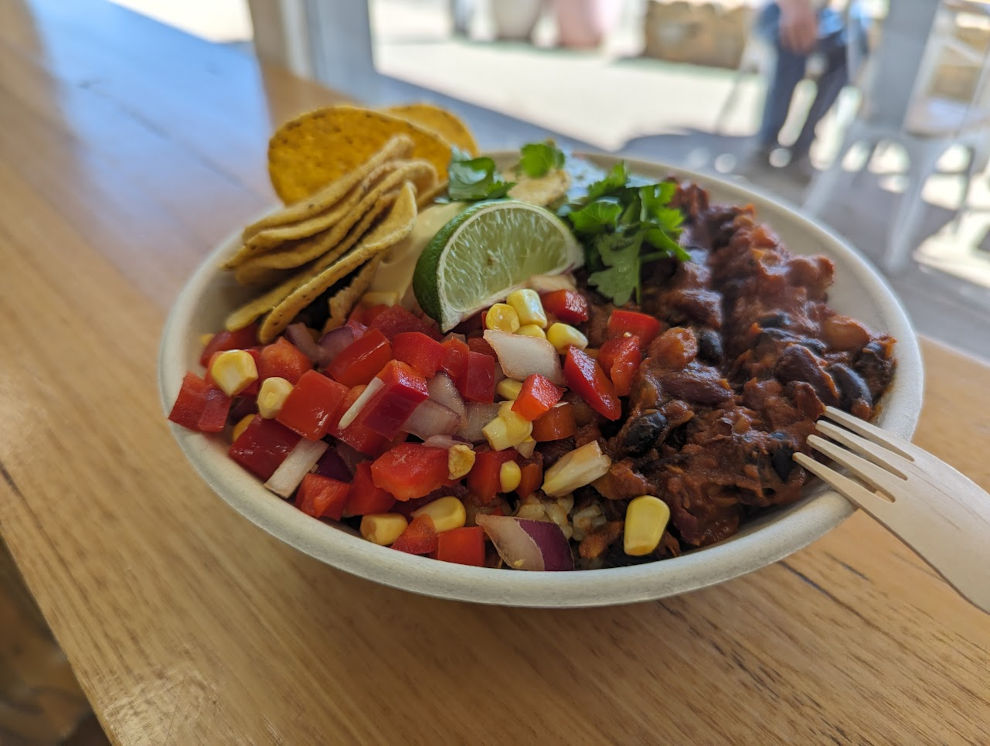 For the rest of the arvo we just chilled out and even had an afternoon nap. Pretty lazy really.
Then for tea we just reheated some spag bol from last night and then later on in the evening had an impromptu games session with Jack before heading to bed after midnight.
Thursday, Oct 20th – (Day 196)
Yet another sleep in! Today we didn't even wake up until 10am, but that can happen when you go to bed late. We're loving these really quiet parks.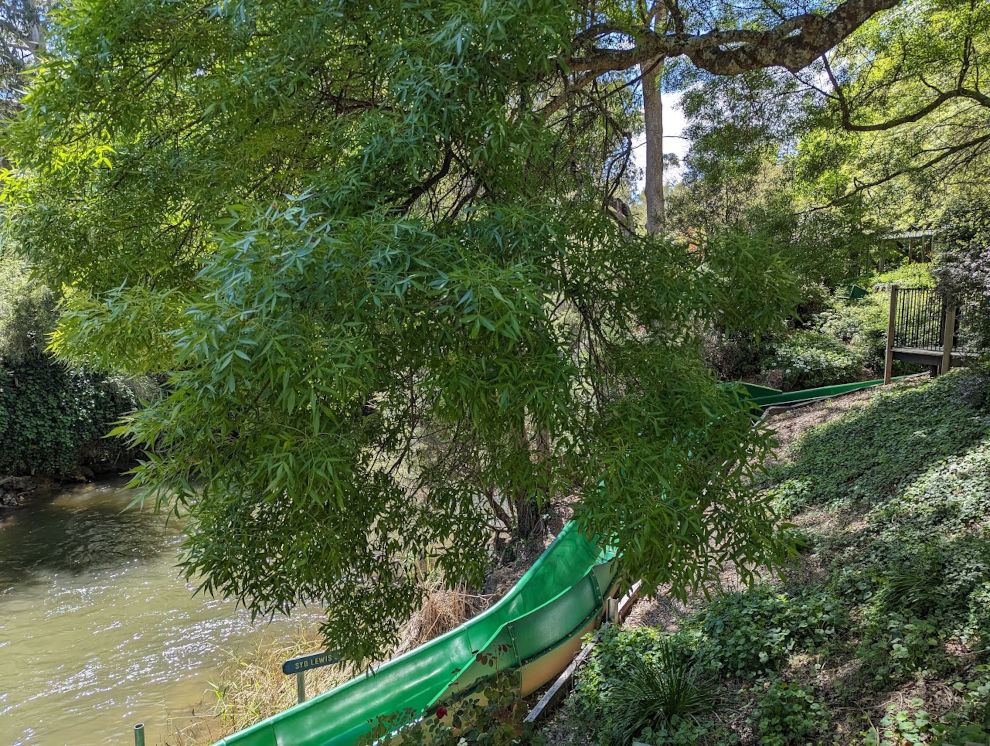 Later in the morning we went for another walk, this time to the Memorial Arboretum and then along the river again. Have I mentioned that the scenery is stunning here before?
After our walk we got a little snack at the bakery. They actually had Monkey Faces! First time we had seen these on our entire trip. Damn it's good to be back in Victoria.
Next, after a little rest, Adam continued his pre season fitness campaign, this time going 1.1km. Slow and steady, trying to improve the fitness.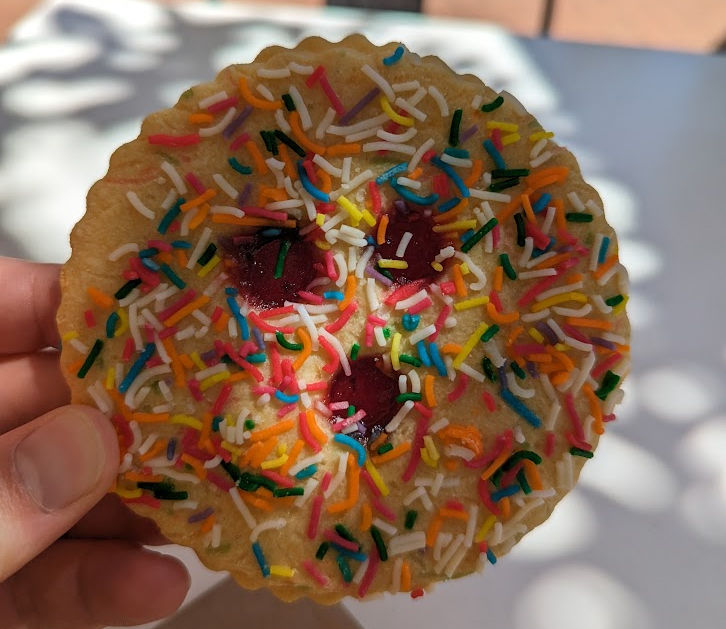 Then it was chilling out at the park for a while, before we decided to head into the Bright Brewery around 3pm for some boardgames and beers. We brought seven games with us, so decided to have a best-of-7 series. Here is how it wound up:
Love Letter (Linda)
Hive (Adam)
Monopoly Dela (Adam)
Ecosystem (Linda)
Sheep In Disguise (Adam)
Winter Haven (Adam)
Adam takes out the 4-2 win in an upset! There are more breweries here in Bright, so I suspect this wont be the last contest.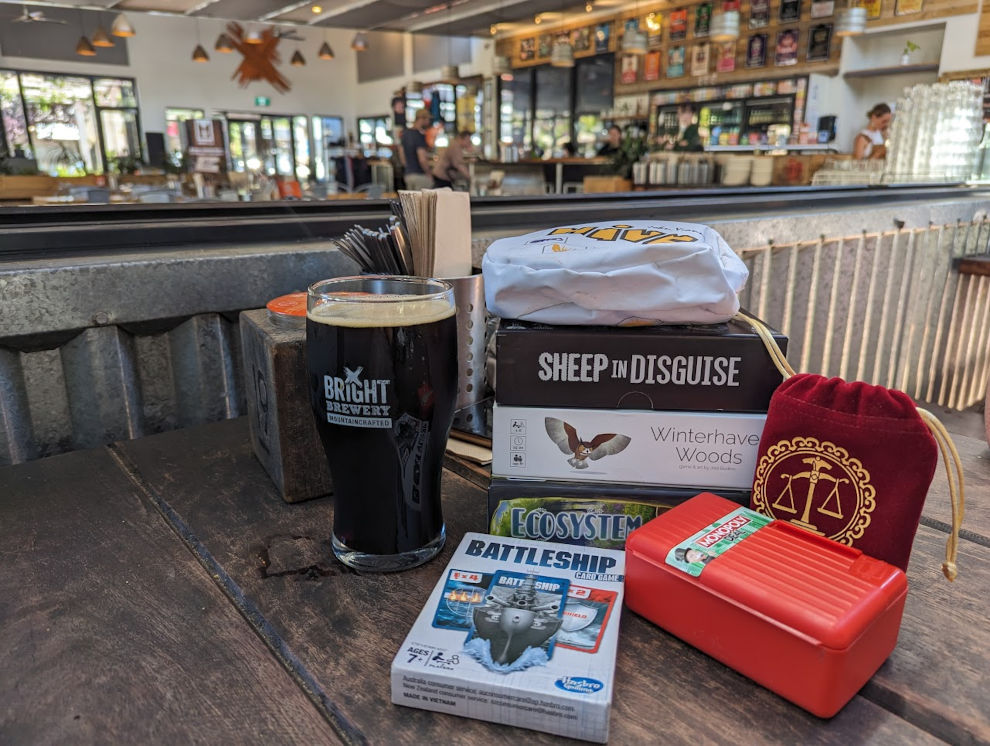 After that we went to IGA to get some stuff for tea then later on went to check out some second hand bikes to buy to go for a bike ride on the weekend. They were no good unfortunately, they wanted $80ea and they were trash.
Then we finished the night by starting that new David Beckham documentary which was really, really good.
Friday, Oct 20th – (Day 197)
Another day in paradise here in Bright. Lovely weather, lovely scenery and good company. We're loving it here.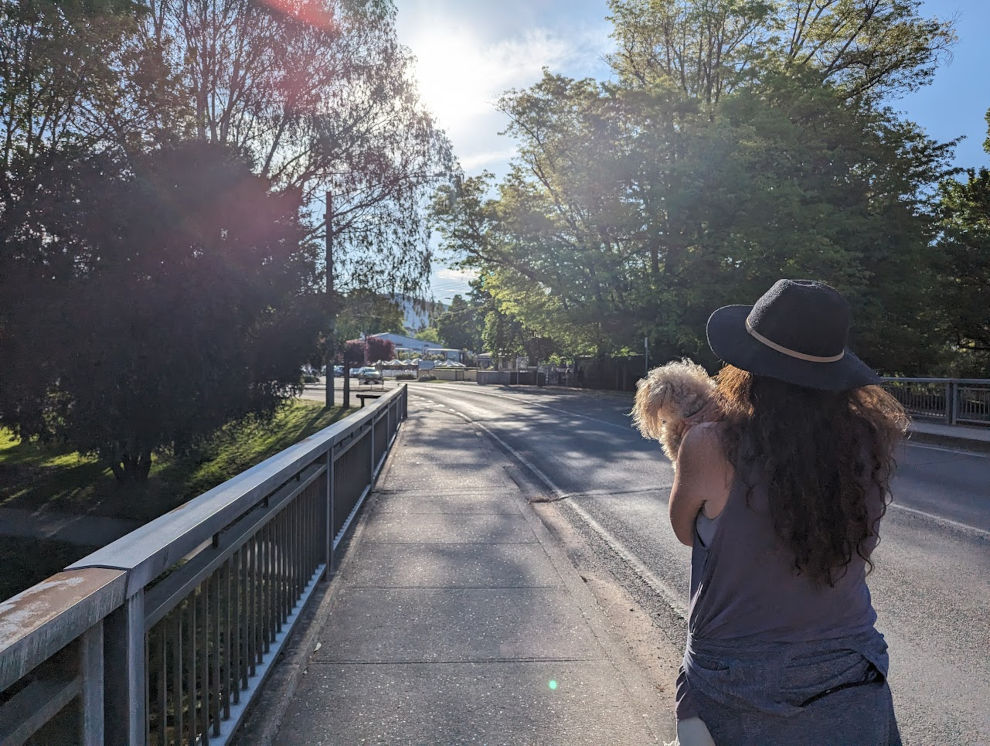 We spent the morning lounging around at the park and for lunch we decided to go for a walk into town to grab a salad roll and coffee scroll from the lovely little bakery we came across yesterday.
After lunch Adam decided to continue his pre season fitness. After the run, he went for a swim in the pool.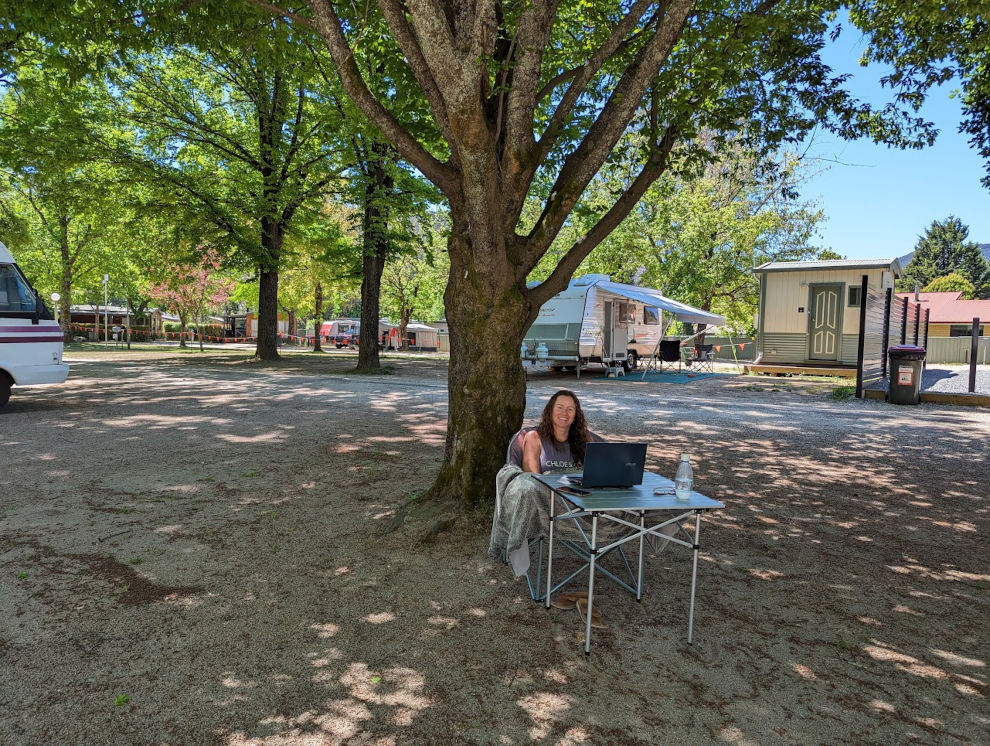 Then for the rest of the afternoon we spent at the park catching up on some work. We found some shade under the tree and it was the perfect spot for the next couple of hours.
For tea, we walked into town again and the other went to the Alpine Hotel. But given they had crappy vegetarian options, we opted to go to the burger joint around the corner and then go for a picnic near the river.
The spot was awesome and the burgers were real tasty, so we definitely had the better option.
Then the rest of the evening we didn't get up to much, other than continuing with episode two of the David Beckham doco. All in all, a pretty laid back day.
Saturday, Oct 21st – (Day 198)
Unfortunately Millie hasn't been doing too good so the first mission this morning was to take her to the vet for a check up. We think she has a bulged disc in her back, so hopefully she's on the mend.
After the vet we went for a look at the market. We expected it to be a pretty good one given its only on once a month, but it was the same old stuff you see t every farmers market. But it wasn't bad for something to do.
On the way home we dropped in to Woolworths to get some pancake ingredients for lunch, as well as getting a smoothie from Clean Bowled. Damn these smoothies are good!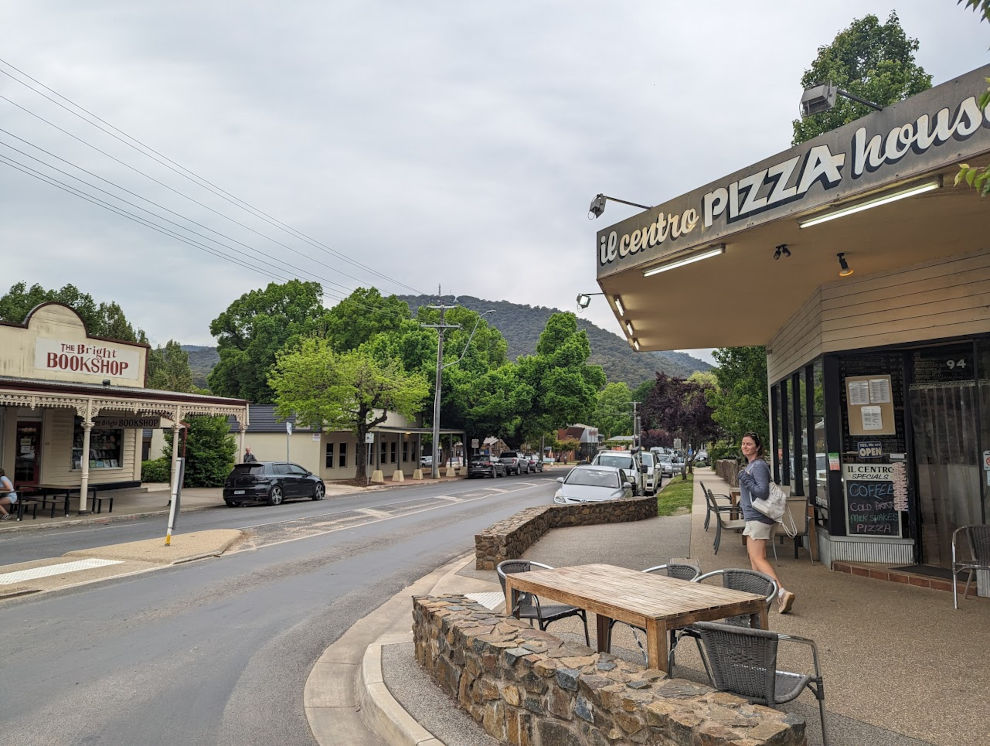 We had our pancakes then chilled out, having an afternoon lap, while some Zelda was also played. Adam continued his running again, then went for another swim in the pool.
Later on in the arvo we went for another walk to town and grabbed some burrito ingredients for tea, then later on played some rummikub. We love our games!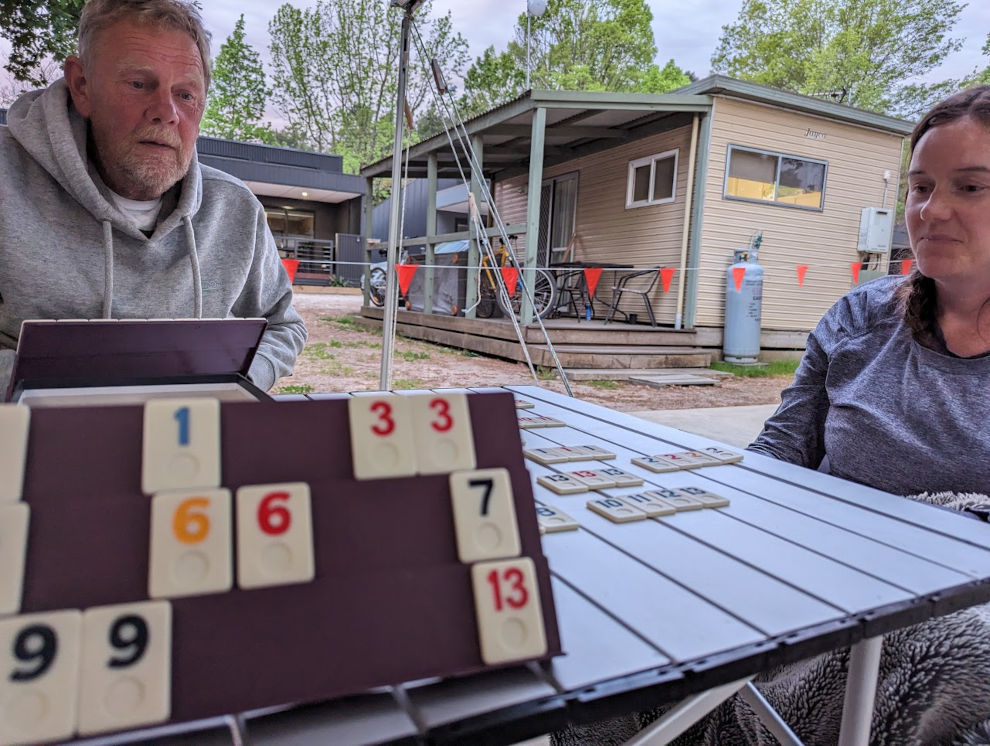 Tonight we watched episode 3 of the Beckham show which has been really good so far.
Sunday, October 22nd – (Day 199)
The penultimate day of our trip! Unfortunately the weather deteriorated and it was wet and cold for large parts, so today was pretty much a lazy old day.
Most of the morning and afternoon was spent sitting around in the caravan playing around on the keyboard or playing Zelda on Nintendo.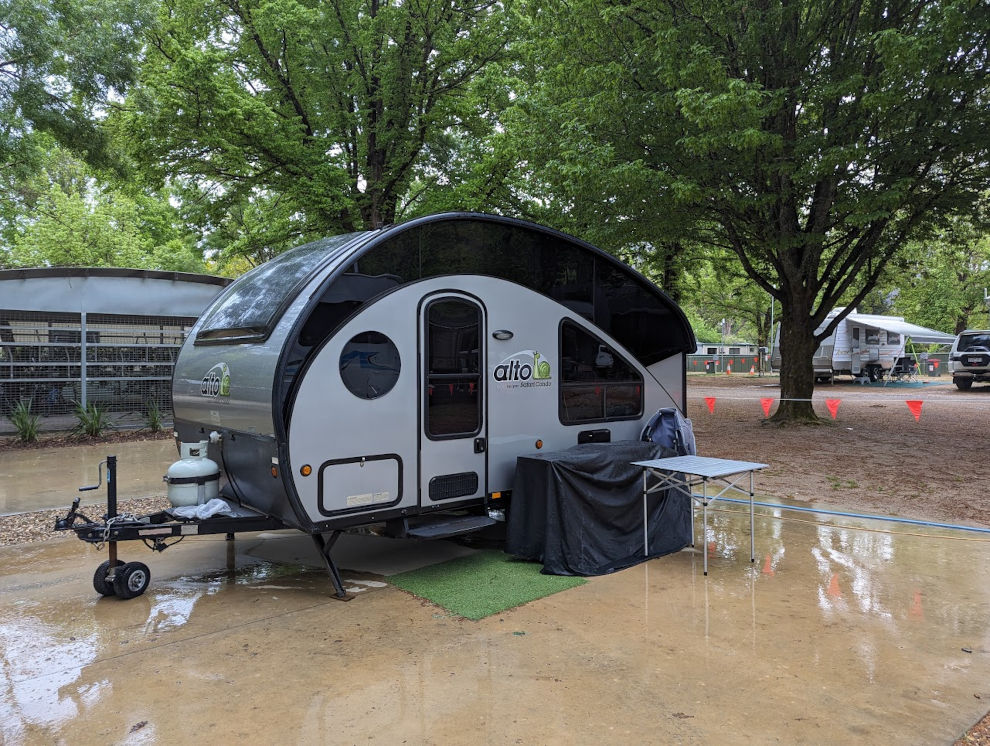 Around lunchtime it stopped raining for a bit, so we quickly went for a walk into town to grab a poke bowl and brought it back to eat.
Adam even got time to go for a run. He wanted to go for a swim too, but for some reason they had locked the pool area.
Other than that we didn't get up to anything. Later on in the evening we played some more rummikub and also watched episode 11 of Billions. Only the season finale to come now.
Monday, Oct 23rd – (Day 200)
Our last day! Hard to believe we have been on the road for 200 days now. It has gone super fast.
We didn't get up to a whole lot in the morning, then went for a walk into town for lunch, going the back way this time.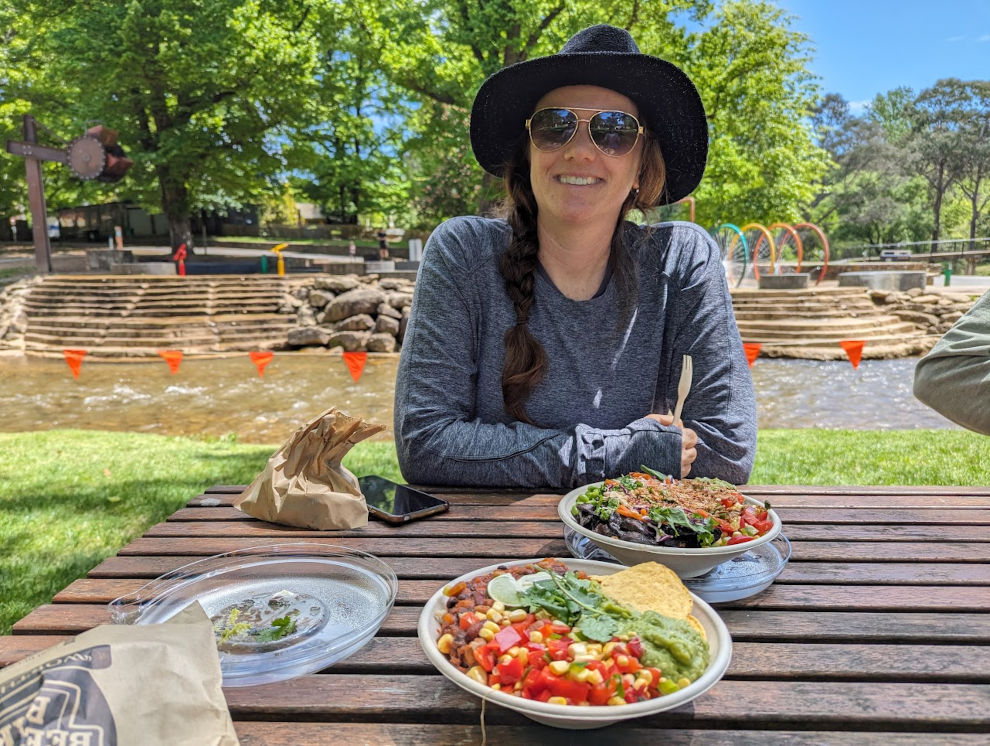 The plan was to get a salad roll from the bakery, but unfortunately it was shut, so instead we got ourselves a poke bowl which is always a good idea. We ended up eating it down by the river where we had tea the other night.
Adam decided to run home from the park to continue his fitness campaign, then went for a swim after it in the pretty awesome pool we have at the park.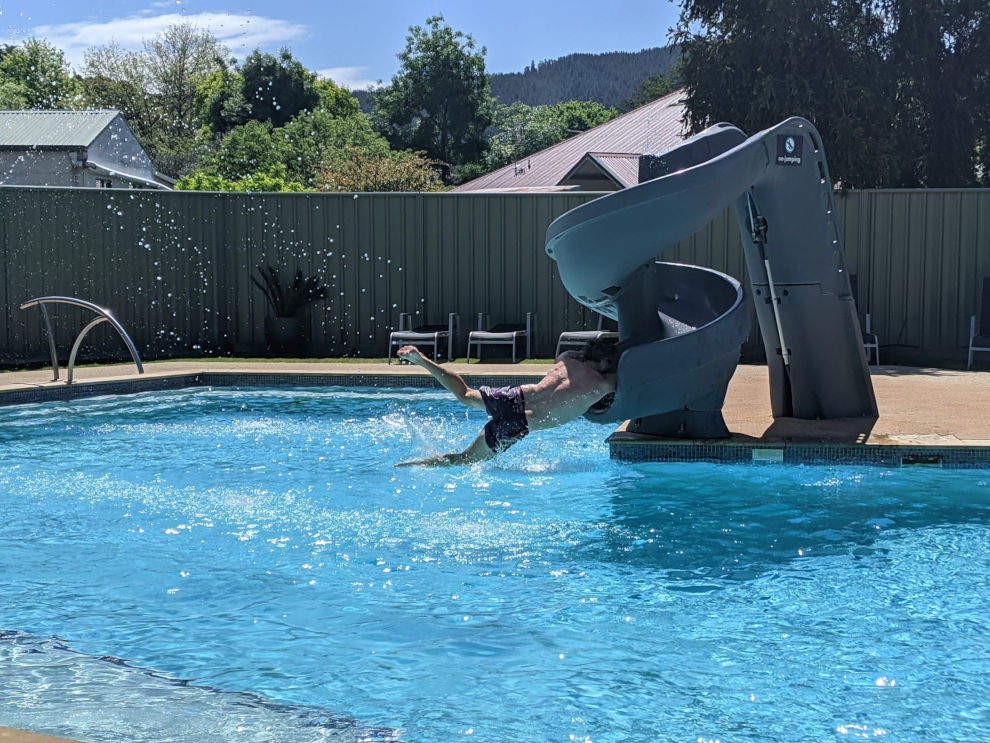 After a little bit of resting, we decided to go back to the brewery for some beers and games, then ended up having some tea there. Then after tea we decided to go on the big walking loop of the river which was a good 4km walk or so.
It was a beautiful night for a walk, tshirt and shorts weather. On the way back we got some groceries and tonight Linda finally finished the final scene of the Zelda game she had been playing all holiday. It was worth the wait!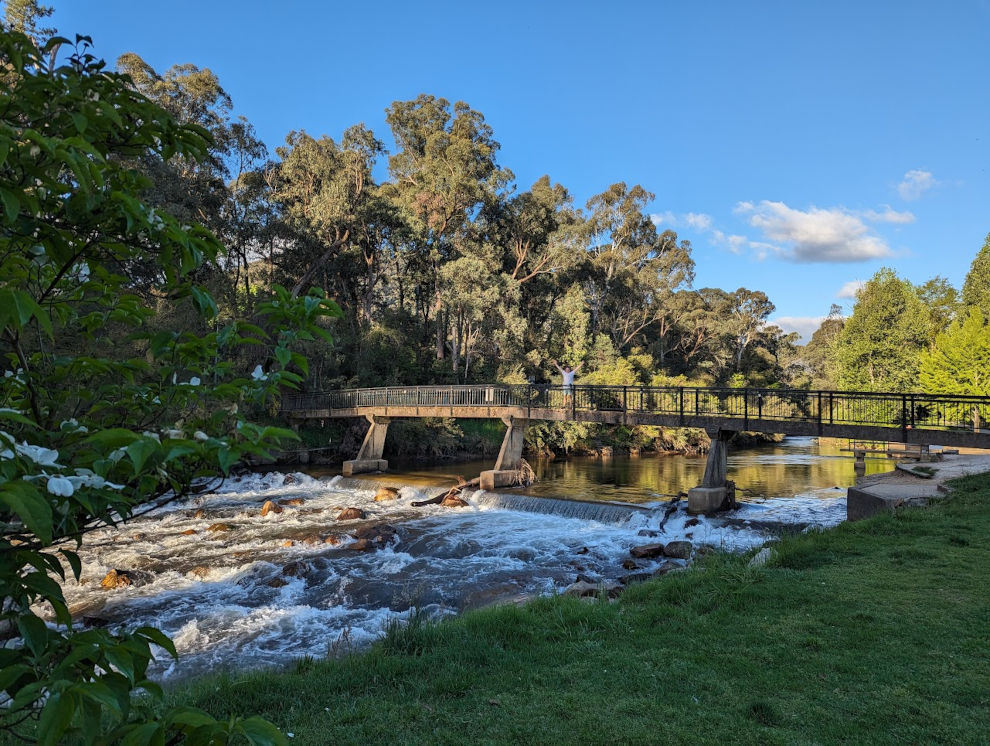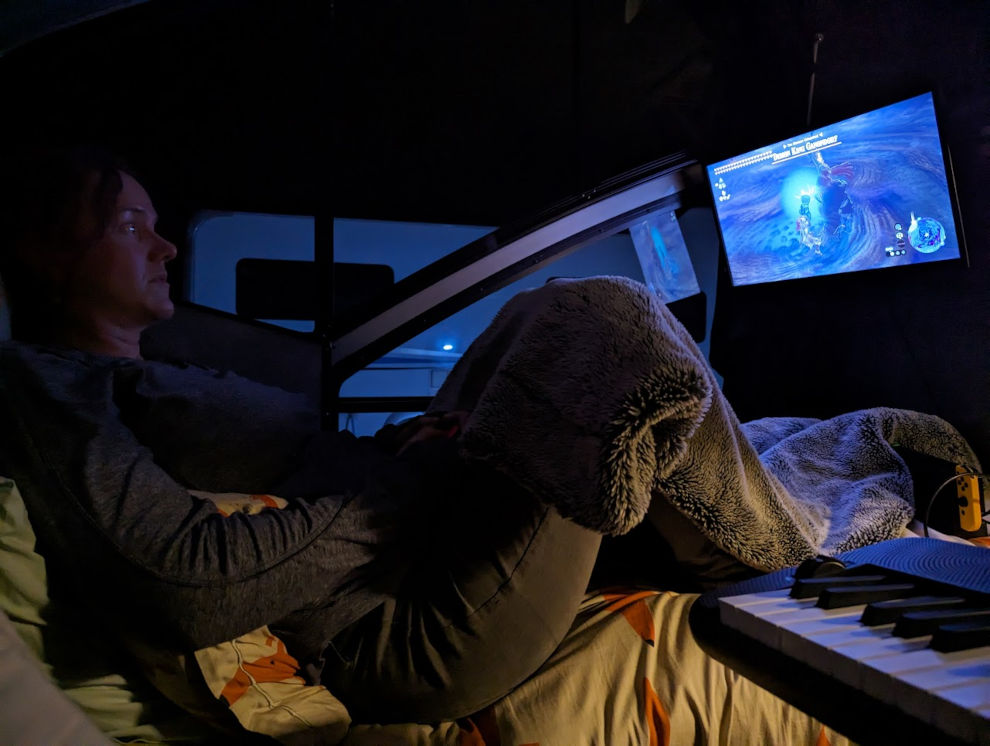 We ended the night by finishing off the David Beckham documentary. And that was hit, 200 days on the road had come to an end!
Time to go back home
Finally it was time to go back home. Adam went for a run in the morning, then we packed up and said our goodbyes and were on the road by 10am.
We stopped in Euroa for some lunch at the Olivers, as well as for a snack at Subway on the outskirts of Melbourne. In the end, we were back in Ballarat by 4pm or so.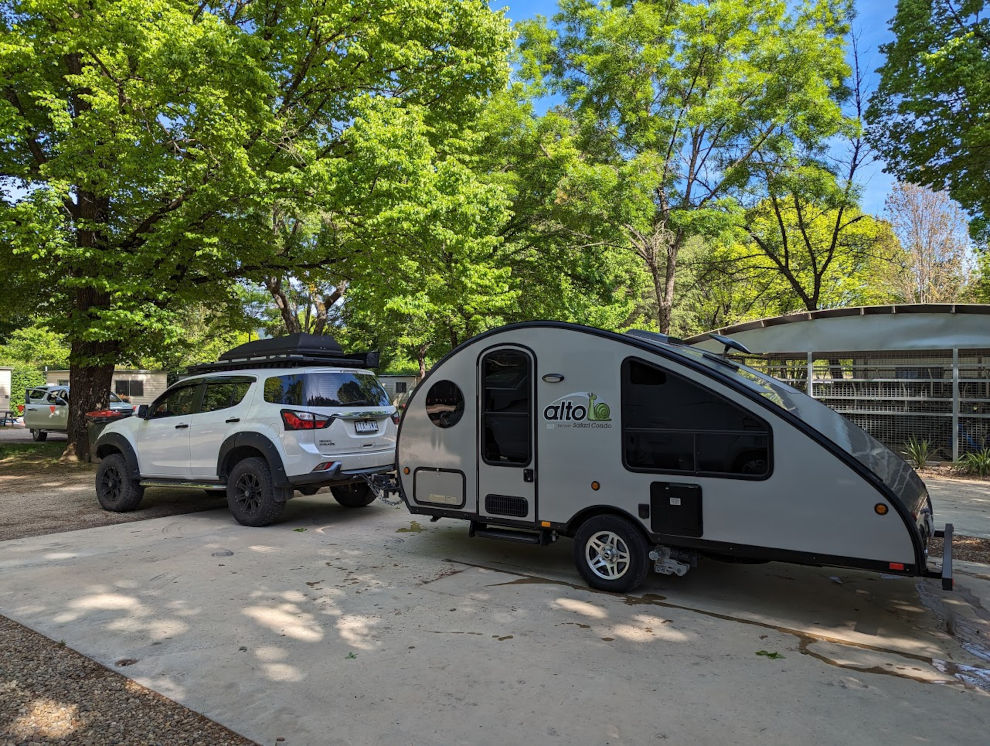 The next hour or so was spent unpacking the caravan and putting it into storage, then moving all our stuff into the house.
We had nothing for tea and the house was freezing, so we decided to carry on our tradition of going to the movies on the day of getting back from holidays.
Killers Of The Flower Moon was the movie that was on and it was a monster of a movie – 3h26m in length. After the movie was over we went back home and did some work, then called it a night.