Feeling a little less tired this morning, we had a little sleep in whilst devouring our breakfast cereal of bran and granola, which, unfortunately, Adam was now sick of.
So putting new breakfast on the list of things to do today, our sleep in continued until about Midday. So after a quick shower and freshen up, we head to the best sandwich shop known to man. Jimmy Johns.
We order up two 'The Veggies' and take in some financial and life advice from Warren Buffet off a poster on the wall. Smart guy.
Pretty Little Liars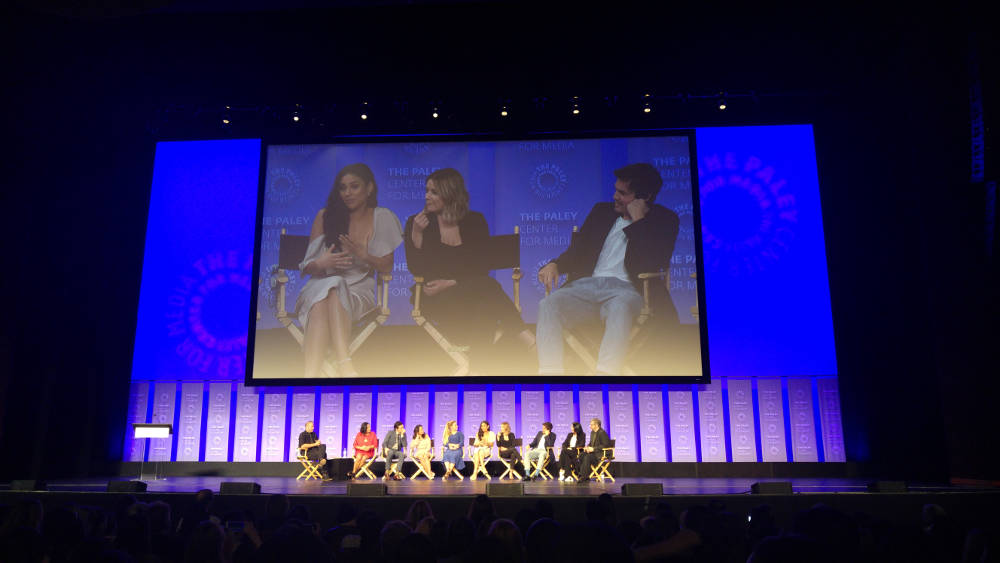 Now it was time for the event we had all been waiting for. Ok, so it was just Linnie that was super excited about it, but Adam was happy to tag along.
It was an afternoon with the cast of Pretty Little Liars and its producers held in none other than the Dolby Theater!! (Yes, where the Oscars take place)
Ok, so still only Linnie that is excited about it. But it was so amazing to see characters from a TV show that has been running for about 7 years in person only steps away from you.
Aside from the frantic girls screaming when the cast were introduced, the rest of the Q&A session was quite entertaining. We got to hear stories from the set and even got to see the first minute of the next (and last ever) season, the first people in the world to see it in fact!
After about an hour and a half of insider stories, most embarrassing moments, reading scenes off a script and heaps of other goodies, the session come to an end.
What happened next was a little scary. A literal stampede of teenage girls, and dare I say it, some older guys too, came thundering down the isles to get signatures and selfies.
This was our cue to leave and head to the grocery shop to stock up on supplies and another breakfast for Adam who has now taken the title of fussy breakfast eater.
Exploring Hollywood some more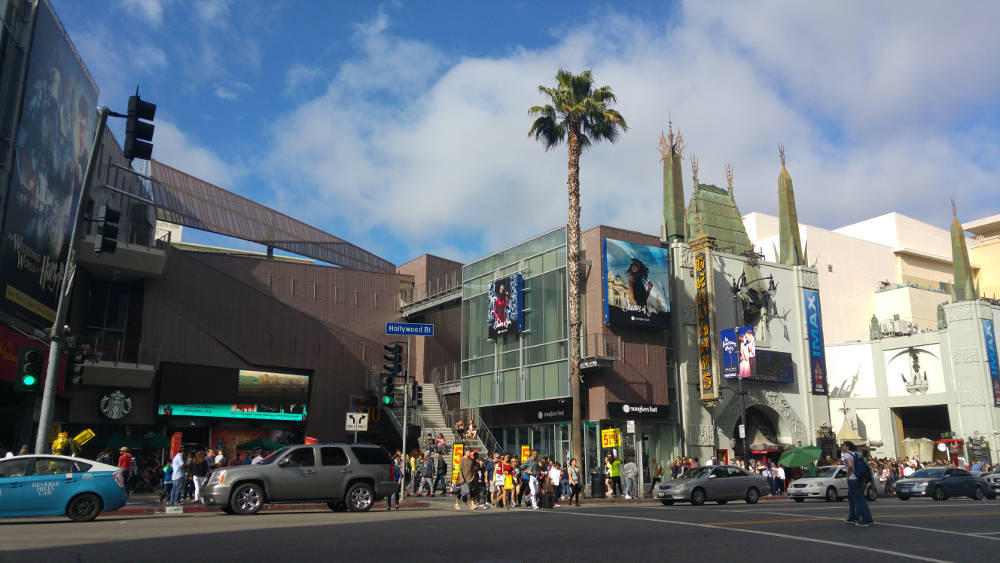 About 8 blocks over we find the grocery store and are greeted with something we hadn't seen since getting to LA, fruit and vegetables. So we load up our arms with bananas, blackberries, apples and carrots and then grab a box of corn flakes and throw in a pack of gum. Sorted.
The lady at the checkout liked us so much she gave us a $2.99 discount, Americans are so nice!
We take our big haul back up the 8 blocks to our usual Starbucks for a power up. Much to Adams delight, the girl at the counter remembered him from yesterday and even got his name right, naaw, we feel like locals now.
Also on our journey we came across someone yelling over a loud speaker. Apparently Jesus was a black man and the white Jesus depicted in The Bible was a fraud, and that the black Jesus will be returning soon for vengeance on the white man. This was certainly news to us!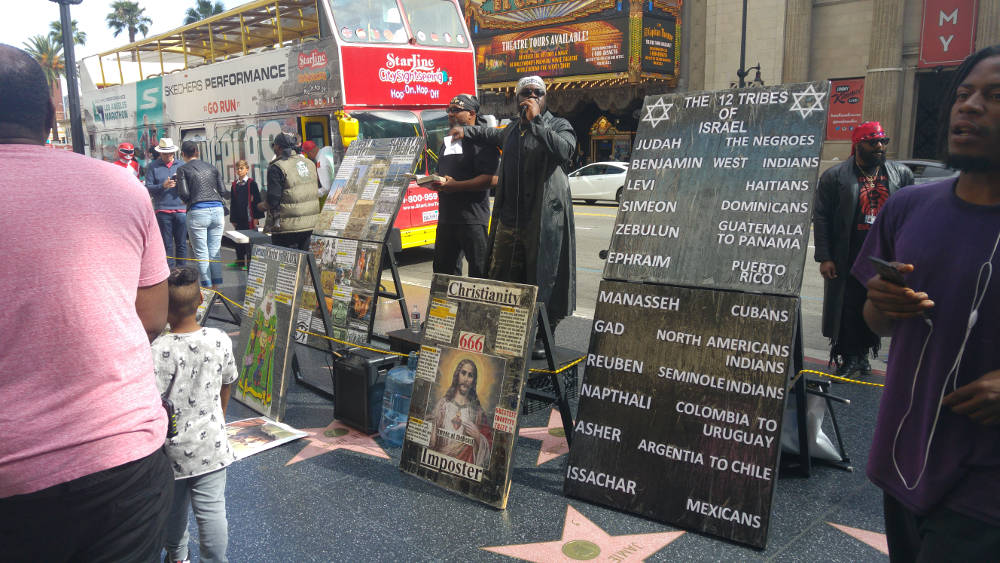 Anyway, back to the room for a breather, Linnie hits the Netflix as the TV in the room doesn't play actual channels. Is this what the world is coming to now? Adam settles in to watch a share trading video and we don't arise again until our stomachs start to grumble.
Feeling a little Mexican, we head back to the Hollywood Highland center and find a nice Mexican Cantina where we chow down on nachos and burritos until we get the familiar sick feeling of eating horrible weird melted cheese.. Bring back the tasty! It wasn't all bad, their chips and salsa are always delish.
Before bed we decide to hit Hollywood Boulevard to see what crazies are lurking on a Saturday night.
We find snakes, Superman, Spiderman, Yoda, Wonder Woman, Marylin Munroe, sexy cops, a couple of Captain Jack Sparrows and countless rappers trying to flog us their demo CD's… noooot gonna happen.
Rather sick of being heckled for money, we take the back street shortcut away from all the madness and scamper back to our nice cozy room for the night.
Our sore muscles still aching from the walk to the Griffith Observatory need more rest and recovery but will hopefully be all fired up again for tomorrows hike up Runyon Canyon!
Top 3 Highlights
#1 Pretty Little Liars
Linnie had a field day watching a Q&A session with the cast from Pretty Little Liars. It was the perfect venue to at the Dolby Theater, home of The Oscars.
#2 Resting
We still were feeling the effects of jet leg, soreness from our walk yesterday, plus a few weeks of renovating houses, so today was a great day of relaxing and not doing much. The first time in ages we've had a good rest.
#3 Exploring Hollywood
We wondered around Hollywood some more today. It is always good fun to wonder around checking out the sites. We got some new breakfast cereal and supplies at a local grocery store and had Mexican for tea.
Where We Stayed in Hollywood