Today was our first full day on our trip and we kicked things off feeling pretty tired having woke up several times at night due to jet lag.
We got up around 6am and went and enjoyed a Peru breakfast, which turned out to be pretty much the same as the ones we have at home. Eggs, toast, cereal, coffee and juice but with a few new delicacies like pink bread and quinoa cereal.
Our plan for today was a 3.5hr bike tour of Lima at 9:45am, but given we got up so early we decided to go for a walk and check out some festivities.
We tried to get into the apple shop but they seemed to have some issues with a rather loud alarm going off inside so we settled for radio shack, unfortunately for us, the USB charger we bought there is a dud and doesn't charge anything!
It was time to head to the bike tour place, which was only 2 doors down from our hotel, we met a nice couple from Sydney who we got chatting with, as well as a dude named James who was from Birmingham, England who was super nice. Plus a group of about 7 Americans who were pretty loud.
The bike ride was great fun. We toured around three of the districts in Lima including Miraflores, Barranca and Chirrillos.
We stopped several times for the instructor to teach us a bit of history, he was a pretty good guide considering he had only been working there for 5 weeks but we scored big time as he is a history major who is applying for Columbia University next years, so we got the rundown of everything there is to do with Limas long history.
On the way back we stopped by a quaint old restaurant and soaked in some local cuisines which included one off the nicest ham sandwiches of all time.
After a few close calls on the bike, including nearly taking out a little kid, it was back to the office to drop the bikes off.
The guide was really nice and gave us a map highlighting special spots to see around the city.
So we decided to follow the map and go on a big walk, which turned out to be ideal training for the Inca Trail next Tuesday.
We checked out an old ruins site which was over 1500yrs old, a famous Olive Garden full of row after row of ancient olive trees, a few nice parks and some local markets where picked up an amazing lama wool blanket which is sure to come in handy on the freezing nights at altitude and a soft warm scarf all for the low price of $22, safe to say I will be back!
After all that walking we stopped for a coffee at a random cafe in the middle of nowhere.
The weird thing was we saw James from the tour walk by, we only knew a whole of 3 people in the whole of Lima and to see him walk past was very weird, another weird fact was that the Sydney couple that we met were on the same flight as us going into Santiago, it's a very small world!
By now we had walked about 10km and rode 16km on the bike, plus it was real sunny and we were both burnt to the shitter. All in all, it was an awesome day, but by night we were pretty tired, especially with a bit of jet lag added in.
We decided to go back to The Corner Bar, the sports bar we went to last night for tea. They Game 4 of Oklahoma City and San Antonio playing so we watched that then headed back to catch some Zzz's as we have a big day planned for tomorrow.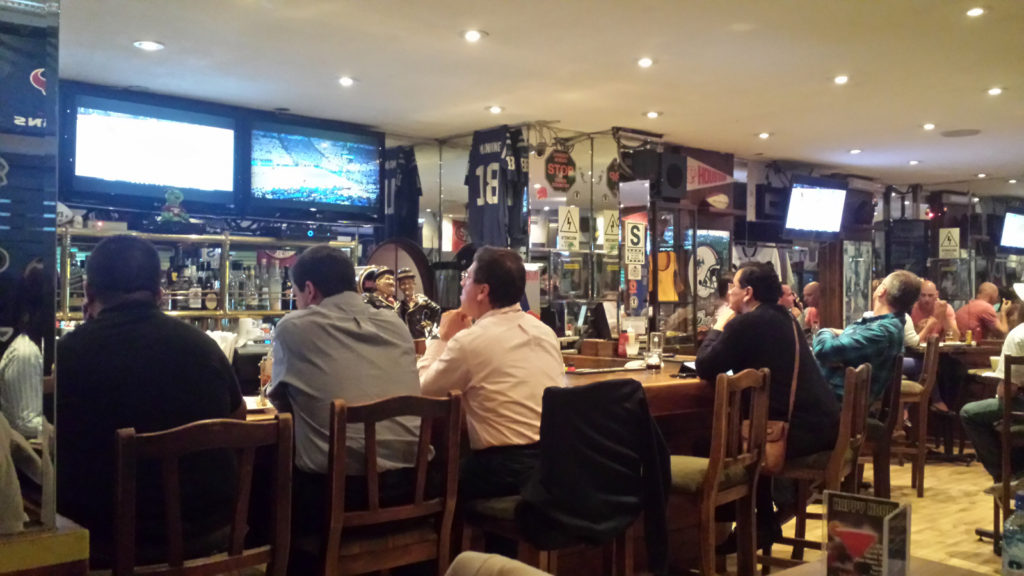 Where We Stayed in Lima