Up bright and early today we went down to get some breakfast at the hotel restaurant. Try ordering breakfast with no menus and the waiter doesn't speak English, and then try to order cereal, a nightmare!
But we got there in the end with a lot of demonstrating I got served up some cornflakes with some weird mango smoothie to use as milk and we also got some scrambles eggs, a bread basket with some jam and a little bowl of fruit, we didn't do too badly.
We got picked up at 7:45am and got dropped off at the Paracas pier to go on our bird tour, while we were waiting in line a Peruvian was trying to drum up a bit of cash by feeding pelicans.
He has them perfectly trained to jump up on a ledge, have someone sit next our them and then pose for a photo… What people wouldn't do for a quick buck.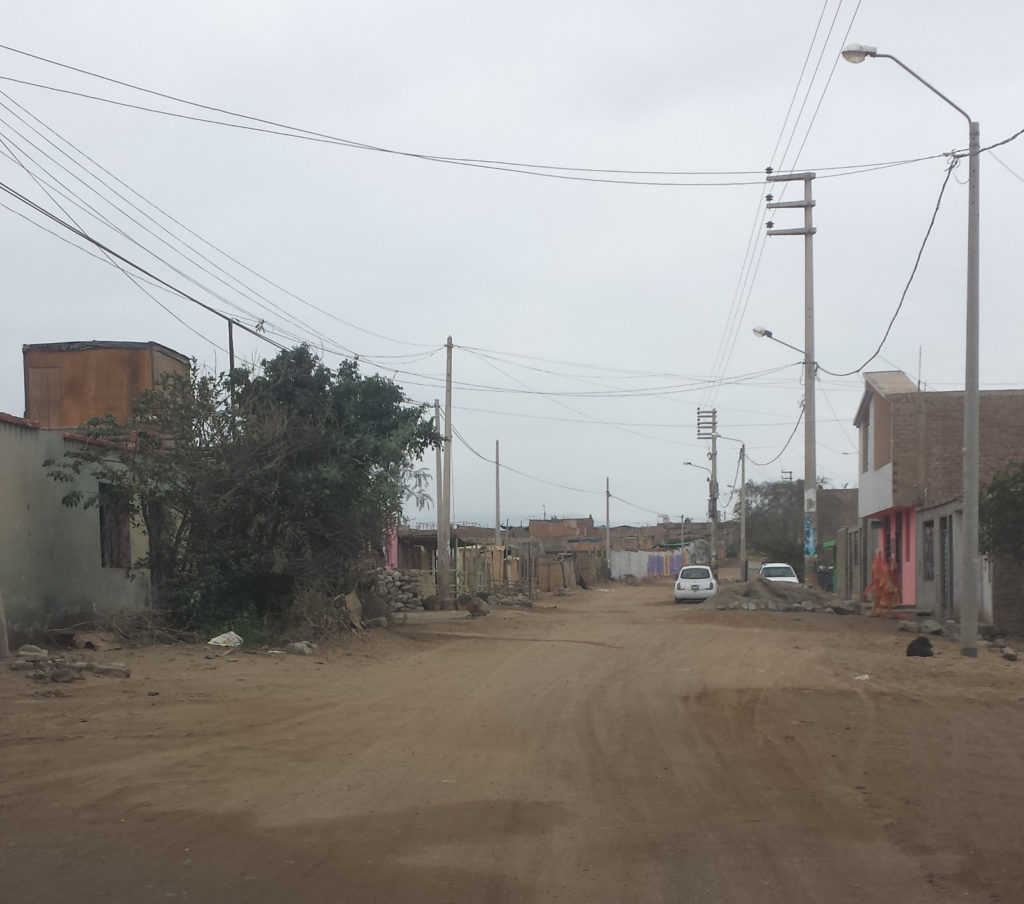 About 15 minutes of waiting a man come out and said that the bird tour is off due to high seas, fair enough, I don't want to be on a boat in rough seas but it was still disappointing, so it was back in the car and back to the hotel.
We packed up our thingsm well ahead of schedule now, and headed to our next port of call, Ica, a small little town in the middle of no where, and that's exactly where we ended up.
Some advice to you all, never follow a GPS when it says to turn down a lonely deserted dirt road, it will only lead to bad things, like nearly getting bogged in sand going up a hill, getting hopelessly lost to the point of asking a few locals.
Luckily our Spanish is getting a lot better and from what we were told we made our way back to the hotel but damn, that was scary!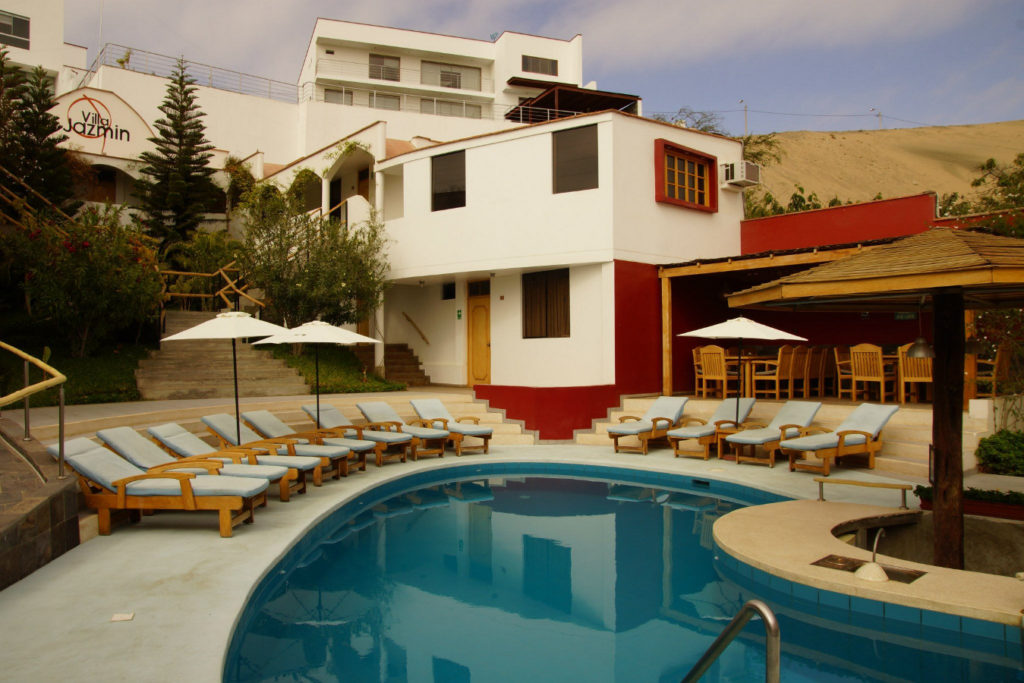 A few turns in the right direction and we found our hotel, stepping through the doors we were greeted by a stunning pool surrounded by flowering jasmine and beautiful gardens, it was a little piece of heaven amidst the dust and chaos.
So we laid by the pool for the rest of the morning and into the afternoon, soaking up sunshine, making friends with some Canadians and eating our way through a well deserved ham and cheese sandwich.
Until we had to pry ourselves away to go and tackle the dune buggies, although it already felt like we'd done a bit of that already today.
The dune buggies was located in what looked like a mirage, a big lake surrounded by restaurants and shops. We found our tour guide and he loaded us into our buggie, we buckled our seat belts and away we went.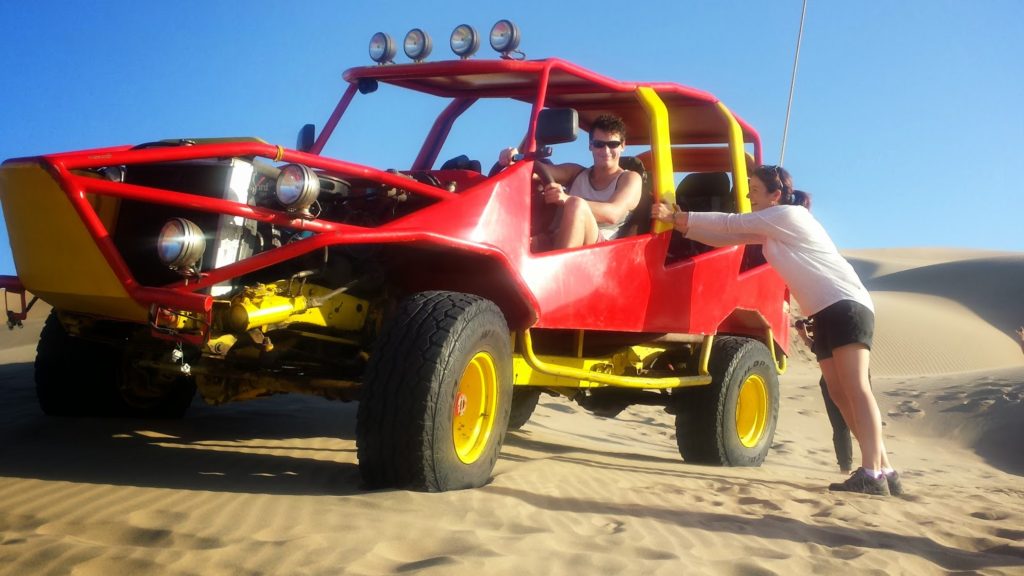 The first 15 minutes was like going on a roller coaster, up huge sand dunes and then over top at lightening speeds until we heard a thud and then a lot of cranks… The damn buggy was buggered.
So we waited about 10 mins for another one to come and pick us up, and it did but then it dropped us at the top of a dune and drove off again, thankfully there was a family on the same buggy as us and she translated everything so we weren't totally in that dark to what was happening.
Half an hour passes with us waiting around until another buggy come up full of people and they started getting some boards out and boarding down the dunes, it looked like so much fun but with so many reports of injuries using them we didn't was to risk it with the Inca trail coming up so we just watched.
Another 20 mins past and by this time the sun had gone down and it had gotten bitterly cold (estoy Friao!).
Waiting, waiting and finally we got picked up only to be taken to the top of another higher dune for people to board down.
By this point we were a shivering mess as the sun was completely gone and the wind had picked up. It took them another 15 mins to all get to the bottom and then we were off!
It was so weird going up and down dunes in the dark, we couldn't see a thing so I don't know how the driver did it, never the less we made it back in one piece.
We survived (only just) the taxi ride back to our Villa and tucked into dinner with our favourite Canadians and then retired to bed for some more well deserved sleep.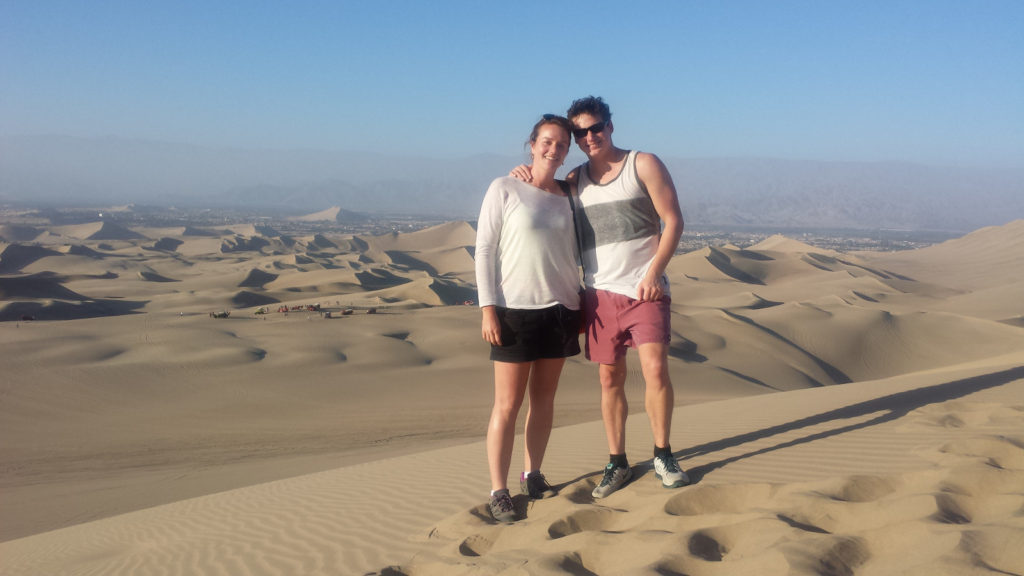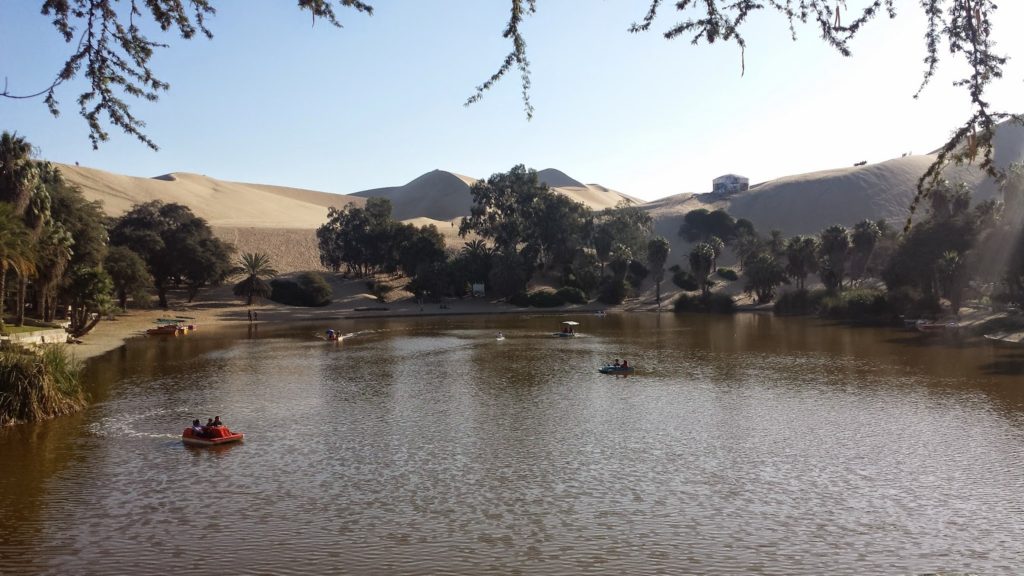 Where We Stayed in Ica