Whoo hoo, match day is finally here! We have been looking forward to this day since we booked the trip in June 2013 and it certainly didn't disappoint.
As the game wasn't on until 6pm we decided to spend the day relaxing by the hotel pool while we watched the Mexico vs Cameroon match on the tv.
We tuckered into some chips and drinks and soaked up as much sun as we could, it was a great morning.
2pm rolled around and it was time to get on the shuttle bus to our fanatics fan site that we were at yesterday and check out the pre match entertainment.
There were Aussies EVERYWHERE! all the fanatics from all around were now in the one spot, it was a sea of green and gold.
We lined up for some food but about 30 mins and only moving about 2 meters we gave up and sprawled ourselves on the grass in front off the big screen and watched Holland destroy Spain 5-1, go Holland!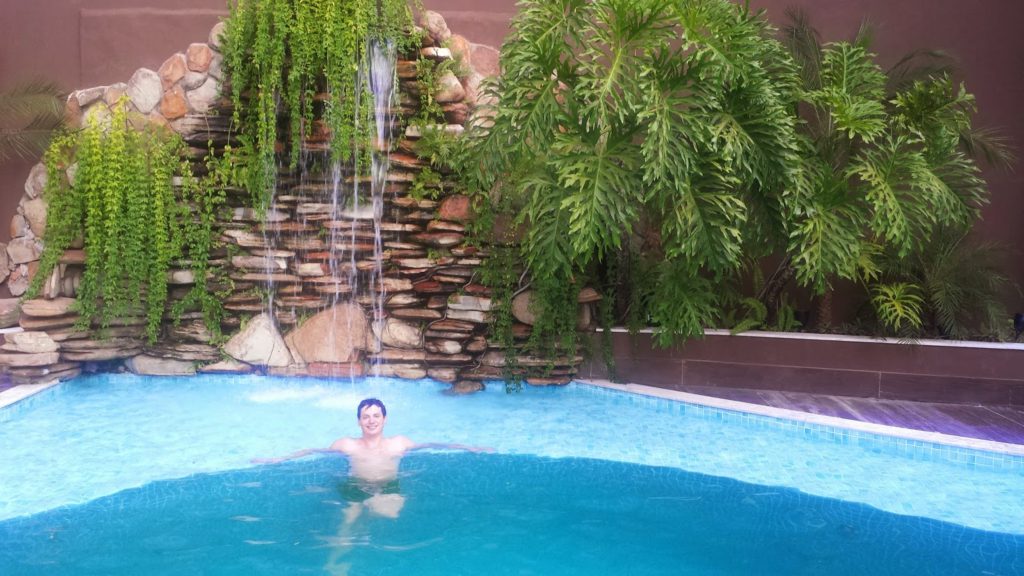 The humidity was pretty high today so we headed over to the pool at the fan site and dangled our legs in the cold water, it was bliss.
4pm and it was time to march to the stadium, being that it's only 6km from our fan site it wasn't too far away so we all funnelled out and gathered outside, we even had a small band with about 5 different types of drums and some Brazilian dancers follow us the whole way as our green and gold army took over the streets of Cuiaba.
It must have been quite a sight as all the locals were standing there with their phones taking photos and videos, our huge group literally took up the whole street and went on for miles.
It turns out that Australia have the 3rd largest amount of fans that come over for the World Cup, just behind USA and the host city Brazil. A pretty good effort considering the cost of flights.
After a lot of chanting we arrive at the stadium which looks pretty impressive from the outside, we pile in after going through metal detectors and bag scanners and find our seats.
Smack bang in the middle of a shitload of Chile supporters… Joy.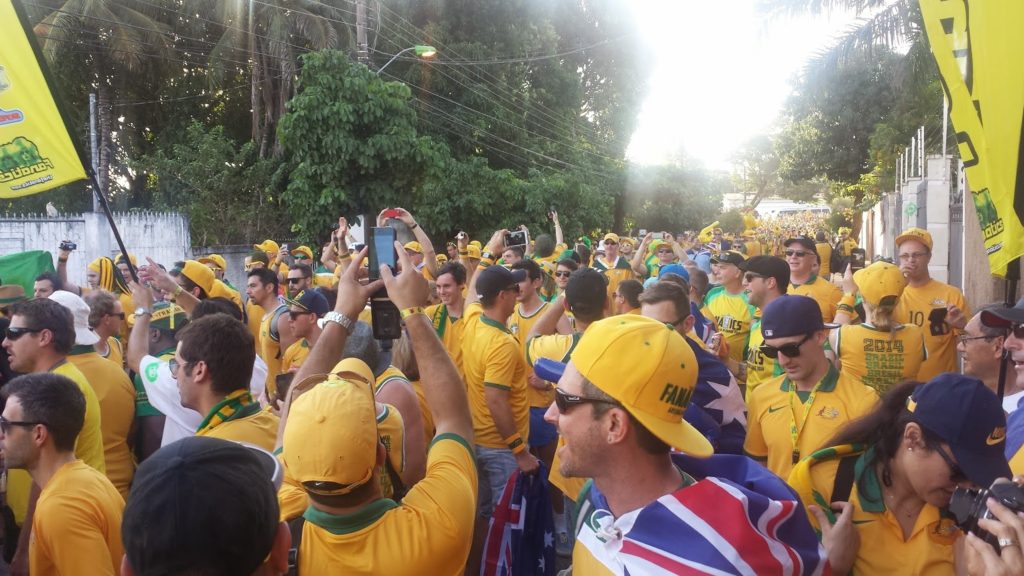 Last World Cup we all sat together as one big Aussie group, this year we were speckled around the ground, there was only one section of Aussie supports.
Luckily the Chile fans were friendly, they loved their chants and singing though!
Things didn't start too well, we fell behind 2-0 after just 14 minutes with a Chile onslaught, but Tim Cahill got one back for us just before half time.
We went into the break with the momentum and then in the second half we began to dominate.
Cahill had an equaliser disallowed, while we had plenty more chances to score but just could not claw one back. Unfortunately Chile killed off the contest with a consolation goal in stoppage time.
All in all we played well and spirits are still pretty high despite the loss. We had a crack and that's all anyone asked for. With Netherlands and Spain to come we will get tuned up.
The atmosphere inside the stadium was amazing and we are pretty much deaf at the moment.
What an amazing night!
Photos from Australia vs Chile
Where We Stayed in Cuiaba