We have a little sleep in today as we didn't want to have to drive into New York in peak hour. So we leave our little apartment in Philadelphia with fondness, there's something about living like a local that makes the traveling experience that much more satisfying.
Before getting the car we drop into a 7 eleven and grab a few goodies for breakfast, after dropping some pennies into a homeless guys cup who had been greeting us every morning we walk a few block to the garage that has been looking after our car for the last few days.
Good to be back behind the wheel we set off for New York City! Very excited to be tackling the organised chaos that is the New York streets we first cross the bridge into yet another state, New Jersey.
We have a quick stop here after about an hour of driving for lunch and a refuel as we didn't fancy being low on petrol while idling up a slow moving street.
We get a great run though Jersey right up until we hit the Lincoln tunnel through to NYC and the traffic starts standing still. Once through the tunnel, our hotel is only 10 minutes away… Right? Wrooooong!
From the time we get from the tunnel to our hotel it took about an hour and a half. We had to fight for every square inch of road and bully ourself across lanes to make turns, it was epic!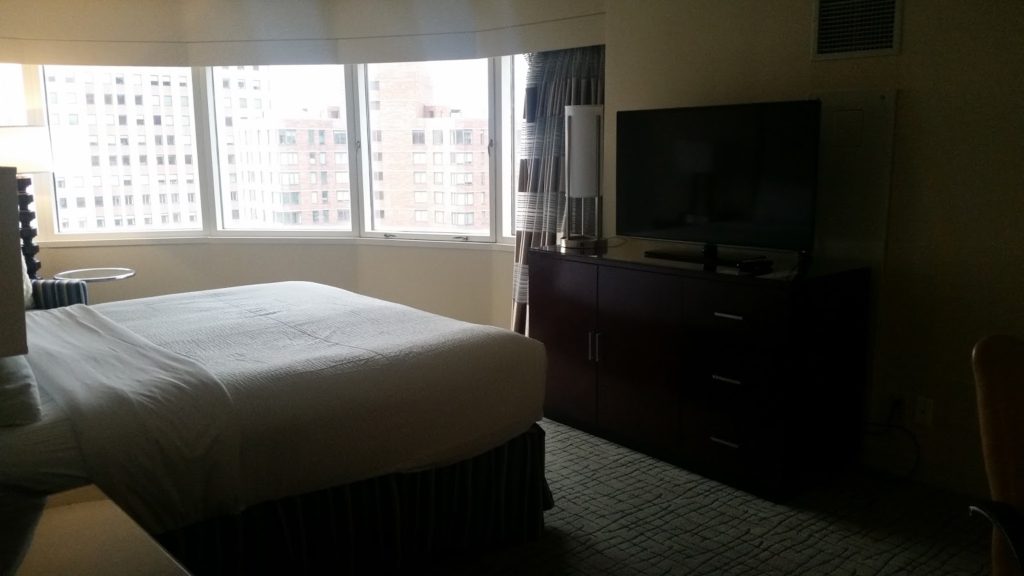 We arrive at the hotel and valet the car, we head up to the 34th floor and excitedly push the door open to reveal an amazing view of the city through our corner window, we scored big time!
We spend the rest of the day wandering around the big city. We hit up the M&M store for some much needed energy, then we find a Nintendo store where we play Smash Bros.
Then we take in all the lights and sights of Times Square, track down the NBA shop and the NHL store where we play NHL on the PS4 before the controllers stuffed up mid-match and we had to annoying abandoned game at 0-0.
Our legs heavy from walking so we decide to have a nice dinner, we find a steakhouse and take a seat outside.
After a delicious round of steak, bread, chicken pie and veggies we look up and see fireworks going off way down the street. A total fluke as you wouldn't be able to see the fireworks from any other street, a fitting end to a great day.
More Photos from New York Day 1
Where We Stayed in New York