We awake about 9am feeling very tired after a poor night sleep. That may have had something to do with the damn railway track being right next to our campsite and the loudest train(s) of all time passing by several times throughout the night.
It honestly sounded like World War 3 was about to start that is how loud it was. Given we had a day of waterparks ahead of us, we decide to fill up n some breakfast.
But we drive around to several places and it was a 30+ minute wait at nearly every place we try with people everywhere.
In the end we decide to drive out of town a bit and stop by at Denny's which was not the greatest meal, but at least we did not have to wait too long. It was also near Kalarahari Waterparks who's claim to fame is the biggest indoor waterpark.
After driving and walking around trying to find the exit, we finally get in and hit the indoor water slides. It was pretty fun with some good rides, but the wait times were a bit long. But you have to expect that on July 4 weekend.
Then we head outside and play on the outdoor slides. It was a perfect day for a waterpark with the temperature at near 30 degrees and not much wind, however everyone else seemed to have the same idea, so we headed back inside again after an hour or so.
We found a little sports bar where you can swim up and sit on chairs as you watch sports, so we watched Wimbledon for a bit and some of the Copa America Final between Argentina vs Chile, before heading to the showers and then grabbing some lunch.
By now we were feeling a bit under the weather so headed back to the campgrounds for a couple of hours rest, before heading out to see some of the July 4th celebrations and fireworks.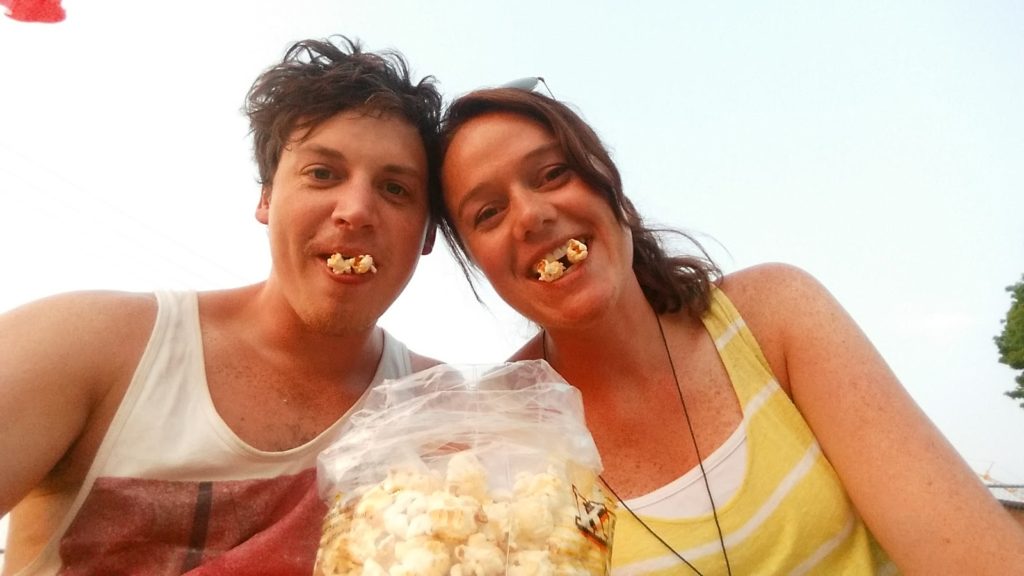 To say the city was busy is an understatement, so we decided to park a little outside the city and walk in because it would have taken forever to drive back. We stop by a popcorn shop and get some kettlecorn and then go and find a spot to watch the fireworks.
After an hours wait and watching all the people fill the spot, the fireworks begin with a bang. They lasted about half an hour or so and were pretty impressive. It felt pretty good to be a part of Independence Day celebrations with the Americans, who really got around it.
Then after that we decided to walk up and down the street again as it was a lovely night, and stopped in for some ice cream at a nearby bakery. We then decide to head back to the tent.
Tomorrow is Noah's Ark day, the biggest waterpark in America and the one day we've been looking forward to. With the weather looking awesome for tomorrow (for a change) we head to bed, hoping the trains would stay away tonight.
July 4th Celebrations in Wisconsin Dells
Where We Stayed in Wisconsin Dells