We rise and shine in our beautiful big room, well in comparison to where we had been living for the last seven days.
This room was nearly three times the size of our room aboard the Celebrity cruise liner.
Today we had one place in mind to go, the beach! So we pack a little bag, sunscreen up and make our way down past the pier and lagoon and back down to Waikiki beach.
We try and fail to find somewhere for breakfast as it was already  10:30 am, so off to Starbucks for some granola yogurt and coffee, good old reliable Starbucks.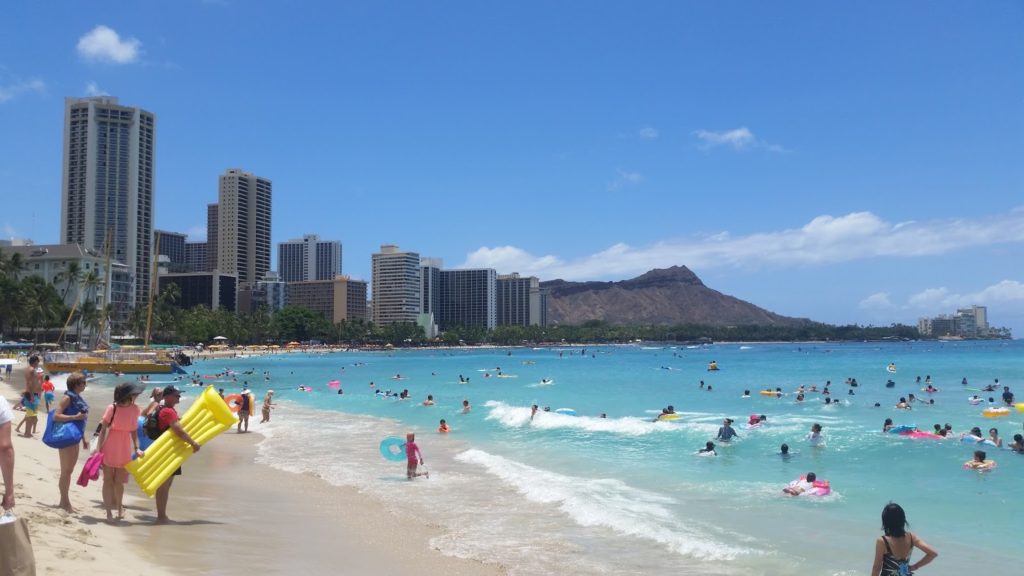 Wandering back onto the beach, we throw our towels down and park here for the morning. The water was a clear blue with hardly any waves, it was warm and about shoulder level all the way out, one of the best beaches for relaxing times.
After a nap and a couple more stints in the water, we decide to make our way to the strip of beaches to see what else we could find.
As nice as our original spot was, there was a lot of people, canoes, and big boats all in the one area. So we try to find somewhere a little more peaceful.
Peaceful yes, but as good, Noooope, The ground was covered in pebbles and sharp shells which would freak anyone out, especially when you out your foot down and the rock was slimy.
So we don't persist too long at playing 'don't touch the bottom' and head up to a nearby resort and make good use of their pool.
Not too far away from our hotel, we decide to head back and check out the pool area. We didn't have a resort, but the pool area was just as good.
Loungers everywhere and even an adults-only pool with floating lounge chairs and relaxing music. So we drop our stuff and decide to stay here and order up some food.
A few more hours go by of relaxing on a sun bed when we change it up yet again; we go back to the lagoon that we had passed earlier to see what it is all about.
As it turns out, the lagoon was icy and cold. With the sun slowly going away we set ourself down on the grass by the water and have, yep you guessed it, another nap while under the shade of towering palm trees.
Getting onto dinner time we head back to our room and have one of the most epic showers of the trip; it was quite refreshing after a day of sea water, pool water and then lagoon water, not to mention about four layers of sunscreen.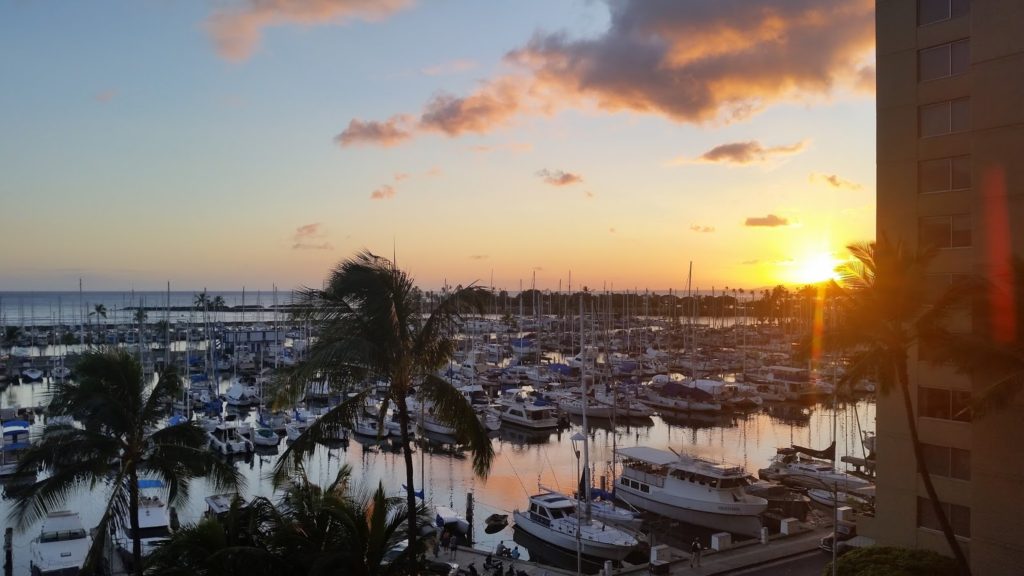 All scrubbed up we head out to dinner and find a sports bar and enjoy some good old fashioned USA food.
With not much on sport wise except for the baseball we don't hang around too long, but on our way out we see none other than Dermott Brereton on the big screen, the damn AFL was on!
It didn't surprise us, about 50% of the tourists here had been Aussies. It's probably the only state that we have found so many Aussies in; I guess we all want to get away from the cold!
Back in the hotel room now we sit out on our 4th-floor balcony and watch the hustle and bustle of the street below until it was time to head to bed, for yep you guess it, another loooooong nap.
Where We Stayed