Finally we wake up without hearing the sound of an alarm and have a restful morning. I'm pretty sure we slept so well because of all that good food.
We make our way up the stairs to the kitchen and are greeted by everyone and given some home baked banana bread for breakfast and coffee, which we eat out on the deck.
Feeling good, we had even had an offer made on one of our houses that we are selling back home and had accepted it. Georgia was really growing on us!
We made plans with Rick's sister Beth today (who we had met in Melbourne) to catch up and tour around, so we give her a call and decide to head up to Stone Mountain.
Amy and Ella end up coming with us and drive us the 30 minutes to pick up Beth and her twin boys O'Neal and Trey. Then it was off to the Stone Mountain!
Stone Mountain
The mountain wasn't called stone mountain for nothing. The entire thing was made of granite with just a few trees and shrubs poking out here and there, it was like nothing we had ever seen before.
It took about half an hour to reach the top with a few steep spots and a lot of climbing and after a few photos and looking out over the lookouts, we all pile into the trolly car and cheat our way back down.
Back on the ground we can see a huge carving in the side of the mountain of the confederates on their horses. It was like Mount Rushmore 2.0 and quite impressive.
We had worked up quite an appetite, so we head to a little Mexican restaurant and get absolutely stuffed with never ending (and free) chips and dip, Linnie was in heaven.
It was time to head back as we had a baseball game to get to very soon. So we drive back to Beth's house to drop them off.
Their house was also amazing and like something out of a magazine. Their great dane Delilah was the size of a small horse and was the sweetest and gentlest dog ever.
Back through the traffic again, we finally make it back, have a quick shower and a rest and then head back out again, this time to the baseball.
Atlanta Braves vs Washington Nationals
We were quite lucky as the baseball stadium was brand spanking new and had only been played in once before.
After a quick walk, we make our way inside and have a look around. Linnie finds a team shop and gets a Braves hat which will come in handy for all the upcoming beach trips.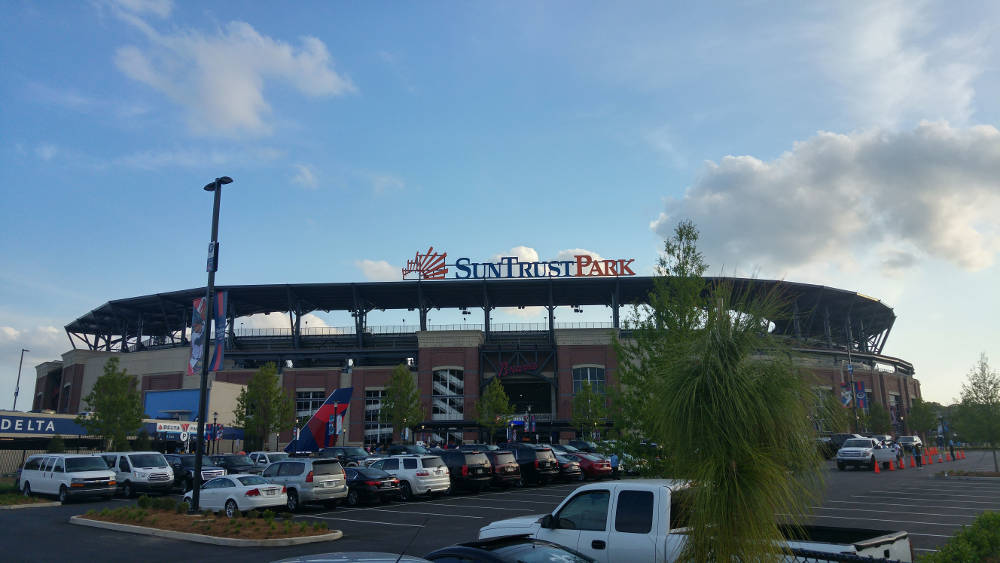 Rick and Amy were nice enough to let us use their season tickets, so we had an awesome spot on the second level right up from first base. The view was great and we were always in the action.
We got a rundown of what was happening from them both which was handy, and we even got to do the very cool Braves chop and song along with the crowd.
Along the way we spotted a vegetarian cart, so we head back to that and grab a burger and some popcorn for dinner and then watch the rest of the game.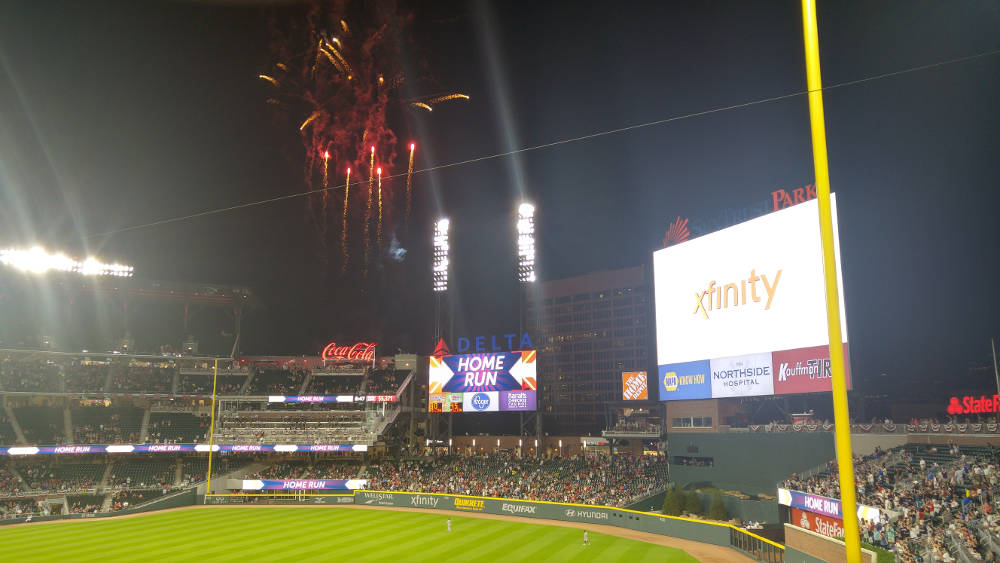 We got to see a lot of runs including a grand slam which is where the batter hits a home run with all the bases loaded. Unfortunately it was for the opposition team, so Atlanta's game was done.
In the end we decide to leave at the bottom of the 7th to beat the insane traffic and on the way our Rick and Amy bump into some long time friends and we all walk together back to the carpark.
Back home now its nearly midnight. We had an amazing day today and were again so appreciative to have been invited into Rick's home and for the generous hospitality that we were show the whole day. We couldn't have asked for better hosts.
Atlanta Braves Photos
Atlanta Braves Stadium