After a good nights rest we're up and at em' early and head down to the lobby for breakfast…
Turns out the breakfast buffet looked pretty basic so we opted for our own granola bar and apple while driving to our next stop, South Haven, Michigan.
First up though we thought we would stop by the Notre Dame university for a look around. It turns out you can do tours, so we decided to do their sports one that takes you through their impressive sports complex.
This place is seriously big, it was like a city within a city. They had their own basketball stadium, which is better than pretty much every basketball stadium in Australia, and it is only for college players!
Then we got to go to their football ground and through the clubrooms, while hearing stories about their past champions like Knute Rockney and a few others.
It was pretty interesting, but started to drag on a bit near the end as neither of us like football and knew none of their players.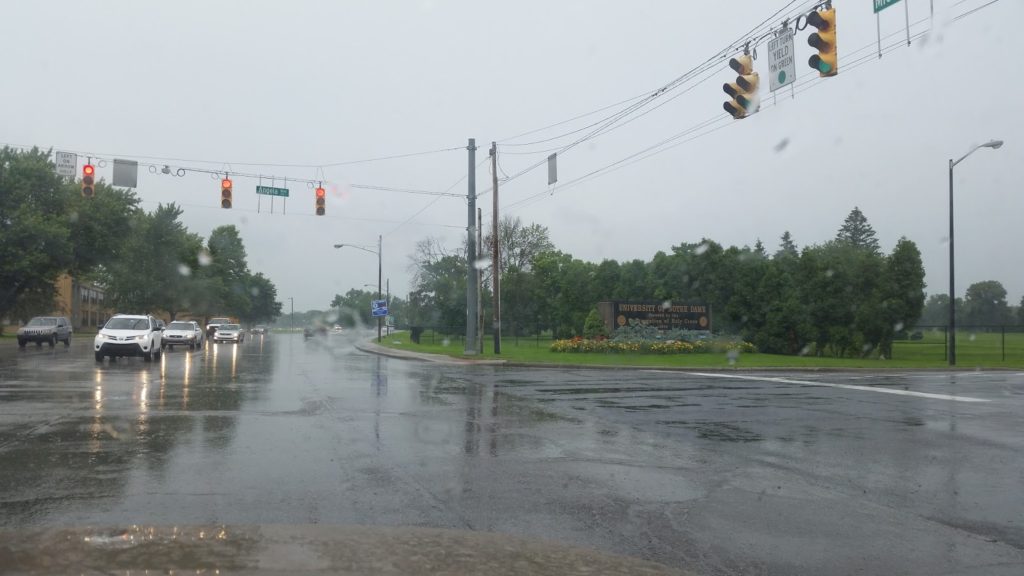 By the end of the tour it was belting down rain. By raining, we mean absolutely belting down rain and we were drenched.
We stopped in by a Starbucks for a coffee and then it was finally time to hit the road for Michigan.
Even though it was only a 90 minute drive, it was pelting rain most of the way and yep you guessed it, we had planned to camp tonight too, luckily the campground we were staying at have cabins which would be easily enough to upgrade to.
And upgrade we did, only costing us an extra $40 it was cheaper than a hotel and a lot more fun. We drive to where the cabin is and with the rain pouring down so hard we can't even get out to set up our room.
Instead, we drive the 15 minutes into town and look for a nice place to get some lunch and walking up and down the main street (which was smaller than the Bridge Mall) and hoping that in this time the rain would clear.
Nope, it rained while we looked for a cafe, rained while we shopped and rained the whole way back to the campgrounds. So we made a kamikaze run to the cabin and set up our bed and watched TV while we waited and waited for the storm to pass.
FINALLY, it cleared up enough to be able to venture out without having to huddle under our little umbrella so we jump back in the car and head back into town for the afternoon to take in some sights and sounds.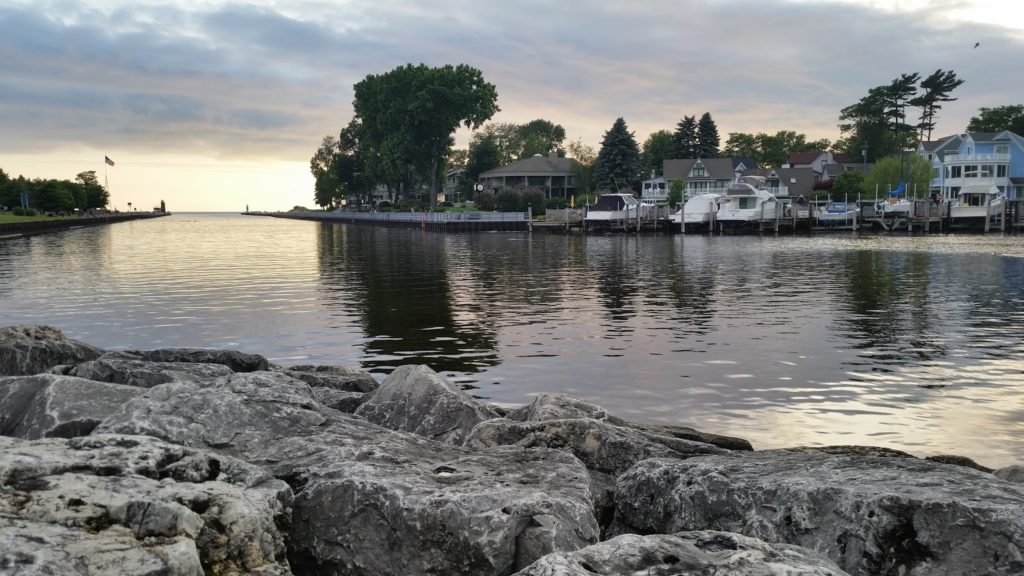 The huge lake which looked more like a beach had a pretty little red lighthouse at the end of a long pier, before heading down we grab some Italian food for dinner and then make our way to the lighthouse and wait for the sunset.
With everything still glistening from all the rain it was a beautiful place to sit and watch the sun going down across the water, we sit here until the sun had disappeared and then take a walk up through the main street until it got too dark and the mozzies come lurking.
We head back to the cabin and wriggle into our sleeping bags, it had gotten a lot colder than what we were used to at night so it was a very snug feeling being all wrapped up.
After watching a few TV shows on our devices it's lights out, very excited to finally get to Chicago tomorrow.
More Photos from South Haven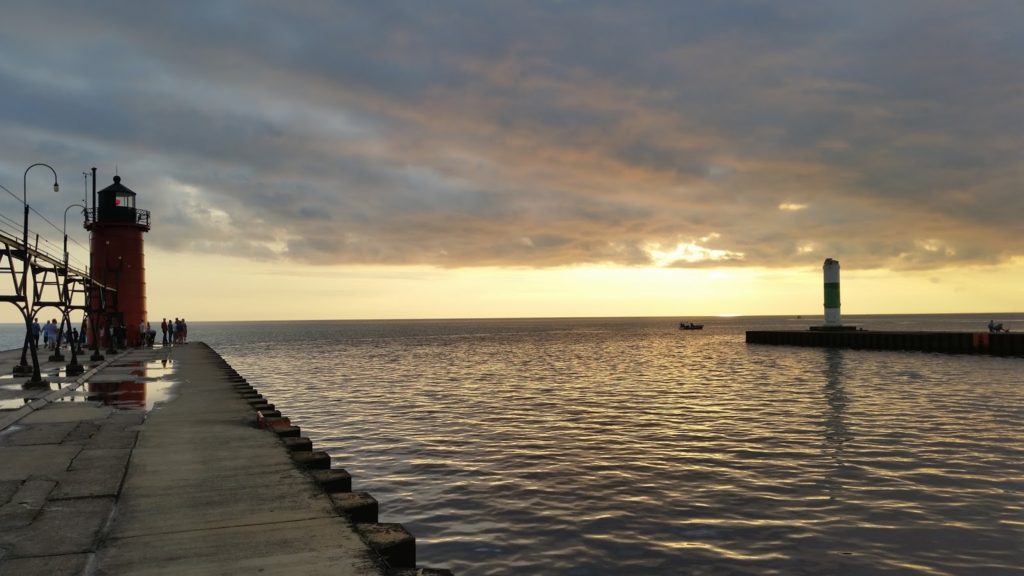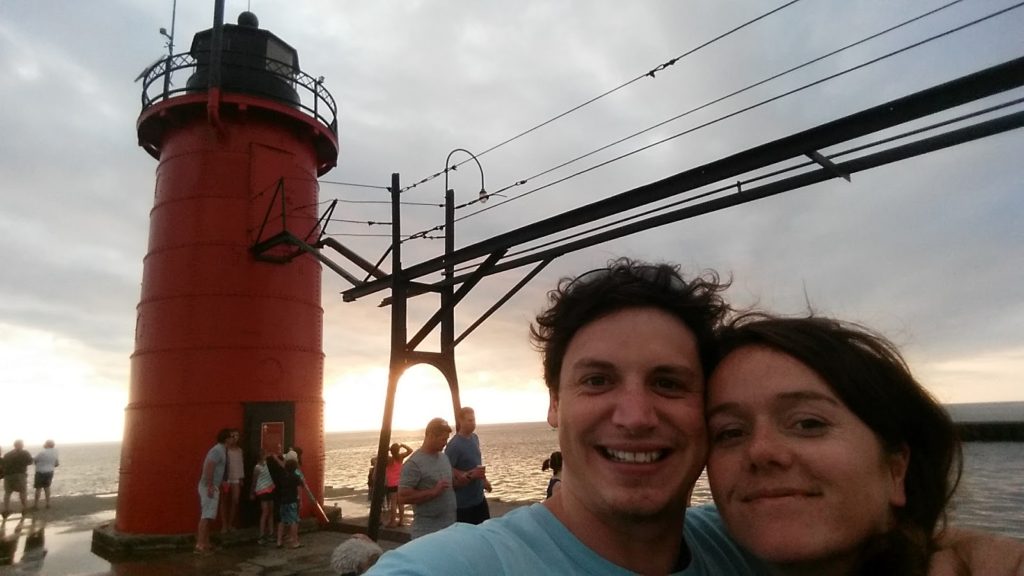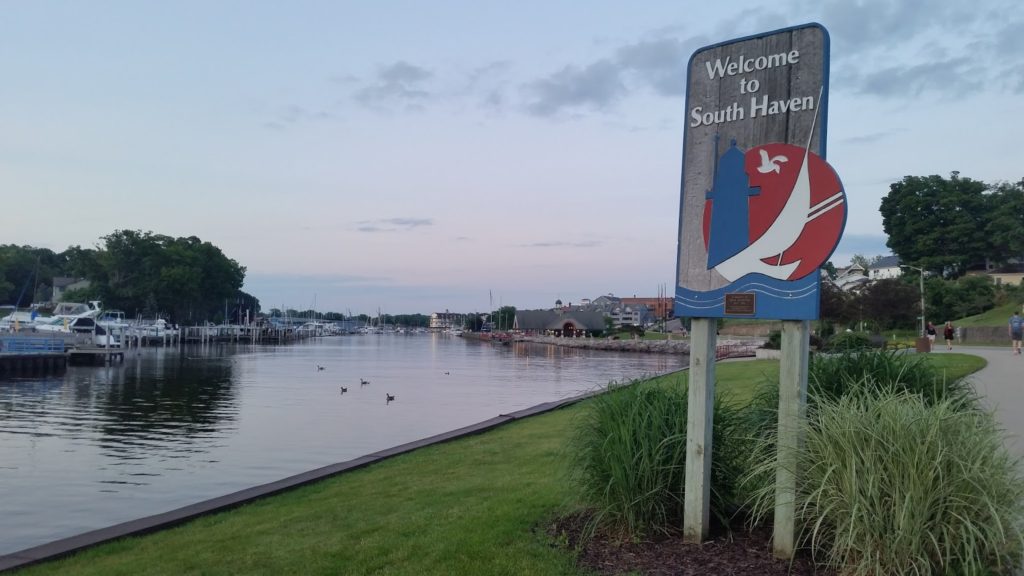 Where We Stayed in South Haven