Still not used to the mornings getting so bloody bright so early, we awoke at the crack of dawn and struggled to wait until a suitable time to go and whack the dryer on. We didn't want to wake our hosts up!
Figuring that 8am is a sensible time to get up, even if it was a Sunday, we head down and throw the clothes in the dryer from the night before. And to our surprise, Claire was downstairs already up.
She showed us where the breakfast stuff was, so we feasted while we waited for the dryer to finish. And waited… and waited.. Finally after over an hour, we give up, throw the damp clothes in a bag, say our goodbyes and head off to York.
Before setting off we set out all our damp socks along the dash of the car, hang some t-shirts and pan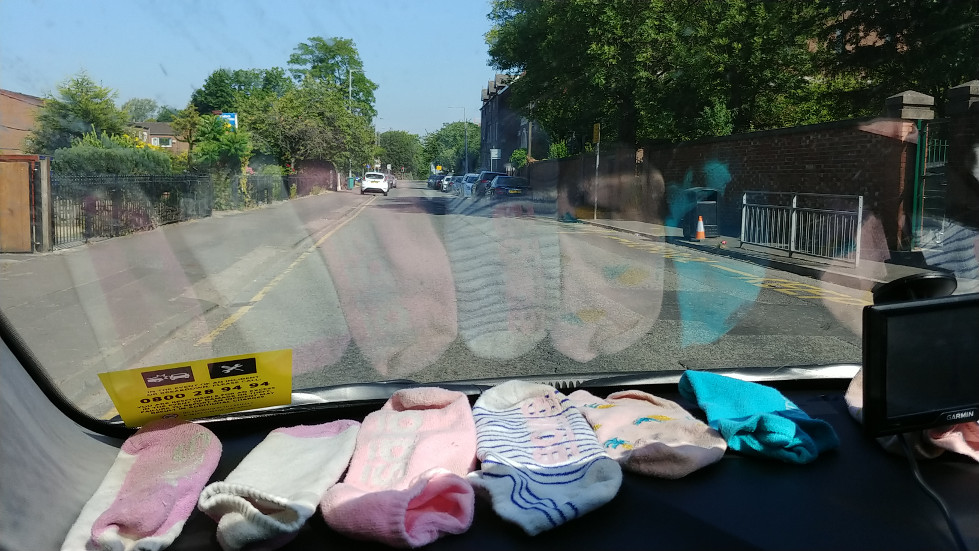 ts on the back of the seats and try our best to lay out the rest. Our little oven of a car should take care of the rest.
Adam, our fearless driver, gets us to York and pulls into our hotel loading area. We were a tad early to check in so we leave our bags in a locker and park the car around the corner in the elusive car park.
Finally, time to explore York in all its historic grandeur, a welcome sight after 2 days of high rises, busy roads and shopping centres.
Right in the middle of York the city had erected the Rose Theatre, a replica of the original Shakespearean theatre which was a bit special.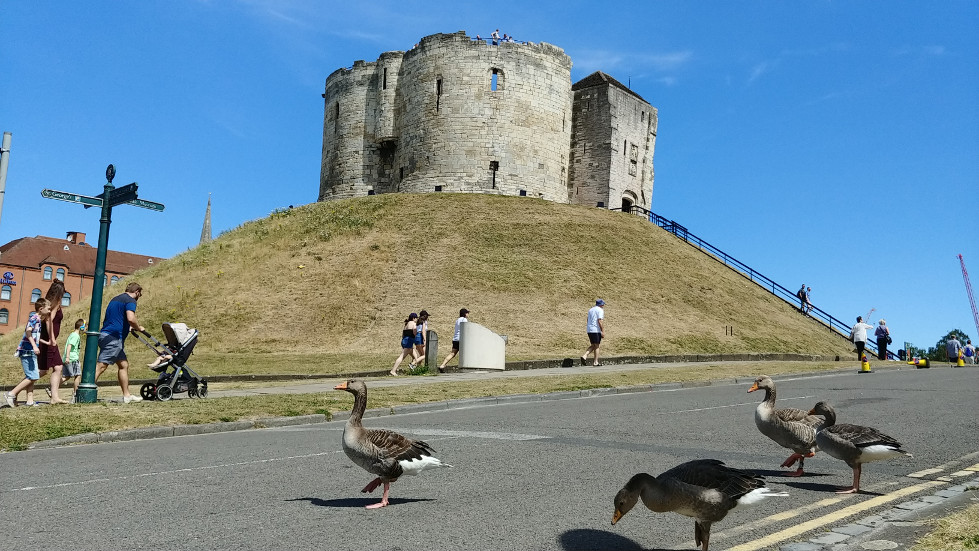 The Sunday matinee was Romeo and Juliet. Not being about to resist this opportunity we purchased 2 groundling (standing) tickets and then go and look for some lunch before the show.
We find a nice little bagel place and relax at a table by the window and people watch while we chow down.
Rested and full, we continue our walk around town. So many little shops selling chocolates, baked goods, coffees, and then there were the chain department stores that seem to pop up everywhere.
There was a collectable toy fair set up in a bit white marquee with characters from Starwars wandering around. Then we stumble upon a Sunday market selling all sorts of homemade goods, a very busy Sunday on the streets of York.
The Rose Theatre not having a roof for us standing patrons meant it was going to be on the warm and sunny side, so we duck into H&M to get Adam a hat and head over. Not before swinging by a little cafe to grab a scone, the English do know how to make em!
We go inside and thankfully there were some shady spots. So we settle in and enjoy Romeo and Juliet in all its glory, and it was wonderful and about as authentic as you can get.
The actors were amazing leaving us in awe of how they remember all those complicated lines.
Overall, the show went for about 3 hours and apart from slightly sore back from having to sit on the floor for so long, we loved every minute of it.
Looking up the world cup score, the Russia-Spain game was going down to the wire with a penalty shootout in progress, so we power walk over to a sports bar to watch the end.
We rock up just as Spain were taking their last kick. It was a miss, sending Russia to a 4-3 win! Yet another monumental upset in this World Cup.
Shakespeare Photos
Time to finally check in after another long day, we head up to our room only to discover we booked a disabled room.. Argh..
So we head back down and get the room changed, it was a little smaller but there weren't any pullies, handrails everywhere and no shower screen..
Thankfully this hotel had studio rooms which means a kitchen! Which also means homemade dinner! Another bonus, there was a supermarket right next to the hotel, so we head down and stock up on dinner, breakfast and snacks.
A delicious Butter Chicken (without chicken of course) was made and eaten while the Croatia-Denmark game was on in the background with Croatia winning in a penalty shoot-out, also coming down to the last kick.
It was nice to be in for the night again eating something homemade. Tomorrow we have a big day of exploring York so an early night was definitely on the cards.
Where We Stayed in York