Manchester was the next stop on our UK road trip and was only an hour away from Liverpool, which was a bonus.
As usual, we woke up tired, even after a lazy evening the night before. We dragged ourselves out of bed around 8am and then hit up the free buffet breakfast downstairs.
After breakfast, we ended up chilling out in the room for another hour and a half, even having a little nap. Then we decided to have breakfast 2.0 as the buffet was still open.
We checked out around 10am and then set off for Manchester, Linnie taking the wheels.
The Parkopedia website came to our rescue again, finding us cheap parking right near the heart of Manchester. Only 2 pounds for 4-hours of parking. Score!
Unfamiliar with Manchester, we made our way to the city centre and came across a building called the National Football Museum. We knew it would be worth checking out giving it's a famous footballing city.
To our surprise, entry was free. It was great quality too with plenty of interactive things to do, plus a heap of memorabilia an information from yesteryear. Even Linnie enjoyed herself and she isn't a massive football fan.
Our favourite bit were the football photos from upstairs. A photographer captured a heap of emotion from the early 1990s from the lower leagues.
By now we were getting hungry so set off to find somewhere for lunch. After a long search, we ended up at a pizzeria named Dough which was actually quite nice.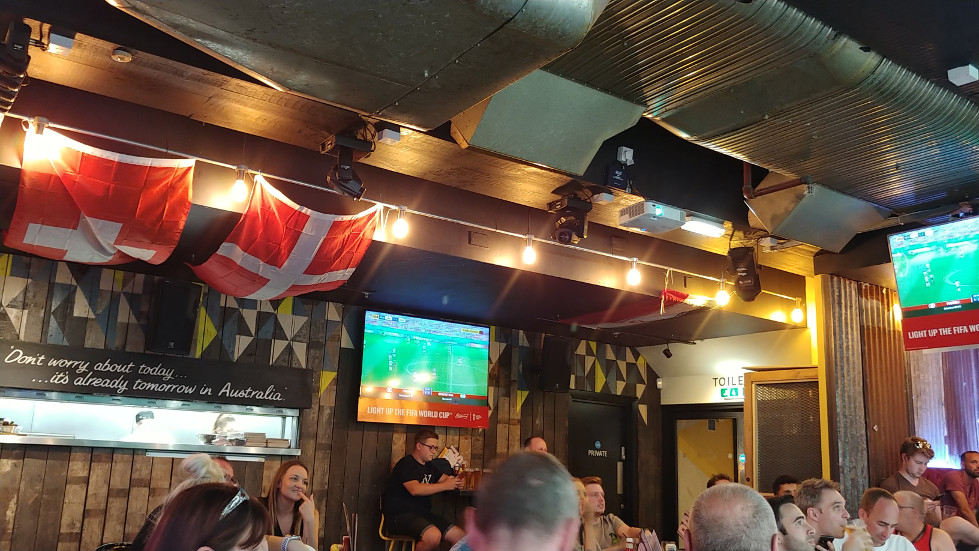 There's an area called The Printworks that was designed to look like a big indoor factory with tons of restaurants and a movie theatre etc. It very much resembled Las Vegas.
We found a Walkabout bar and took one of the last remaining seats in the place. It was a struggle keeping our eyes open, but the fact it was an epic match helped.
France took an early 1-0 lead before Argentina scored two goals to take a 2-1 lead. Then there was an avalanche of goals and France ran out eventual 4-3 winners.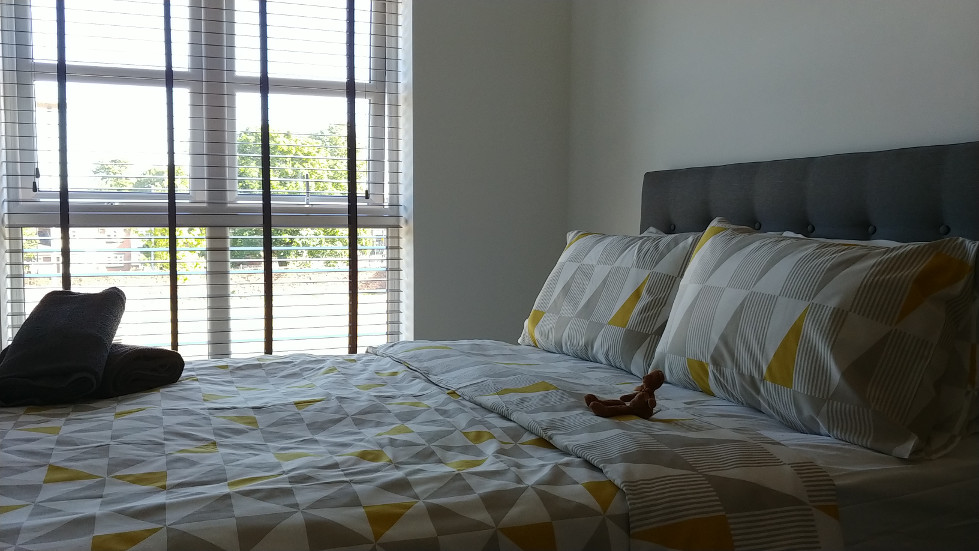 Now it was after 5pm so we thought we better go check in. Our Airbnb was in  new area and not even on Google Maps of our GPS yet, so it was a struggle to find, but we eventually found our way there.
It was literally brand new, they only moved in yesterday. There was still stuff laying around but we didn't mind. We took some time to chill out for an hour or so before realising it was getting late on and we better go find some tea.
The city was about a 20 minute walk and we found a place called Byron Burgers. After tea we walked back, stopping for the final 15 minutes of the Portugal vs Uruguay game.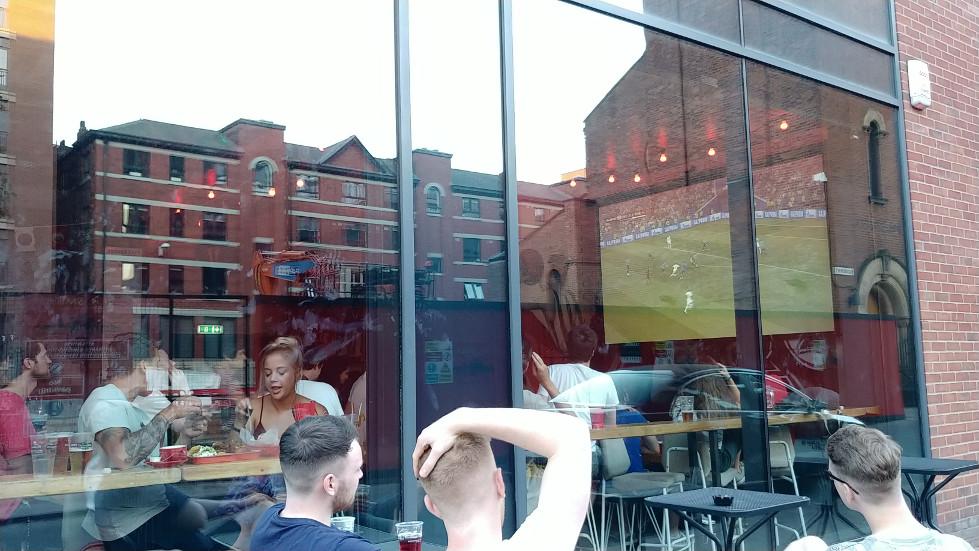 Uruguay led 2-1 and managed to hold on to that lead, running out victorious and sending Ronaldo packing.
When we got back to the room, Clare helped us with our washing. We were down to our last few items of clothes so it was fortunate timing to be staying somewhere with a free washer and dryer.
Unfortunately, we stuffed up the timing, because it was a 2.5hr wash and wouldn't finish till midnight. Damn, we'll have to do the drying tomorrow.
The rest of the evening was spent back in the room pretty much just chilling out. Tomorrow we head to York and we'r very excited.
More Manchester Photos
Where We Stayed in Manchester