We wake up before our hosts and head down to feast on toast and cereal. They had everything all set out for us which was a bit cute and we ate outside basking in the morning sunshine.
All packed and ready to go, we say goodbye to our dressing gown-clad host Jane, Kaan and little Sia the rather adorable poodle and set our newly purchased GPS to Bath.
Along the way we find signs pointing to a Roman ruin site in a town called Caerleon.
Not being able to resist anything Roman, or ruins for the matter, we follow them blindly and find an ancient Roman Baths site and an amphitheatre, which reminded us of a flat Colosseum.
Back on the road again, we make it to Bath in just over an hour, driving along the main street we spot a sign with "Nourish, Plant Based Eating". Oh hell yes!
So we find a park after a lot of searching up many narrow streets and wander on down. Two amazingly delicious spaghetti bolognese later and we were all set for a day of exploring.
It being a little too early to check into our next Airbnb, we head into town and find a little flea market and a rather stylish piano shop.
These guys were selling some serious pianos, one being worth over $30,000. Adam has to resist playing them for fear of breaking it, so we oogle and dream instead.
Back in the car, we drive the 5 minutes to our Airbnb using their very confusing directions. We punch in the code for their gate and drive on in.
We meet Katrina and she takes us down some very beautifully landscaped stairs and into an every more beautifully landscaped garden and through open double doors into our apartment.
The apartment sat underneath the main house, so we had the place to ourselves, it was fast becoming our new favourite with a modern kitchen, bathroom and huge tv, perfect for watching the World Cup.
The lounge opened out into the beautiful green established garden and it didn't take long for Linnie to spot the swinging chair and plant herself on it, soaking up the warm afternoon sun.
Ok, time to take on Bath! First up is a walk to the Royal Crescent, a curved crescent of houses that take up an entire street.
We could have gone in to see how the royals lived, but at $17 each just to see one house of rooms.. we thought it a bit rich.
So we head opposite to the big sprawling park and sit down for a minute to people watch as nearly everyone in Bath was laying out enjoying the sun.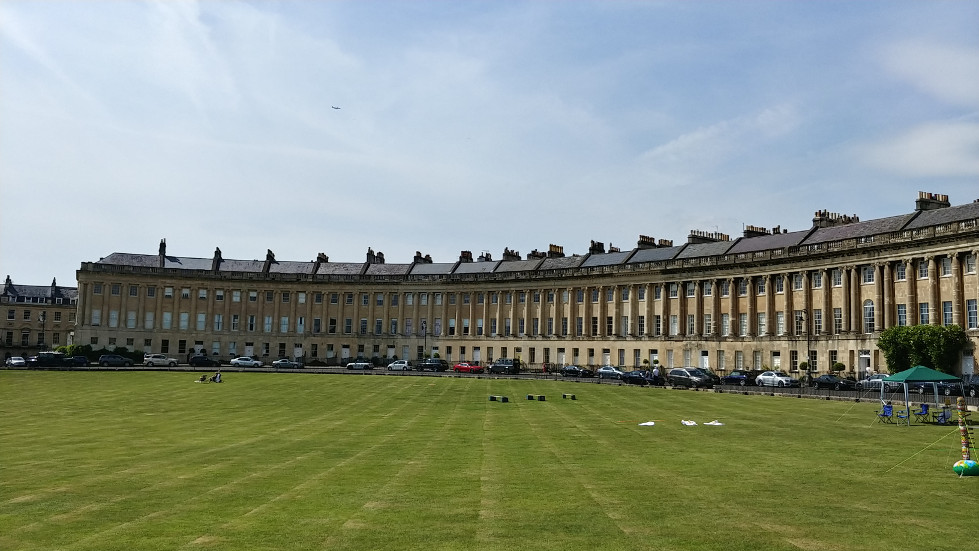 Our entertainment was a couple of girls who were absolutely obsessed with taking photos of each other. They posed in about 6 different ways, on the ground, from behind, leg pointed, hair in front, hair behind, with a jacket, without a jacket, look down, glasses off.. muppets..
Next up was the Roman Baths area, we knew we were close because the town was heaving!
It opened up from small narrow streets to a bigger square area where a lady was singing opera at full volume and a guy banging out some acoustic guitar just around the corner. The city had come to life.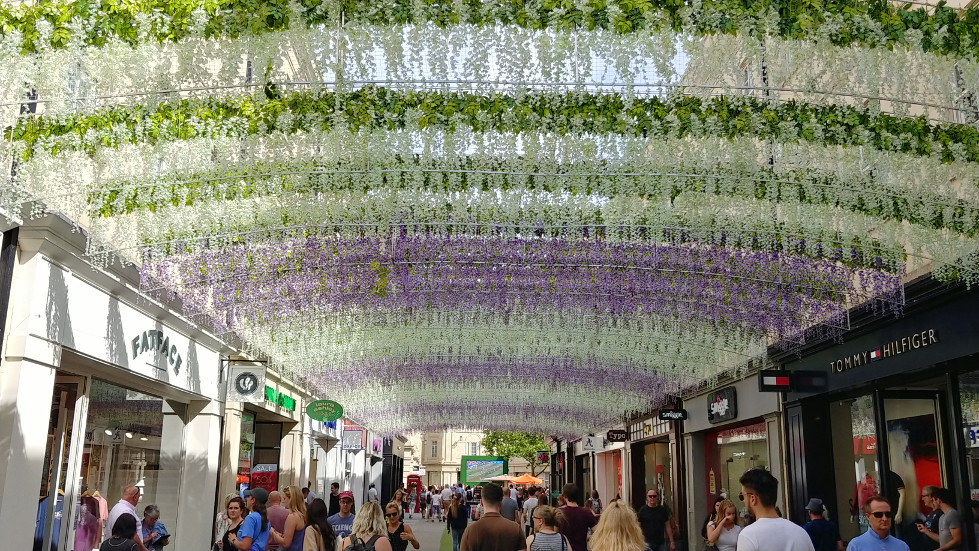 It getting rather warm out (yes, we were finally in our shorts and singlets). Adam grabs an ice cream to help cool down and a little way up the road we can hear a guy yelling "2 for 1 pound, any 2 for 1 pound!".
Intrigued we head over and find a fruit stand set up, the dude wanted to go home and to clear out whatever he had left. So we scored 2 punnets of raspberries a box of grapes for a whopping 1 pound and 70p. What a score!
The lines to get into the Baths was bloody huge, so we opt to go in tomorrow instead and keep wandering around. We stumble upon an awesome World Cup fan site with a huge big screen and deck chairs all around.
So we park here and watch the South Korea vs Mexico game while eating our bargains and resting our tired legs.
The game over, we make our way to Pulteny Bridge which reminded me a bit of the old London Bridge with all its shops and cafes running the length of the road.
We see a little power boat zooming up the river and then someone get out, walk up and across some steps and then drop himself back in the water and launch himself down the river white water rafting style. Just some of the weird stuff you see in England.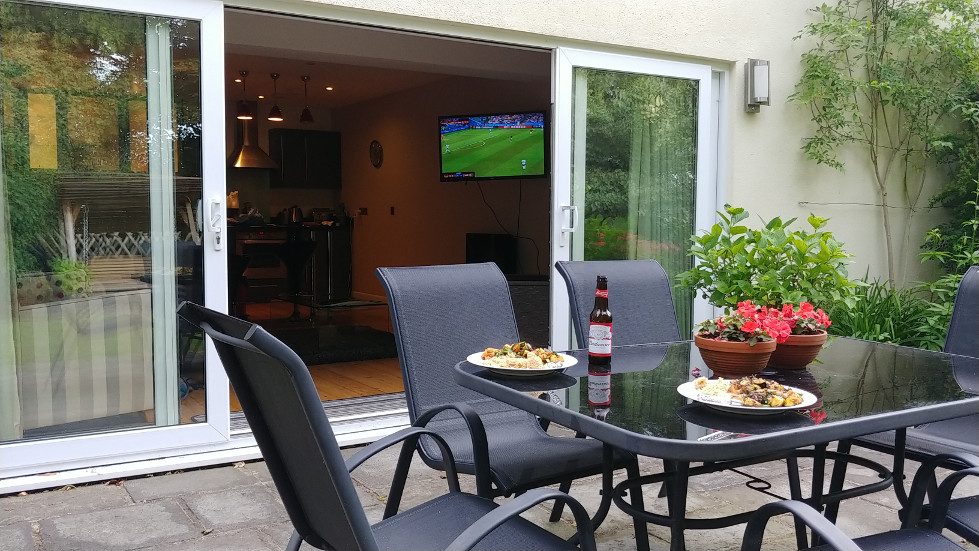 Not wanting to spend another night in a pub, we decided to grab some ingredients and spend the night in our apartment.
And after a half hour walk up hills, pathways and back streets, we make it back and cook up a stir fry storm and then enjoy our dinner outside in the garden with the Sweden vs Germany game going inside.
Tomorrow we make plans to explore the Cotswold's area and get a pretty good route ready to go for the morning. Time for bed after yet another long day!
Where We Stayed in Bath