We awoke to a very foggy view out the window for our first full day in Zaragoza, you could hardly see the buildings across the road.
Today Linnie had planned another tour of intrigue and discovery and once we had downed our breakfast we set off.
Our first stop was the Caesar Augusta forum, an old roman ruin that looked just like a mini version of the Colosseum, just without walls and a floor…
So ok, it looked more like an old construction site. The Forum was right smack bang in the middle of the city and had a huge glass canopy overhead protecting it from the elements. We toured around the outside and then it was off to the next stop.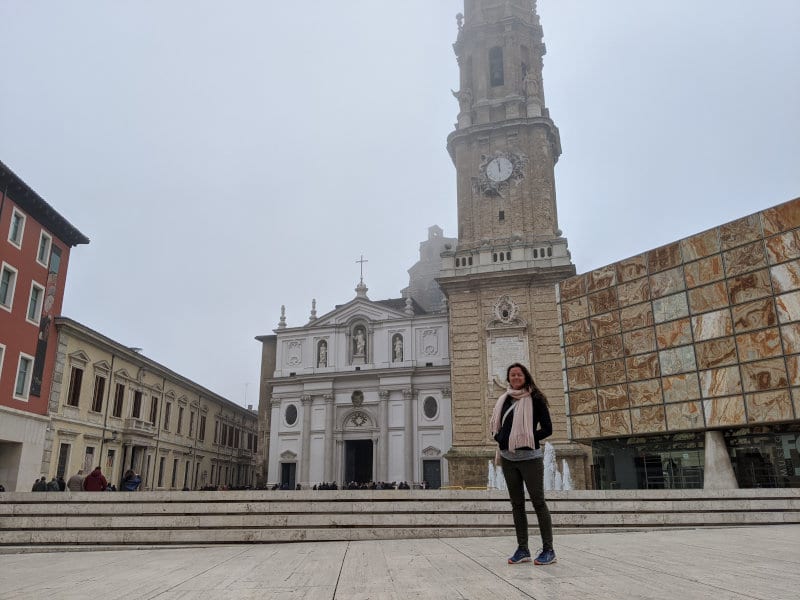 Right on the river we found the impressive stone bridge of Zaragoza. It reminded us of the old bridges that we have seen in Paris with little oval shaped ledges built into the bridge. There were used for vendors to sell things to people passing across the bridge back in the day.
From here we had an amazing view of our next stop, the Basilica of our Lady of the Pillar. A very grand church with, surprise surprise, lots of pillars! The most striking feature was the little blue and yellow tiles that were laid on the smaller rooftop structures. It gave the building a bit of an Indian feel.
We went inside and were wowed by the sheer grandness. Every inch of the roof had paintings depicting godly scenes, there was gold everywhere, red glossy wood, columns, detailed metal floor grates, very over the top.
A lot of the church was blocked off due to there being a service on, so we couldn't see all of it, but once we saw a huge line of people queuing up to literally kiss a plate that was hanging on a wall, we decided to leave, totally creeped out.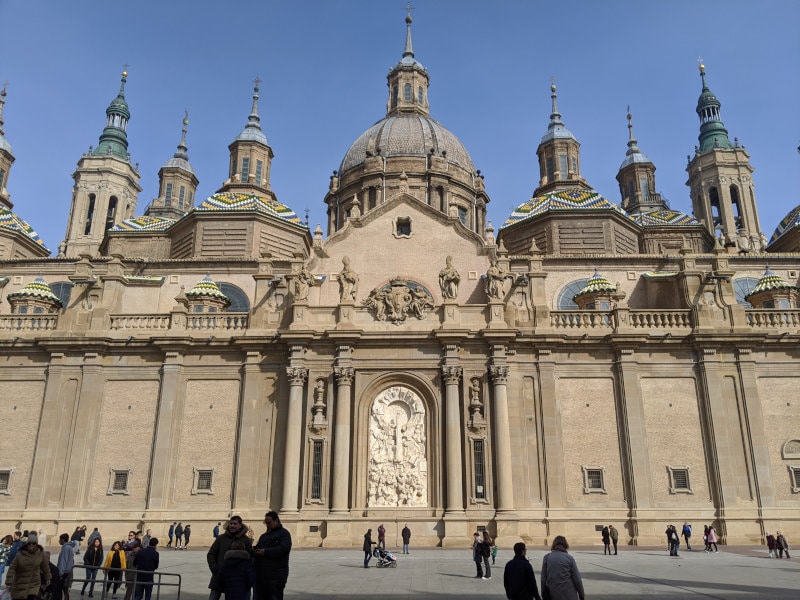 Onward for our lunch stop, the Central Market of Zaragoza. But alas, we arrived and it was closed on a Sunday, which was weird given there was so many people out…
So, we continued on to Calle de Alfonso which is the main shopping strip in Zaragoza. It was very charming with old world lamps lining the street and a huge selection of boutique stores to window shop from.
Last but not least it was a long walk to see Aljaferia Palace, which looked nothing like a palace and more like an old castle.
We make our way to the entrance and see that on Sundays there is free admission, but alas, we missed the last entry time of the day and the smug security guy wouldn't let us through… Ugh…
So we wander around the outskirts of the castle and then make our way back to find something to eat.
Thanks to Adams keen eye he spots a rather upmarket food court where we find a lonely little falafel stall and order up some lunch. The owners were so excited to have customers that they gave us the works. It went down a right treat!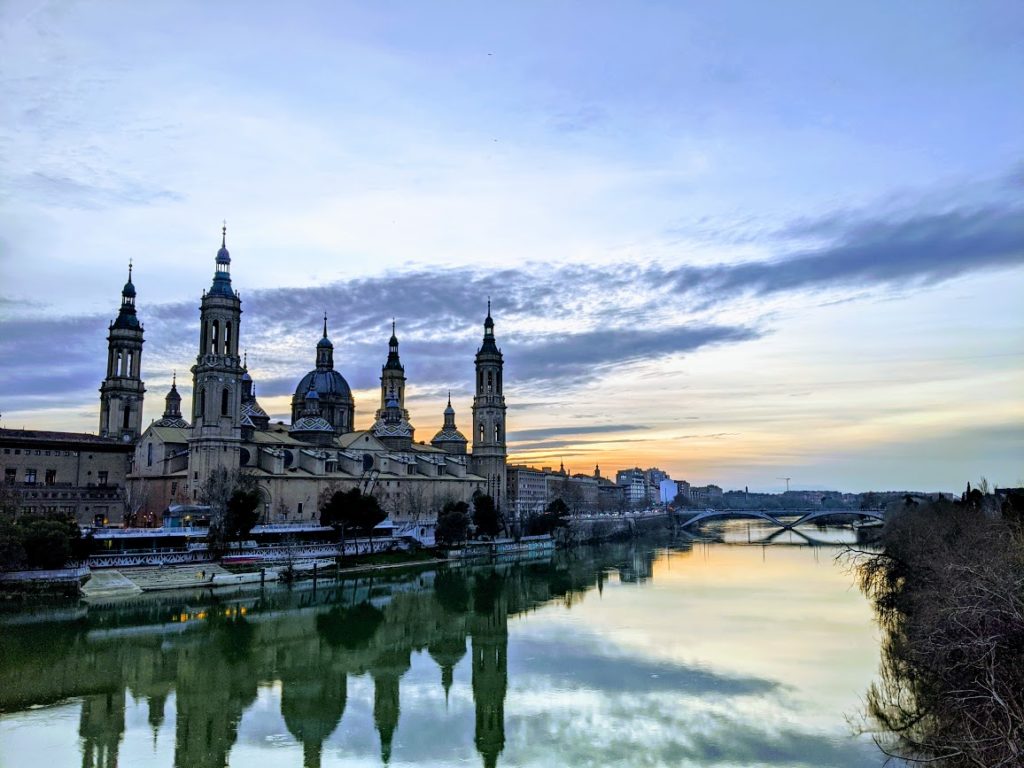 Finally, it was time for a siesta so we headed back to our lovely little apartment and didn't surface again until sunset where it was back to the stone bridge for some epic pics.
We enjoyed our leftover spaghetti bol for dinner (which was even better the next day) and then duck out to La Fama who is famous for having the best churros in Zaragoza. This was a big call considering the best churros we have ever had, funnily enough, was from our very own Spanish restaurant at home called Zaragoza.
We order up 4 churros and some chocolate dipping sauce and take our first dip. The churros weren't fluffy, they tasted salty and the chocolate dipping sauce was watery and not overly appealing. It was a bit of a fail. So mark Ballarat churros 1 – Spain churros – 0.
Off to bed after another day of exploring, tomorrow we leave for Barcelona!
More Photos from Zaragoza