Sadly, it was time to say goodbye to Zaragoza, the somewhat little city had grown on us the last few days, but with Barcelona coming up next we were excited to move on.
Once again, we had the choice of taking the taxi to the station in 11 minutes, the bus in 40 minutes or walking in 43 minutes. We had plenty of time so we figured we would walk until we found a taxi.
In the end however we ended up hauling our bags the entire 40 minutes to the station. Gluttons for punishment and cue sore muscles for tomorrow.
The train trip to Barcelona was only a short 2 hours in which Adam listened to his podcasts and Linnie took a trip down memory lane and watched Center Stage for the bajionth time.
Pulling up we took out our phones and mapped out a route to our next Airbnb, only another 20 minutes of hauling our bags to go.
We arrive and wait for the host to come and greet us and take us to the door, which was down a very dank looking alleyway. The door to the building was huge and covered in graffiti, but we remained optimistic. Stepping inside we are faced with steep, narrow, old and broken stairs and just our luck, the apartment was on the 4th floor.
So we scaled the narrow staircase hauling our bags up and up and up until we pull onto the landing and are taken inside.
To sum up the Airbnb in words would be a mix between a hovel, a cheap ass hostel and the worst false advertising of an Airbnb we have ever seen. So we drop our bags and get out of there not looking forward to spending the next 5 nights sleeping in an old, poorly furnished room.
A horrible room…
To lift our spirits, we make our way to the beach to take in the brilliant sunshine. Along the way we pass through some of the most amazing cobbled streets with 5 storey high buildings on either side.
This went on like a maze for many blocks with plazas and squares thrown in here and there, restaurants on every corner, bakeries, shops and bars. It was like nothing we had ever seen before.
We make our way out of the dense area and come out onto a dock with hundreds and hundreds of yachts anchored up. Continuing around we find the beach and take a moment to chill out.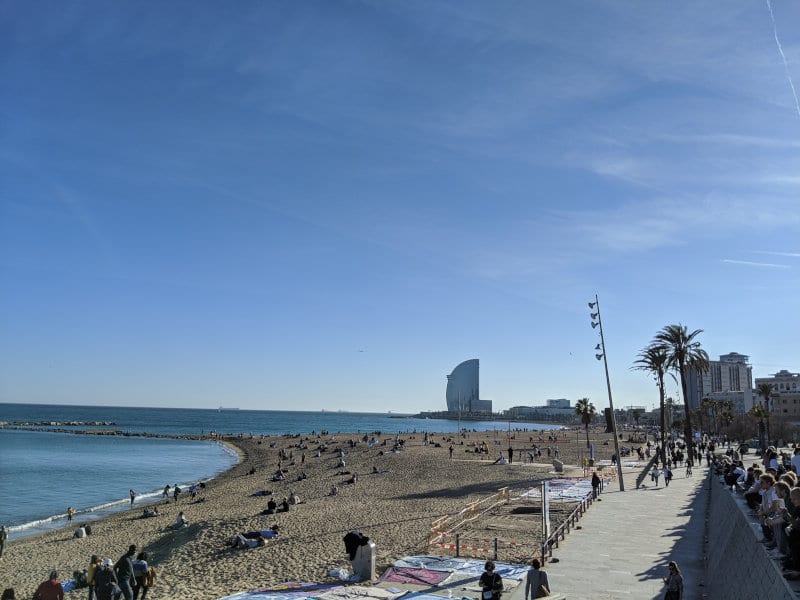 Still feeling down about our accommodation, we head into a bar/restaurant called Black Lab and try to drown our sorrows with some beer, some soybeans and some chips and dip. I mean chips and dip fixes everything right?
We decide to contact the host of our Airbnb and try to shorten our stay with them by requesting we only stay the 2 nights instead of the 5, but he promptly declined the request. We were stuck there.
We sit here for a good couple of hours and realise that we were delaying having to go back to the apartment. So, we make the executive decision to see what other accommodation we could find for the week at such late notice. And there it was, a totally updated Airbnb, right by the water with its own bathroom, kitchen and living area for LESS than what we paid for the other place.
So the question was asked to the new hosts if we would be able to check in at late notice and they replied with no problem, so bugger it, we booked it.
With our tail tucked between our legs, we tip toe back up the steep Mount Everest stairs, pack our stuff, leave the key on the bed and never look back. It was like a weight was lifted.
We make our way over to our new Airbnb but as the room wasn't ready just yet we haul our bags to the nearby restaurant Mr. Robinsons and snack on some delicious nachos until the host came to get us and show us to our room.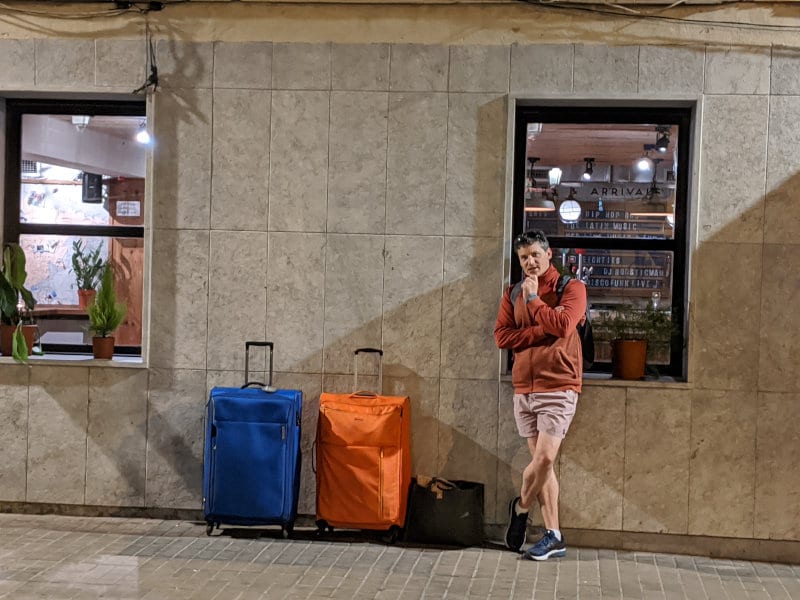 As we walk into our new apartment we are greeted with a waft of perfume, clean floorboards, white walls and a beautiful view of the harbour. It was like what heaven would look like in comparison to the hell we came from.
Now it was time to make a claim for a refund from Airbnb, so it was on the phone to customer service. About half an hour later our claim had been escalated and submitted to the claims department awaiting a decision. Fingers crossed for a refund!
We bunker in for the night in our comfy clean apartment and rest up for our bike tour of Barcelona tomorrow morning.
New Room!
More Barcelona Photos