We awoke in our amazing super room refreshed from a good nights sleep, ready for our Barcelona bike ride.
Once again, we were happy to have left the other hell hole with its paper-thin walls and scary staircase that would randomly go pitch black whilst walking halfway down.
This morning we dressed for some exercise as we had booked a 4-hour bike tour around Barcelona. Making it to the meeting point with only minutes to spare, we find the guide hasn't even turned up yet. A mere 10 minutes late she finally shows up, puffed and dressed like she was expecting a snowstorm.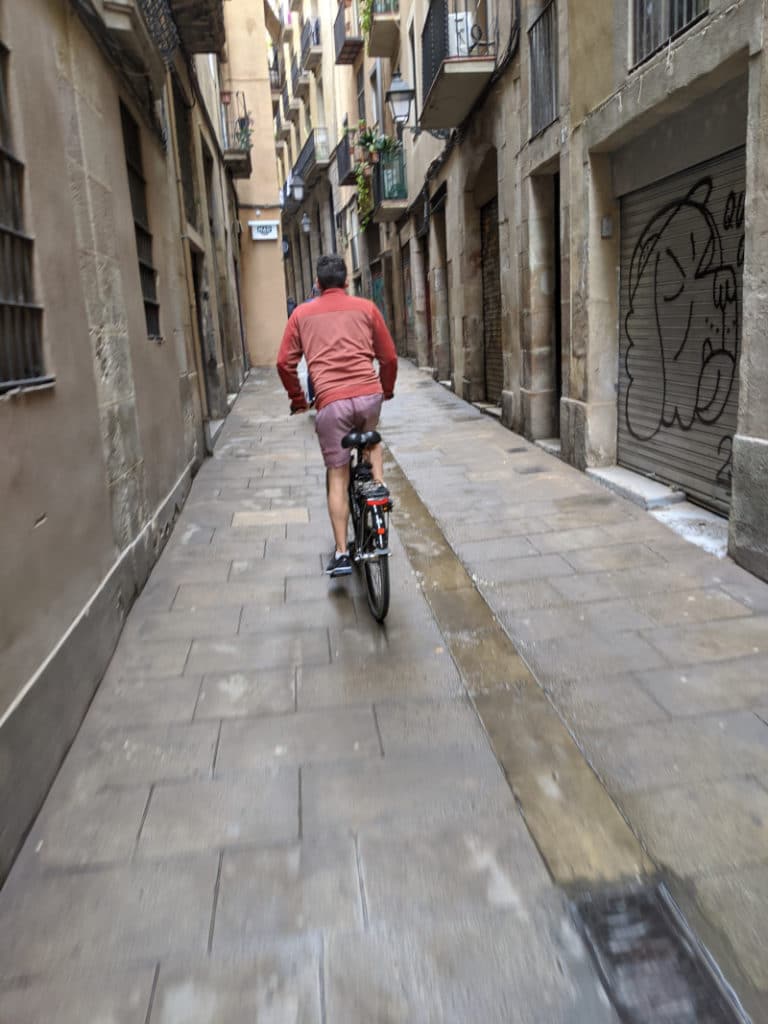 We pick out our bikes and set off through the narrow roads and out delved deep into the gothic district. This tour was all about the guides favourite places rather than the popular tourist sites so we got to see more of the city from a local's point of view which sounded amazing.
Our first stop was the very ancient roman pillars which were hidden away inside a building. Then we rode to a mural with thousands of photos that together made up one big picture of two people kissing, it was very impressive.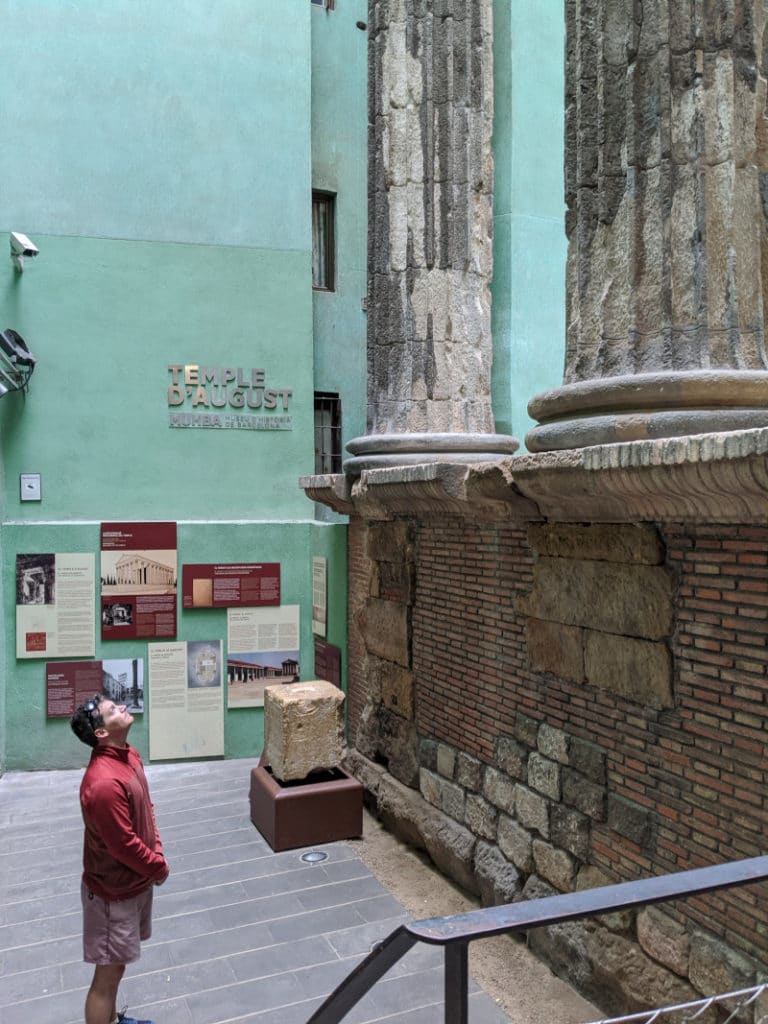 Having worked up an appetite by now Mariana took us to one of her favourite lunch spots called Funky Bakers. We walked in and it felt like an Aussie bakery.
There was pav, sausage rolls and salad rolls with beetroot. Now you don't even see sausage rolls in England, they are only ever found at home. So, I asked Mariana if there was an Aussie chef working there, and she said there was! So we put this café on the map for another lunch session.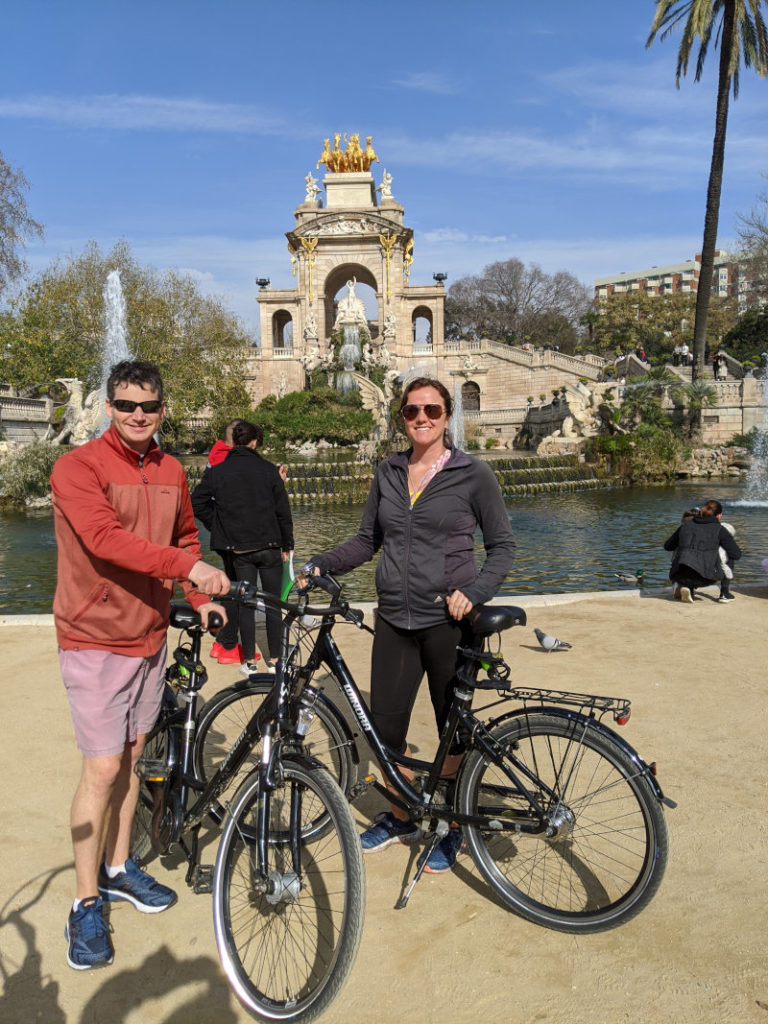 Very satisfied with our tastes from home we biked on to the city park and saw one of the most spectacular fountains that I have ever seen. Adam was rather taken with the local geese that lived on the water, especially when they all ganged up on a little white dog chasing him all over the park.
I was off to the outer, new part of the city now where we saw the new upcoming areas with old buildings being completely renovated and turned into little neighbourhood hubs. It was great to see the weird and wonderful architecture and how the city is evolving.
Out last stop was the beach where we rode our little hearts out with the sun on our faces along the promenade until we arrived back to the bike shop to return our bikes.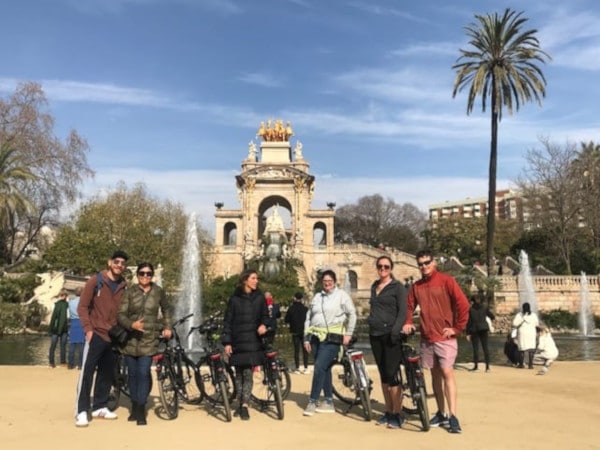 We said our goodbyes to our new tour friends, one from Seattle and the other couple from Hawaii and parted ways. It wasn't long until we were back chilling out in our Airbnb giving our legs a break.
Barcelona bike ride photos
Getting late we pop out to grab some dinner. As usual we wander around and around until we find a place we like, in the end we get so fed up we just go in any old restaurant. Unfortunately, this one we picked was kinda crap.
Adam got a veggie lasagne and the familiar sound of a microwave ding sounded out and his lasagne arrived. It was cold in the middle. Enough said here.
Our comfy bed calling we explore the old gothic area some more before heading back to bed for another peaceful night.
More photos
Getting ourselves a hot chocolate after the ride

Beautiful fountain in middle of Barcelona

The gothic streets of old town