Sadly our Darwin trip had to come to an end after almost three weeks. We could have stayed longer, but it was time to move on to our next adventure.
Coming up over the next few days was a long stretch of road with barely any cities along the way. We'd had Daly Waters recommended to us, then decided to use Tennant Creek as a little base, before heading off to Queensland.
Monday, Aug 21st – (Day 137)
DALY WATERS – Finally on the move again after 19 nights in Darwin, it felt weird to be towing the caravan again. Unfortunately it was a 6+ hour journey today.
Added to that, we were feeling really sore from the obstacle course yesterday. We could barely move.
We took in turns with the driving, doing two 1.5hr stints each, before arriving around 4:30pm. On the way we listened to Alan Partridge – From The Oasthouse as well as the Armchair Expert podcast.
Daly Waters is a tiny little historic town, basically just one road and a lot of random ornaments scattered around. It's known for it's famous historic pub, which we got ourselves a beer at after setting up.
After that we went for a little walk around to check things out, including seeing a crocodile and some old aeroplanes and cars which were scattered about for whatever reason.
With bugger all else to do in this place, plus a lack of internet, we pretty much just killed time for the rest of the evening. We also started the seventh and final season of Billions.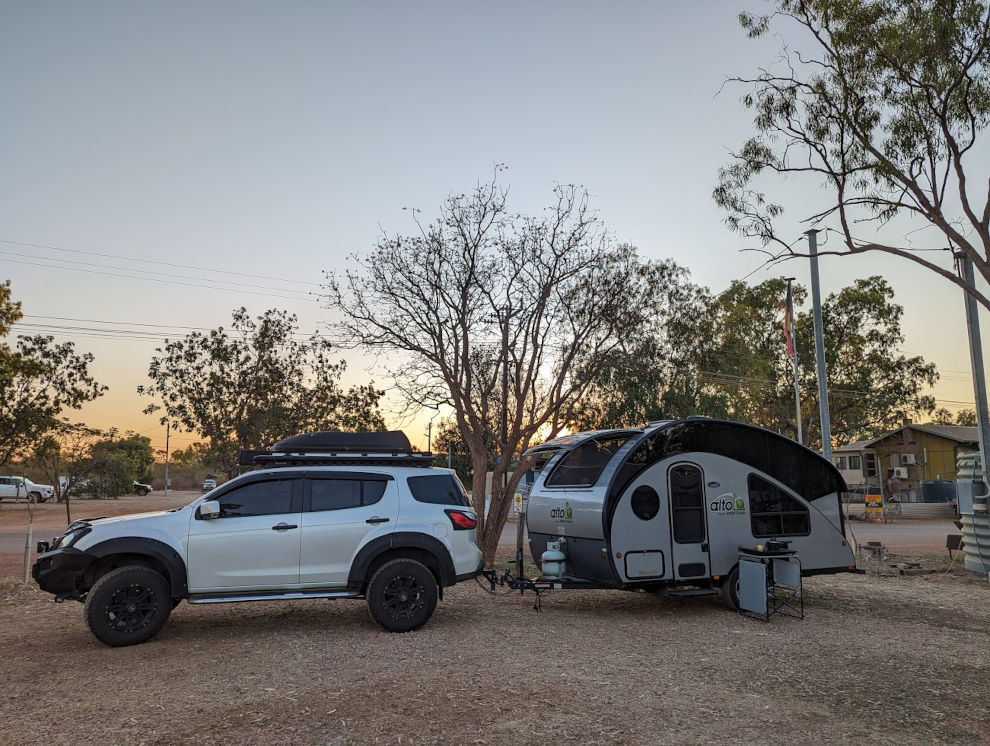 Tuesday, Aug 22nd – (Day 138)
TENNANT CREEK – Today was the first good nights sleep for 3 weeks. It was strange not to have sunlight blaring in, really hot conditions and loud aircrafts flying over us all night.
Given the car was still hooked up, it didn't take long to pack up and set off, and we were gone by 10am. On todays agenda was a 4h15m drive to Tennant Creek.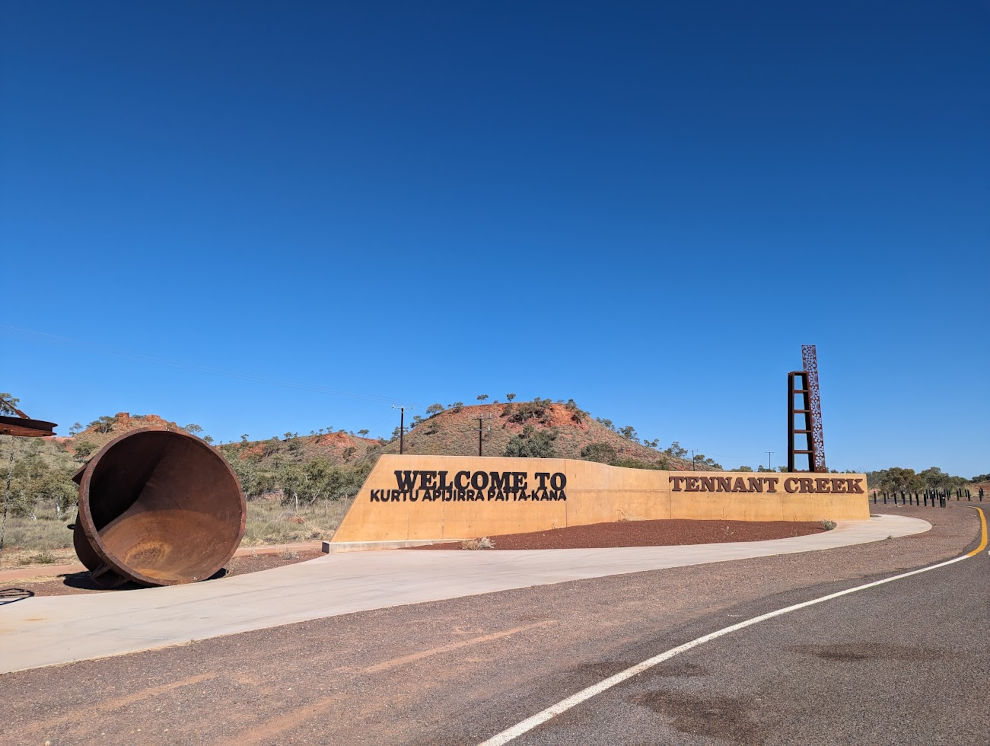 Like yesterday, we listened to the Alan Partridge and Armchair Expert podcasts and took turns in driving each hour. We arrived in Tennant Creek around 2:30pm or so.
Luckily the caravan park looked nice and quiet, because this town looked like a right shithole. Shops were boarded up and there were people loitering around. In fact, Ned and Peta stayed here a few weeks back and warned us not to go out at night time.
After setting up and having a rest, we did a groceries run. By chance, we arrived right when the alcohol shops were opening (4pm to 7pm) so every man and his dog was there stocking up for an evening of getting smashed. Just an average day here in Tennant Creek.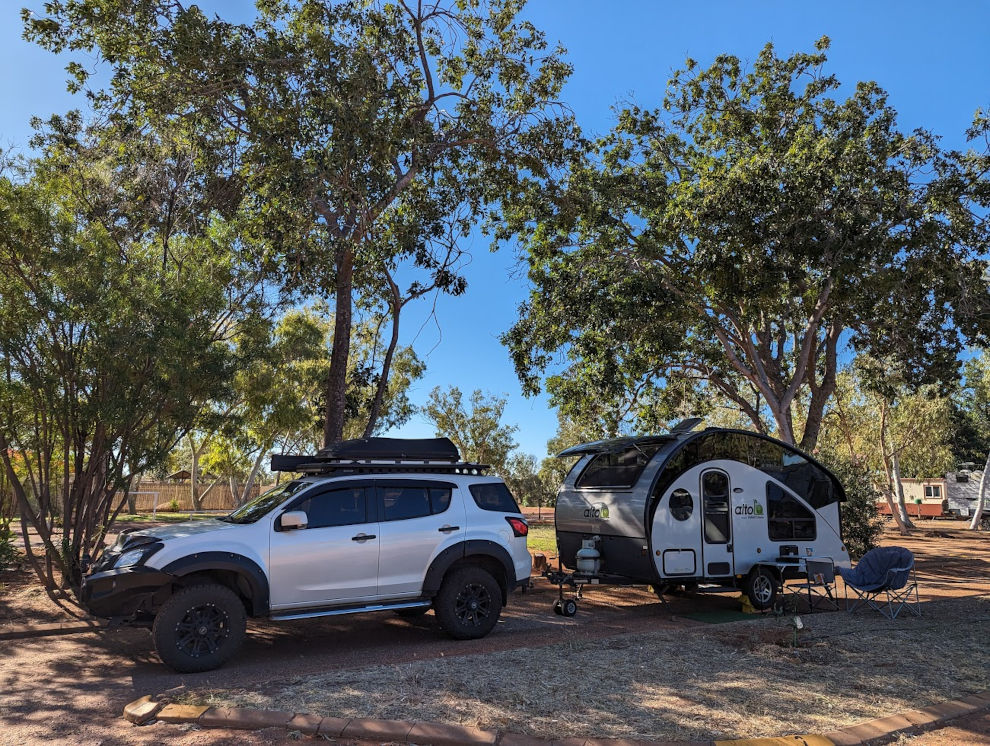 We got ourselves some stir fry stuff for tea and headed back to the park. After tea, we had our first games night with Jamie, Rach and Jack for 3 weeks. Oh how we've missed these festivities! It was great fun.
We finished up around 10:30pm, caught up on a bit of work and then continued watching The Traitors episode 3.
Wednesday, Aug 23rd – (Day 139)
Last day in Tennant Creek, thank god. All night there was a police car doing laps of the caravan park, which gives you the kind of idea of what this place is like.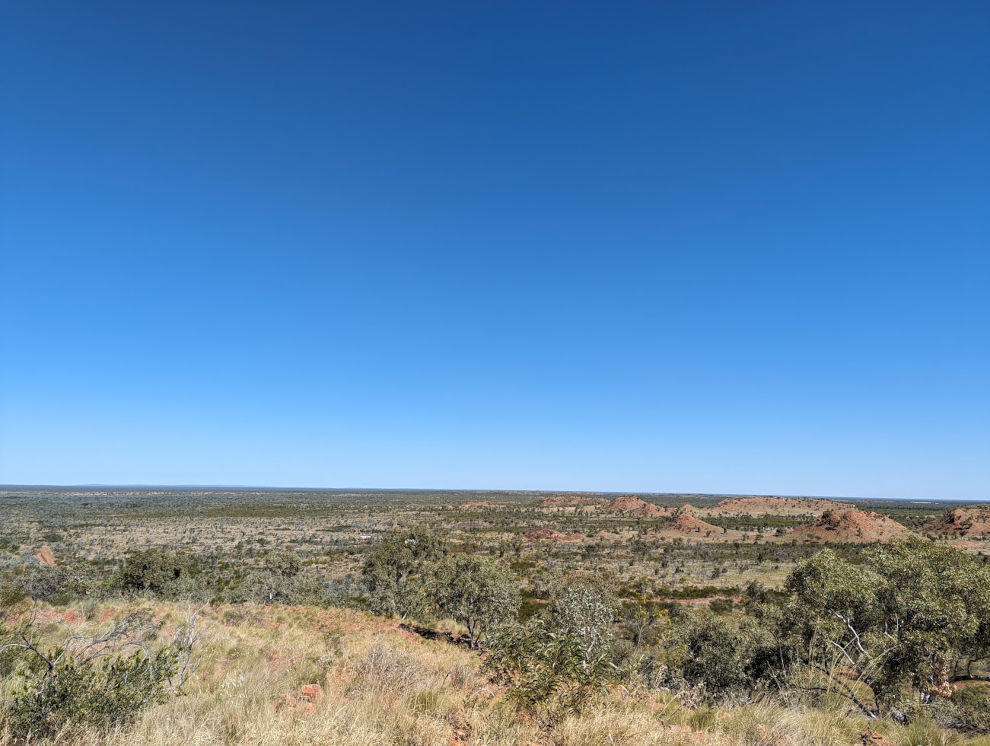 One good thing though as that this caravan park is quite nice, plus we're in a really nice and shady spot. So it has been a really good spot to unwind after a couple of long days driving.
After lunch we decided to do a little drive around the area starting with the Bill Allen lookout. We're basically right in the middle of the Northern Territory and the look out gave us a good view of the vastness of it all.
The next stop was the Mary Ann Dam about 10 minutes away. It's a reasonable size lake in the middle and there were plenty of ducks. Great big ducks! It was a nice spot to knock about at before our next stop.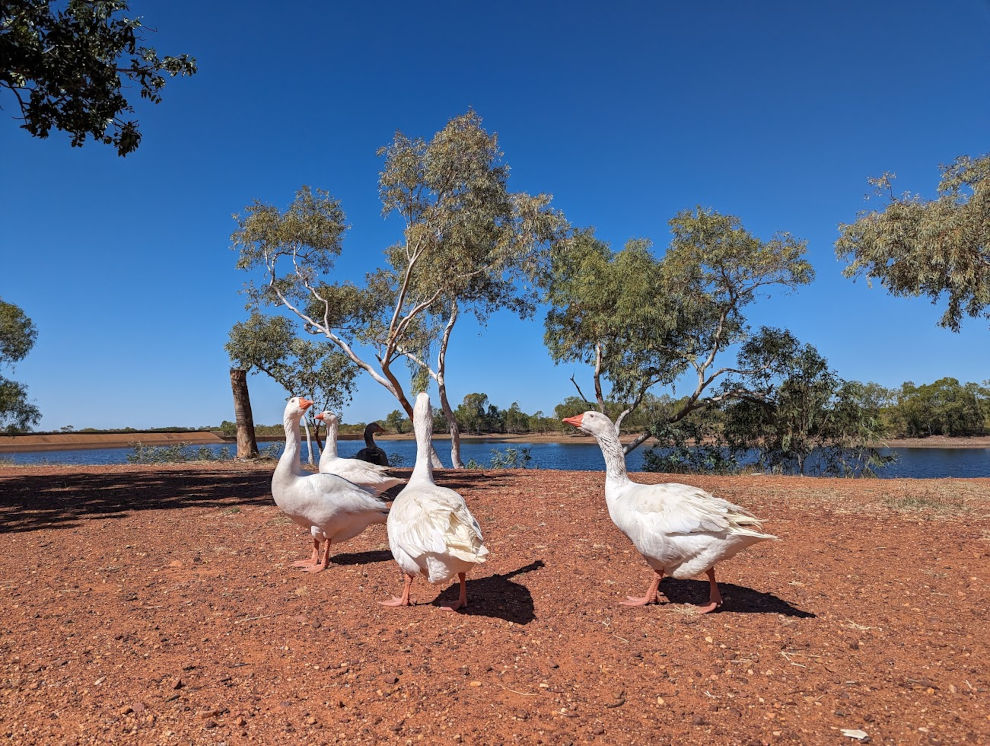 Next up was the Telegraph Station which is over 100 years old. It's quite famous and was setup as a key stop in the mail run from Adelaide to Darwin.
We were going to do one last stop to check out The Pebbles, but the road was rough as guts so after driving about 100 metres, we decided to turn around and head to IGA to stock up on some food. Wisely, we went there before 4pm today.
The rest of the evening was doing our usual thing at the caravan park, with some quick games with Rach and Varun, and finishing the night watching The Traitors episode 4.
Thursday, Aug 24th – (Day 140)
MOUNT ISA – Back on the road, this time for a whopping 7 hour drive. It's been a while since we've done one of these ones and hopefully it will be the last of the trip.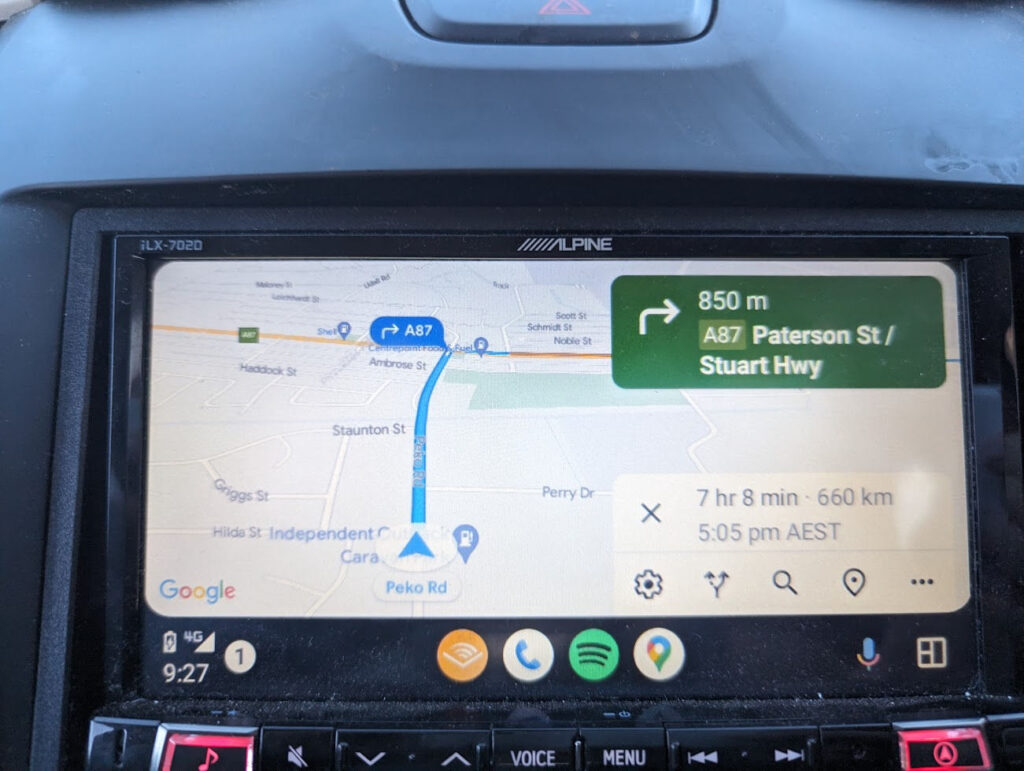 Looking at the map, there is basically no town for the entire 7 hour trip, except for a random roadhouse, and a small 300 population town, so we expected this to rival the Nullarbor for boringness.
We set off around 9am and on the way stopped for fuel at the Barkly's Homestead. For some reason it was the most epic roadhouse we've seen in the middle of no where in the desert. It was a multi million dollar state of the art place.
So we stopped for some fuel, a coffee and sone snacks then it was time to hit the road again. It was a loooooong drive to our next stop at Camooweal. We had a quick bite to eat, fueled up and then it was the final stretch to Mount Isa.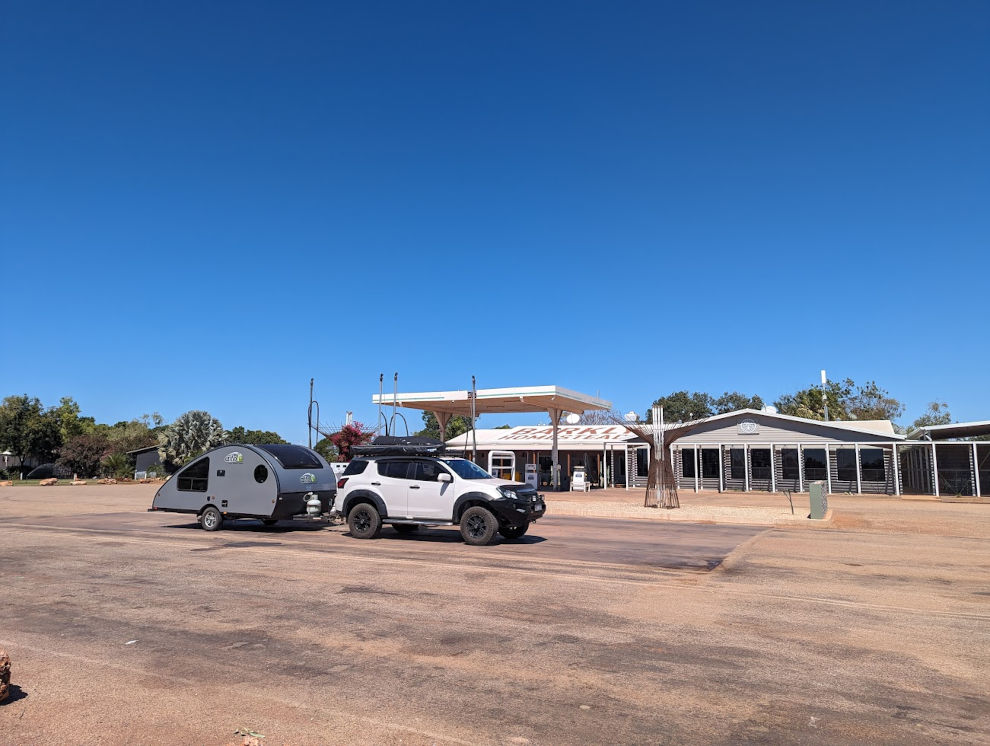 We arrived about 6pm not long before sunset, then disaster hit. The damn roof wouldn't go up on the caravan. We tried everything, spending over half an hour on it. When we thought it was all lost, we tried checking the fuse box and all of a sudden it started working.
Not sure what we actually did, but whatever it was, it did the trick. Meanwhile there was hundreds and hundreds of bats flying around above our heads and pooing every where. Ah well, cleaning that up will be a problem for tomorrow morning now.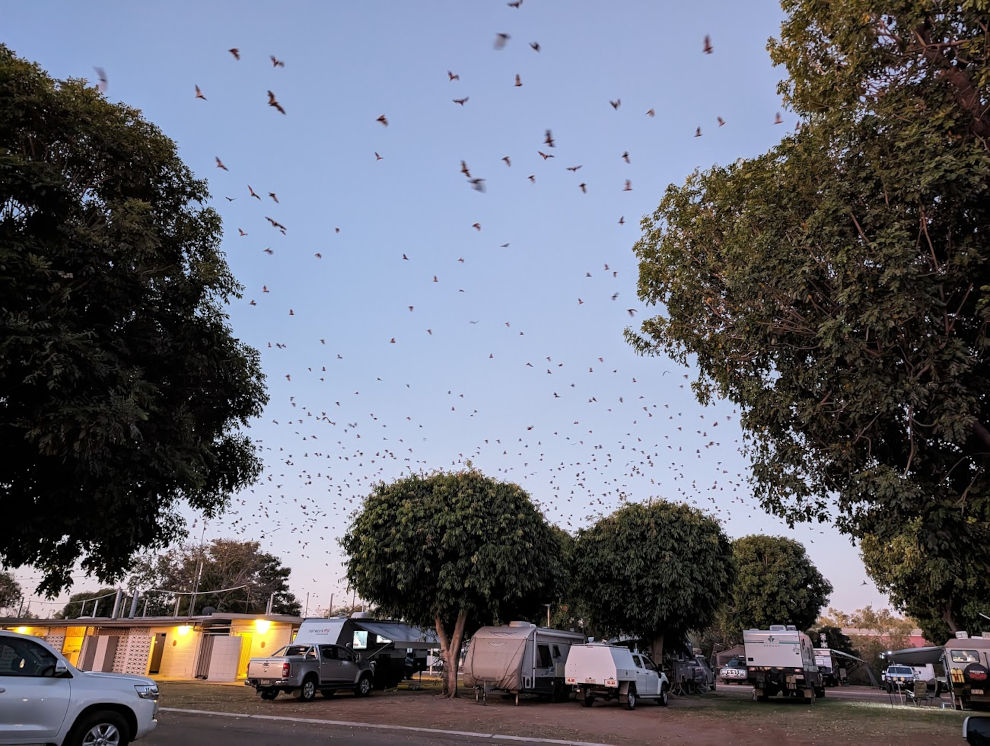 It certainly wasn't the best start to our stop in Mount Isa. Hopefully the next few days improve!
Friday, Aug 25th – (Day 141)
The mid morning was reminiscent of Darwin with the caravan roasting in the sun without any shade. We didn't get up to much, choosing to laze around and muck about at the park.
After lunch we went for a little drive around the town. It's a pretty sleepy old town with not much happening. The main strip was tiny and looked pretty rundown.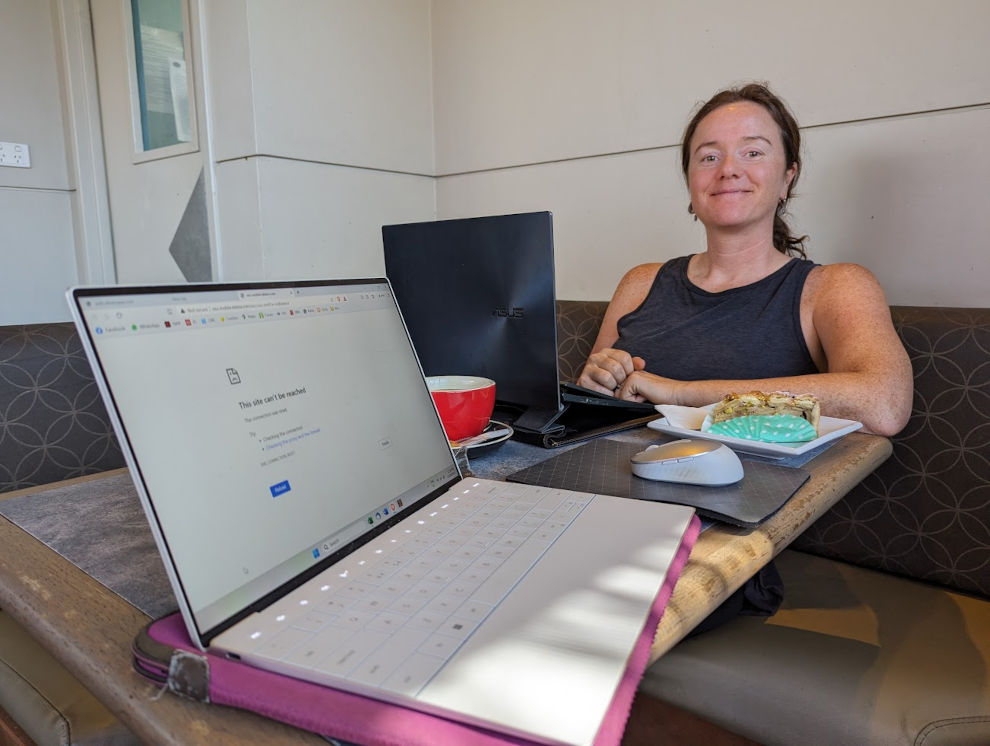 We decided to get some Subway for lunch, but that was a bad decision as it turns out. In fact it turns out Mount Isa is nuffy central, they struggled to even make a Subway sandwich without stuffing it up. Adam through half his in the bin.
Then we went to the highly rated Buffs Club that came up as a recommended place. We have no idea why it's so highly rated, it had nuffy staff like Subway and was a mess due to renovations.
We had our laptops with us and got some good work done, working on the Airbnb template website some more and designing a logo and colour scheme. It's coming along.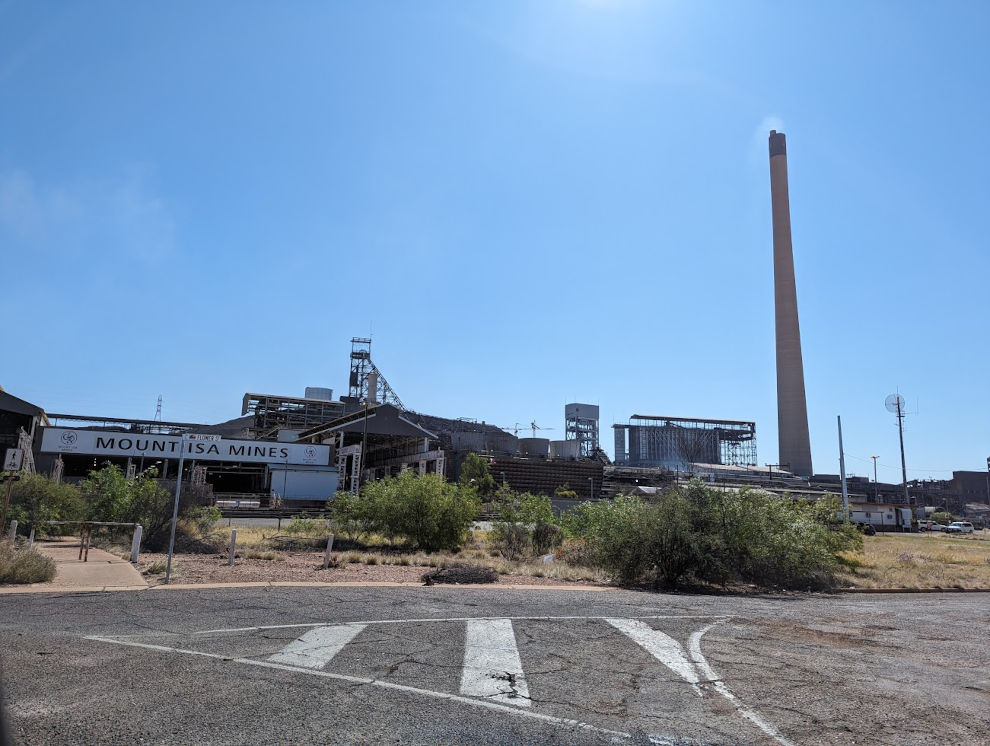 After that we went for a little drive around town, then headed back to the park for the rest of the night, having to deal with the bats again like last night.
Not much else to report other than that. We continued watching episode 3 of Billions.
Saturday, Aug 26th – (Day 142)
With nothing much to do in Mount Isa, we decided to have a lazy day at the caravan park.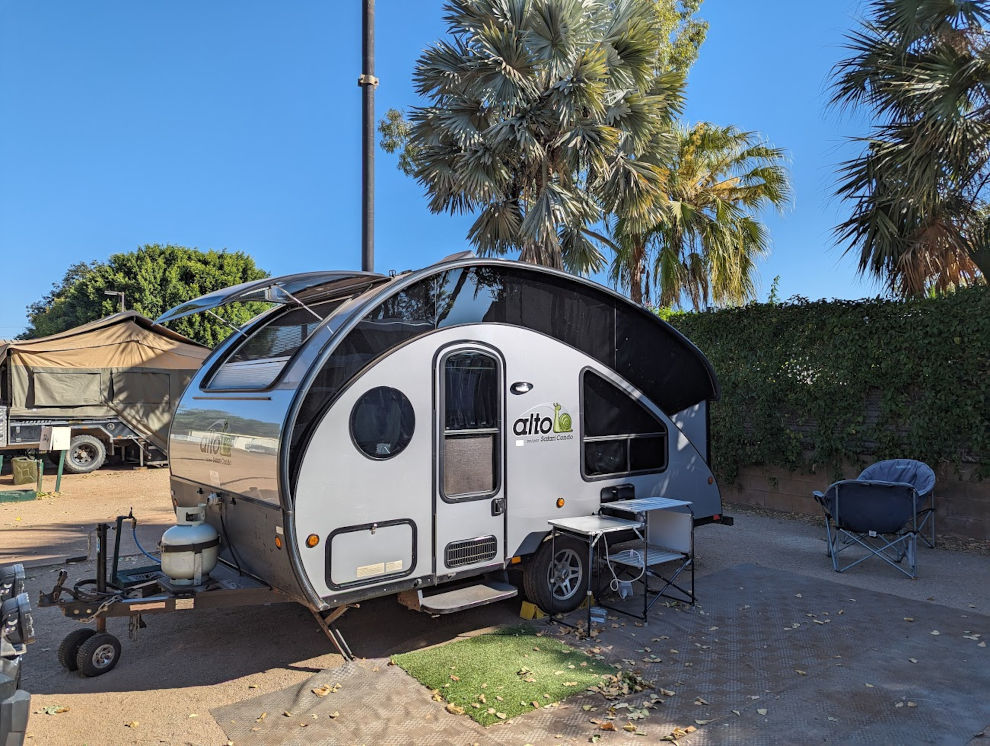 Most of the morning was spent trying to hide from the sun and listening to the final round of the footy on the radio. We also spent a few hours playing some 3 player boardgames with Rach.
Then we ordered ourselves some pizza hut and decided to drive up to the Mount Isa Lookout to eat it. It was a good idea as it gave awesome views of the city.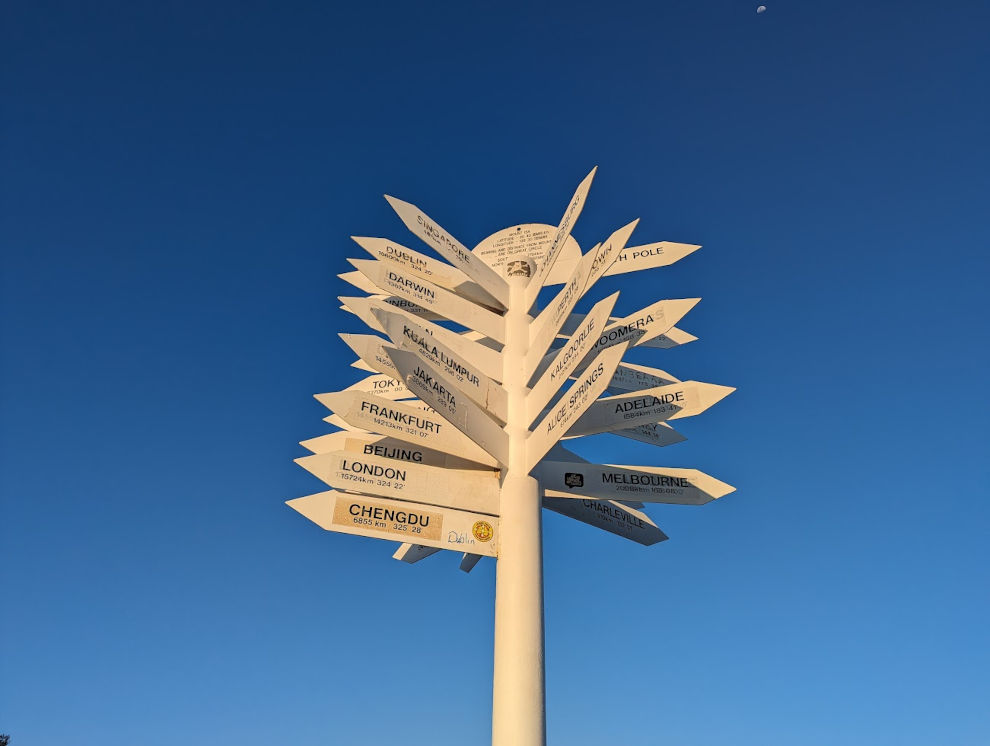 Our lazy day continued back at the park as we listened to some more footy and played some more games with Rach.
Not a bad end to our time in Mount Isa. We didn't get up to much, but we're not too fussed. Tomorrow is a 5 hour drive to Winton so another long drive.