We're enjoying Darwin so much that we decided to add another week on to our trip here!
Well, another 6 nights to be exact. We'll be staying until next Monday morning. It was hard to fit everything in to a fortnight, so another extra week would be ideal!
We think we'll be staying another 6 nights anyway. Will we extend again? Maybe. Na, we can't, it's time to head east! Anyway, here's what we got up to in the third week.
Tuesday, Aug 15th – (Day 131)
Another day in Darwin and the temperature just like every other day we've been here. Mid 30s and woken by loud airplanes and kids on the jumping castle, not to mention the heat.
The morning was spent lazing around at the caravan park until the heat got unbearable. So we decided to head out to a cafe and do some work, and also get some new pillows at Spotlight.
We found an awesome cafe called Mt 8848 Cafe where we finally registered our new domain and hosting for our new Airbnb project called Bnb Template. The aim is to sell some online templates and services from the Canva course we'd been learning.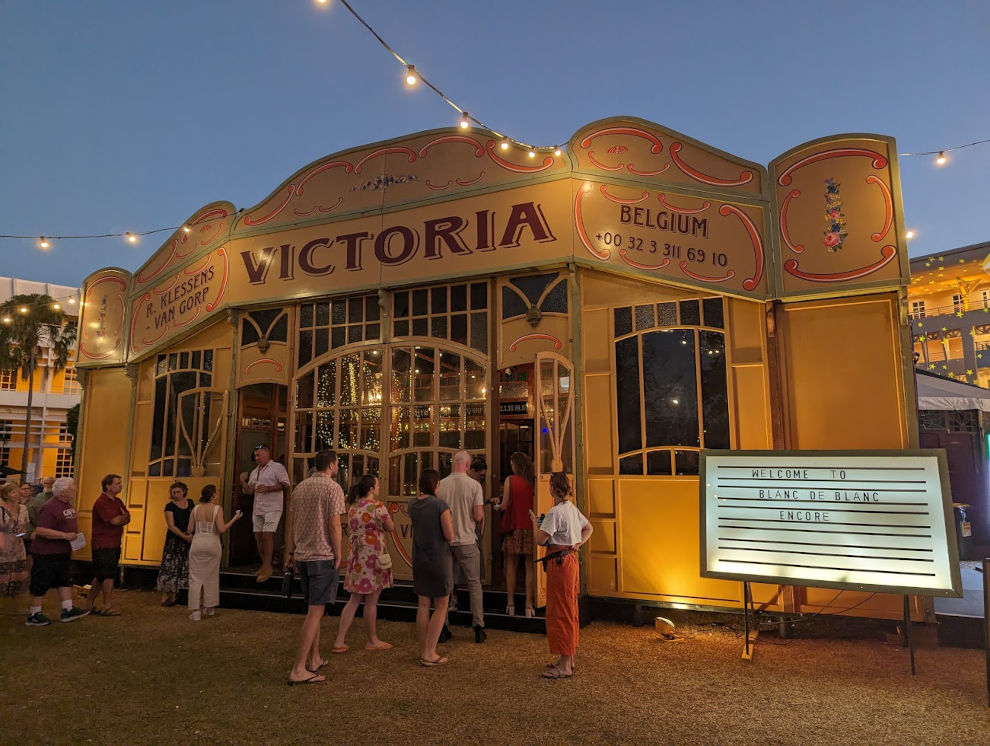 After a productive business meeting, we then headed to Spotlight and got $210 worth of pillows for just $65. Linnie is good at finding a bargain!
We went to Coles on the way home and got ready to go to the Cabaret/Burlesque show down near the waterfront area.
The show was pretty random and certainly not what we expected, but it was good fun. We saw plenty of cock and balls, the blokes in this show didn't mind getting their tackle out. I think Ned got a bit of a shock.
After the show we headed back home and watched the first episode of The Traitors. What an awesome show!
Wednesday, Aug 16th – (Day 132)
The day was finally here, the Matilda's semi final match! But that was not until 7:30pm tonight, we still had a whole day to kill.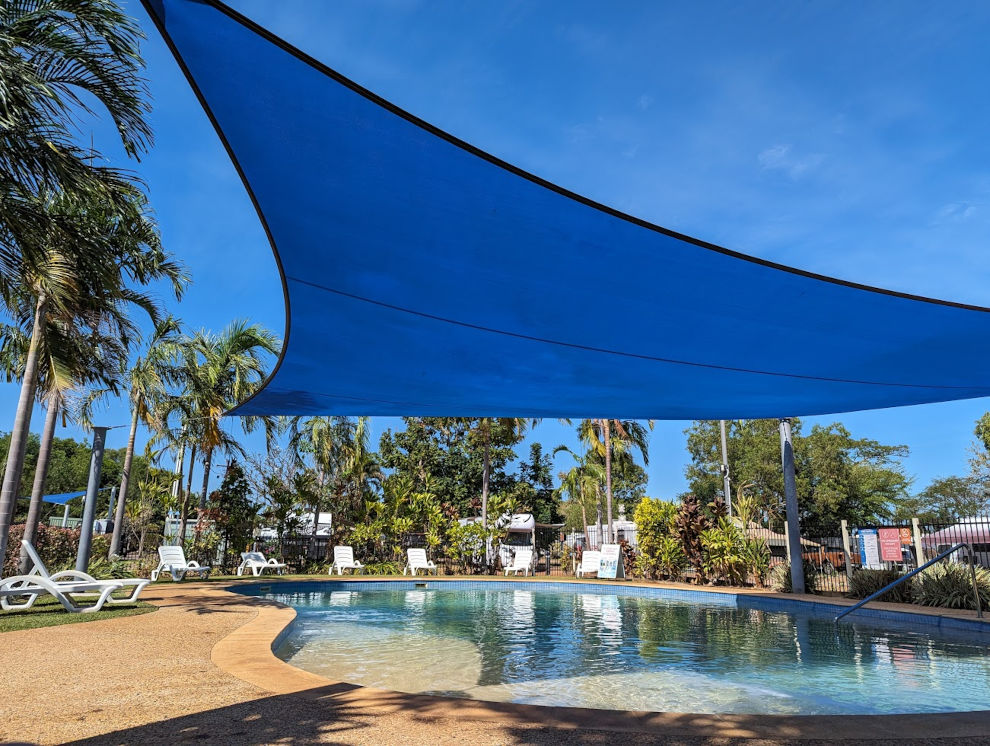 We spent the majority of the morning by the poolside reading our books and escaping the heat, then after lunch we decided to head in for the 1:30pm movie. This movie was Asteroid City which is meant to be quirky and with an all star cast.
Unfortunately the movie was utter shite, what a waste of 2 hours. At least we avoided some of the afternoon heat. The rest of the arvo was spent around the caravan park.
We finally got some new neighbours today, taking up the vacant spot vertical to us. Unfortunately for us they are both smokers, as is our other neighbour, so we have that to look forward to now. Plus the guy loves to just stare at us, it's a little unnerving.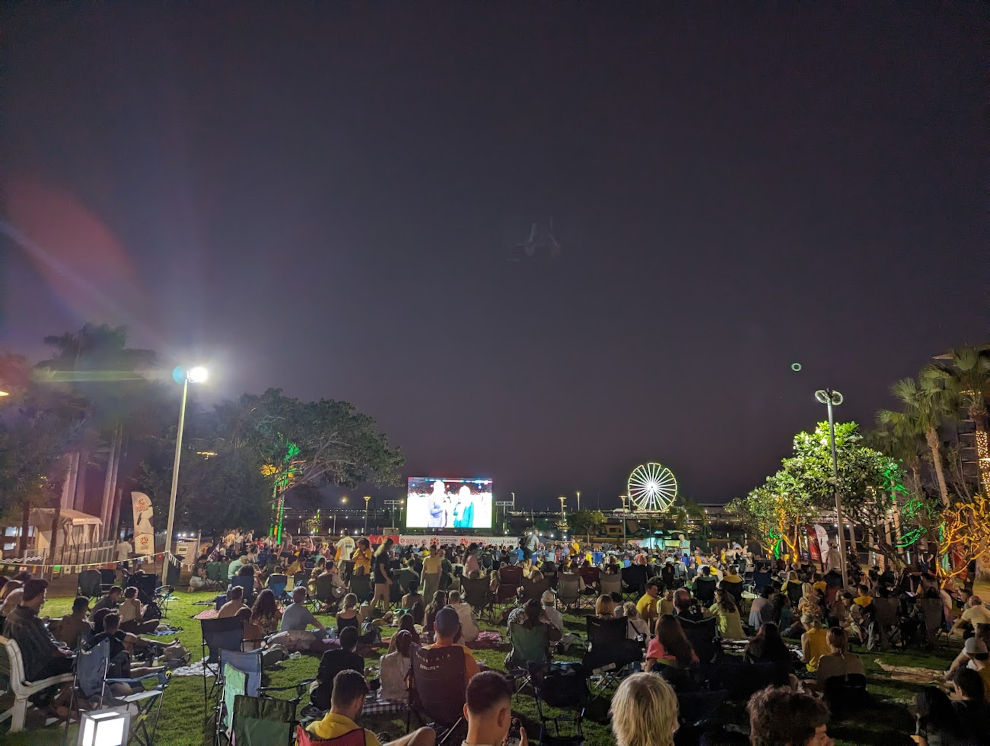 Later in the arvo we made some spag bol for tea then headed into our favourite bar The Precinct Tavern for the game, catching up with Ned and Peta again.
The buzz was electric. They had a huge big screen setup at the waterfront area which was packed, while the bar itself was packed too, luckily we reserved a table.
Australia fell down a goal early, but a Sam Kerr rocket in the second half levelled it up at 1-1. But a blunder saw Australia lose the lead again, then a goal at the end of regulation time killed off the contest.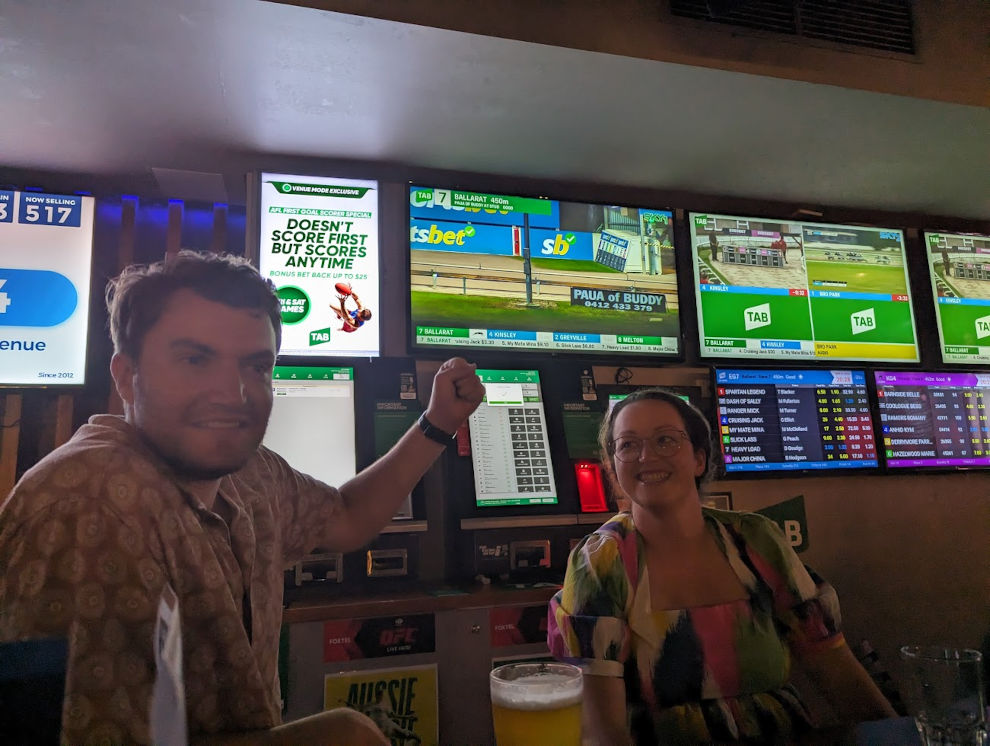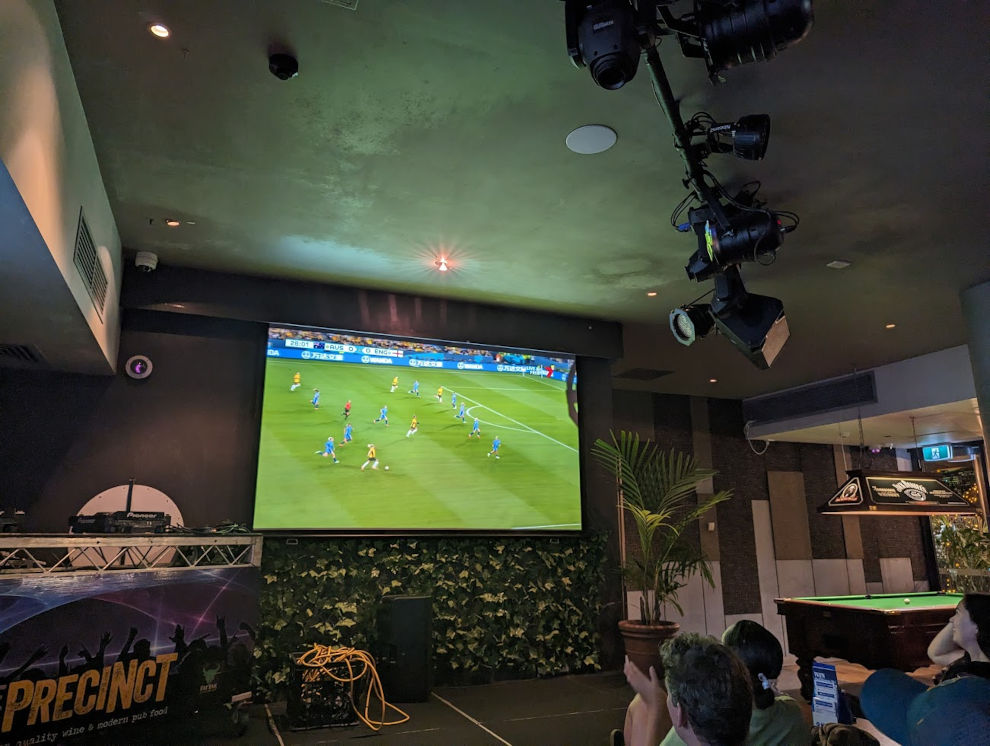 The Matilda's were out, losing 1-3, but not losing any admirers. It was a good run and we really loved it, as did the rest of the country.
On the way back to the park we enjoyed Alice Cooper's nightly radio show which is becoming a staple for us now. Then we finished the night with a cold shower and watching another episode of The Traitors.
Thursday, Aug 17th – (Day 133)
With time coming to a close on our Darwin trip, we couldn't leave without another trip to Litchfield. With the next three days being busy, today was the opportunity to do that.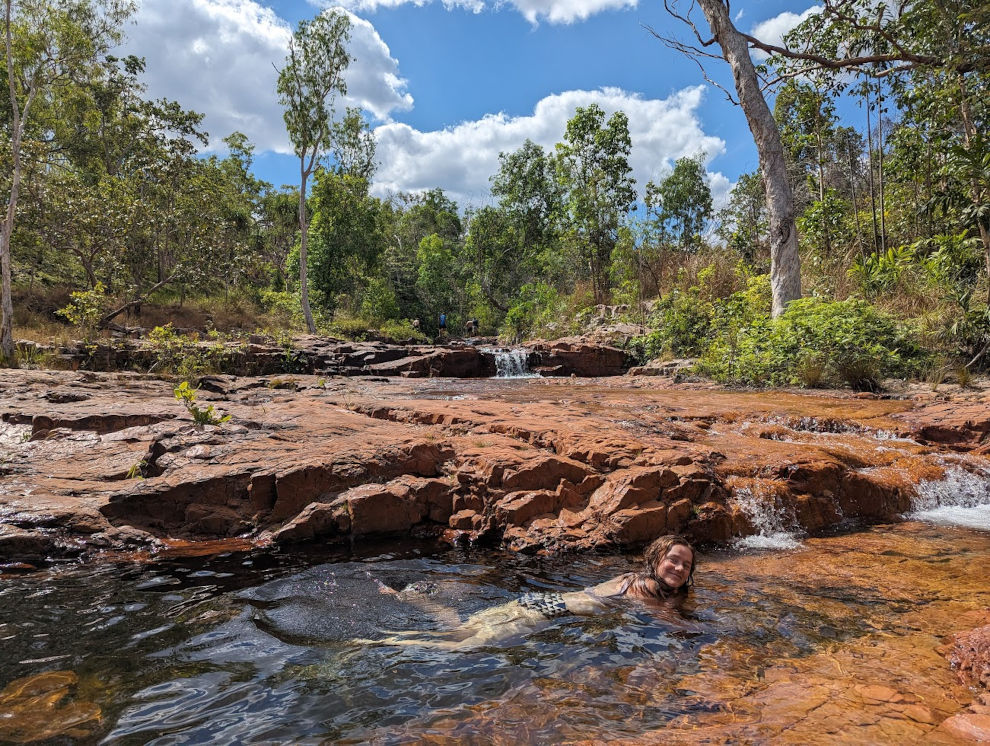 This time we left a bit earlier so that we'd have more time. On the way we stopped at a Pie Face to stock up on some lunch, then it was time to hit the road. We arrived at Litchfield around midday or so.
First up was a trip to Cascade Falls, which we missed out on last time but had heard good things. It was an inspired choice as it was amazing here.
It was a good 1.7km walk to get there and the weather was mid-30s. Fortunately someone at the beginning of the track recommended we wear runners as the terrain gets pretty rough.
By the time we got there we were a sweaty mess, but it was stunning. We spent a few hours here, only leaving because a huge school group rocked up and started being loud.
On the way out we returned back to Wangi Falls where we went the other day and which is always a good stop. But by now it was starting to get on a bit, so we only had an hour here.
We decided to head back to the Mindil Markets yet again, where we go our usual chip twister and baked potatoes for tea. We also got a massage there as well, but Linnie come out looking like she had done 10 rounds with Mike Tyson. They were pretty rough!
By now it was getting on a bit, so we grabbed ourself an ice cream and some popcorn and headed back to the caravan for the rest of the evening. Another awesome day at Litchfield!
Friday, Aug 19th – (Day 134)
Yet another hot morning where its impossible to cool down at this caravan park. After lunch we headed to the Waterfront area that we love and spend some more time at the lagoon, and lazing around in the sun reading.
At 4:30pm Linda had another horse riding lesson with Kate, after the great lesson last week. It was another good lesson this week as well.
After the lesson we hung around for a few beers with the team. Her mum and friend were there and were super nice. Adam even got to play her new grand piano which was a good experience.
A few beers turned into to many more beers and we didn't end up getting back home until after midnight. Adam ended up pretty wet after falling into the pool with his clothes on, as well as his phone and car keys in his pocket!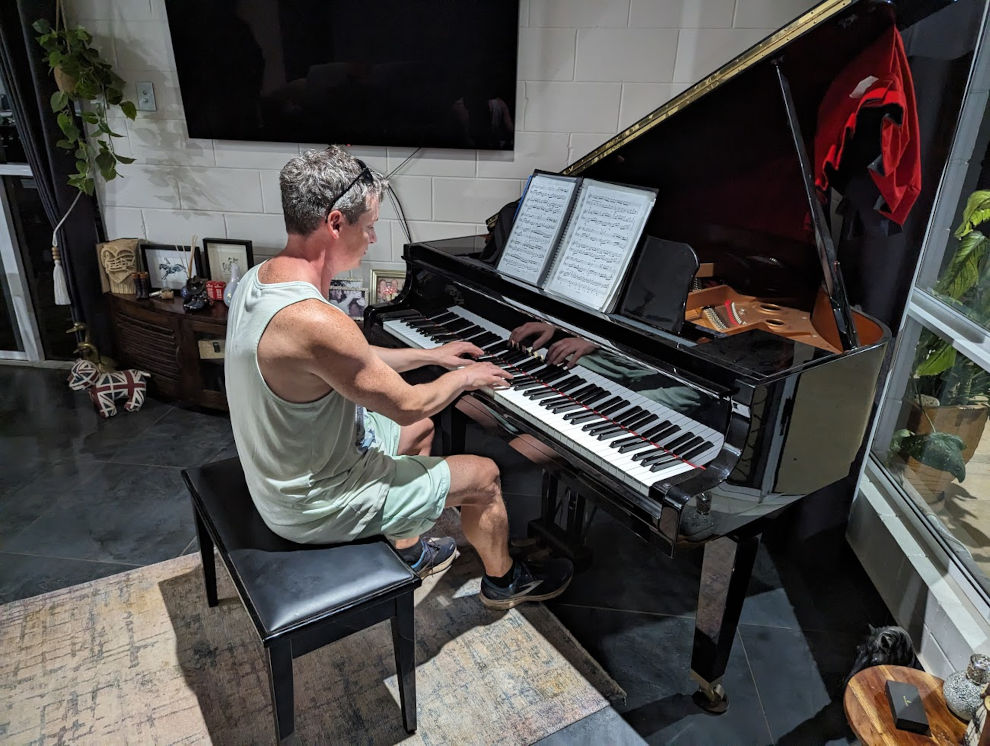 Fortunately the phone still worked. It was a fun night and certainly not what we had planned.
Saturday, Aug 19th – (Day 135)
After a late one last night, plus a busy two and a half weeks, today we had a lazy day planned at the caravan park.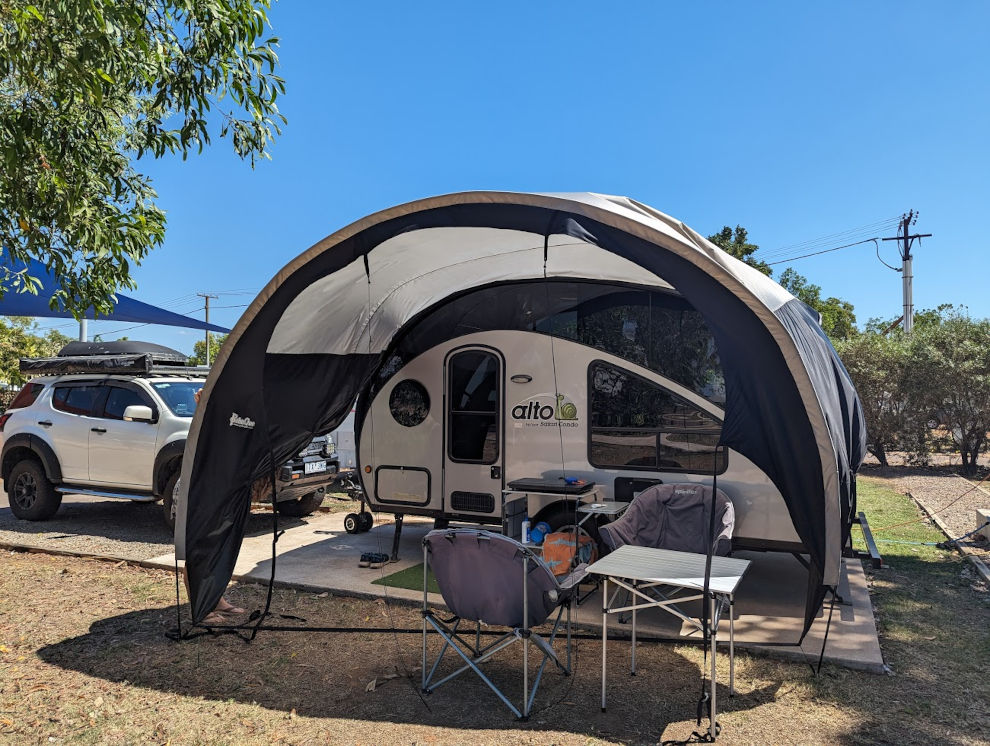 It was also super windy today, so considering tomorrow would be our last day, we decided to take down our awning to save it from getting ripped.
We did a load of washing and then found some shade for the afternoon. Adam spend the arvo listening to the Carlton vs Gold Coast game. The Blues came back from 40pts down to win by 4pts and lock in a finals spot for the first time in 10yrs.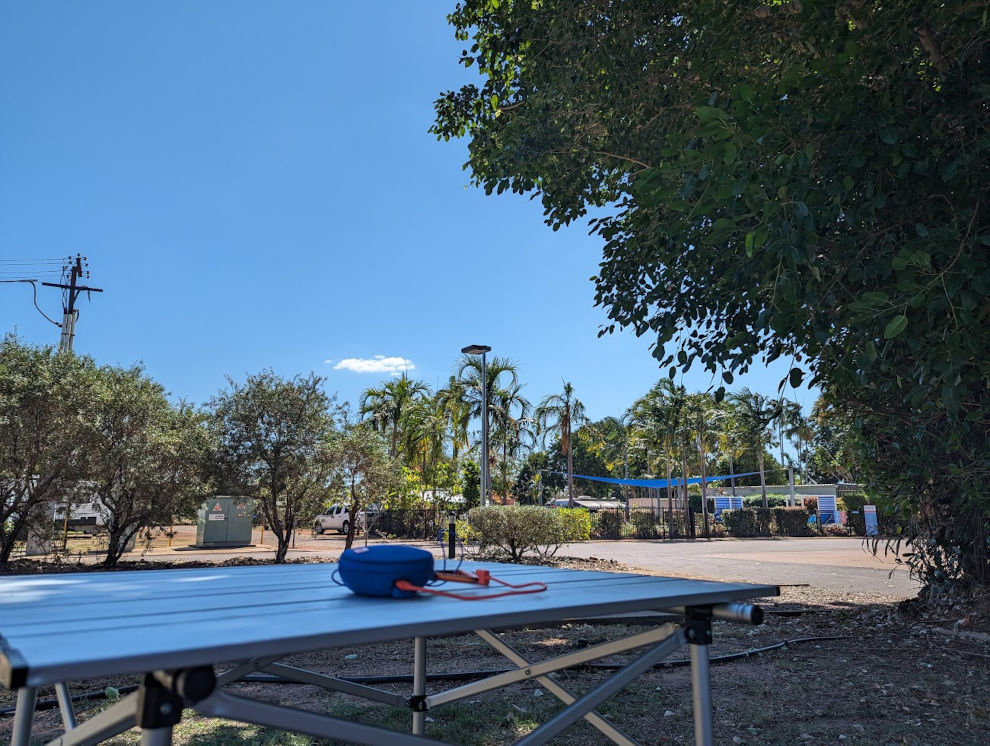 Then it was off to the rodeo just up the road. We got there around 4:30pm and had to put up with blaring sun for a couple of hours. Once the sun went down it was good fun.
We got yet another baked potato for tea and some pizza and enjoyed the festivities. To be honest, we had no idea what was going on and what the rules were, but it was still a bit of fun.
Afterwards a big rave was planned with live music and stuff. Definitely not our scene, so we headed back to the park for a cold shower and Adam continued where he left off, listening to the end of the footy games.
Sunday, Aug 20th – (Day 136)
Our last day in Darwin! Today's plan was to catch up with Ned and Peta one last time at the Waterfront area, with the obstacle course on the agenda.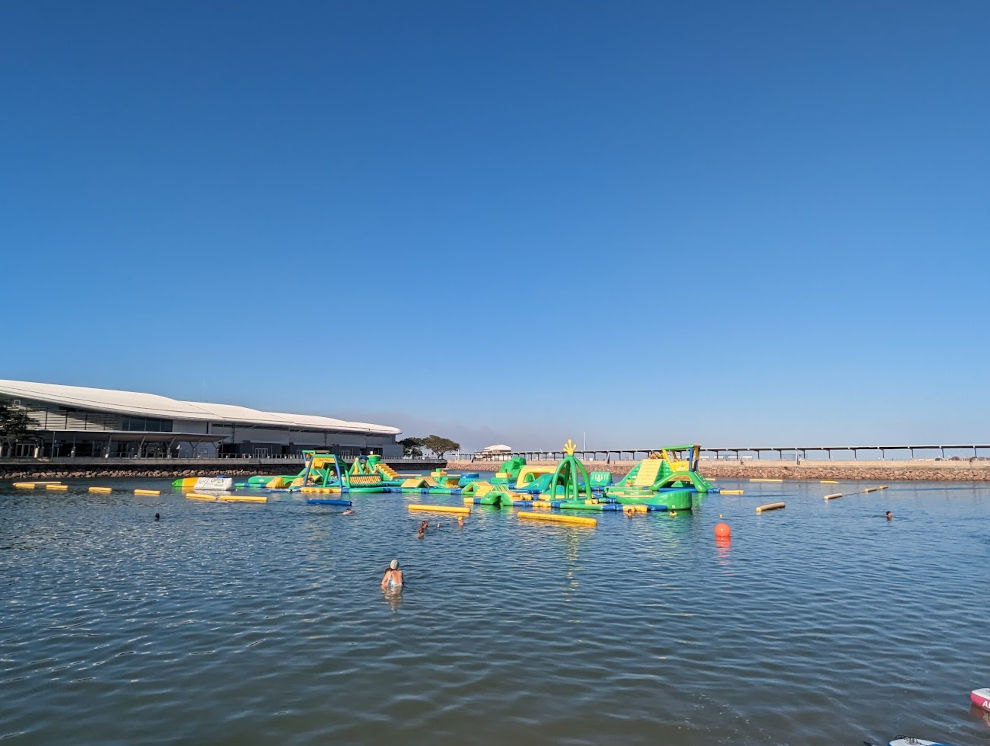 We met there at around 12:30pm and got stuck into the obstacle course straight away. Turns out it was a lot harder than anticipated, a LOT harder.
After a few face plants, slips and wipeouts, we left the arena an hour later feeling pretty battered and knowing that we'd be real sore tomorrow. But at least it was super fun!
We then had a rest and went to Hot Tomales for lunch. Before the meals came out we watched the last minute of the Bulldogs vs Eagles match, which we later learnt was the biggest upset in the history of the league from a betting perspective.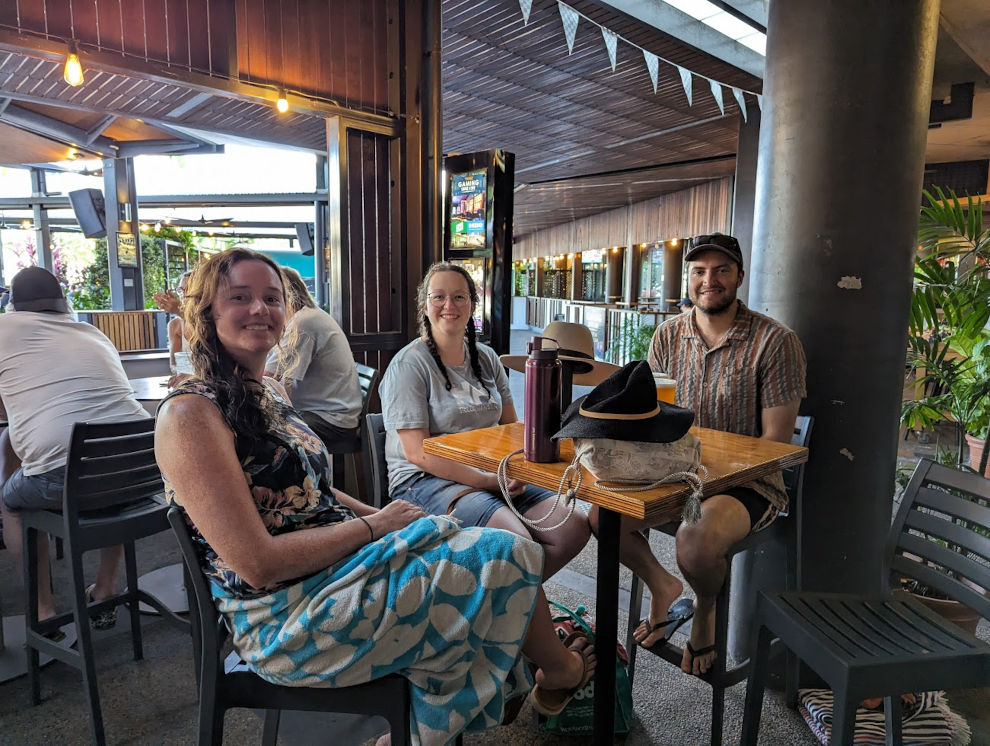 Then after lunch we went back to The Precinct Tavern for a final beer and then big farewell to each other for the last time. It had been an awesome few weeks catching up.
Next stop was the Mindil Markets for the final time. We did our tradition of a chip twister and baked potato, then enjoyed one last sunset. We really are going to miss these markets.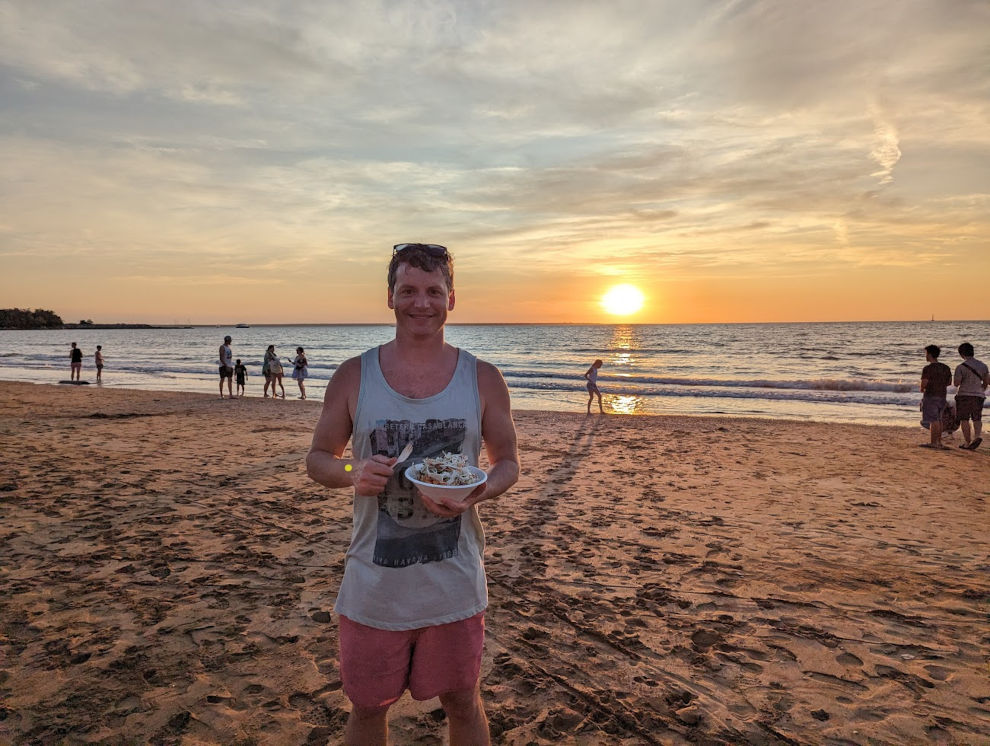 We then went to Coles to stock up on some food for the next day and spent the rest of the night at the caravan park for the final time. The end of our Darwin trip.
Tomorrow we'd be on the road again for the first time for three weeks, with a 6 hour drive to Daly Waters on the agenda. So we decided to have a bit of an earlier night than usual.