Next up on our adventures was a week in the Queensland outback. Technically we'd been in the outback a few days now having spent 3 nights in Mount Isa, but this was the start of the real small towns.
The plan was to spend 2 nights in each of Winton, Longreach, Charleville and Roma. We weren't sure what to expect and were kind of getting sick of small dusty towns.
However, this week was one of the highlights of the trip so far. These towns were super fun with tons of activities and sights to see. In fact, we'd definitely come back again in the future.
Sunday, Aug 27th – (Day 143)
WINTON – Time to hit the road again, this time for Winton which was roughly a 5 hour trip according to Google. We did have plans to get up early and do a load of groceries before we left, but that got ruined on two fronts.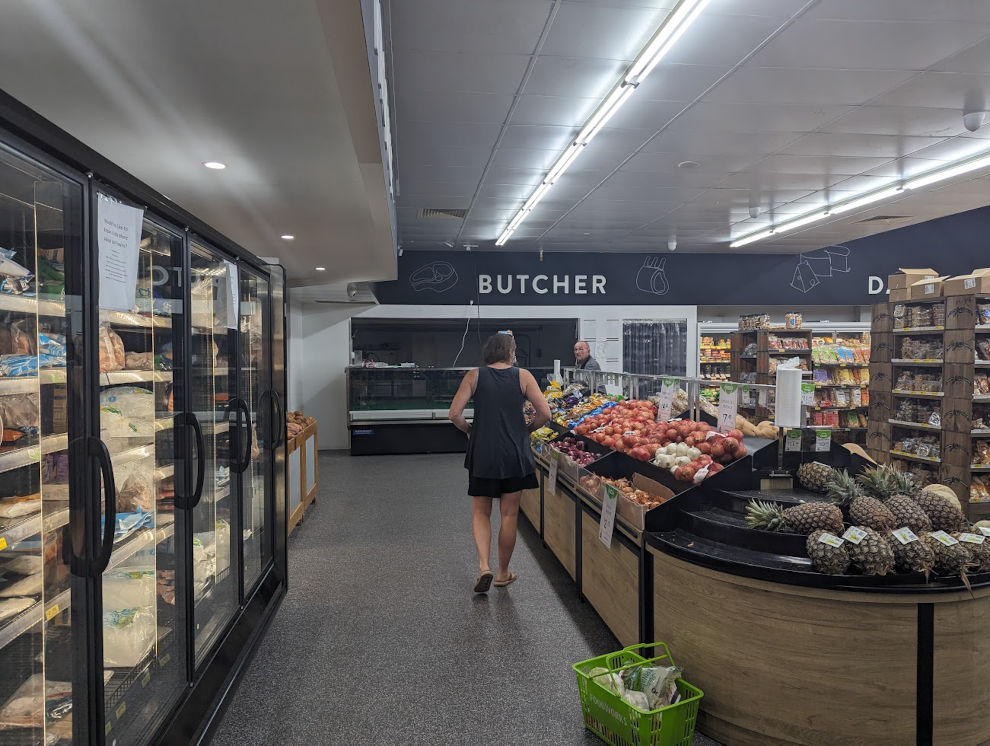 One, we got talking to our neighbours for about half an hour, and two, the Coles in Mount Isa shuts on Sunday. Ah well, the chat was good fun, they told us some good yarns about their travels and especially how bad Tennant Creek is. We agreed!
Given Coles was shut, we decided to stop via Cloncurry along the way, about 90 minutes away. This was a town of about 3,000 people, which is one fifth the size of Mount Isa, yet they had two grocery stores open.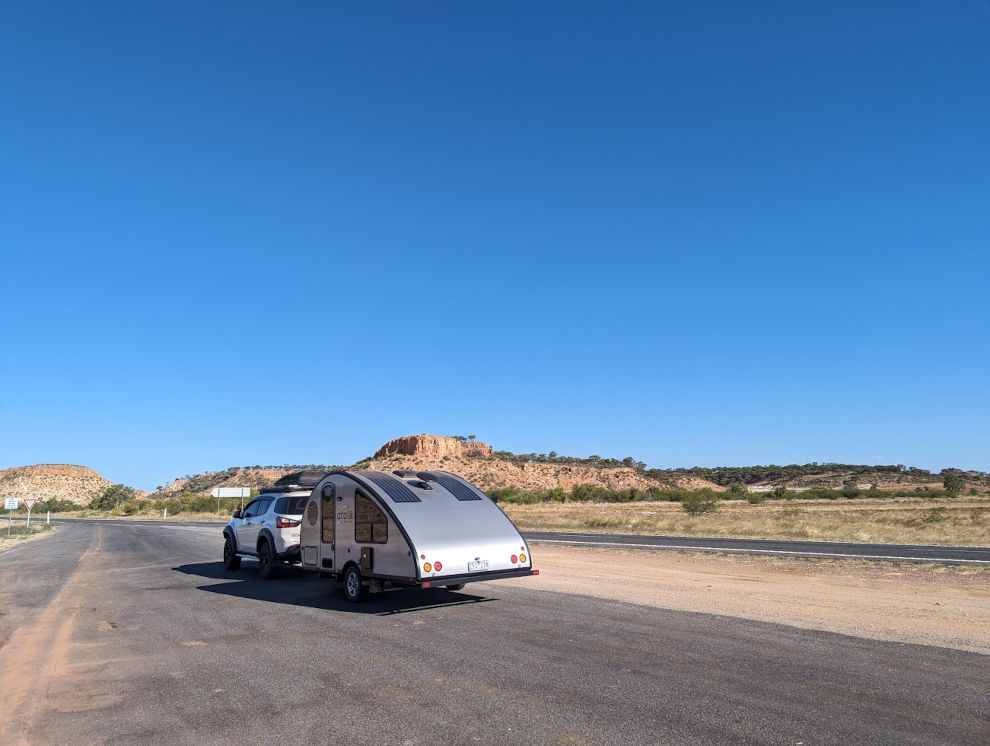 We stocked up with everything we needed and then went to a little park around the corner to eat the rest of our pizza from last night. There were a couple of rat bag kids bullying another kid, bad enough that Linda decided to step in and tell them off.
Then it was finally off to Winton. We arrived around 5pm to a pretty cool caravan park. It was basically a big private paddock that someone had converted into a caravan park with little trees and gardens and stuff.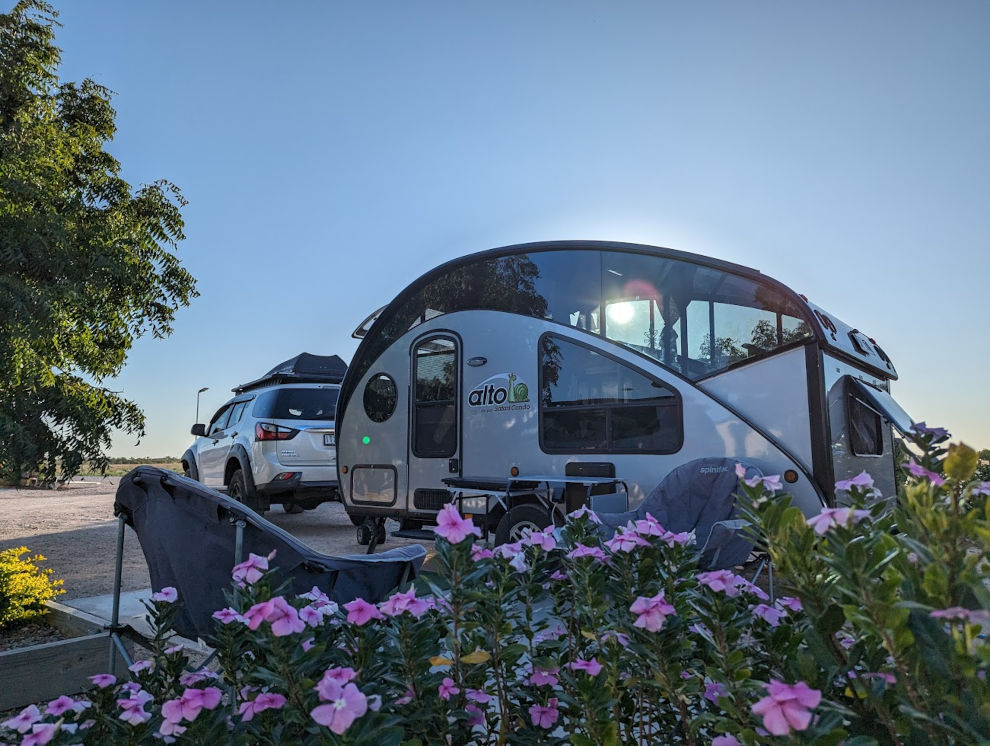 They even had a little gathering to watch the sunset and one of the workers gave us a 30 minute talk about the history of Winton. Turns out it has a pretty famous history with many famous people from here.
Qantas was born here, while the song Waltzing Matilda was also created here, with the billabong from that song only up the road. Something for us to explore tomorrow.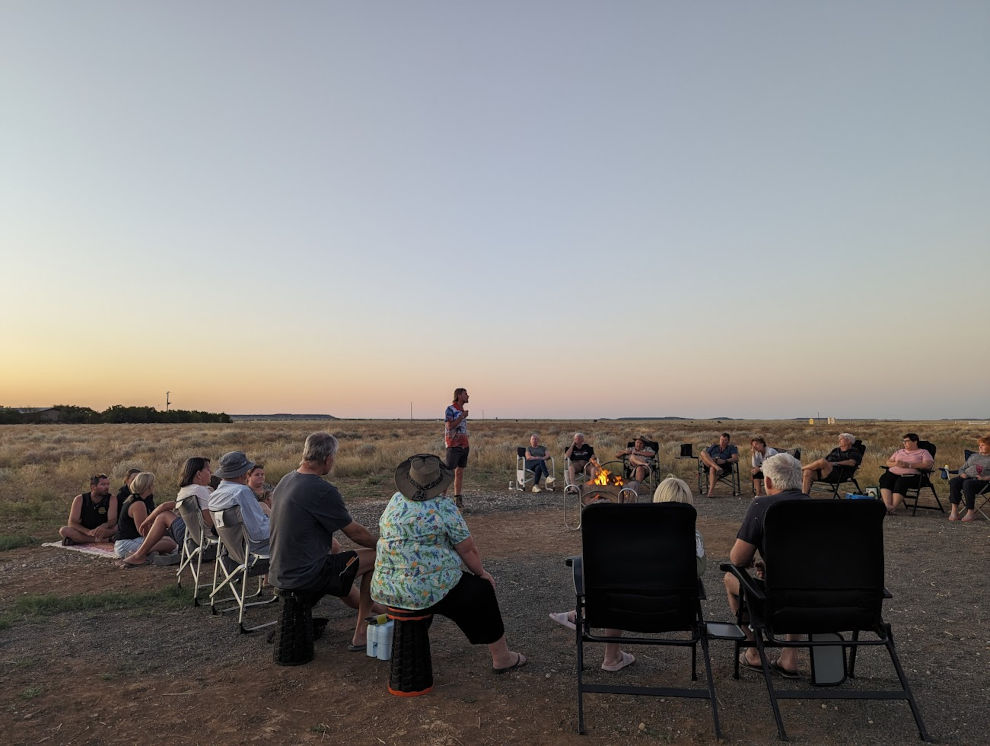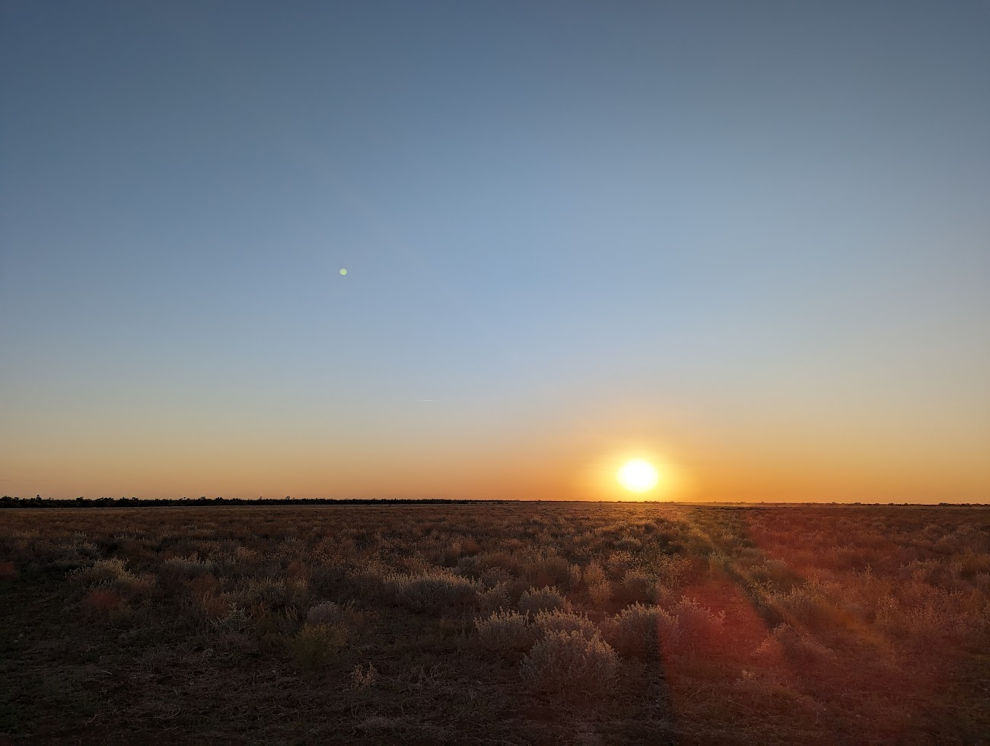 The rest of the night was spent playing some games with Jack, whilst Adam listened to Carlton's last home and away game, where Charlie Curnow won the Coleman Medal.
Monday, Aug 8th – (Day 144)
As has been usual for the last month, we wake up to the sun blaring onto the side of the caravan and we were roasting again. There wasn't much shade here so we just had to cop it.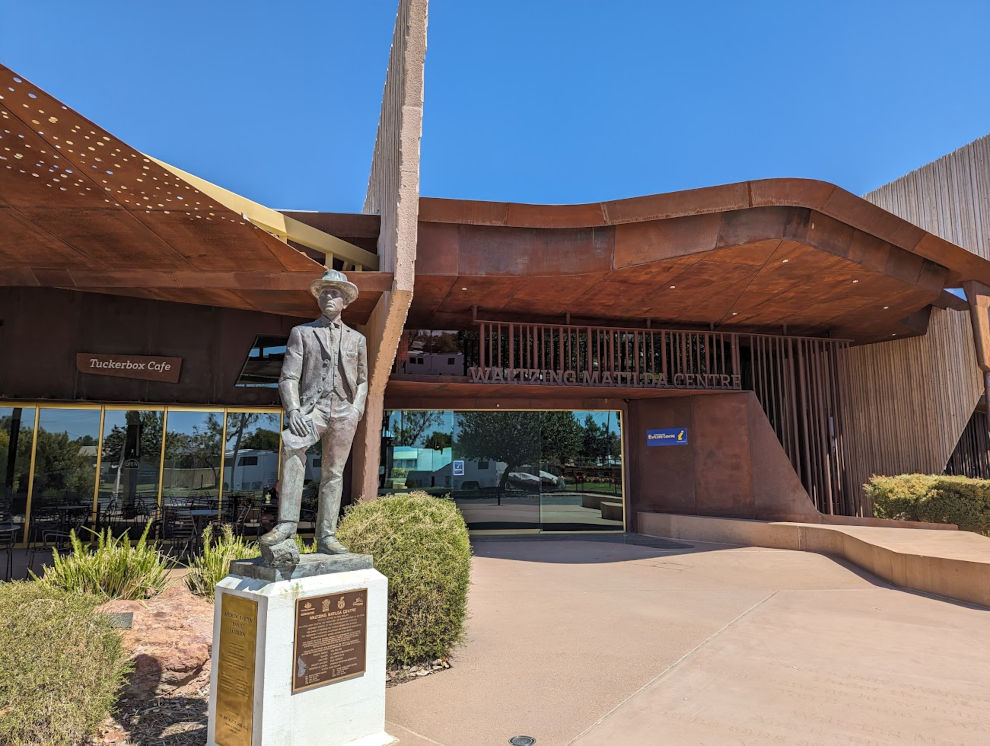 We spent the morning catching up on some work, including booking in the rest of our accommodation for the next week or so. Then after lunch went for an explore around town.
It's only a small place but there's plenty of history here, history that we learnt a lot about in the Waltzing Matilda Centre.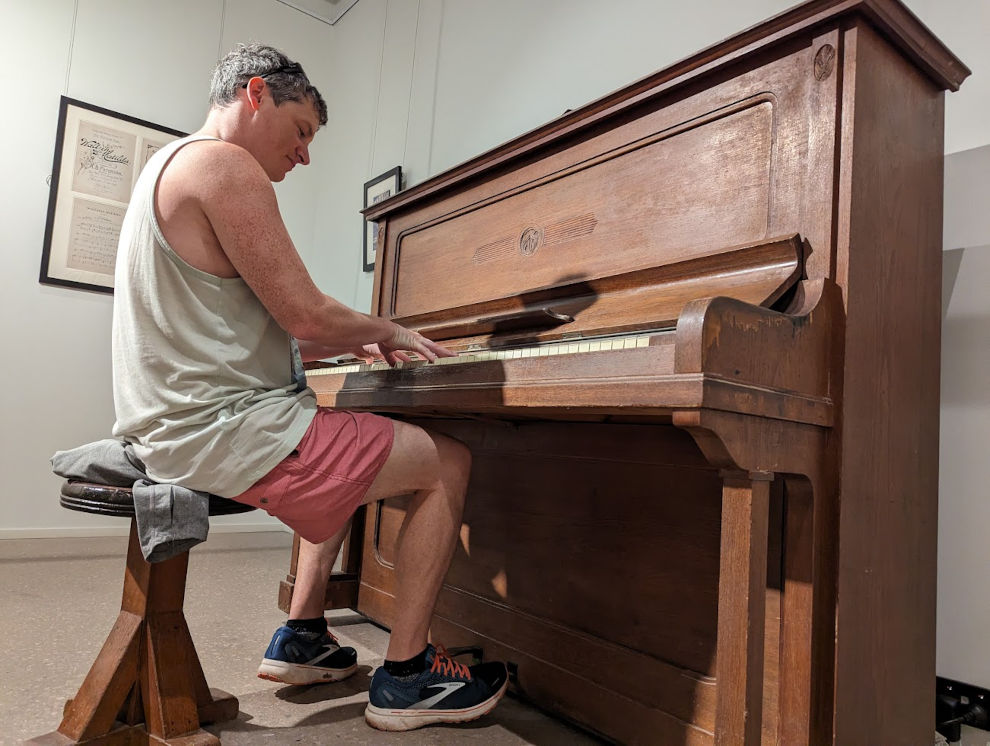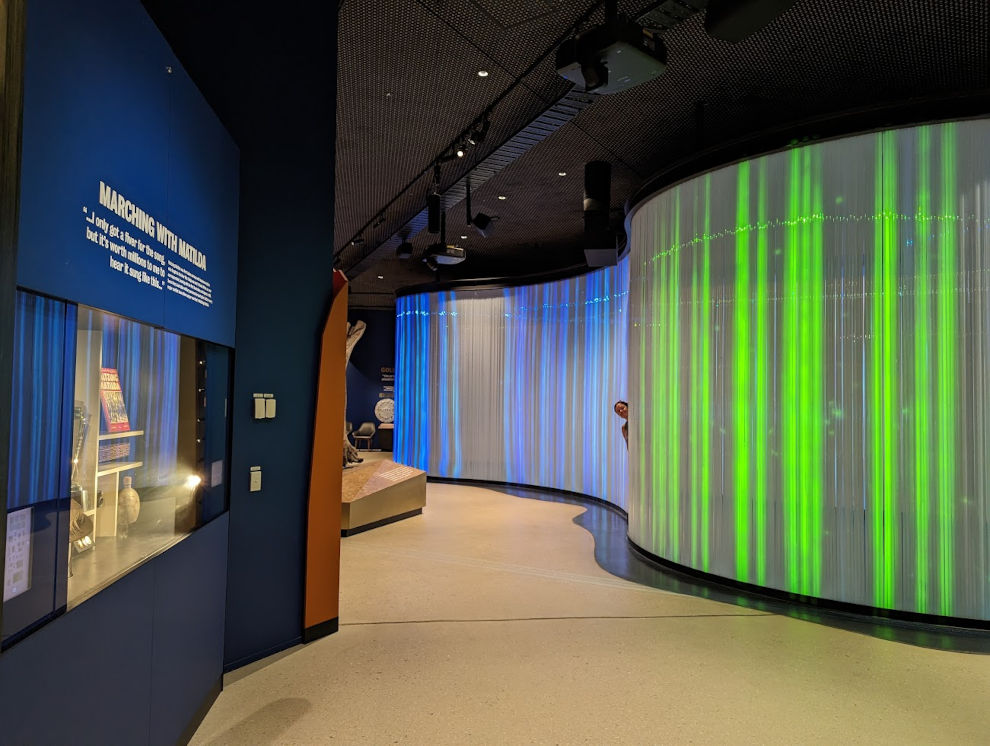 There's even a rich history of dinosaurs in this area too, with some of the most complete dinosaur fossils in the world found around here. You can do a tour and see some of these fossils, which we booked in for tomorrow morning. Excited for that!
After that we did a little drive around town and got some petrol, but there really isn't much to see other than the main street, so it was back to the caravan.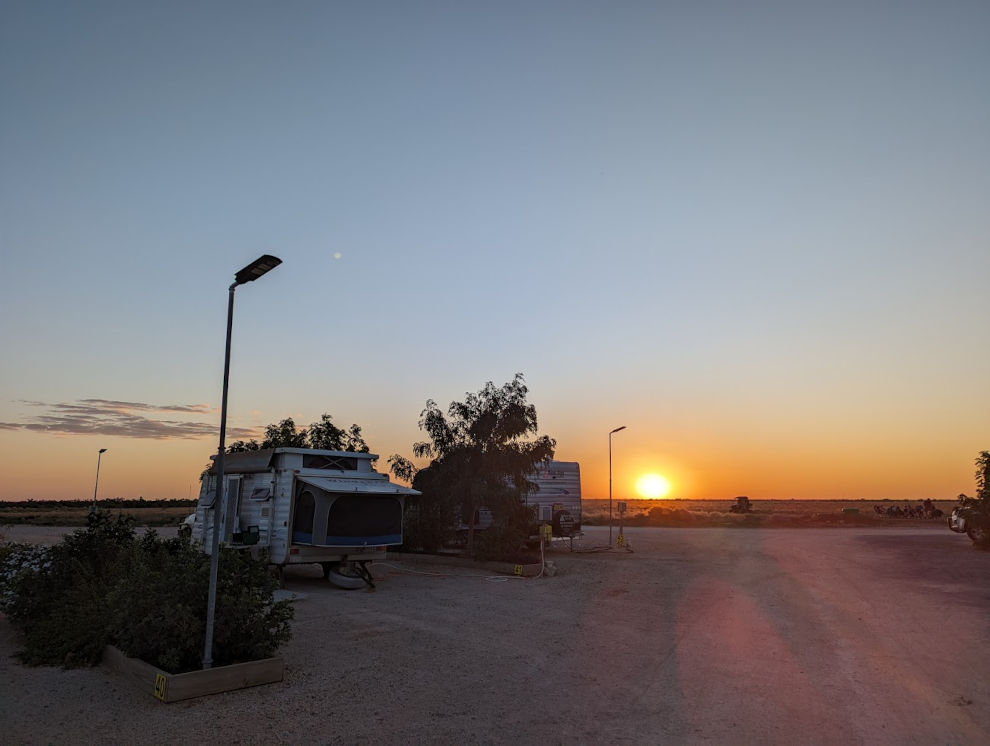 Tonight we played some more games, this time with Rach and Jack. Then it was time to catch up on some more work, then we continued episode 5 of Traitors.
Tuesday, Aug 29th – (Day 145)
LONGREACH – Early start this morning. We had to be at the dinosaur place by 9:30am and it was a half hour drive away, so we got up around 8am.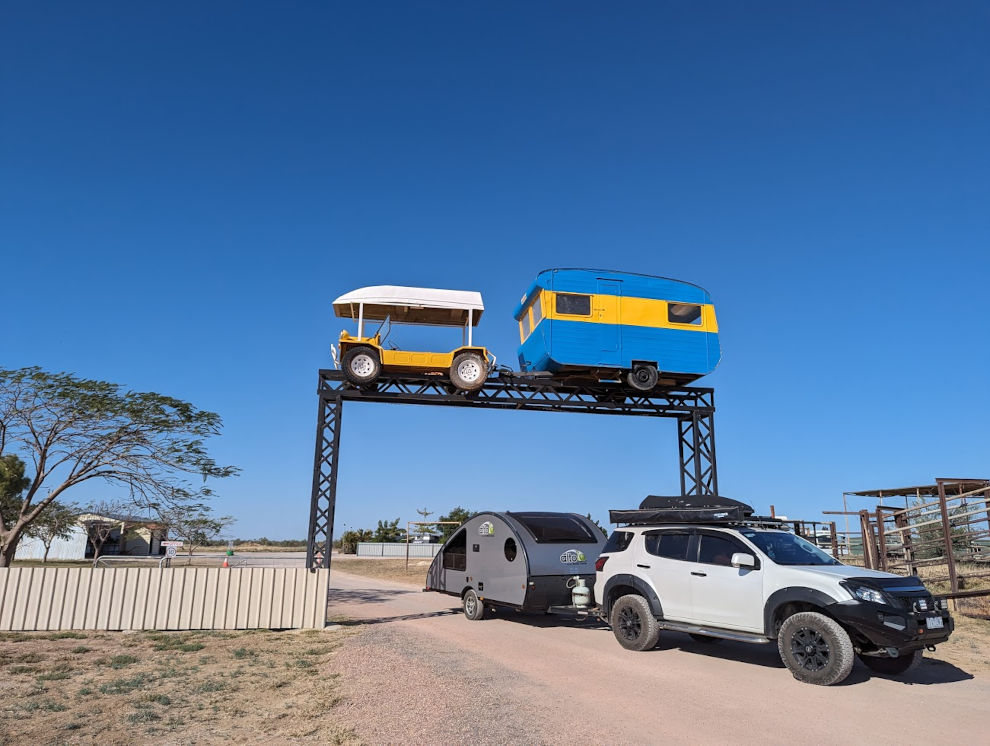 Turns out the dinosaur expo was a lot more thorough than we were expecting. It was a 4 hour tour with three main exhibitions.
First up was the Titanosaurus march which was a 50+ metre stretch of track with large footsteps. There was also a track out the back showing the other different types of dinosaurs that lived on the Australia continent.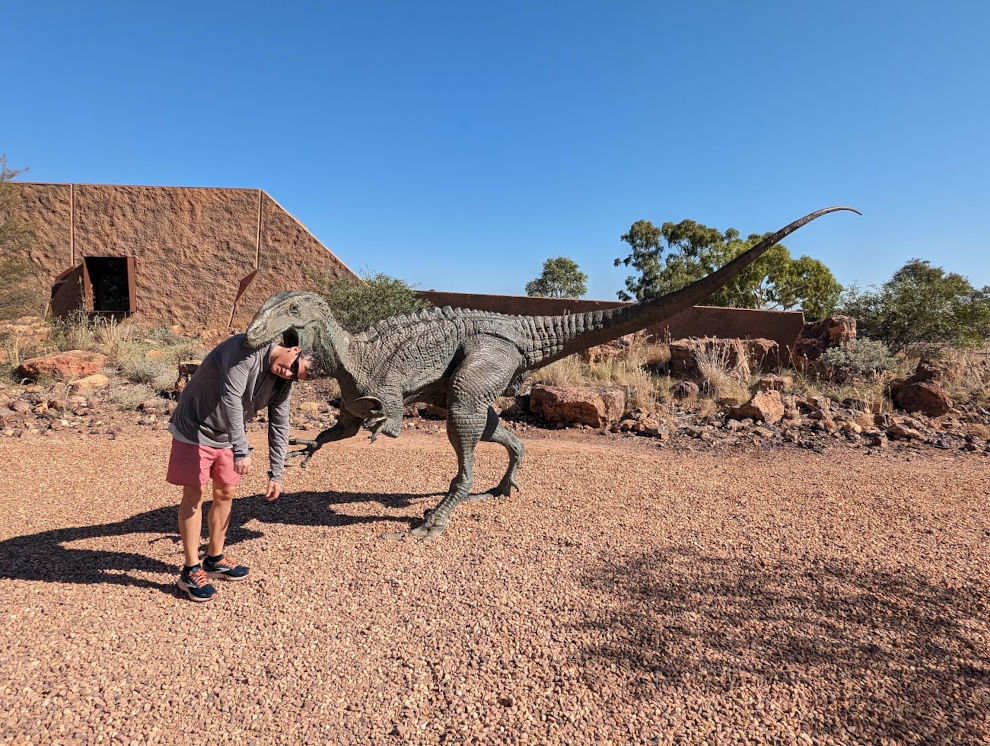 The next two exhibitions was the fossil preparation lab where they showed us how they dig and prepare the fossils for display. Then the last one was the collection room where they had full skeletons of dinosaurs.
All in it, it was damn impressive and well worth the trip. Now it was on to Longreach which was a 1h45m drive, so pretty quick compared to what we're used to.
On the drive we bought some tickets to the Brisbane Lions vs Port Adelaide qualifying final at the Gabba next weekend. And before long we arrived at the amazingly named Muddy Dark Tourist Park which had great reviews.
After setting up, we went for a canoe ride along the river, then got talking to a few people who were canoeing, as well as some admirers of our van.
Then we had a rather hectic games night with 6 of us, and watched episode 6 of The Traitors. We had an earlier night tonight as we have a big day planned tomorrow around Longreach.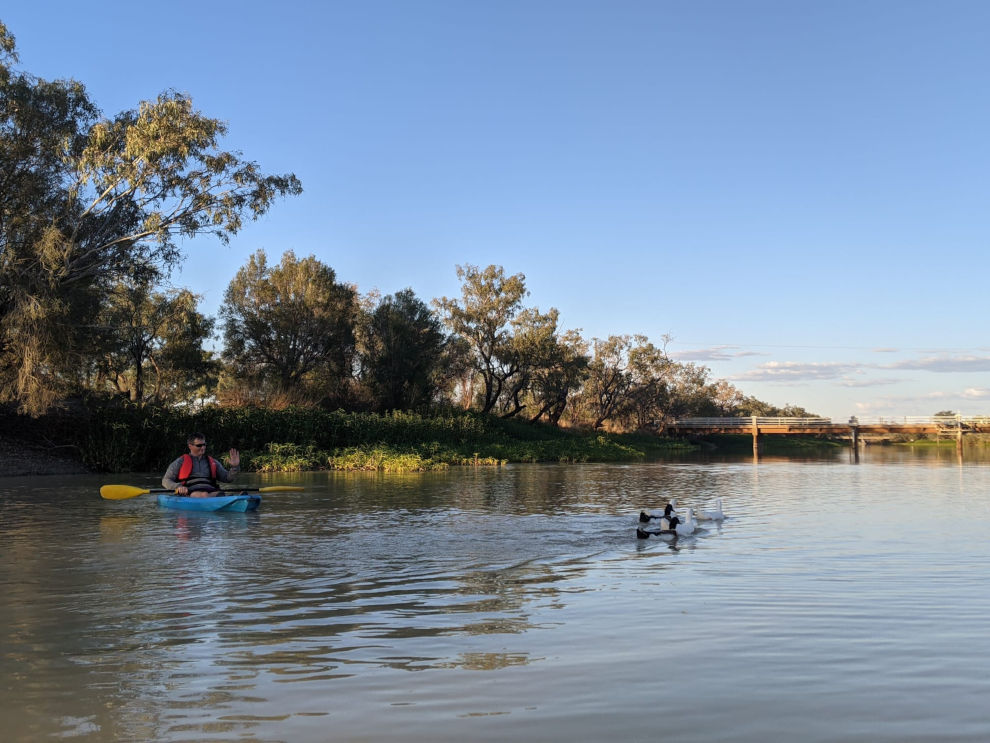 Wednesday, Aug 30th – (Day 146)
We rose nice and early today, ready for our stage coach adventure. After breaky, we headed into Longreach town for the first time and found a good park under the shade.
Before the ride, we hit a pharmacy to get Adam some antihistamines as apparently it gets rather dusty. Then we met up with the group at around 10ish.
First up was some scones and tea, and we got talking to a random couple from Maryborough who were really nice. Then it was off to meet the horses and the stagecoach driver.
Luckily we were the youngest people there by about 50 years I reckon, so he recommended that we sit up the top, which is exactly what we wanted. The ride went for about 45 minutes and it was awesome!
We were taken on the original mail run where some of Australia's most well known people would have went through back in the day. We even got to go for a gallop which Linnie enjoyed.
Up next was a bit of a comedy act with a couple of guys and their animals. It was meant to be what entertainment was like back in the day and was good fun.
The last thing was a movie in their mini theatre. It was from 1958 so we considered giving it a miss, but decided in the end to check it out. The movie was called Smiley Gets A Gun and it was really good fun! A strange plot, but certainly fun.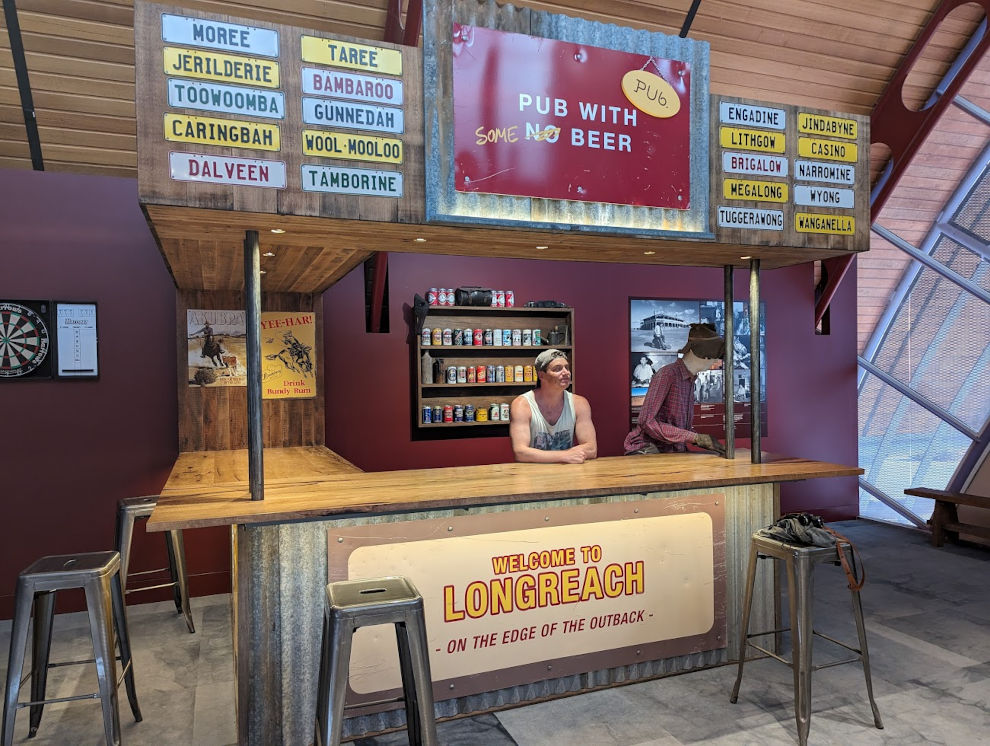 By now it was around 2:30pm and the day was running out. We had just about enough time to go check out the Bushman's Hall Of Fame which was a history of bushman in the area over the years. It wasn't too bad.
Then it was back to the park. We didn't have time for the Qantas museum, so saved that for tomorrow morning. The rest of the night was pretty lazy with a nap, some work on the laptop and the next episode of Billions.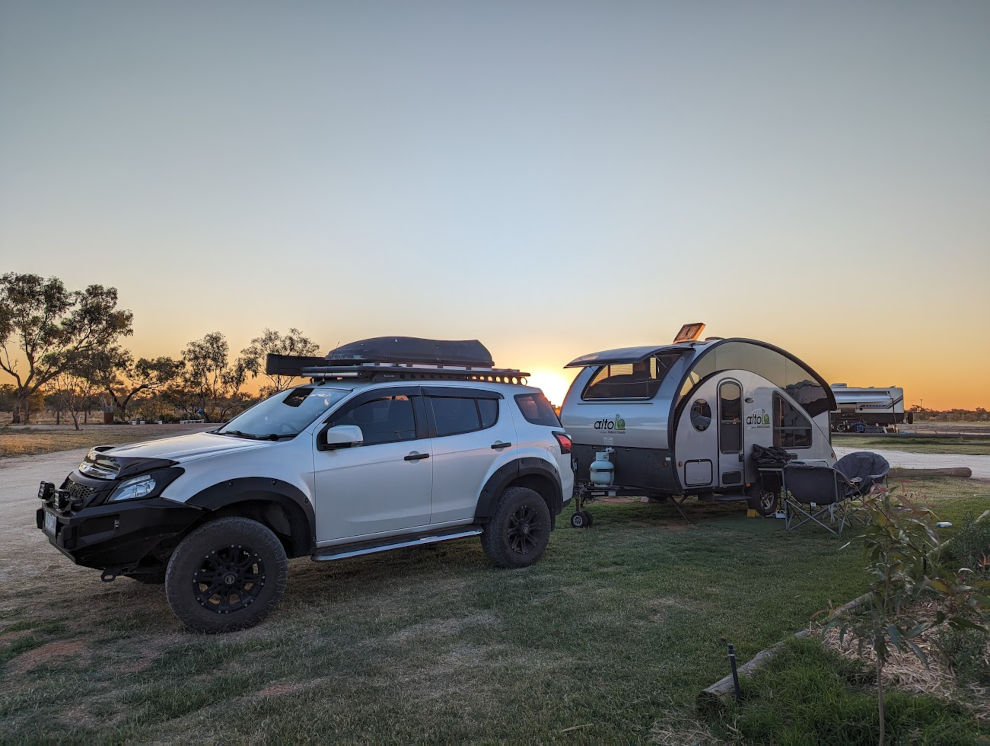 Also, the Super Mario Kart World Cup was on (yes, this is a thing…). So we spent a while watching this before bed. Tonight it was the battle mode which was great fun.
Thursday, Aug 31st – (Day 147)
CHARLEVILLE – Another travel day today with Charleville on the agenda. It's a 5h30m drive and hopefully one of, if not, the last 5+ hour drive of this trip.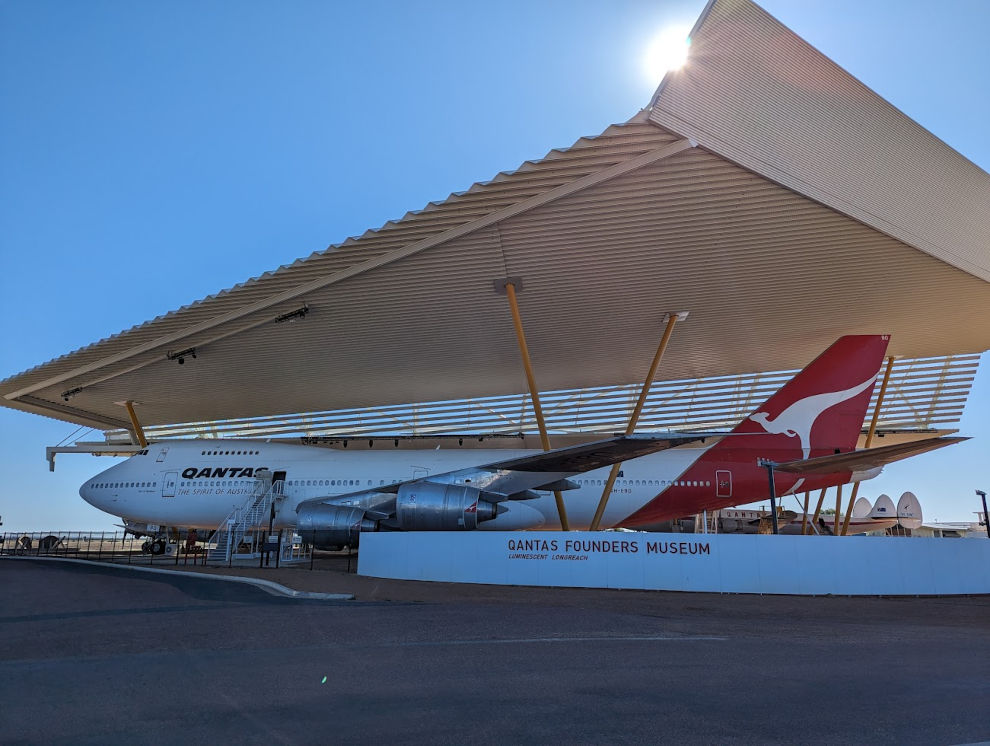 But first, a tour of the Qantas museum! Because the stagecoach and bushman tour took so long yesterday, we ran out of time for the Qantas tour, so we decided to pop in for a quick look before heading off to Charleville.
Well, it was anything but a quick look. We got there around 9:30am and as luck would have it, a tour was heading off at the same time, so we tagged along. It ended up going for a good 2+ hours in the end.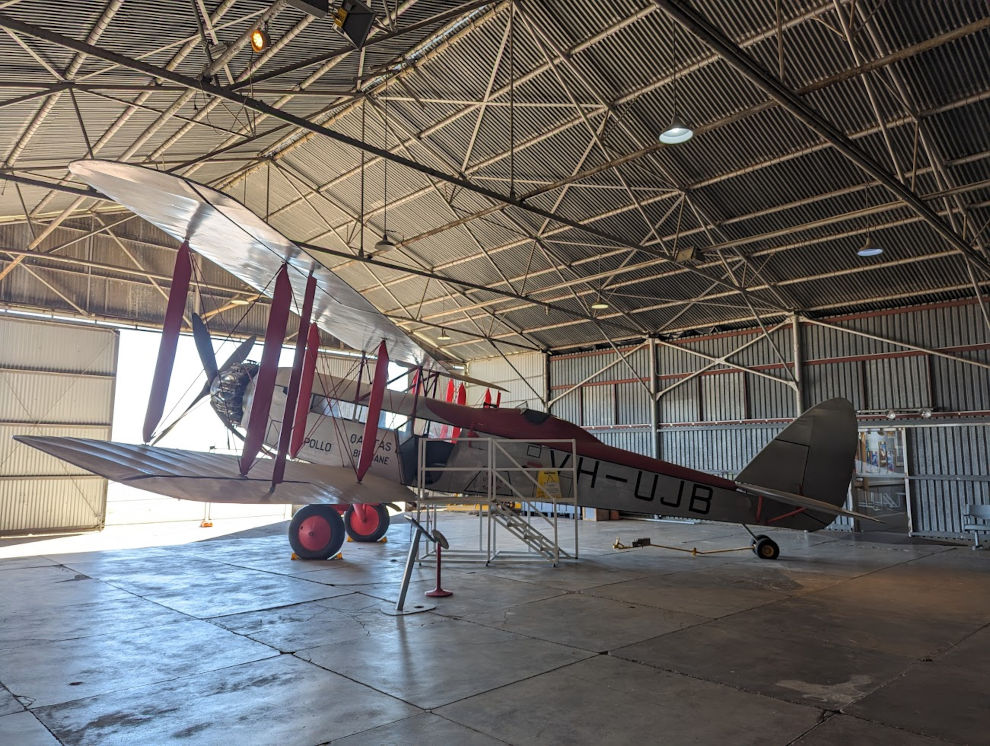 However it was well worth the ticket. We got a full history of how Qantas first began up until now, plus got to go in some of the earliest planes, as well as the popular planes from the 1930s-90s. We even got to go into Michael Jackson's old private plane which was on display.
After the awesome tour, it was finally onwards to Charleville. Damn it was a long drive. We stopped at Barcaldine for some lunch and a look at the tree of wisdom, then had another quick stop at Blackall to get some snacks.
Then it was nonstop on the way to Charleville, where we arrived not long after 5:30pm. We quickly setup and then gathered around the campfire with the other guests for happy hour, as well as some free damper. This place was great!
It wasn't long before we had to drive into town for our Charleville Cosmos tour, which was a space talk and a look through their telescopes.
The tour wasn't too bad, but was run by a few amateurs who struggled to operate the telescopes, plus their was a huge group so it was a lot of waiting around. We got some photos of the moon and got to see Saturn, amongst other stars.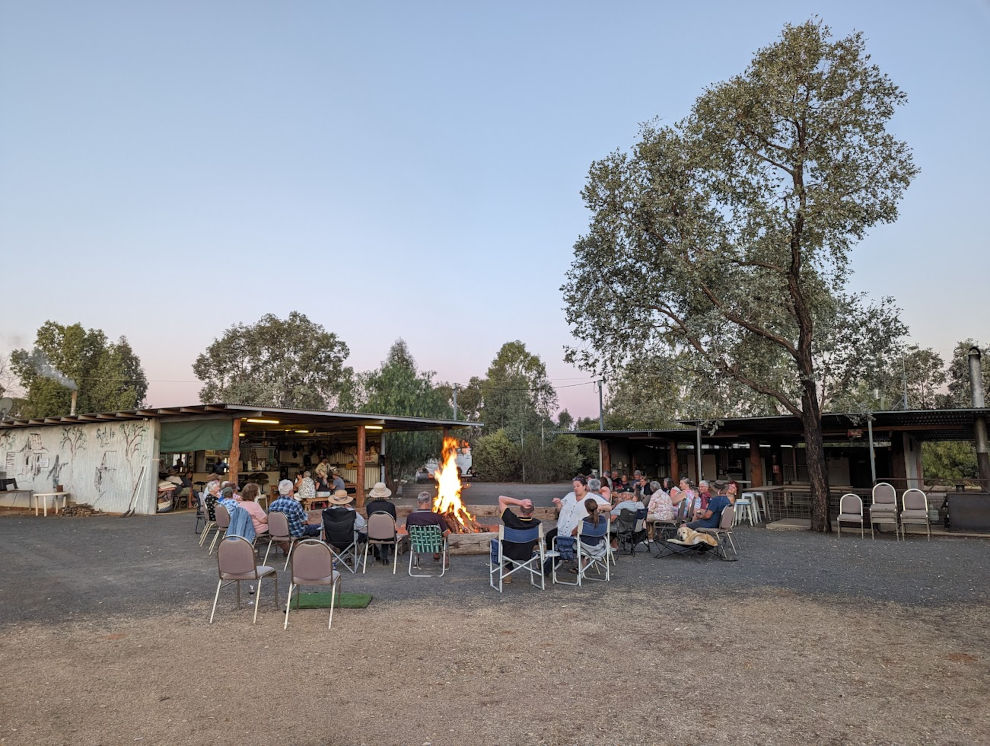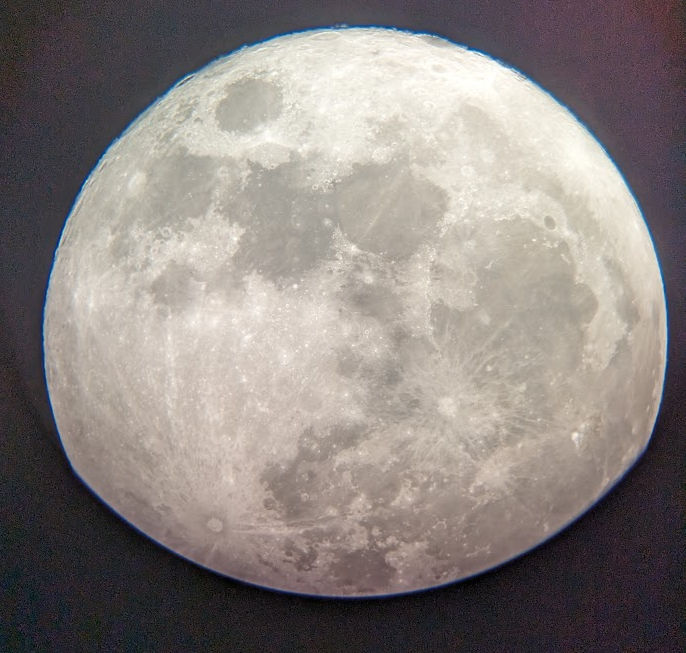 On the way back we got some fuel and a pie from Pie Face, then chilled out back at the caravan watching some more of the Super Mario Kart Tournament. Tonight it was match racing.
Friday, Sep 1st – (Day 148)
Today we spent the morning giving the caravan a full clean and rearranging a heap of things to clear up some space. It's crazy how much clutter adds up after a few months on the road.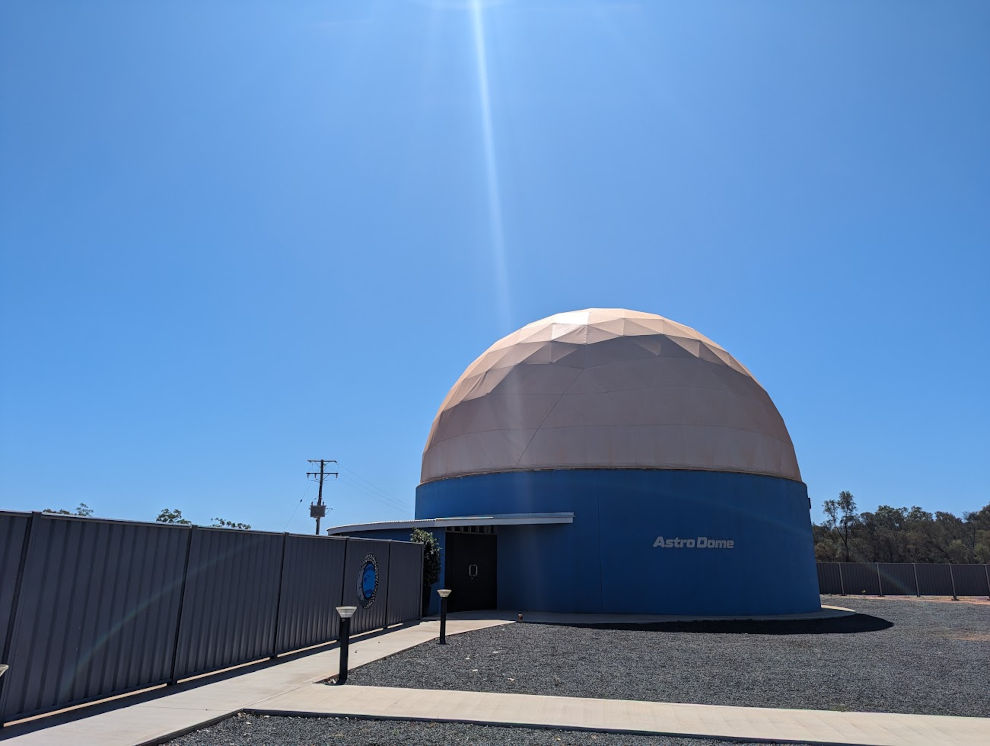 Then at 11am we headed back into the Cosmos centre for a couple of movies and then another look through the telescopes, this time at the sun.
The staff are bloody weird here. They were yelling at each other in the background, or just standing around clueless about what to do.
Anyway, we watched two movies in the dome theatre they have. One about the sun, the other about the earth. They weren't too bad, but probably just something you could of watched on YouTube. The theatre was good though, so it was an ok experience.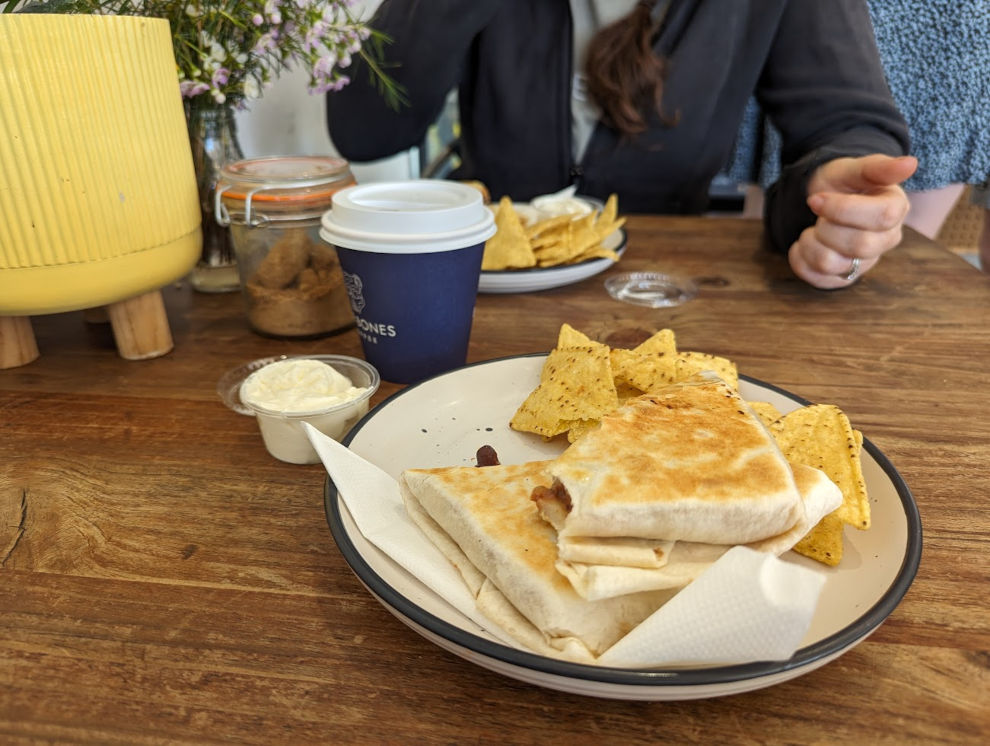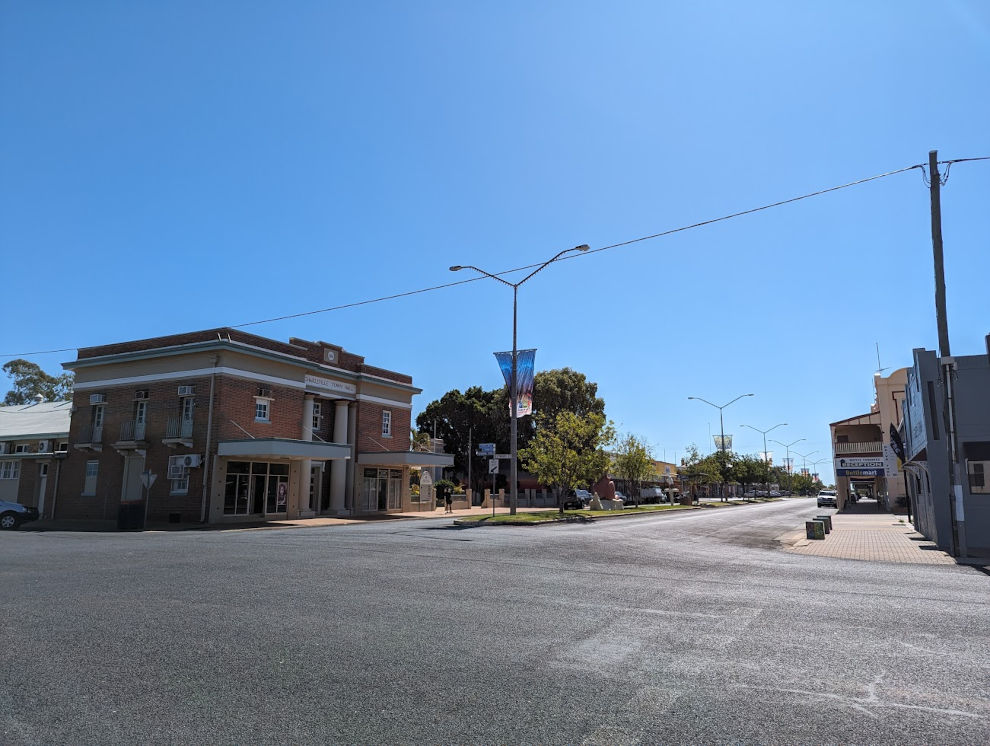 Given the staff were a bit odd, we opted not to do the sun telescope thing and headed straight into town for a walk around the town centre. It's only a small place, but we stumbled on an awesome cafe called The Milk Bar and got ourselves a veggie pocket which was unreal.
Then it was back to the park to catch up on some work. We learnt that they do a stargazing tour at the park for small groups each night, so we booked that in.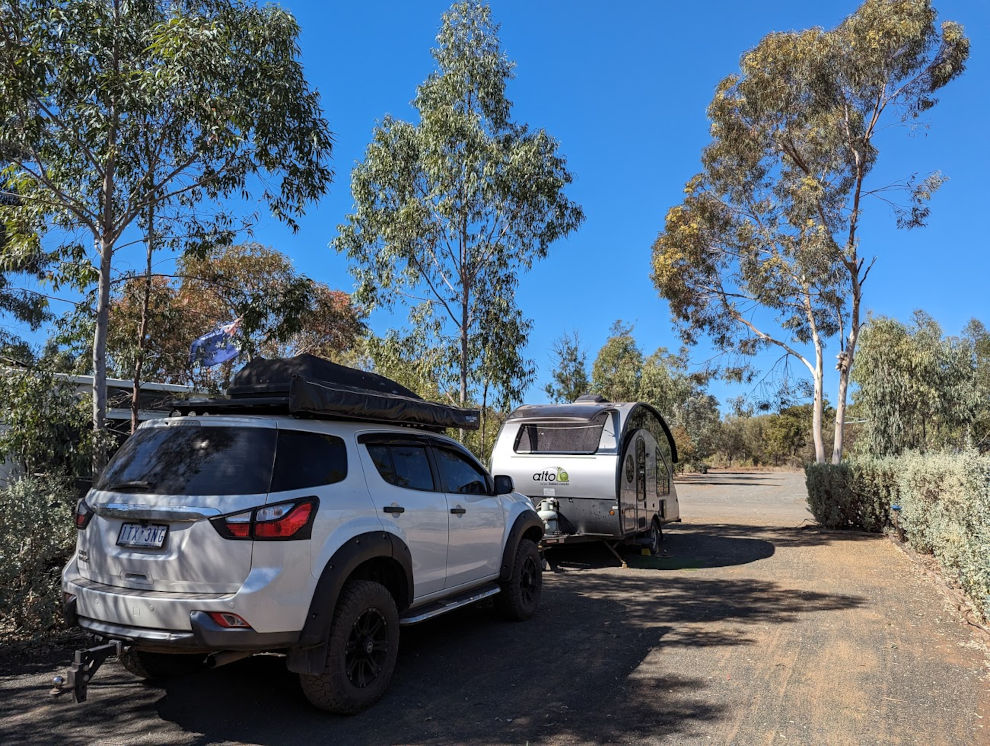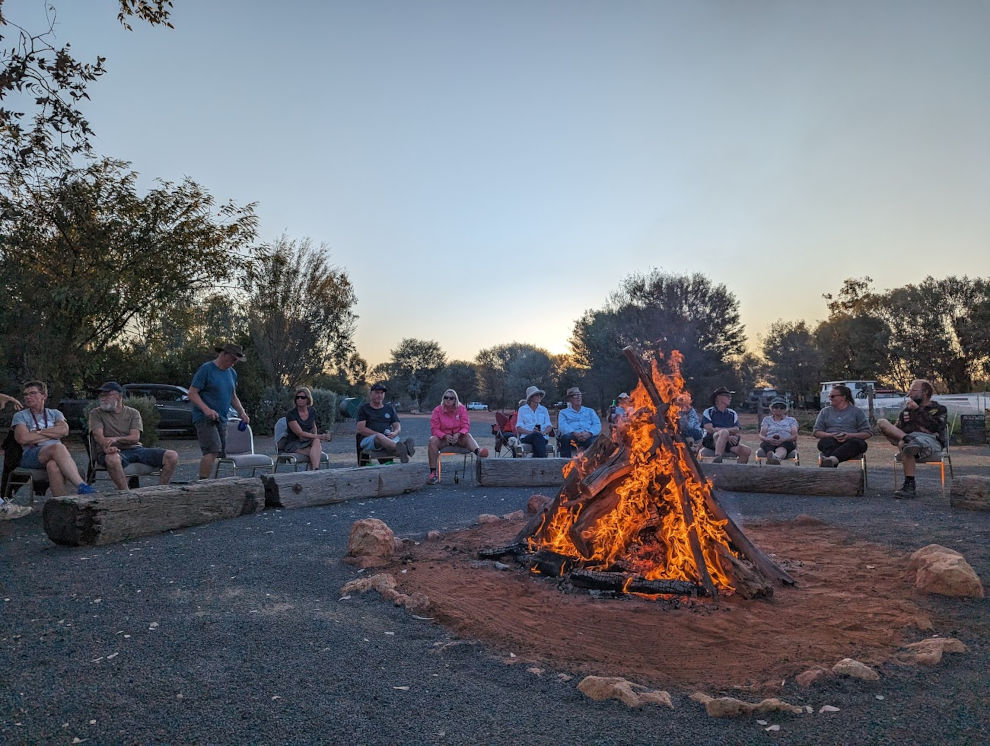 We went back to happy hour around the fire again, plus got some more damper. Then we made some tea quickly then it was off to the stargazing thing which was a million times better than last night.
Our guide absolutely loves it and went into detail about all things space. His telescope was heaps better too and our picture of the moon was actually in detail. It went for about 2 hours and we loved it.
After that we got warm by the fire, then settled into bed and continued watching the Mario Kart tournament, this time the grand prix mode.
Saturday, Sep 2nd – (Day 149)
ROMA – Time to hit the road again. We woke up just as the Mario Kart Grand Prix final was starting, just in time to watch Neo become an immortal.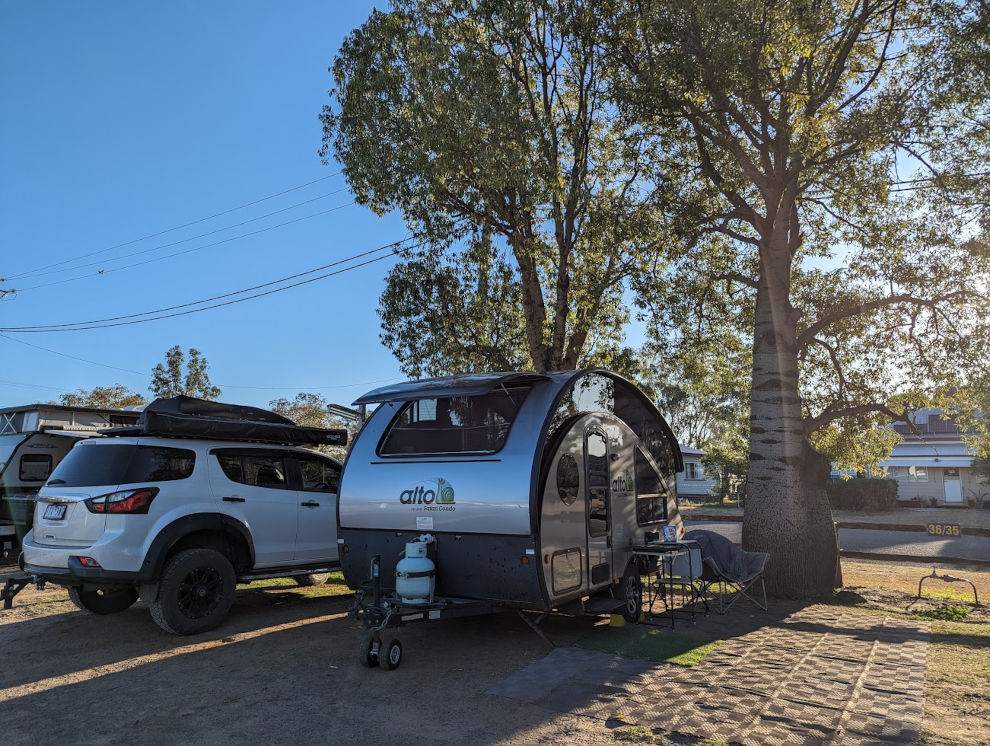 Today's drive was only 3 hours, so nice and easy really. We stopped half way in Mitchell for some snacks, then arrived in Roma around 1pm.
Finally we got a shady spot, the first time in weeks. We went for a walk into town for a look around but it was pretty dead given it was mid Saturday afternoon.
We got some groceries from Coles, made ourselves some lunch at home and then spent the afternoon chilling out at the park. Adam talked to his uncle on the phone for a while, then it was time to head into town for tea.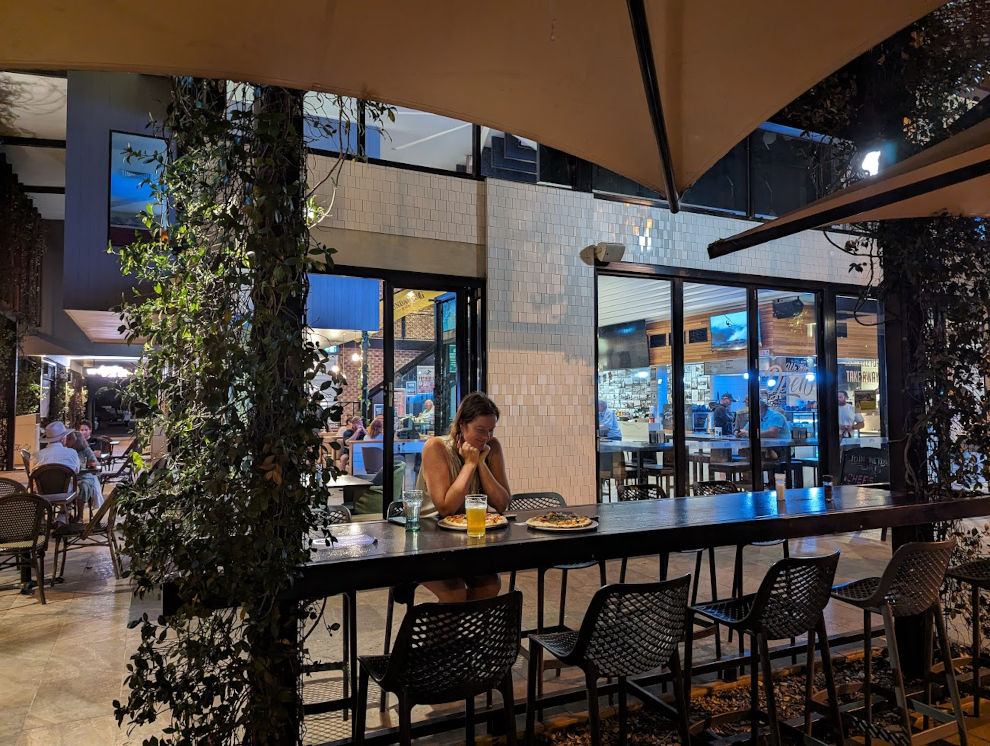 There was a really nice sports bar here called Royal On 99 which made amazing pizza. Adam even scored himself a free beer when he forgot to pay, and the waitress forgot to charge him.
Then we walked back to the park and spent some time playing games with Jack and Rach. We were finally back at a park with good internet.
Sunday, Sep 3rd – (Day 150)
Today is the final day of our Queensland outback adventures. That is of course if you don't include Toowoomba? Not sure, but this is the last of the small towns anyway.
It was a rough night for Adam who was up in the middle of the night sick in the toilet with some kind of bug. In the morning he was struggling a bit still, so it was a quiet morning.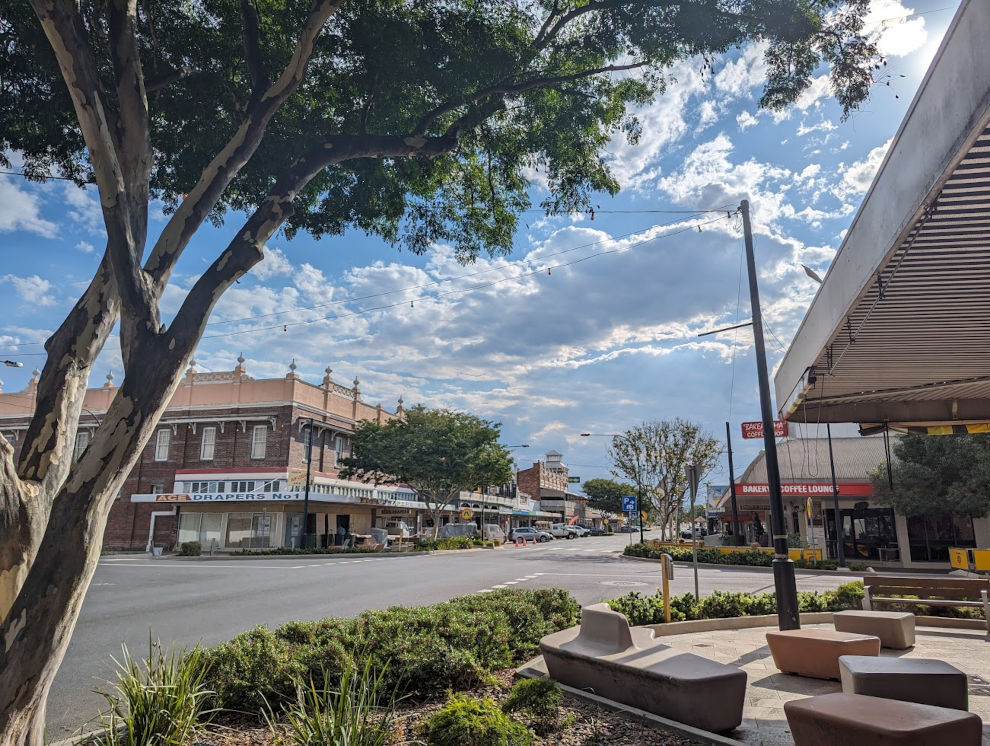 We spent the morning catching up on work and doing some plans to revive BnbDuck and redoing some old pages to get them ranking again.
After lunch we went for a walk in the gardens and saw the largest bottle tree in Roma, which is one of their big landmarks here apparently. Then we walked to IGA to get some stuff for tea.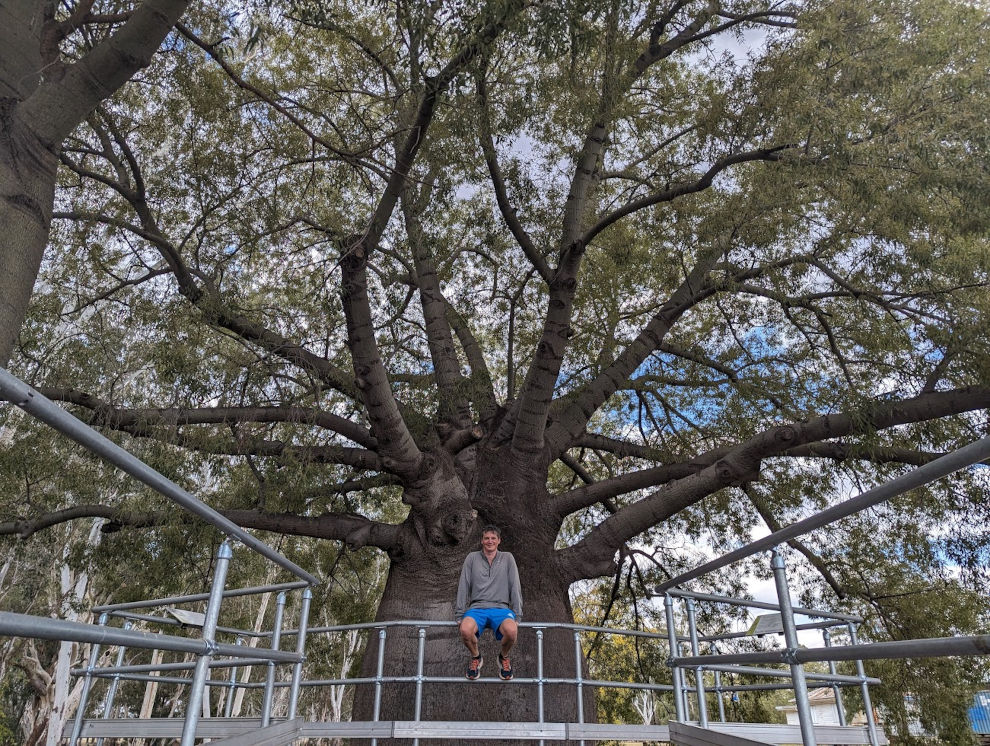 Then the rest of the day was spent doing washing and resting at the park. It was the day we needed after a week of being super busy.
We ended the night by watching the next episode of Billions and having an early night by our standards. Tomorrow is a 4 hour drive to Toowoomba and the first big town since Darwin. Exciting!