Last week we made a little detour to return to Brisbane. On the Friday we were meant to be heading to Corindi Beach for 4 nights, however when Carlton qualified for the Preliminary Final in Brisbane, we rearranged our plans.
Given it was still school holidays, it was damn hard to find to find a park. We found one about 20 minutes away in Chinderah, which was 1h30m from the Gabba. Beats driving for 4.5hrs from Corindi Beach!
Friday, Sep 22nd – (Day 169)
Finally it was time to head off from this loud park after a week. The next park was only a 20 minute drive, so we delayed things as much as we could.
We even took the car through a car wash as it was still filthy from our outback adventures. Then we took the long way to arrive just before 11am. It took a while to find the right park and it looked pretty rough inside.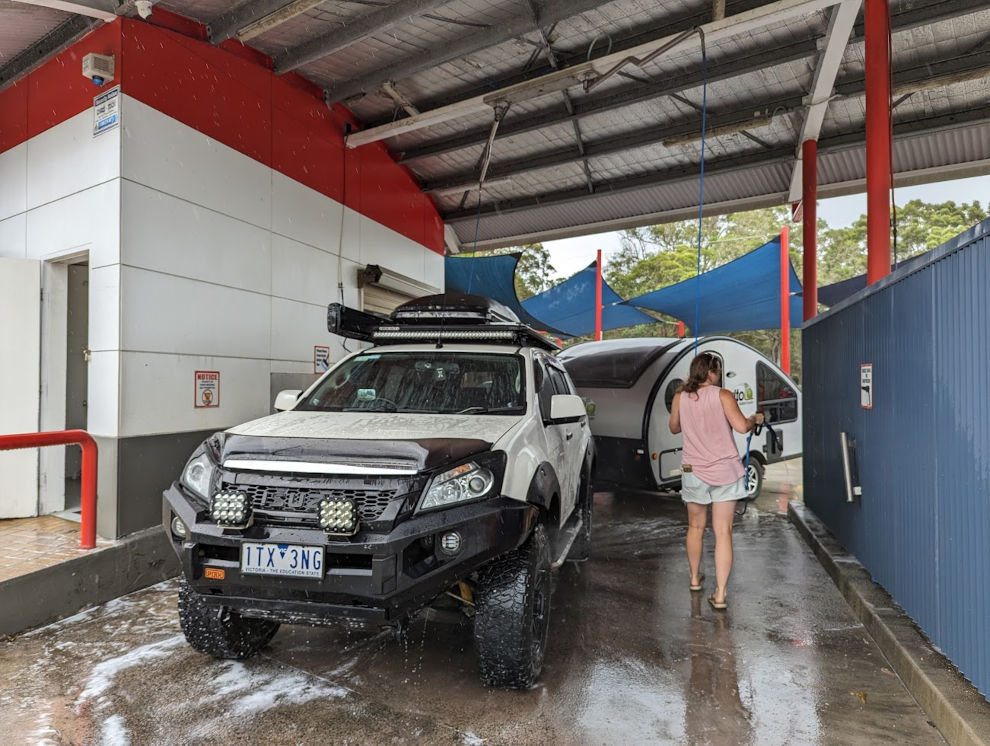 However as it turns out, it's a pretty nice spot. We're next to a lovely river, so it's a shame we basically only have a day here.
After setting up, we decided to go into Tweed City and go to another movie. Today's movie was A Haunting In Venice, which is a sequel in that detective series with Poirot. Like the others, we really enjoyed it!
Before heading home we did some shopping with Adam getting some new thongs and a long sleeve shirt, as well as stocking up on some groceries.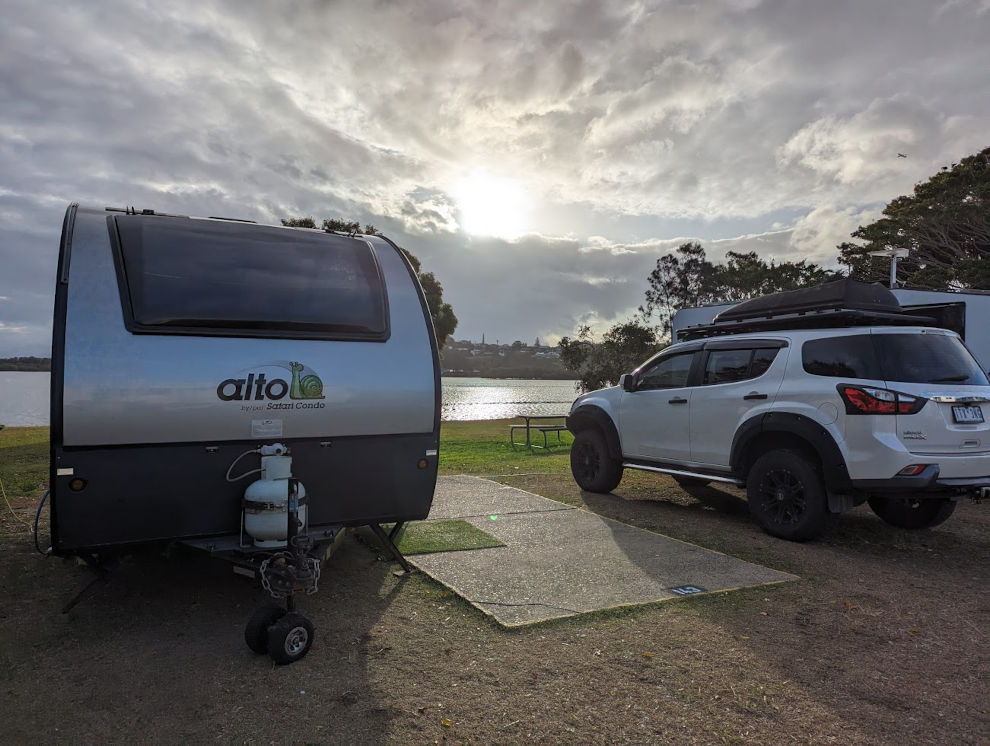 Then it was back to the park to chill out for the afternoon. Unfortunately it started belting rain, so we had to cook inside tonight. It was pretty much the first rain we'd seen since early June, with the exception of Toowoomba a couple of weeks ago.
Later in the evening we listened to the Collingwood vs GWS Giants Prelim Final. It was an epic clash with Collingwood winning by 1pt in a thriller. If Carlton wins tomorrow, its a Carlton Collingwood Grand Final!
Saturday, Sep 23rd – (Day 170)
The day was finally here! Preliminary Final day and the first time Adam will have seen Carlton play in a Prelim live. Some 23 years in the making since the last one!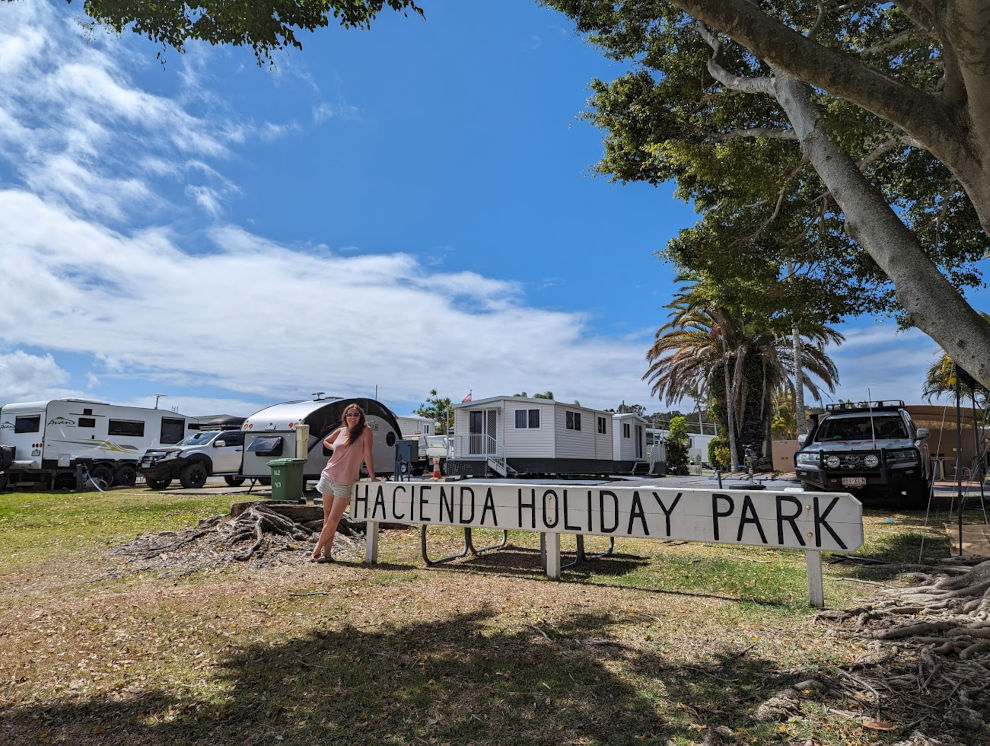 But the game didn't start till 5:10pm so we had plenty of time to kill until then. The Gabba was a 1h30m drive so we thought we'd leave some time after lunch.
The morning was spent at the park enjoying the lovely scenery on the river and enjoy some sun, however the weather was a bit iffy with the rain coming and going.
We left for Brisbane at around 12:45pm and luckily it was a bit early, because the traffic was crazy. They were doing roadworks which added another half hour onto the trip.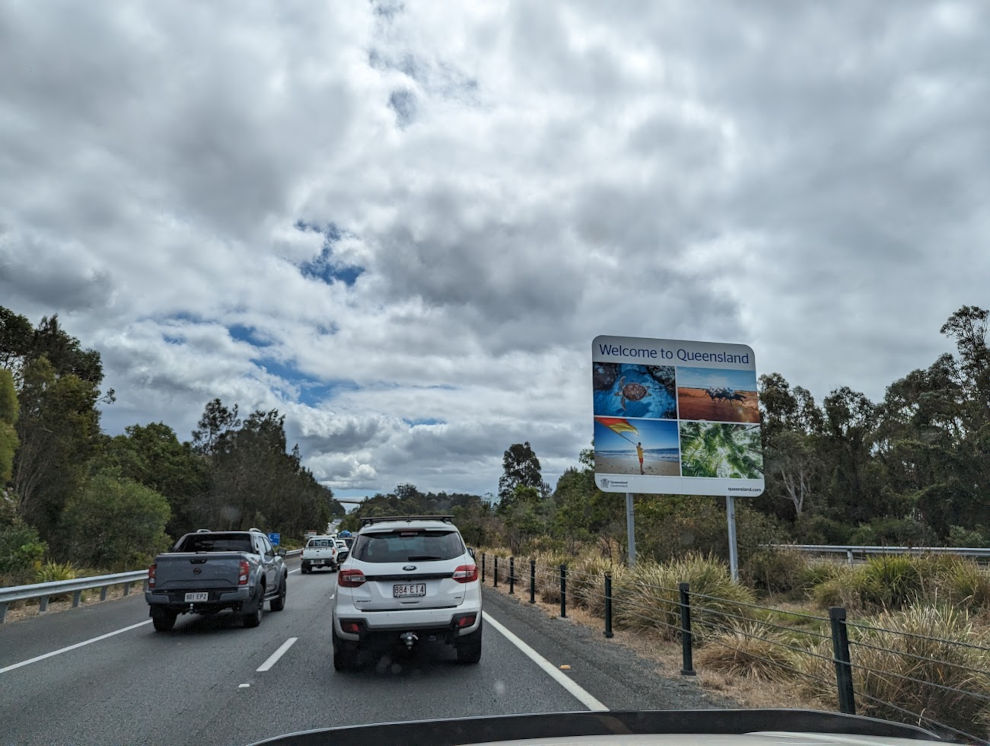 In the end, we got in around 2:30pm. We found a paid parking spot, but they were having a laugh asking for $110 for the day. Instead we drove about 2 blocks away and got a free park. Score!
Pre Match
Gates didn't open until 3:45pm so we decided to go grab some stuff from Coles to eat for tea later, then head to The Morrison pub which was apparently where the Carlton fans were at.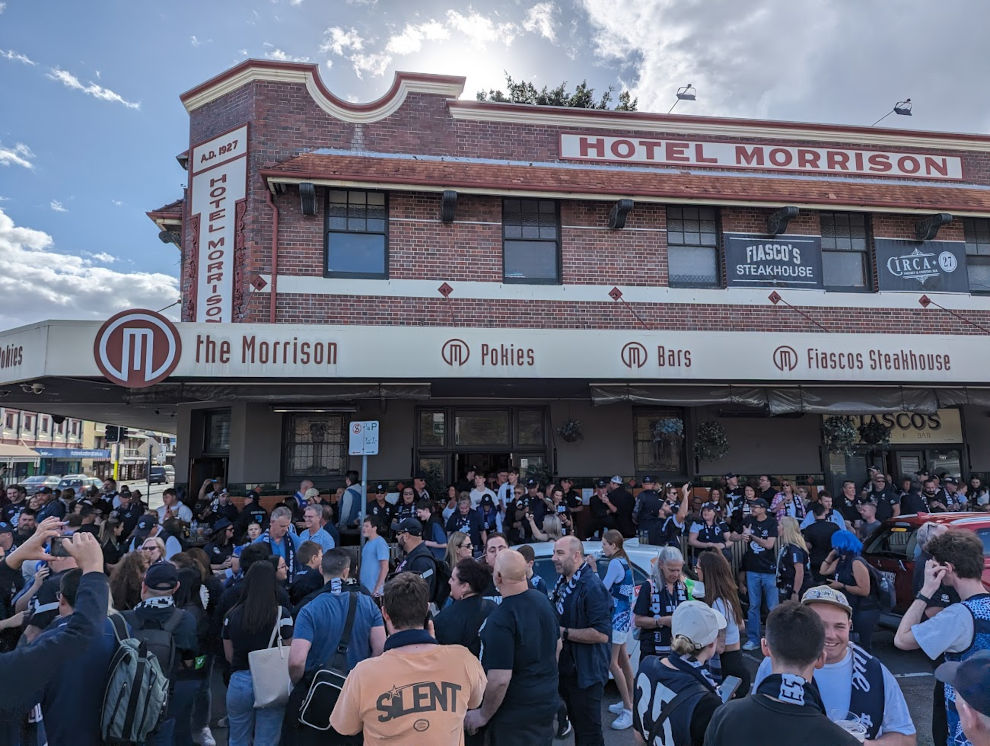 They were most definitely there alright! There were hundreds of them jammed into the pub and overflowing outside. The atmosphere was incredible with footy chants and stuff.
Then we all walked to the Gabba as a group, shutting down traffic and making a lot of noise. It was reminiscent of those Socceroos World Cup trips we've done.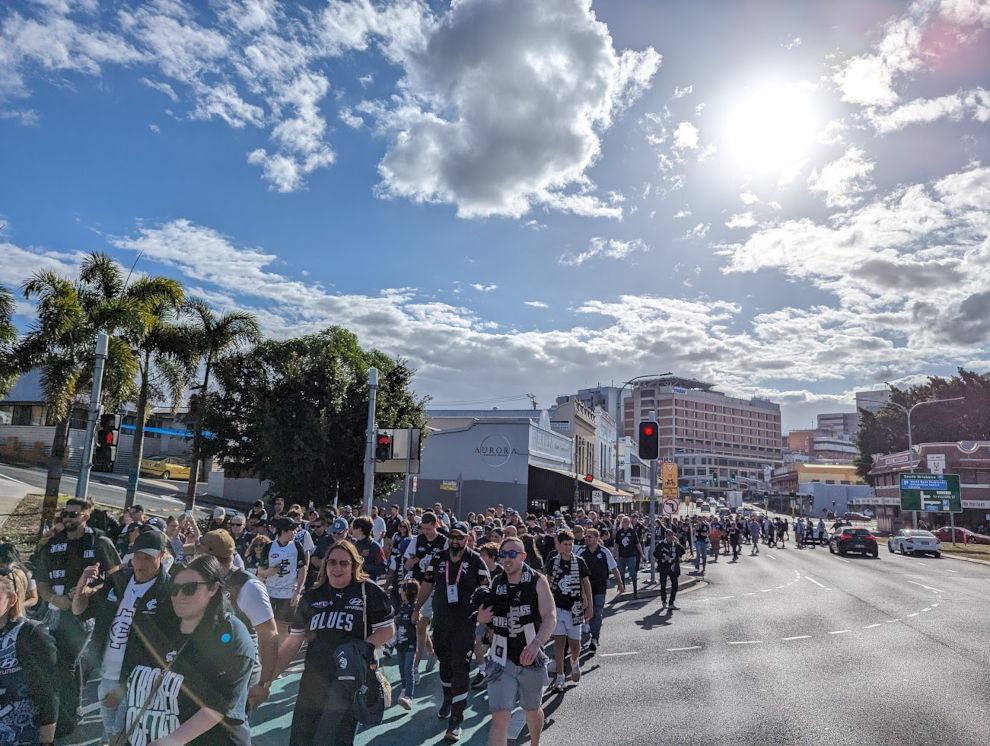 We then arrived to a rather large queue at the Gabba Gate 9. At this point we were really nervous of getting in as we only had junior tickets. But in the end there was nothing to worry about.
It worked! We were in. Now it was time to soak up the atmposphere.
We did a few laps of the ground, watched Carlton warm up and grabbed a few drinks, then went to our seats for the anthem and welcome to country stuff.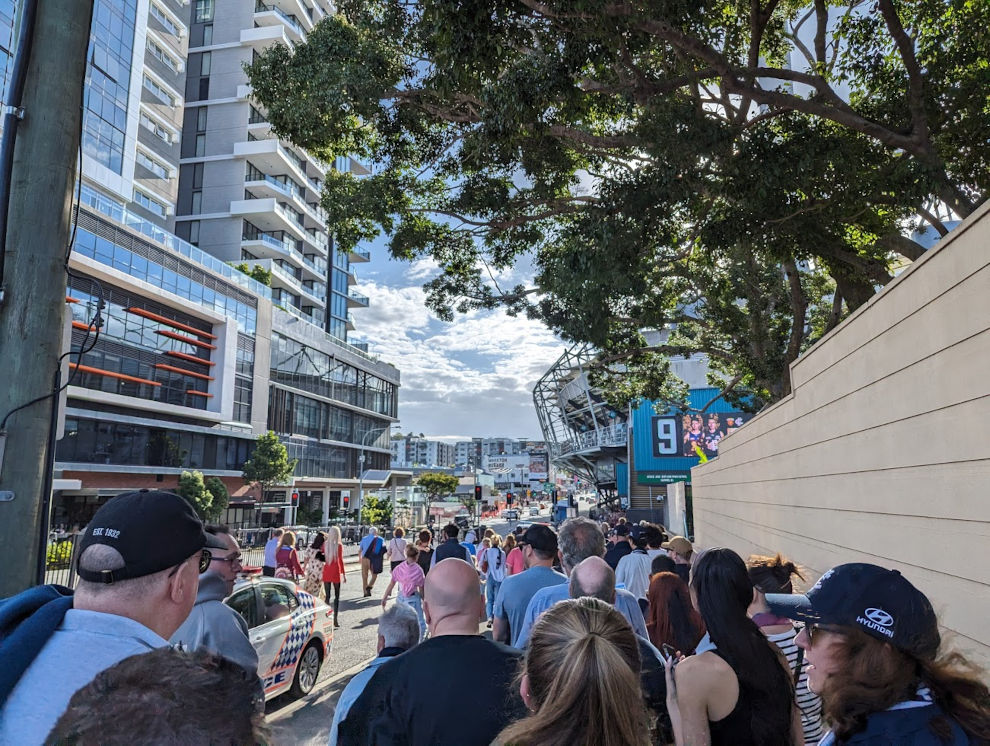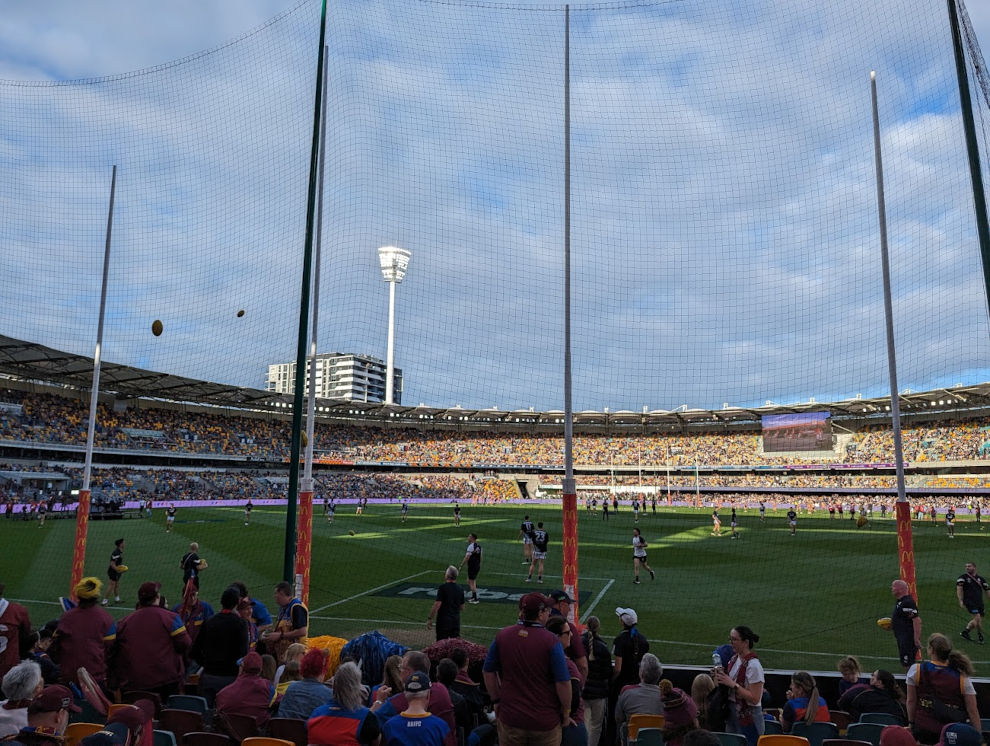 The Match
Now it was time for the match. God damn the Carlton fans were loud. They were genuinely louder than the Lions fans, it actually felt like a home game.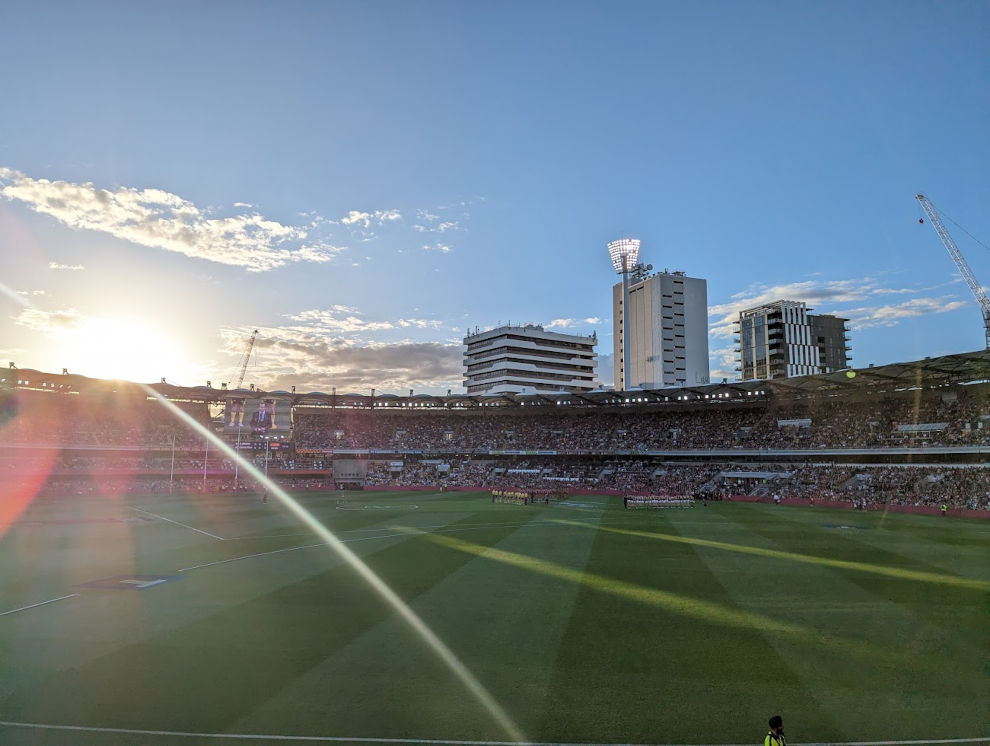 That may have been helped by the 5 goal to nothing head start. Carlton led 31-1 early on in the game and were on absolute fire. We nearly went deaf it as that loud.
The second quarter was a different story as Brisbane got their way back into the match. A late goal saw them take a 3pt lead into the half time break and we were all starting to get a little nervous.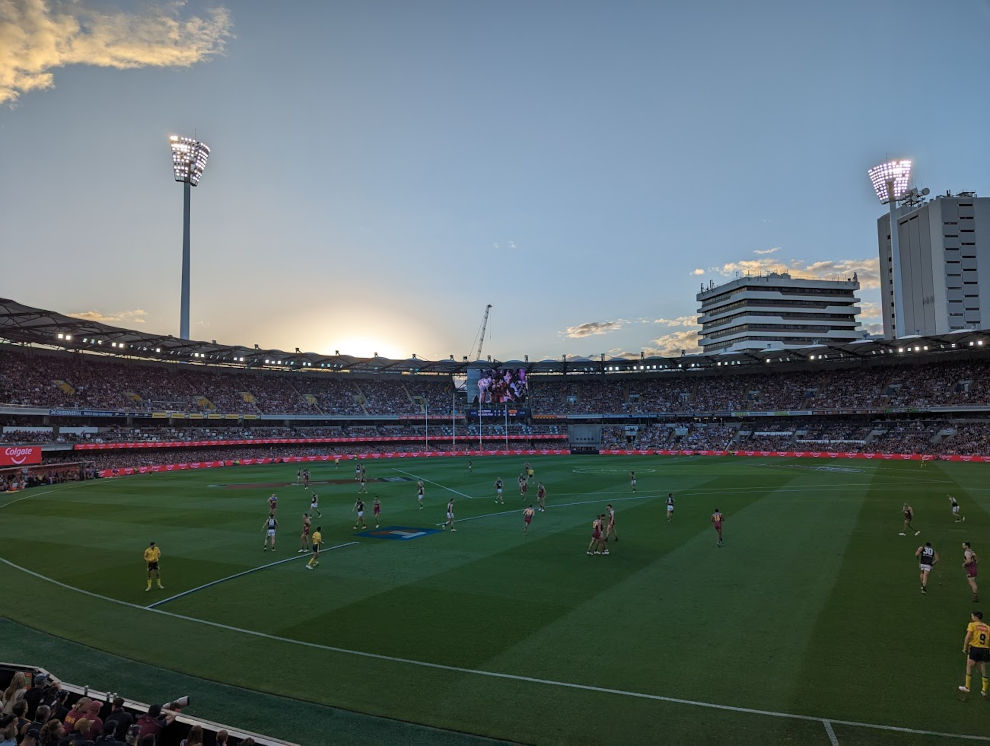 While the atmosphere was great, we were stuck next to a batshit crazy lady who kept touching and bumping into Adam, as well as touching everyone in the ficinitiy.
Meanwhile the few idiots behind us spent the entire first half (and soon to be second half) crying about umpiring decisions, as well as belittling Carlton players for every error they made. It got real draining after a while.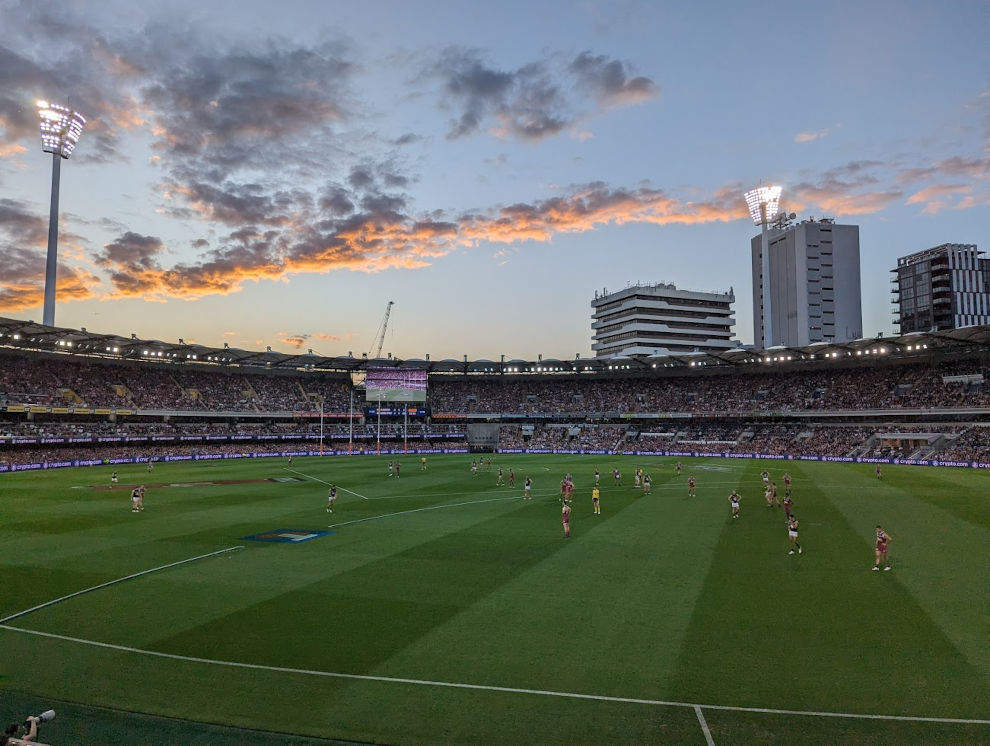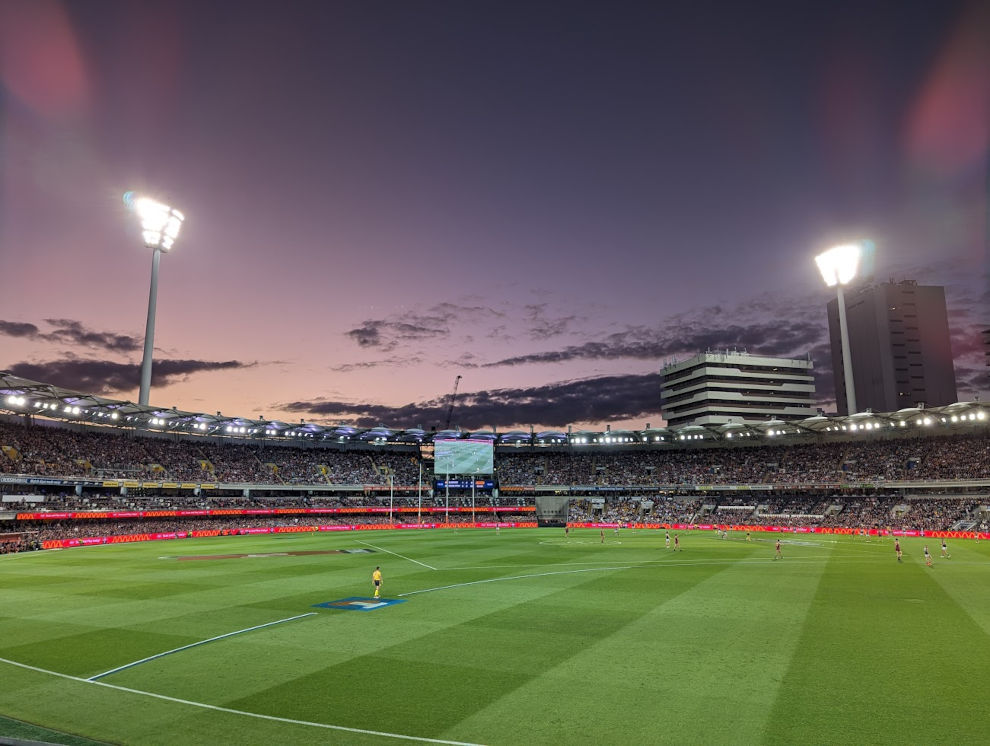 Anyway, the third quarter started poorly. Cripps gave away a 50mtr penalty from the first bounce, the Lions converted and it was a sign of things to come as Brisbane got out to a 5 goal lead of their own.
The last quarter was slightly more interesting. Carlton got it back to a couple of goals by time on, but Brisbane kicked away and won 79-63. In the end a good effort, especially considering they were 15th on the ladder after Round 15.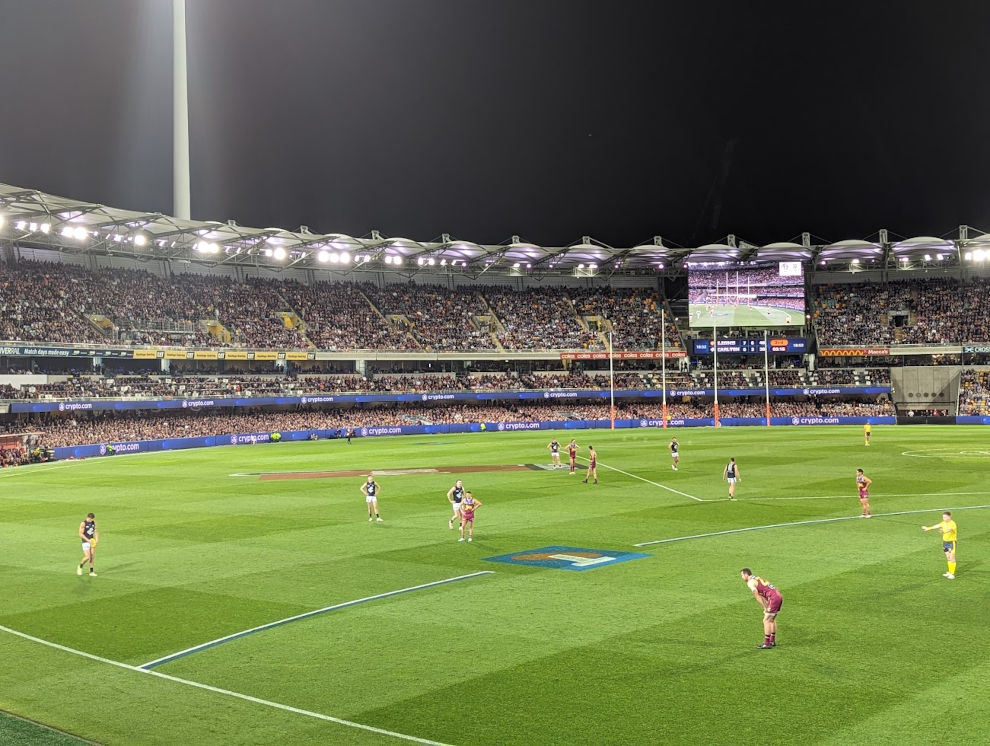 Post Match
Rather than leave early, we decided to hang around and cheer off the Blues as they went back to the room, then we watched Brisbane celebrate their prelim win.
After the match we went for a walk around the ground and randomly ran into the Big Fev! We couldnt leave without asking for a photo.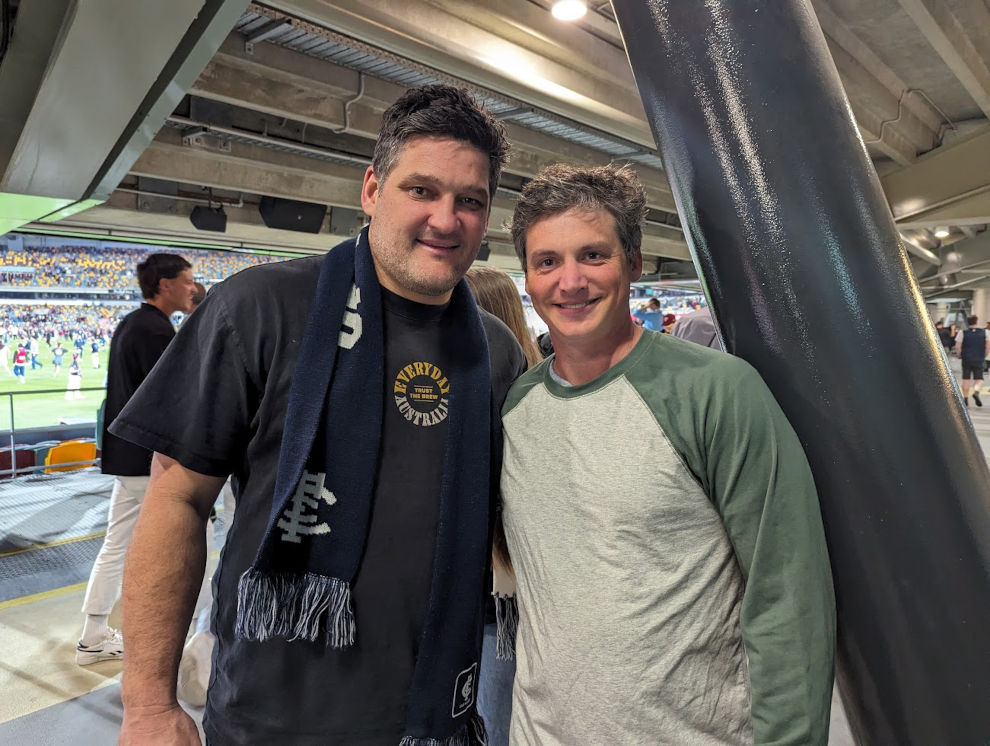 Annoyingly the camera took ages to focus, so Adam and Fev had to awkwardly wait their while the camera sorted itself out. He was a good sport though, what an absolute champion of a bloke!
We were even allowed to walk on the ground after the game. Something they don't let you do back in Melbourne anymore. It was good nostalgia.
Then it was back to the car and the long drive home. Fortunately there were no roadworks so it was only a 1h20m drive home, so nice and easy.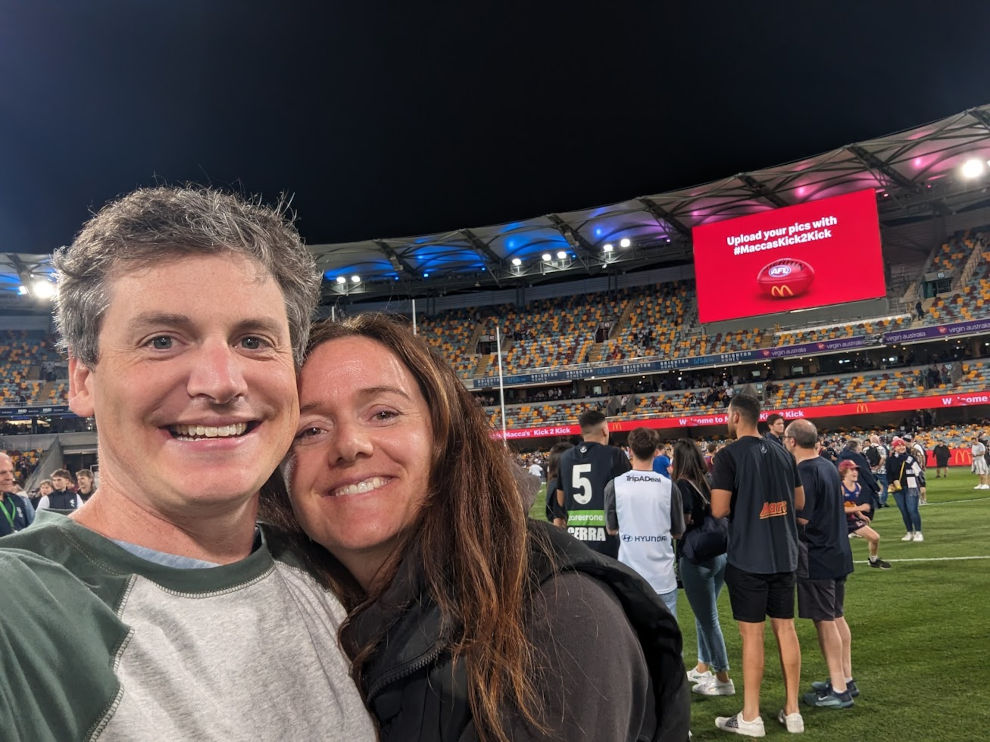 We finished the night watching an episode of Traitors UK and then called it a night. Tomorrow we are off to Corindi Beach.