After nearly two months away from the coast, we were back at the beach again. The next 5 nights were to be spent at Main Beach on the Gold Coast.
Broome was the last beach city we had been to. Well, I guess Darwin was, but that's not really a beach you go swimming at.
Sunday, Sep 10th – (Day 157)
We hit the road about 10am but luckily today was only a 50 minute drive. Perfect timing, as our audiobook only had about 45 minutes left and we just finished it before arriving. It had an awesome twist at the end!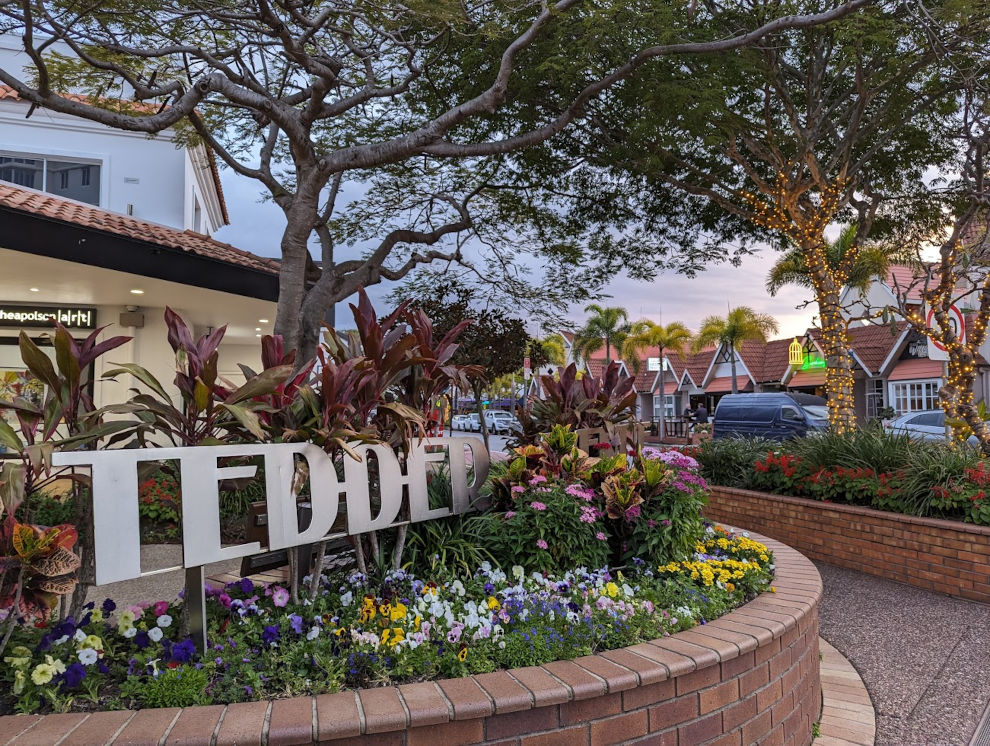 Fortunately we were able to check in early at 11am. Our site was a little difficult to reverse into so we had to use the movers and park the towbar the opposite way. I've got no idea how bigger caravans fit on this spot.
Our spot was awesome. We have lots of trees around us and are just a 2 second walk from the toilets and kitchen area, plus surrounded by skyscrapers. We knew we were going to enjoy being here.
After setting up we went for a walk to find something for lunch and stumbled upon Tedder Avenue with plenty of restaurants and shops. We settled for lunch at a little cafe, but when I say lunch I should really say breakfast as we both got breakfast meals.
Next we went for a stroll around the beach area and got some groceries, then headed back to the caravan park for the rest of the night.
Tonight was night one of our Catan tournament with Jamie, Rach, Varun and Jack. We made it a paid entry and are tracking analytics and stuff, it's going to be awesome fun!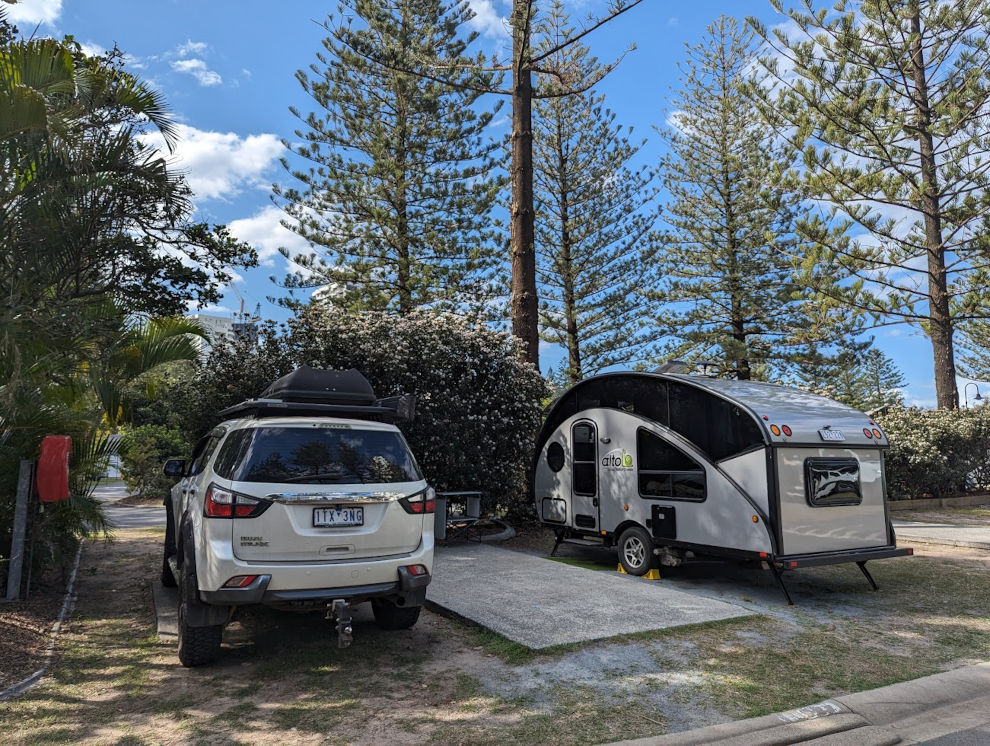 Adam and Varun kicked proceedings off with wins in the first two games, with the next games set for Tuesday night. After catan, we watched the final episode of The Traitors and headed to bed.
Monday, Sep 11th – (Day 158)
This morning we hung around the park for most of the morning, then went for a walk at lunch time to grab a pasty and apple scroll for lunch.
The plan was to maybe go for a swim, but when we got to the beach it was windy as hell and the waves were crazy. There was sand blowing everywhere, so we put that idea on ice for today.
Afterwards we went for a drive into Cavill Avenue for a browse. We'd been here a million times before and not much had changed. We ended up at Timezone where we had a game off on basketball connect four, Mario Kart and Walking Dead.
Then we headed back to the park to catch up on some work and chill out. We decided Grill'd would be a good option for tea, so we headed back in around 7pm for the meat free Monday promo. Two burgers and chips for only $19!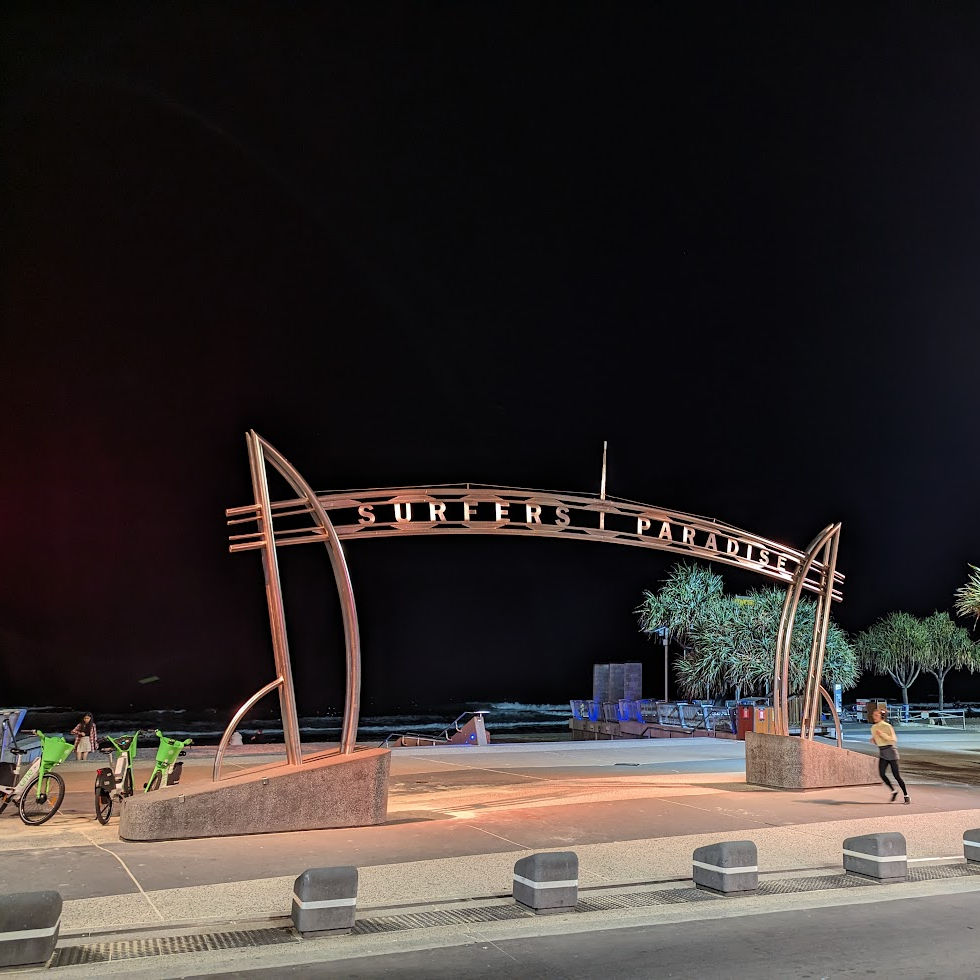 The rest of the night was spent catching up on work and trying to revive the BnbDuck website. That's our main project for the next few weeks.
Tuesday, Sep 12th – (Day 159)
This morning our plan was to meet up with Linda's old best friend from primary school Laura and her partner. They were coming over at 11:30am so we thought we'd give the caravan a clean up.
We ended up going to Hot Shott for lunch which was awesome. It was good having a chat with them, we didn't really know Thorston much but he's a champ. Turns out they are moving to Victoria later this year, so would be good to catch up more often.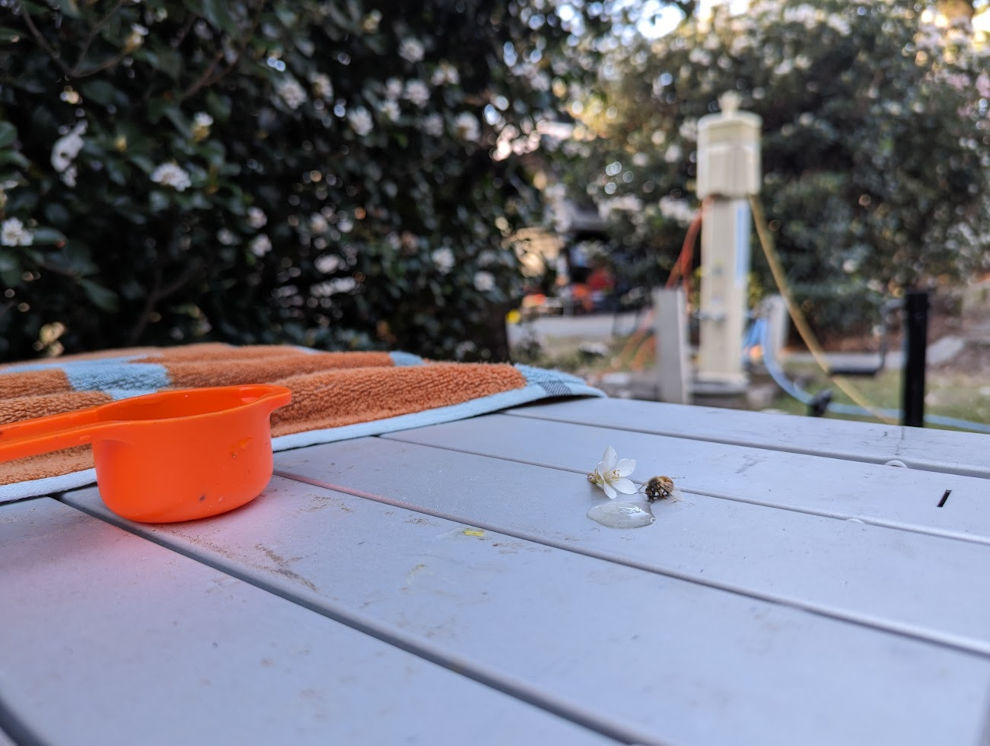 Before heading off we noticed a little bee struggling for its life on our table, so we tried resuscitating him with some sugar water and moving him to a comfy spot. Hopefully it would help the poor little guy.
After lunch we went to check out the beach again, but it was even more windier than yesterday, so that was a big cross through that idea. Also, it was bad news on the bee front. The poor little guy unfortunately didn't make it.
Adam also had a fair headache and runny knows, so spent half the arvo napping and resting, hoping the headache would go away. We ended up reheating leftover spag bol from Sunday night for tea, and chilling outside in the warm evening. Later, we continued our Catan comp.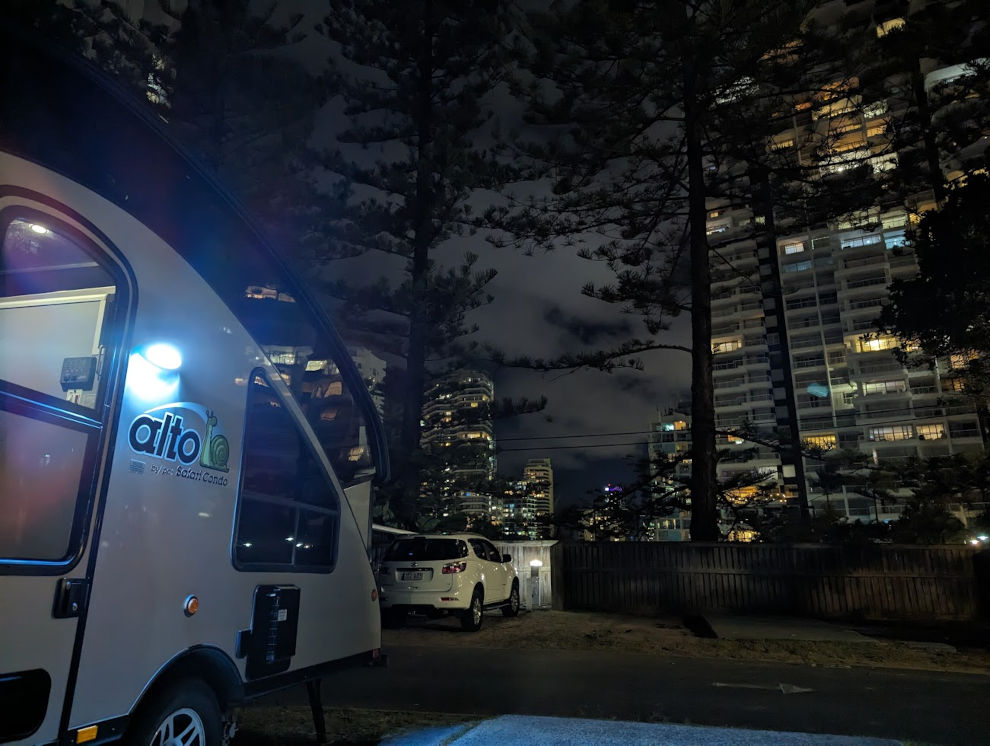 Game 3 and 4 saw Jack win both matches. We're now delicately poised with just two games remaining. We finished the night by starting the UK version of The Traitors.
Wednesday, Sep 12th – (Day 160)
This morning we continued our projects on the website. Being back in the city and around the coast again has made us productive.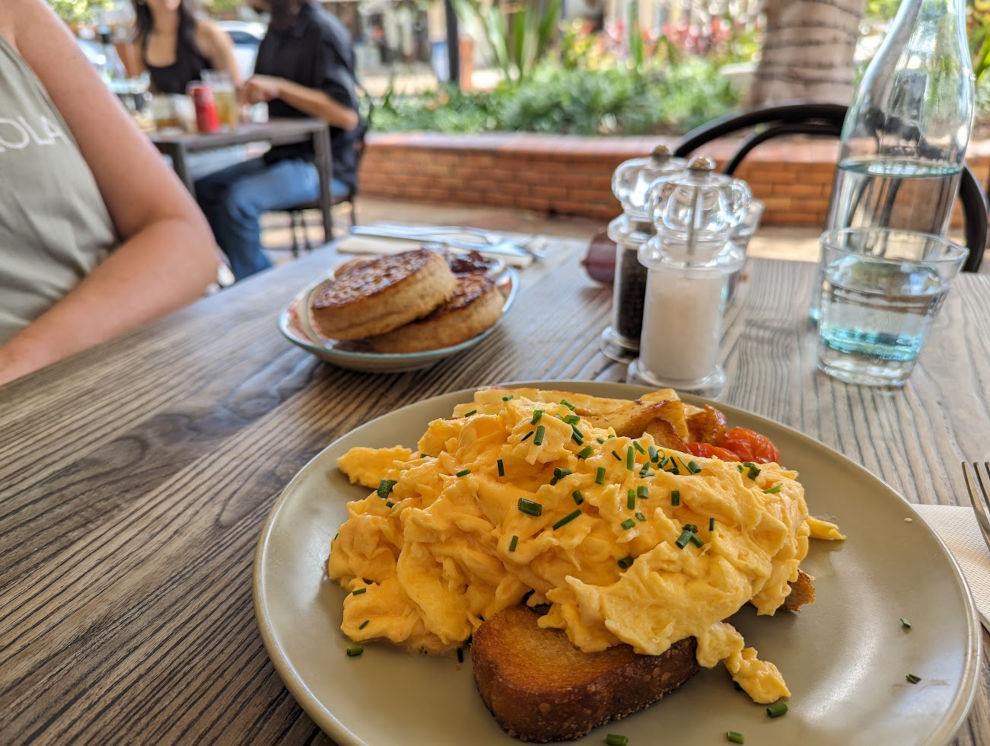 By now it was getting close to lunch time, so we made a return to Hot Shott where we had lunch yesterday as it was one of the better restaurants we have been to on this trip. On the menu today was scrambled eggs, as well as muffins.
Today was nice and clear so we thought it'd be a good chance to finally go for a swim. It was still windy and rough down there, but it was good enough for a swim. Unfortunately there were a heap of little jellyfish things on the shore and in the water, so that cut short the swim.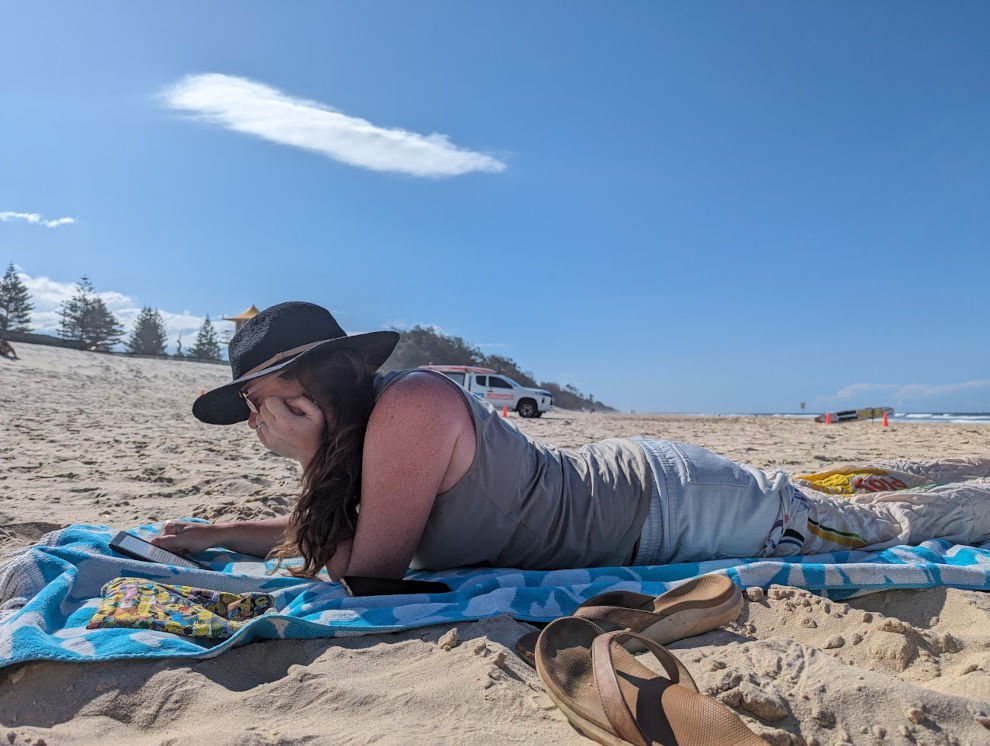 In the end we had a nap on the beach and a read of our books. All in all, a good beach day.
Later on in the arvo we went for a walk into Surfers as there was a farmers market on. It was a pretty big one, but it was just your normal things for sale that you see at every market.
We didn't hang around long, opting instead to go play some more TimeZone and another game of Connect 4 Basketball with our free voucher. The voucher didn't go too far, only allowing us to play one game.
After that we walked back to the caravan park. All in all it was a good two hour walk and we were pretty tired. We made some stir fry for tea with the veggies we got from the Brisbane market and then played some more games online which is become our regular thing now.
Thursday, Sep 14th – (Day 161)
Our morning today was much like yesterday. Catching up on some website work. Instead of dining out for lunch, we got ourselves a salad roll and then went for a picnic at the beach.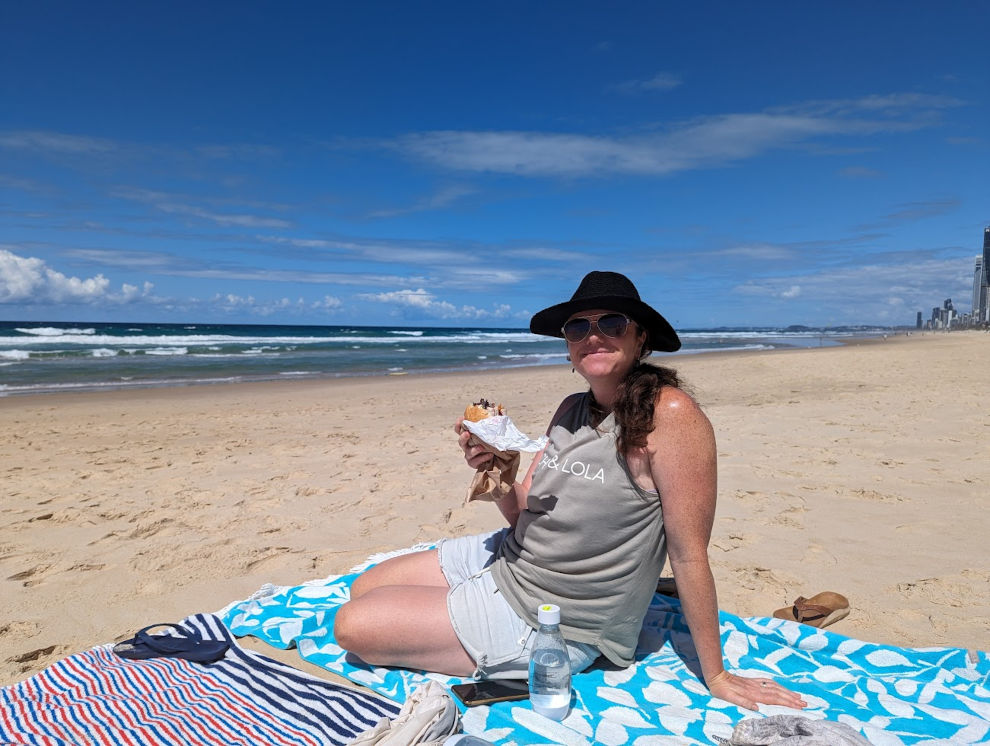 Yet again it was cold and windy so it wasn't much of a swim, but it was nice lying at the beach, so we stayed for about an hour or so.
Then we went for a walk to Australia Fair over in Southport which is a big shopping mall area. It was a 45 minute walk to get there so more good exercise.
About the only highlights there was getting a Boost Juice, playing with some cats at the pet shop and checking out a pretty awesome boardgames shop.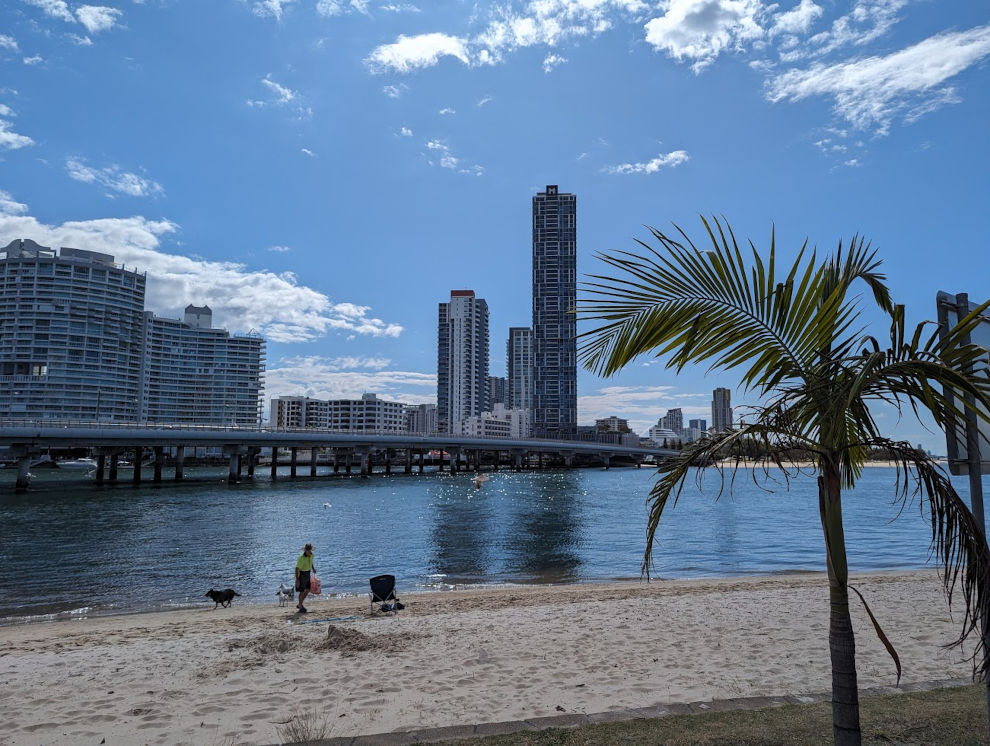 We then made the big walk home and spent the rest of the afternoon chilling out and making stir fry again with the remainder of our veggies. Again, like last night, we played some boardgames with Jamie and Jack.
And that was the end of our Gold Coast trip. Awesome to be back at the beach and it's always a good time on the Gold Coast, despite not getting up to a whole lot.