The day was finally here. Today was Wrestlemania 33 day! This was a day that was expected to be a highlight of our entire trip.
We were super pumped up for some wrestling action after WWE Axxess on Thursday and we were going to well and truly get our fix today with over 7-hours of action coming our way.
But first, our day began with a well deserved sleep in after a big day touring NASA yesterday. We got up around 10am, had some breakfast and then got picked up out the front of our apartment complex to head downtown by an Uber driver named Ramon around 12:30pm.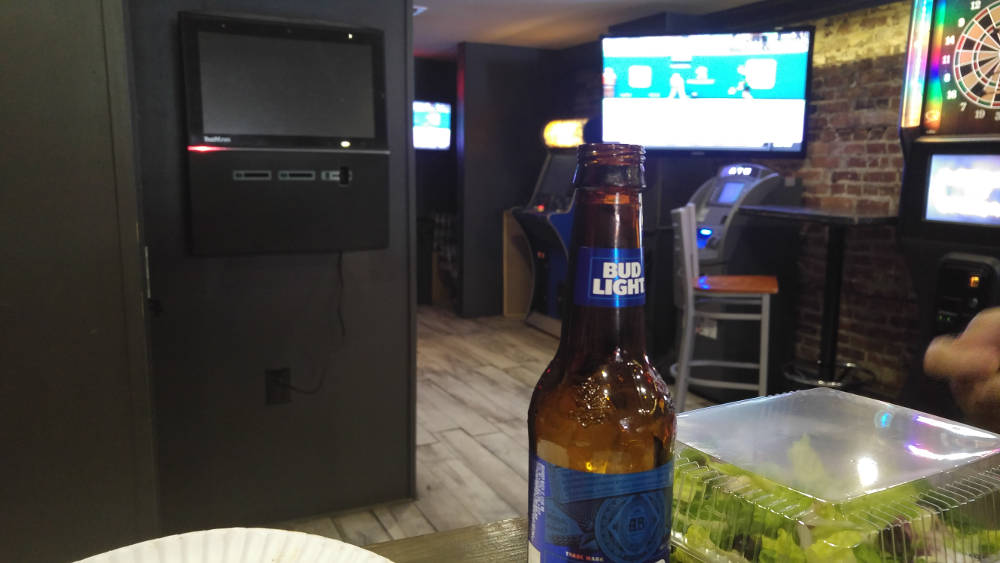 We walked around soaking in some of the Wrestlemania 33 atmosphere, before deciding on lunch at an Italian pizza/pasta type place.
The venue had loud metal music playing, but Linda was happy to find they were playing the Roger Federer vs Rafa Nadal final, so she was a more than happy to stay.
The meal was quit good. We got ourselves a veggie pizza slice which was massive and filled us up good. Then we decided to head back to that sports bar from the other night with the jukebox to watch the end of the Federer match.
I loaded up the jukebox with some Transatlantic, Symphony X, Queen and Guns N' Roses, which meant that jukebox was out of action to anyone else for the next 2-hours or so.
We settled in, watch Federer win the final and some of the New York vs Boston Celtics match, before deciding to head to the Citrus Bowl for Wrestlemania 33.
Time for Wrestlemania 33
We left the sports bar around 3:15pm. Gates to the stadium didn't open until 3:30pm and it was roughly a 25-minute walked, so we timed it well.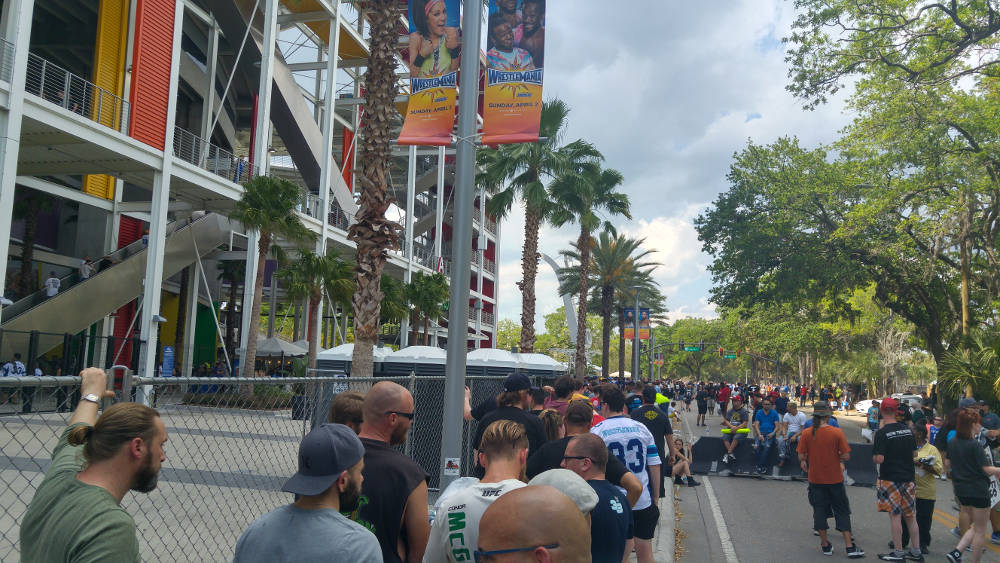 Upon arriving at the Citrus Bowl, we were greeted with a large queue of people trying to get in. Not to mention it was a super hot day of about 35-degrees, so we were feeling hot and exhausted.
After a 30-minute wait, we were finally in! We took a quick look at our seats (which were awesome) and then decided to do a lap of the stadium to check out the festivities.
Along our walk there were people chanting and plenty of merchandise to look at, plus it was great to get a look at the Wrestlemania 33 stage and set design from different angles.
We even stumbled across a little gap in the fence and saw the likes of John Cena and Enzo Amore entering the stadium from about 3-4 metres from where we were standing. This was cool to see.
By now it was close to 5:30pm, meaning the pre-show was about to kick off, so we quickly rushed back to our seats in anticipation.
The sun was still shining like mad so we coated ourselves with sunscreen and waited patiently for the sun to descend behind the stadium so we could see. Linda even had an issue getting sunscreen in her eye which put her in a world of pain for a few hours.
Wrestlemania 33 Card
Neville vs Austin Aires
Andre The Giant Memorial Trophy
Dean Ambrose vs Baron Corbin
AJ Styles vs Shane McMahon
Kevin Owens vs Chris Jericho
Bayley vs Sasha Banks vs Charlotte vs Nia Jax
Raw Tag Team Titles
Nikki Bella & John Cena vs The Miz & Maryse
Seth Rollins vs Triple H
Randy Orton vs Bray Wyatt
Brock Lesner vs Goldberg
Alexa Bliss vs Smackdown Women's Roster
Roman Reigns vs The Undertaker
Chris Jericho Entrance
Wrestlemania 33 Highlights
With thirteen matches and almost 7-hours of action, Wrestlemania 33 didn't finish till almost midnight. As you would expect, there were plenty of highlights.
It was a long day, but being there live it actually felt like it went for a couple of hours rather than 7-hours. We got to see the best in the business, including the final match of The Undertaker's career.
Narrowing the show down to our favourite five highlights is a tough ask, but here goes:
Top 5 Highlights
#1 Seeing The Undertaker
The Undertaker has been a legend in the business for near 30-years and we suspected this may be his final fight ever. He pulle out all his big moves including a Tombstone, Chokeslam and Lasts Rights, but in the end he was belted into oblivion by Roman Reigns. It was a sad way for the Dead Man to go out, but it worked so well and we loved it.
#2 Bray Wyatt Entrance
This was a sight to behold. Bray walks out to the ring holding a lantern in pitch black, but the crowd shine their mobile phone flashlights to resemble 'fireflies'. So you could imagine how epic it looked with over half of a 75,000+ crowd lighting up the stadium with their phones. Not to mention he has some of the best theme music in the WWE. Goosebumps!
#3 Hardy Boyz Return
The RAW Tag Team Title was a ladder match between three tag-teams, however before the fight it was announced that a fourth team were a lasts minute addition. The Hardy Boyz music then blarred through the speakers and the crowds absolutely erupted. These guys have not been in the WWE for a year and they pulled out some amazing moves too.
#4 Brock Lesner vs Goldberg
I'll be honest, this was a match I was not looking forward to in the slightest. However it turned out to be one of the most entertaining. Goldberg delivered four Spears and a Jackhammer to Lesner for what looked a routine win, but Lesner kicked out. He then took Goldberg to Suplex City with ten suplexes, before finishing him off for good with an F5.
#5 AJ Styles vs Shane McMahon
This was always going to be a cracking match. AJ Styles is the best wrestler in the business, whilst Shane is known for high risk moves. The match certainly lived up to expectations with Shane jumping from just about everywhere in the stadium, before he went for one too many high risk moves and Styles capitalised with a Phenomenal Forearm.
Wrestlemania Photos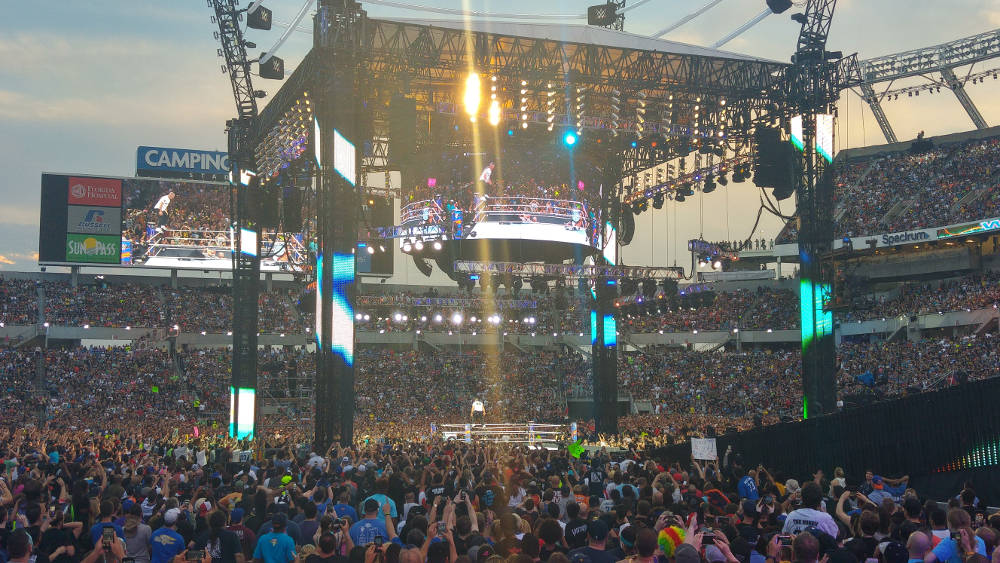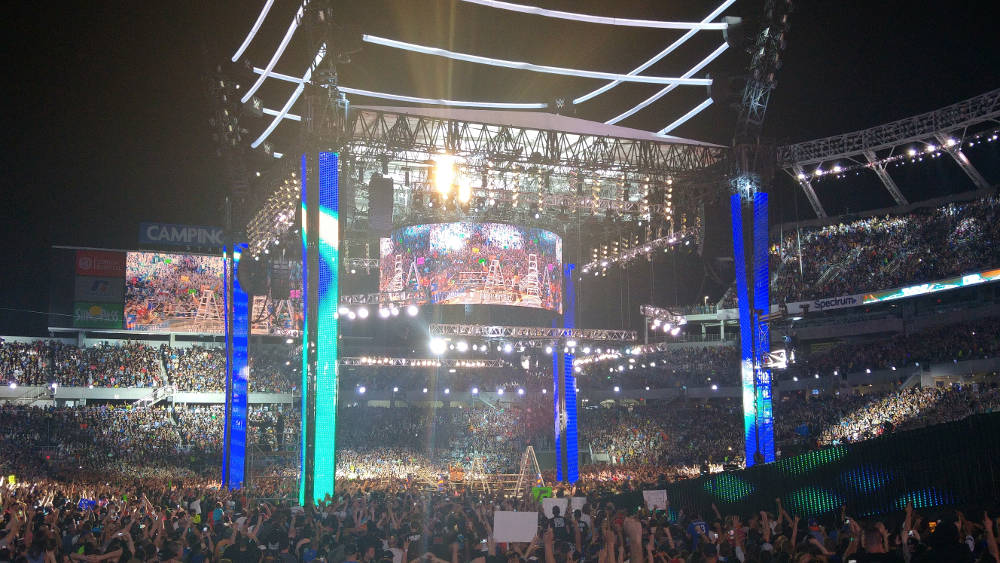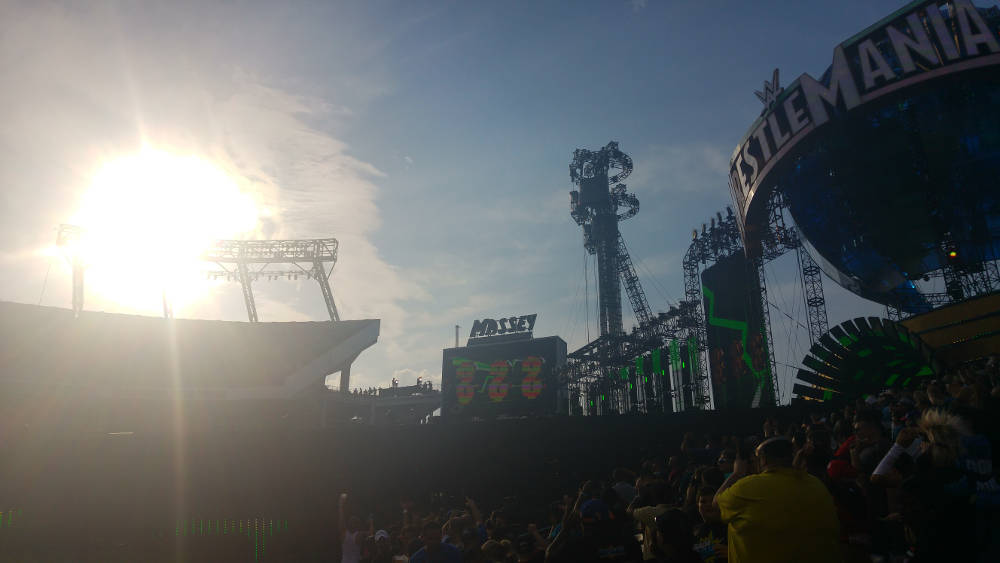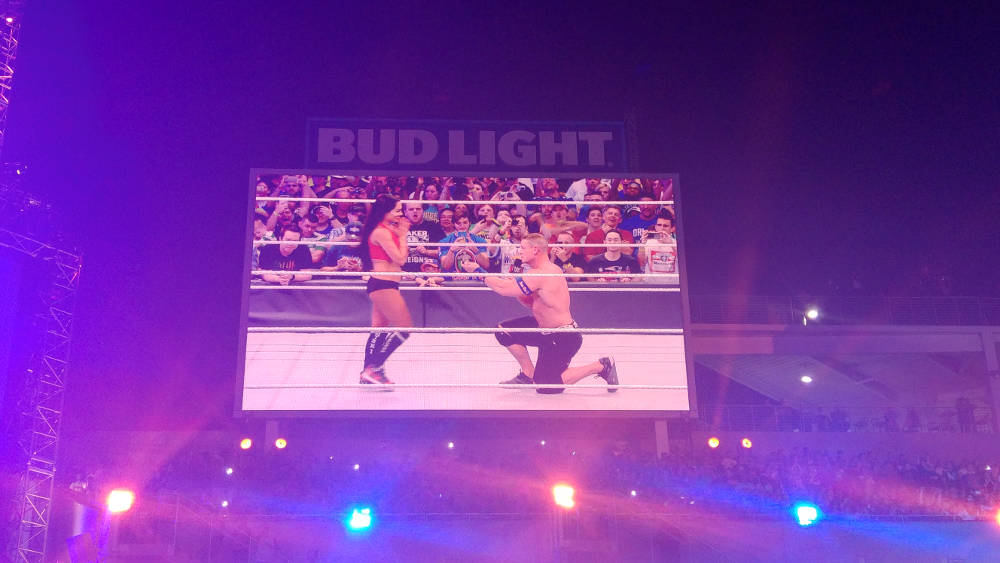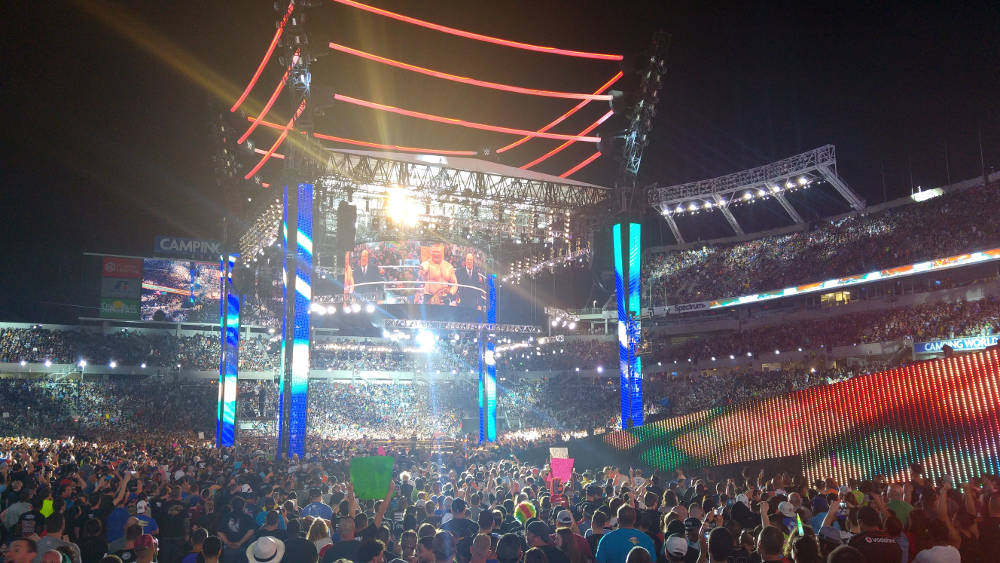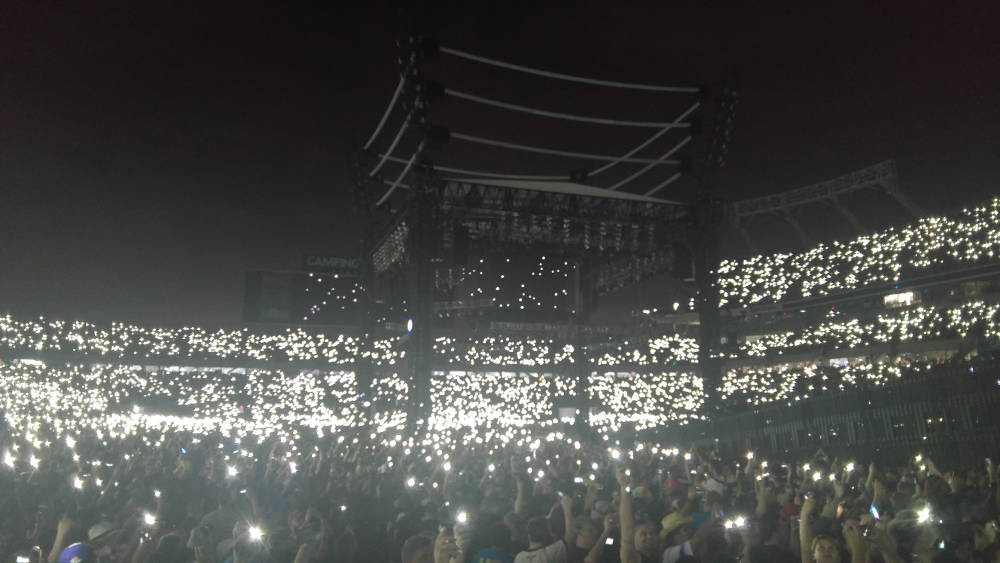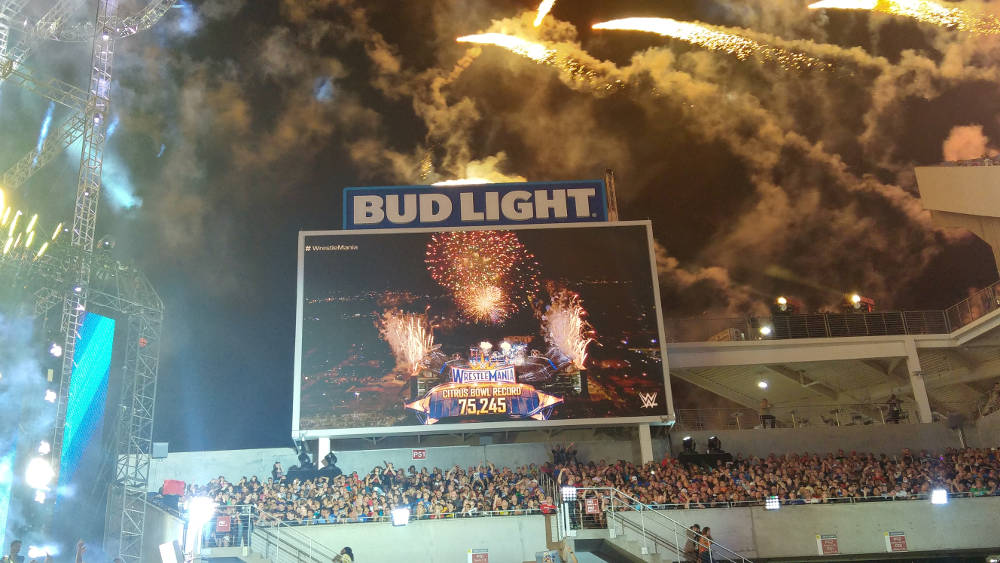 Nightmare Getting Home
What do you get when a stadium record 75,000+ people exit a stadium all at once, in a city with abysmal public transport, a lack of taxis and very limited Uber drivers?
You get a shitstorm, which is exactly what we got. The show finished just before midnight so we decided to walk back to downtown to hail an Uber like we'd done so may times before with no issue.
Except this time you had thousands of people on the app and only a limited amount of drivers. There was literally no cars to be seen and the prices had multiplied about x5 times what they usually were.
So we had nothing to do other than to go grab a bite and wait for the storm to die down a little. About 1:30am we try again and get connected with a guy name Jose who was a a 28-minute drive away.
We waited and waited and waited, then when he was about 4-minutes away, the prick cancelled on us! This left us feeling filthy, but somehow we tried again and managed to get connected to a guy named Jeffrey only 6-minutes away.
Jeffrey was a legend and got us home quick. It was a 12-minute that cost us a whopping $30 USD, but by now we didn't care on price, we just wanted to get home. We arrived back at 2:30am and went straight to sleep within minutes.
Where we Stayed in Orlando