Our day started with a 7am wake-up call. Today we were heading to Discovery Cove to get up close and personal with some sea life.
We got ourselves a quick breakfast and checked some emails and stuff, before packing our bags and heading to the front gate to be picked up at 8:15am.
The drive to Discovery Cove was only about 20 minutes, then the check in process took another 15 minutes. By a little after 9am we were finally in and we decided to start the day with (another) breakfast, this time a buffet breakfast which was included in our ticket.
Discovery Cove is a type of theme park located next to Sea World. It is a place where you can get up close to dolphins and go snorkeling, as well as "deep sea" diving, plus go swimming around in the lagoons that they have on offer.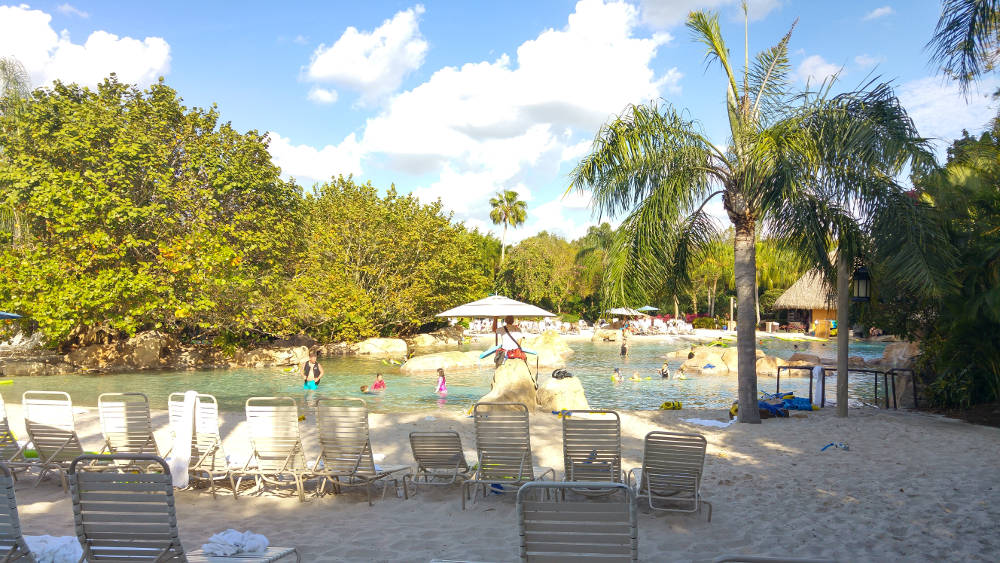 Our first stop was snorkeling with fish. They had set it up as though it was like snorkeling through places such as the Great Barrier Reef. It was great fun, apart from the spooky stingrays which really freaked us out.
Then we headed to the lagoon area which is like little river with a current and you float around a loop in water which is as warm as bath water. After doing about three laps, we decided to go for some lunch, then go for a nap on the deck chairs.
After an hour or so of resting, we then had to head to our deep sea adventure which we had booked in. This was another great experience where we went underwater about 4-5 metres deep and swam with sharks and other fish and learned about sea life.
Upon completing our dive, we then headed for another rest, and then another few laps of the lagoon before deciding to have a shower and call it a day. It was now after 5pm.
On the way out we made a wrong turn and stumbled across a little pool with a dolphin in it. We said hello and gave him a wave, but he returned the favour by splashing water over us the cheeky bugger. Still, it was awesome to get close up to a dolphin and it was a great way to end our Discovery Cove adventure.
Downtown Orlando
Feeling tired and hungry, we decided to head downtown to Orlando for some food and a night of watching sports.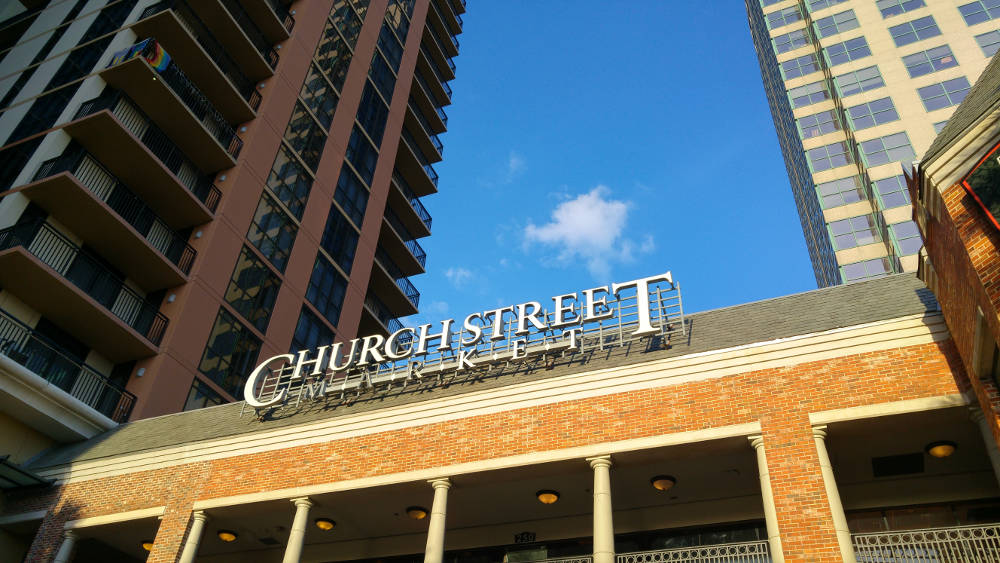 It was a long drive with plenty of traffic delays, plus a detour to a derelict part of Orlando, but after 40 minutes or so, we finally arrived.
We realised it was so busy due to the WWE Hall of Fame at the Amway Center, so that explained why it was so busy. So we decided to go for a walk around town.
There was a Jimmy Johns, so that suited us just fine for tea! Then we found a pretty cool sports bar near by which we settled in for the next few hours.
With plenty of sports on for the evening, plus a jukebox with a ton of songs on it, we were set. We had the waiter tune the tv's in for us for the sports we wanted including Orlando vs Boston, Houston vs San Antonio and Toronto vs Indiana.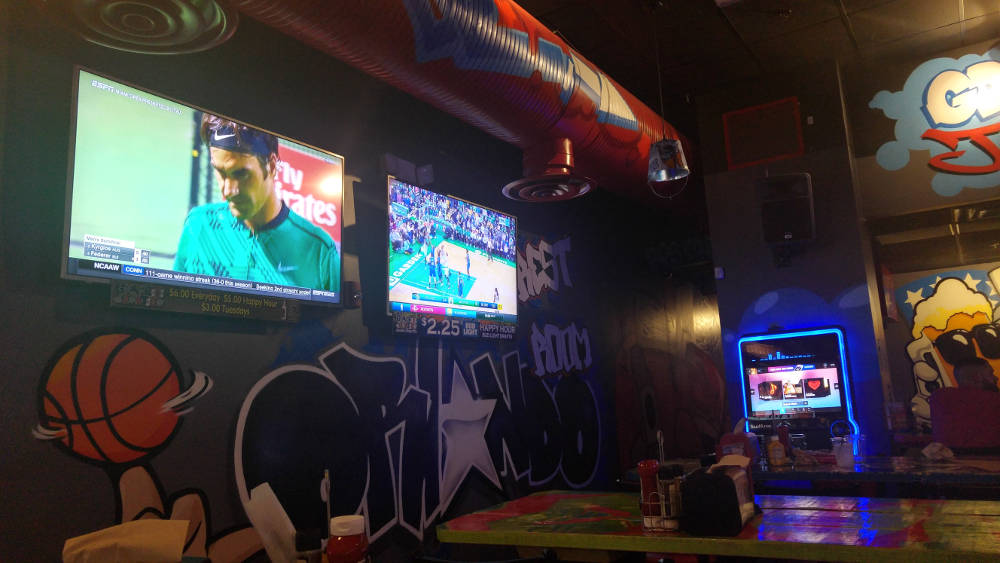 On another telly was the Roger Federer vs Nick Kyrgios Semi Final which was perfect viewing for Linnie. The in the corner we had the jukebox which we loaded up with the likes of Dream Theater, Muse and the likes.
Before long we realised that the songs we'd queued up were not coming on and there was a heap of country music being played. We went and checked the queue, but these country songs kept getting ahead of us.
Over an hour had passed and all we heard was country music, before we realised what was up. There was a bogan in the corner on the phone app paying extra to get her songs ahead in the queue.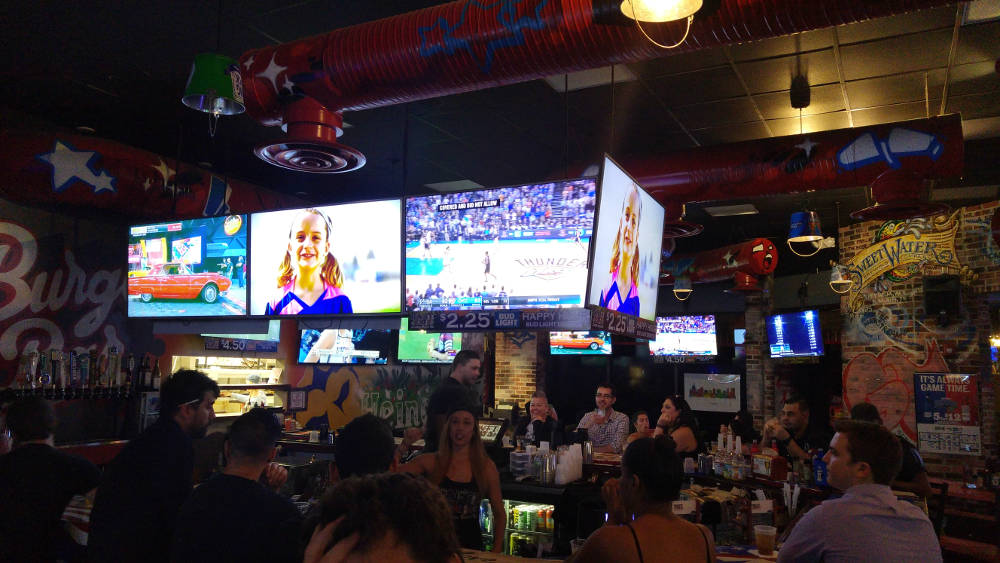 So I decided to call her bluff and place Transatlantic – All Of The Above; a 31 minute song which was certain to annoy her.
It certainly did the trick, at about 28 mins in it sounded like the song had ended and we heard her get up and yell "thank Christ that is over, the longest song ever!". Little did she know the song still had 3-4 minutes remaining mouhaha.
After that little victory, we watched Russell Westbrook get yet another triple double and then decided to make tracks ad head back to the hotel. With a 6:30am wake up call tomorrow for our trip to NASA, we needed some sleep after a long day.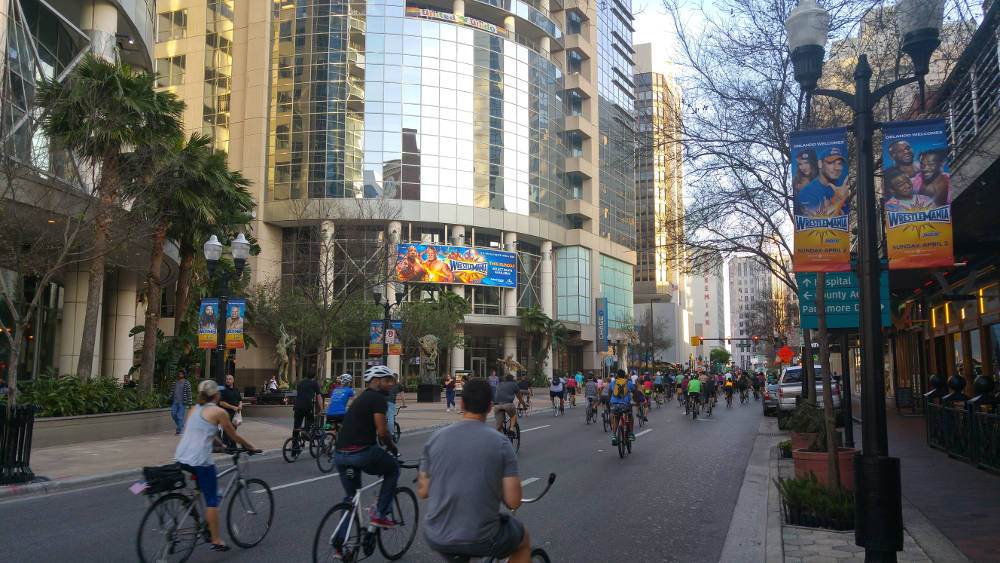 Where we Stayed in Orlando