Pulling the curtains open in the morning and all we can see is a wall of trees and rocks. To our surprise, we had already made port in a tiny town called Skagway.
Once again we load up on breakfast and then head off the ship to explore the little town.
It being quite warm, I'd say around 28 deg; we headed out in shorts and t-shirt which felt odd for an Alaskan adventure.
We had pictured glaciers and icebergs and snow everywhere we looked, but their summers are quite pleasant. The only white you can see is at the very top of the many many mountains.
Our ship being the furthermost away from the town, as usual, we had a 20-minute walk into town. Not that we minded as we loved being able to stretch our legs.
Arriving into Skagway's Main Street, it was like stepping back in time to the days of Sovereign Hill. The buildings were all made of wood and only one storey high. If it weren't for the paved road, you would swear you were in another era.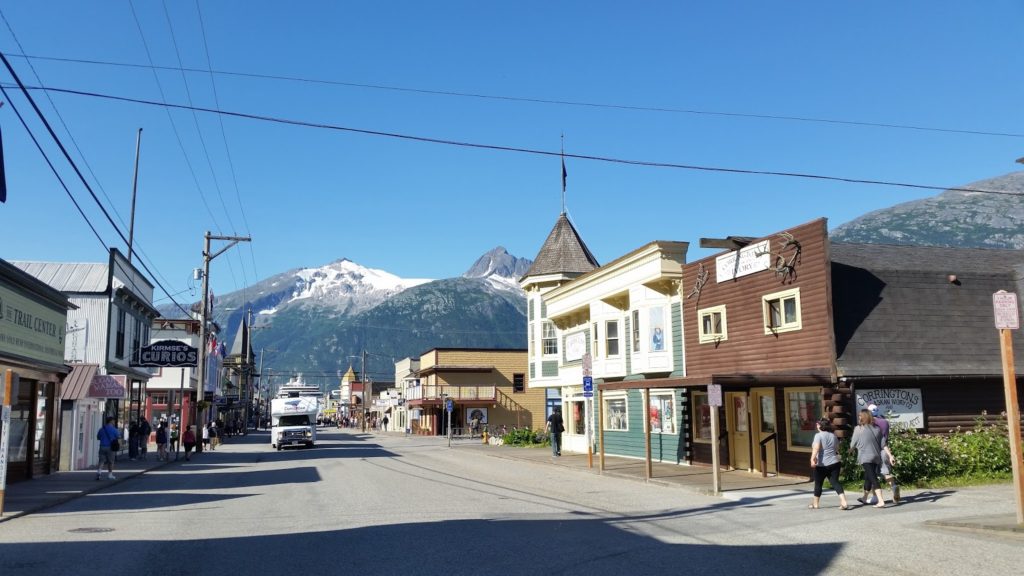 Being that most of the shops sold jewellery or crummy Alaskan souvenirs we didn't hang around too long instead opting to head back to the ship.
There we spend our day sprawled out on a lounge chair by the pool while eating one of the best hot dogs ever for lunch.
We hung around the pool for the majority of the morning and afternoon, then peeled ourselves away from the pool and made our way down to the ensemble lounge for a quiz.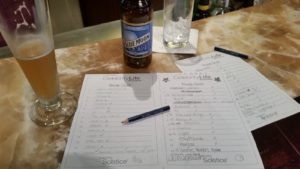 First, we tackled the TV theme quiz. While Adam wasn't the most helpful of players, Linnie who spent most of her childhood watching TV managed to get 11 out of 15.
Mind you all of the shows were American and about 20 years old. We ended up losing by 1, again!
Right after that quiz they ran a general knowledge quiz. Knowing that we weren't the best at general knowledge, we decide to go head to head against each other to make it more interesting.
Correcting each other's sheets Linnie, on her birthday mind you, lost. By 1. On the very last question, argh.
Our brains now fried, we grab our books and make our way up to our favourite spot on the ship, the lawn area. With trees now on either side of the ship, the greenery seemed to continue from the grass on the ship to the mountains with no other colour in between. It was beautiful.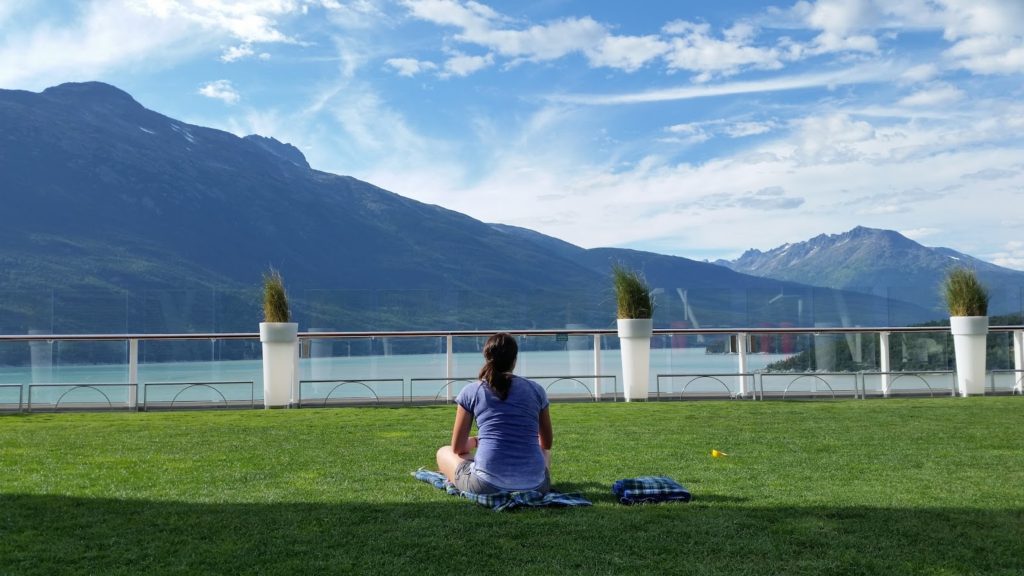 We laid out in the sun on our blankets until tea time where we made our way to the buffet.
Opting not to go to the dining room tonight, we discover a fabulous table at the very back of the ship and have a birthday feast. Linnie even picked out three different desserts for her birthday cake.
After that, we climb back up to the top deck to witness yet another spectacular sunset. To our delight, as the sun was going down, we spot not one, but four killer whales making their way past the ship. What an amazing night.
To finish Linnie's birthday off, we go to a show in the theatre featuring Ryan Joyce, the magician. Not expecting too much he turns out to be pretty damn good. He even pulled off some tricks that we had only seen David Copperfield do, and this guy was funny!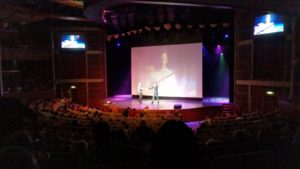 After the show, we make our way to grab a nightcap but stop at one of the shops and buy a very adorable little bear holding a fish carved out of jade.
This will go perfectly on Adams office desk at home where he keeps mementos of every country we've visited.
A night cap in hand, we bypass another of our favourite spots on the observation deck as there was a horrid band playing in there and drunk people dancing.
So we walk back over the other side of the ship and drink our hot chocolates in the serenity of the Aqua Spa indoor pool. It is always warm in there and plays that sort of music you hear while getting a massage.
Now tired from all our relaxing, it was time to pull the curtains on one of Linnies best birthdays.
More Photos from our day at sea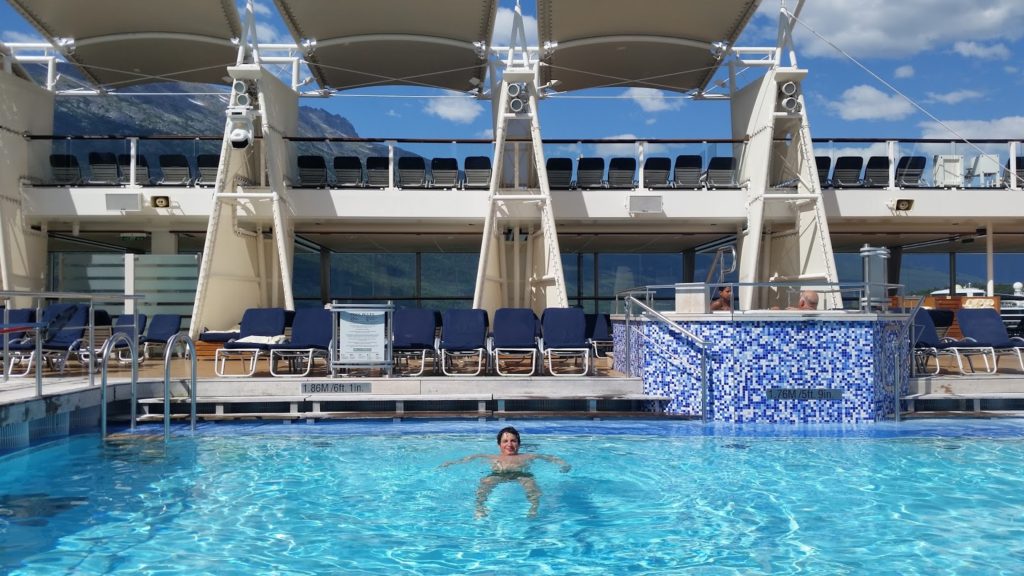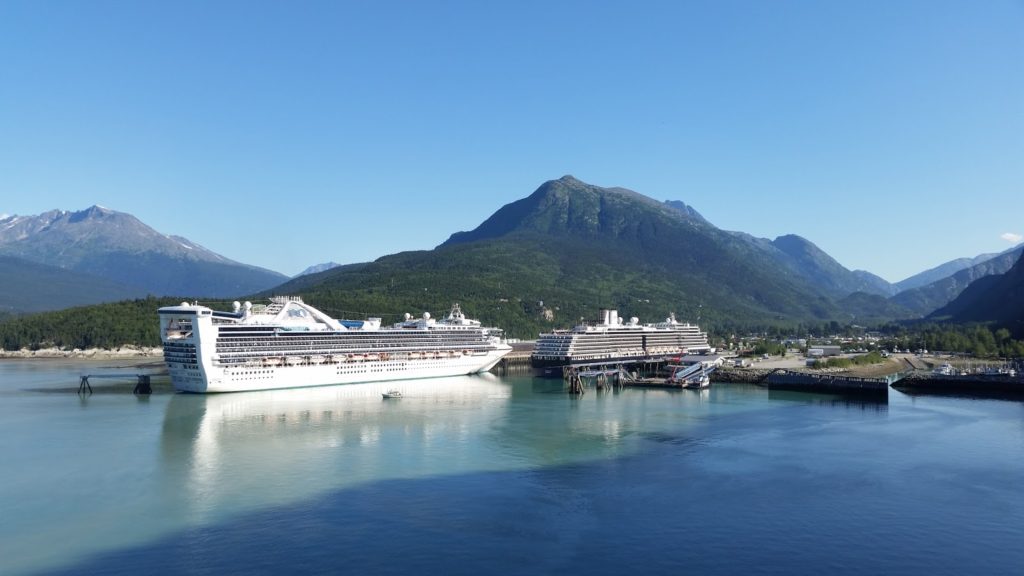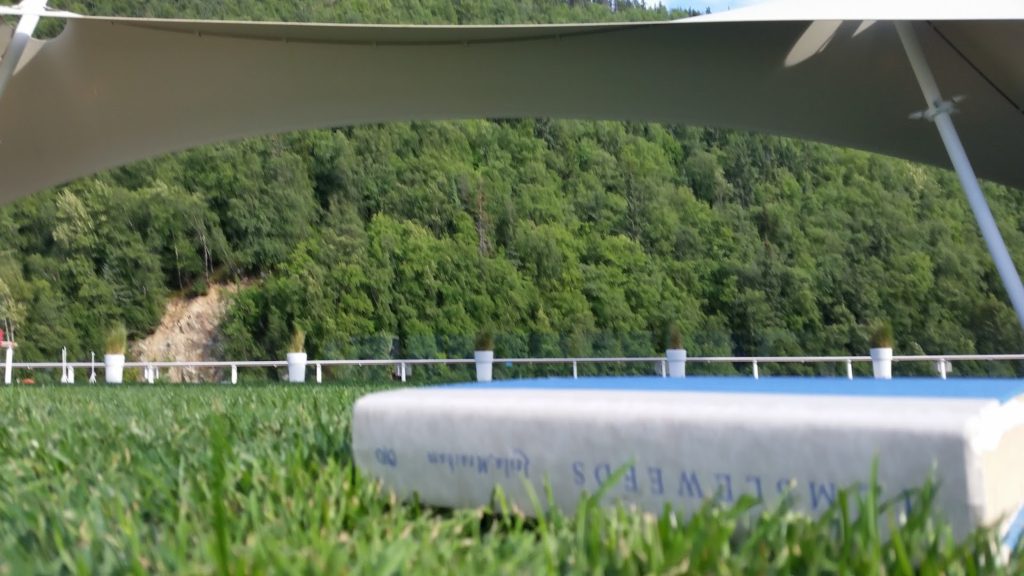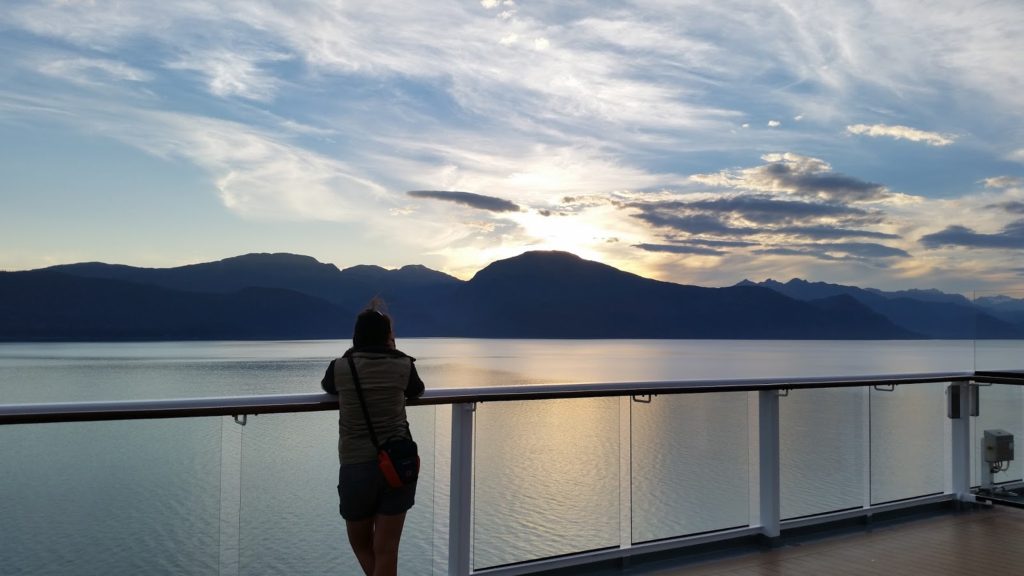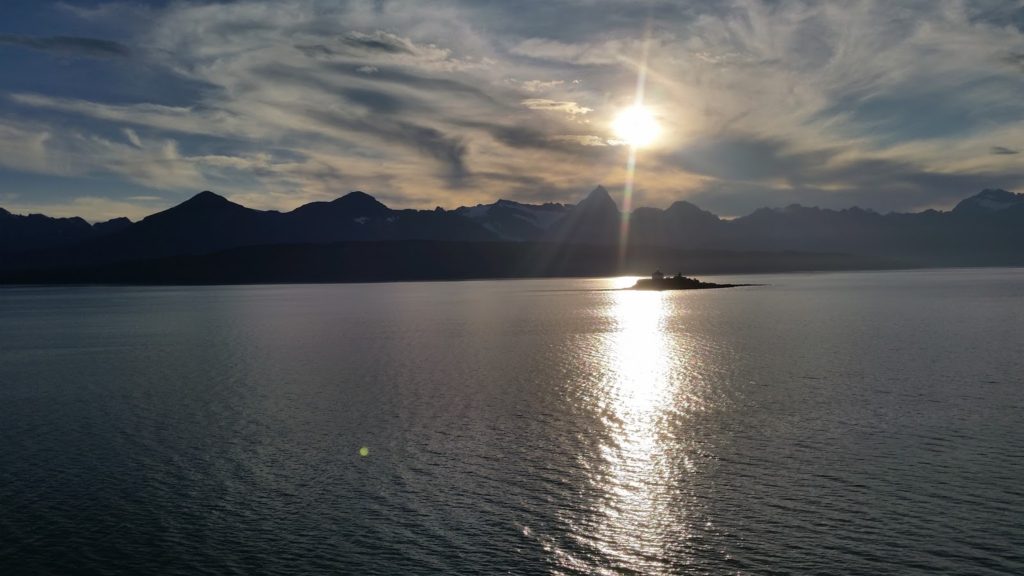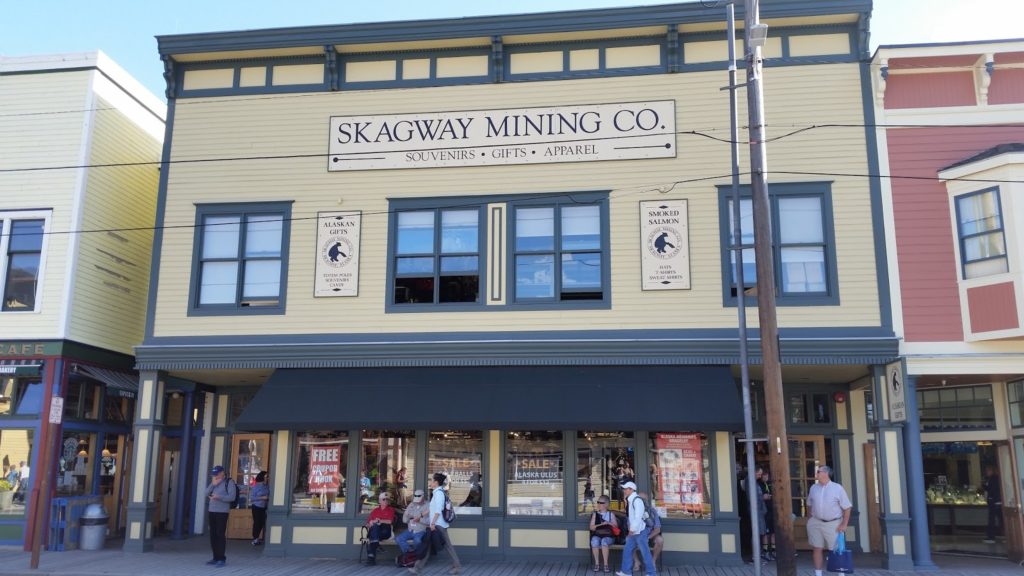 Skagway, Alaska