Our main mission for the day was to get supplies for our first camping expedition tomorrow.
We drive out of Vegas satisfied with our adventures there, bid the colourful city a fond farewell and set the GPS for Phoneix!
Driving along there is nothing but sand, desert and about a million cacti, this went on for the entirety of our 5-hour drive until we hit Phoenix and pull into our motel, which turned out they had no booking for Talbot…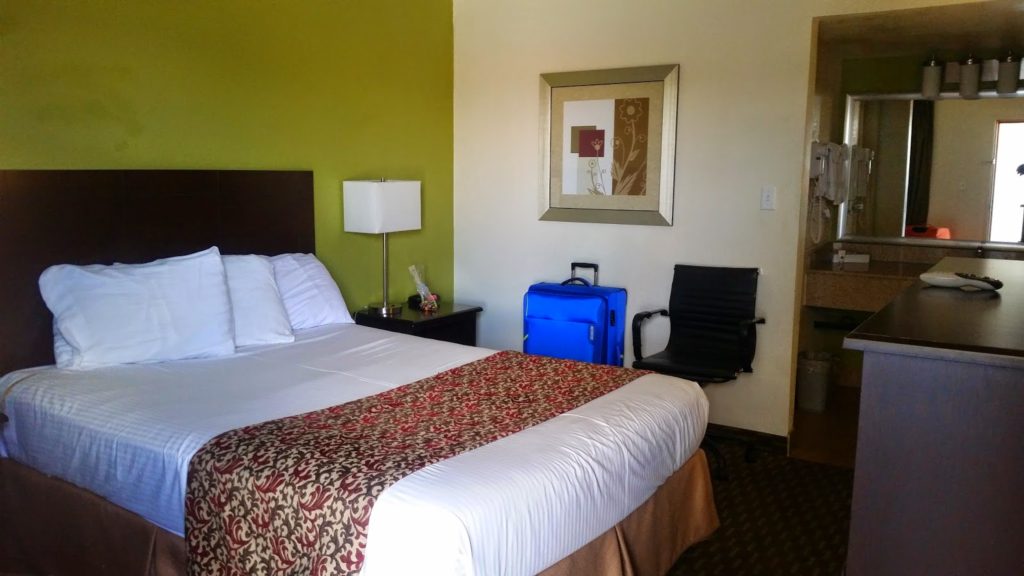 After a quick check of the itinerary, we realise our motel was next door… Awkward!
We drag our bags up to the second level, jump back in the car and plan our trip to the local RCI camping supplies store, which turns out was HUGE!
Needing an air mattress we find that majority of them are over $100, for a 10cm thick mattress?!
Not on my watch! So we go down the road to Walmart which is much like our BigW and find a full size air mattress, air pump. sheet set, pillows and the cutest little hammer for banging in the tent pegs all for $80, that's how it's done!
Next on the agenda is checking out the Pheonix Suns NBA stadium, all the stadiums have a little merchandise shop which we wanted to go in, just our luck it closed just 15 mins before we got there, damn camping shop!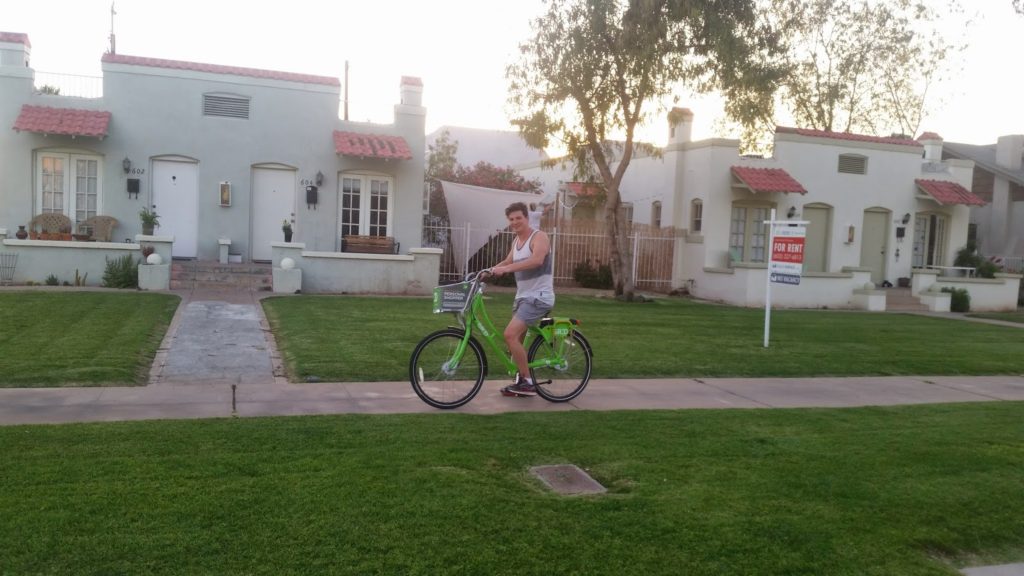 So we end up in a pub called the Tilted Kilt for some beer and chippies, refreshed and refueled we take to the streets 2 wheel style, we hire the city bikes for an hour and cruise around Pheonix taking in all the sights and sounds that the city has to offer.
Two sore bottoms later we park the bikes near our hotel and go back to a very quaint outside pizza restaurant, we order up a veggie pizza and enjoy it whilst listening to a nice old man strumming away on a guitar while singing songs in Italian, a nice way to end our long day.
Back in the hotel room we.. legally.. download the last ever episode of Mad Men and tuck in for some viewing, before nodding off to sleep.
Photos from Phoenix
Where We Stayed in Phoenix