Very bright and early after a cold night in our little tent we awaken and within about 10 minutes flat we have our tent, mattress and sleeping bags packed and in the car.
Being very eager beavers to head to Niagara Falls, or to get out of the smelly camp site… Either way we were good to go!
A long five hour drive we do a split of 1 and a 1/2 hours each and then an hour each on the end with a petrol/snack break in between, easy pie!
We arrive at the Niagara Falls KOA campground and don't have to travel far to our site. It was just off the road right near the entrance. A shower was in order before leaving as the last few had been a bit below par and we were starting to feel a little dirty.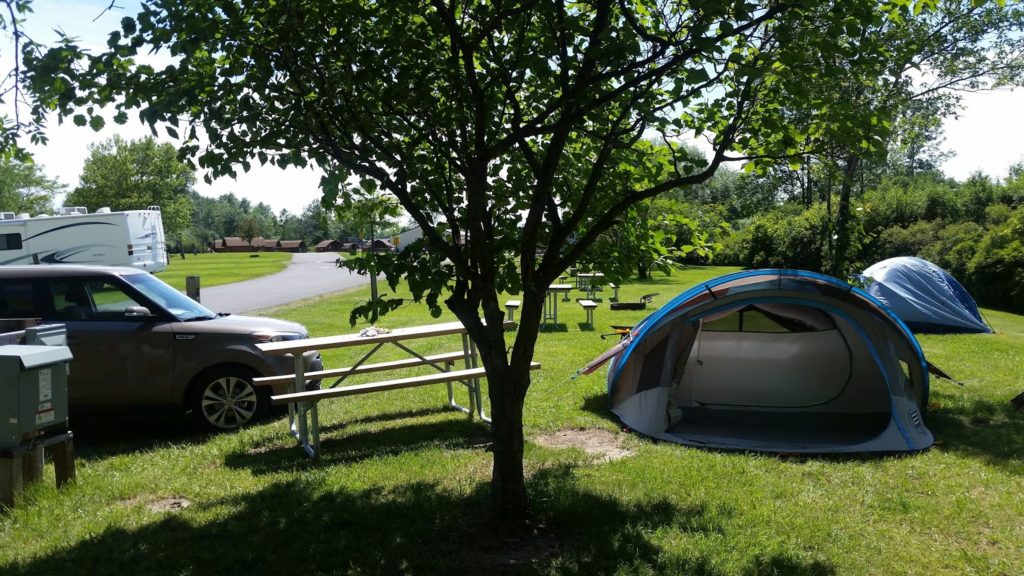 Clean and refreshed we jump back in the car and head to the falls! It was only 3 years ago that we went to Niagara Falls but that time it was on the Canadian side, so we were very excited to see what the USA side had to offer up.
The car parked, we walk up to the entrance of the park but could not resist the lure of a New York hot dog stand, so we deviate over and order up two hot dogs.
They were cooked fresh on a BBQ which was a bit different and while they were sizzling away the chef gave us some great tips on visiting the falls and even gave us a little map, what a nice guy!
It only took seconds to down the very moreish hot dog and we then unleash ourselves into the park.
Straight away you could hear the falls hushing and even see the mist of the water coming up from below, so we hurry across the bridge and make our way to the viewing platforms.
The falls were amazing, from this vantage point you were equal with the water flow from the top to where it finally cascades down below, it was an amazing view.
From up here you could see the 'Cave of the Winds' steps that we wanted to go and see. There were a series of steps and platforms that lined the bottom of the falls and you could literally stand at the base and get absolutely drenched, this looked like a LOT of fun.
We race back to where you buy the tickets and hurry on through, after a mandatory awkward photo we go into the Cave of the Winds center and get a free pair of foamy sandals to wear while out of the platforms.
They may not be the prettiest footwear ever but they were suprisingly comfy.
Excitement building we pile into an elevator and go down a long way to the bottom of the cliff face where we receive our life saving ponchos to keep us dry..
And then it was a quick walk to the platforms where without even stepping near the falls we were already getting bombarded with mist and spray.
Stepping onto the platform we make our way to the best spot, underneath the actual water fall and it was AMAZING!
The power of the water was so hard that it hurt the backs of our legs while we backed up to stand right under the thunderous sprays of water, we could only stay under for seconds at a time as it felt like you would get swept away. It felt like we were in a hailstorm.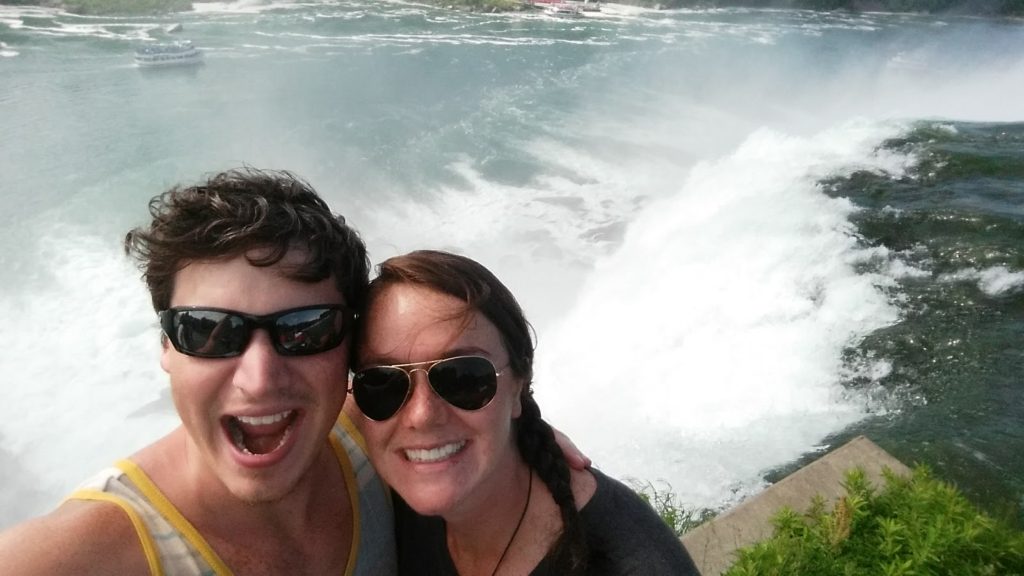 We we walked down away from the main waterfall we followed the flow of the water and got our legs drenched over and over again from the overflow, it wasn't until we got to the lowest part that we could turn around and appreciate what we just stood under, it was huge.
Before we leave we go back up and take another punishing round of drenchings under the falls and then head back to the elevator accessing how wet we were after taking off our ponchos, while Linnie got away unscathed apart from a wet side Adam may as well of not worn a poncho, he was saturated!
Hungry from our adventures we make our way up the city center for a bite to eat, unlike the Canadian side of Niagara Falls the USA side left a lot to be desired.
Canada had arcades, shops galore and a lot of restaurants while USA just had one little strip of shops and a few restaurants speckled here and there, it was a bit of a lot down.
We were keen to find a sports bar as today was NBA Draft night which were had been excited about for the last month with the Minnesota Timberwolves claiming the top pick. But sports bars were pretty hard to find.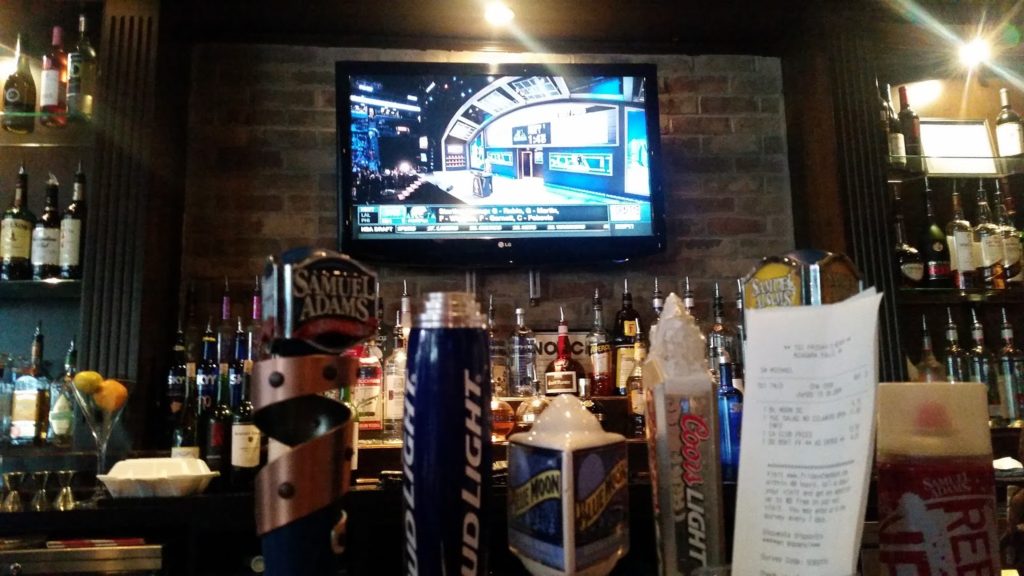 On our travels we find a TGI Fridays for dinner which looked to have sports screens, and it was a wise choice. We ordered some tea and sat at the bar and got our waiter to turn the volume up so we could hear. Minnesota drafted Karl-Anthony Towns, so this was a great result.
Feeling pretty full after a big tea, we decide to walk it off and duck back over the bridge to see the falls at dusk, as if it couldn't get any more picturesque. It was absolutely amazing.
It was now pretty late so we head back to the campsite and muck around in the tent on our phones before we fell asleep. It was the end of one of our favourite days so far.
More Photos from Niagara Falls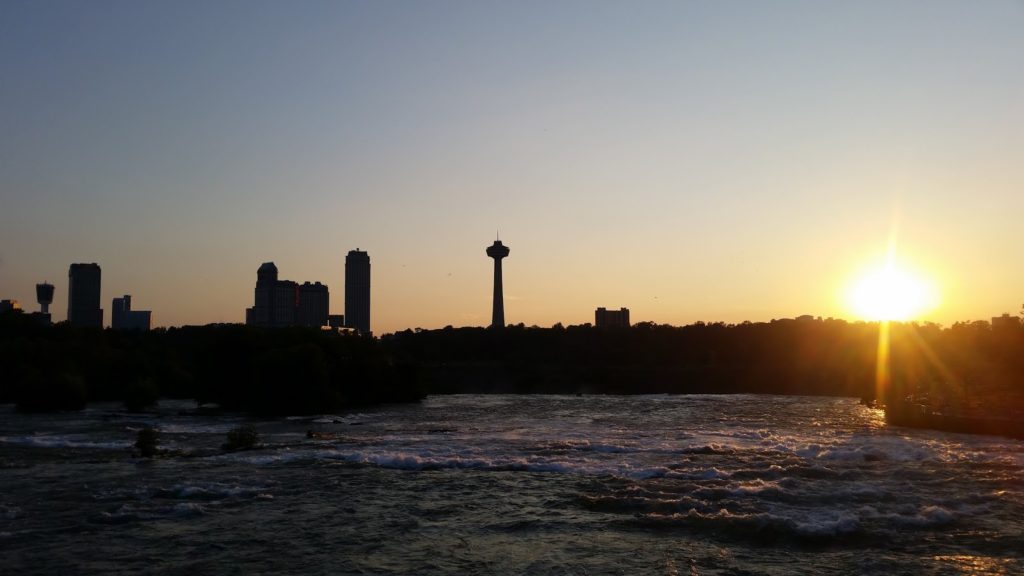 Where We Stayed in Niagara Falls