It's hard to believe we are now three quarters of the way through our Alicante adventure! Time is flying.
This week we headed off on an adventure to Altea, and pretty much spent the week chilling out. We also caught up with an old four-legged friend.
Monday, Mar 2nd
Our third week in Alicante begun with another day of chilling out in our room. The main job on our agenda today was to sort out a new sim card for our phones.
We headed out about 2pm but was told we cannot buy new sims without a passport. Doh! So we headed back home, going via the supermarket to get some salad rolls. Then we headed back to Vodafone to sort our sims out.
Turns out this job proved to be more difficult than we had anticipated. The lady was unable to register our sims because it sounded like the system was down. So we went to another Vodafone and got a barriage of Spanish said back to us. It wasn't hard to work out that they were unable to do it!
We gave up and thought we'd try again either tomorrow or the next day. We spent the rest of the arvo relaxing in the room and then headed back to Lemon Grass for tea, the awesome restaurant from our first night here.
Then it was back for an early night. We had to be up at 7am to catch a bus for Altea!
Tuesday, Mar 3rd
Today was an exciting day, after weeks of only having each other for company, we were about to meet up with some friends of friends in Altea.
Unfortunately, the easiest way to get there was by bus, so it was back to the bus station to work out what bus to get. All our ticket had on it was Altea, which is fine, but none of the buses mentioned anything about Altea, so defeated again we have to ask for help.
After being pointed in the right direction we board our bus and settle in for the next hour and a half. As it turned out, Linnie sat on the window seat and with the combination of a blaring hot heater, the cramped space and the lady reclining the chair into said cramped space, she got bus sick.
Luckily, the use of a sick bag was not needed and we jumped off the bus as soon as we hit Altea, the cool breeze helping to rid the sick feeling almost immediately. And only minutes later, our friends of friends pull up at the bus stop and we load up in their car after a quick introduction, Linnie and Adam, meet Beate and Chris!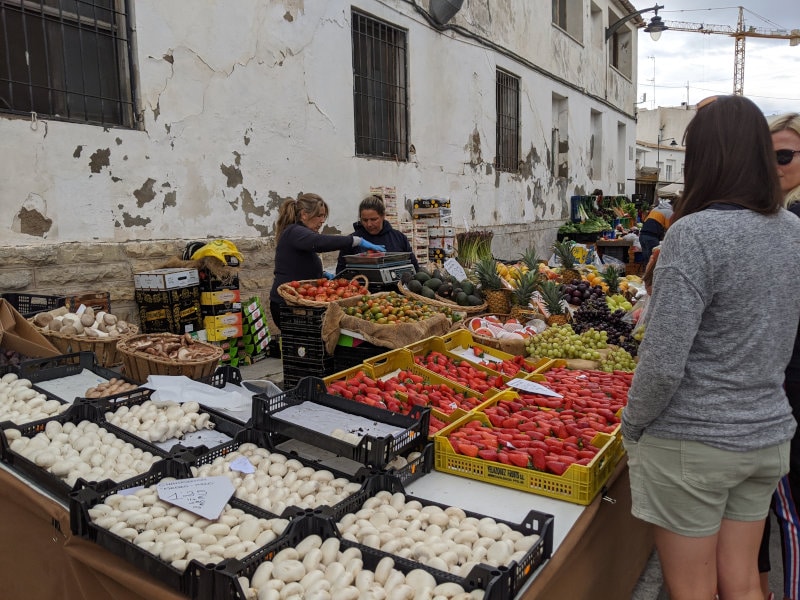 Our first stop was to the local farmers market which was held every Tuesday where we stocked up on veggies for tonights feast. We also bought some of the biggest strawberries we had ever seen along with some peas to pod and snack on along the way.
We meet back up with Chris who had to drive around town as there were no parks and made our way back to their apartment. And what an apartment it was with stunning postcard views across the ocean and hillside from their balcony.
Beate serves us up some homemade lunch which was one of the nicest quiches we have had and we share stories of our travels and adventures while we dig in, everyone having seconds.
After a chill out session, we don our hiking shoes and make our way to their favourite mountain in Altea and being our trek up. These two were mountain pros in training for a 6-week trek through the Alps, so we do our best to keep up. Once at the top were floored by the insane views with the ocean so blue it didn't look real.
We soak up the views for a long while and then make our way back down, passing a few olympic teams in training as we go. It felt really good getting back out into the outdoors again giving our well-rested legs a good workout.
Our new friends give us a tour of Altea, taking us to the beach and the old town. The streets were clean, white and paved with pebbles, it was like something out of a storybook. We meander through the streets a while longer and then head back, all the hiking making us hungry for dinner.
Beate had done it again, yet another culinary masterpiece for dinner of mushroom, mascarpone and truffle ravioli with veggies, it was to die for! We were also spoilt with homemade crackers with beetroot dip and a delish cheese spread. It was amazing!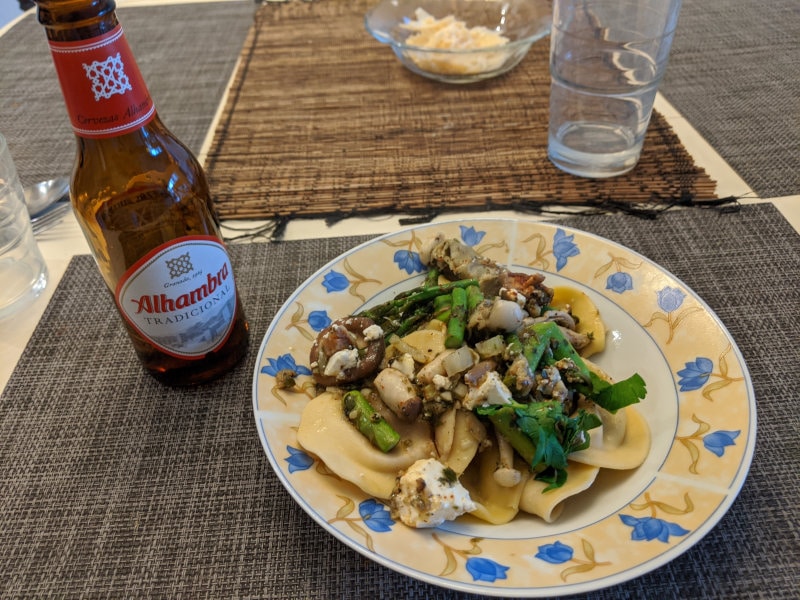 We spend the rest of the night chatting away about anything and everything. It was so good to be able to chat with friends again as so far this trip it has only been a mixture of broken English mixed with Spanish and blank looks from anyone we've chatted to.
We talk well into the night and with the boys having a little bit too much beer we decide to call it and head to bed. But, not before Adam gets on the phone to his Nigerian friend and wakes up half the neighbourhood.
Wednesday, Mar 4th
We all wake up at about 8am, some of us feeling a little better than others and have some breakfast in the sunshine while enjoying the views on the balcony.
Donning our walking shoes, we take a wander through the hills and streets around the apartment for a morning walk checking out all the expensive houses and architecture.
Then it was time to head back to Alicante, our whirlwind trip to Altea had come to an end. Still being terribly spoilt, Beate offered to drive us back, such a generous offer that, after remembering the terrible bus trip yesterday, we couldn't refuse.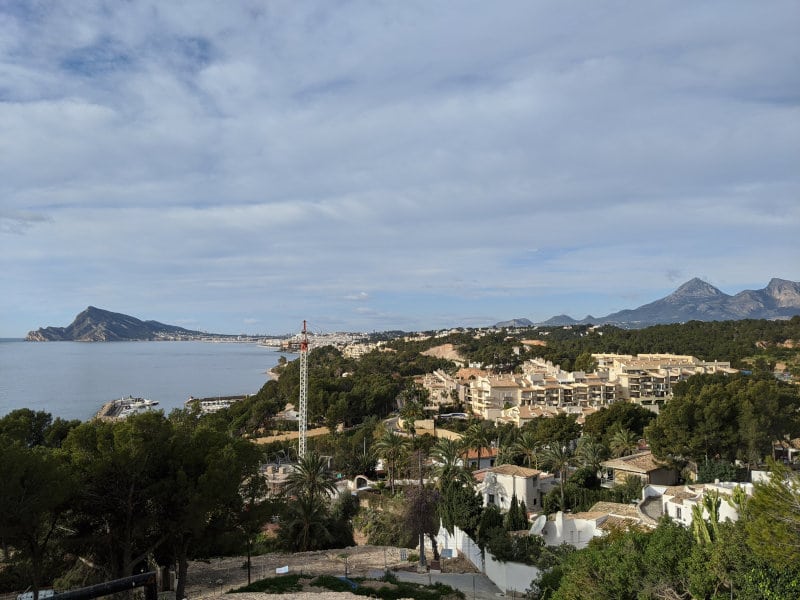 We all jump in the car and make one pit stop to a HUGE supermarket and stock up on a few dinners and snacks for the coming week. Then it was back in the car and half an hour later we were back in our comfy Alicante apartment, happy to be home again.
Planning to meet back up again later next week we say goodbye to our friends, they had been so kind and generous to have shared their home, food and time with us, we couldn't have been more grateful and were looking forward to catching up again and showing them around our neck of the woods.
The rest of the afternoon was spent catching up on work and chilling out in the apartment. Our dinner sorted we didn't have to go out again, all that was left was to put up our feet and chill until it was time to hit the hay.
Thursday, Mar 5th
As usual, most of the morning was spent chilling out, which is becoming the new norm now. And we're loving it!
It wasn't until about 5:30pm that we headed out. Tonight we decided to go watch the sunset from the yacht area that we were at last week. But on the way we stopped by the bakery for an apple custard cake – our new favourite sweets.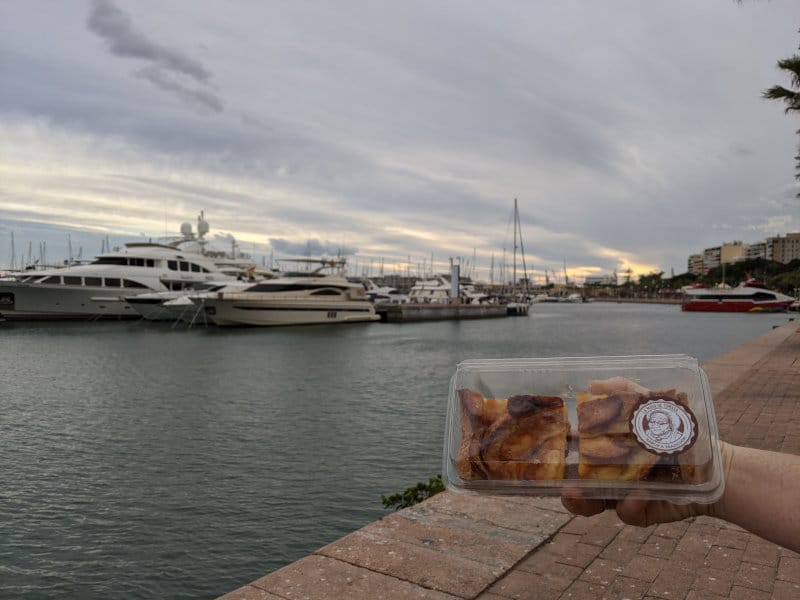 The sunset wasn't too bad, but it was quite cloudy, so we decided to make tracks and grab some stuff for tea.
Turns out the sunset was indeed a nice one! We headed up to our rooftop and the sky was an awesome orange colour, so we sat up top for about half an hour and enjoyed the views.
After tea we rang back home for the first time since coming over here. It was Adam's dads birthday so we rang to wish happy birthday and had an awesome chat for 40 minutes. We learned that Australia has gone crazy with this Coronavirus and that there was no toilet paper anywhere.
By now it was getting late and we were tired from doing nothing all day. We went to bed to watch some telly shoes, In The Loop and Survivor kept us occupied.
Friday, Mar 6th
Today was deja vu, almost an exact repeat of yesterday. Like yesterday, we spent the day reading, watching telly, catching up on work and chilling out.
We did plan to head to the beach and then head up the castle again, but it was super windy and it rained for a few hours. So it was a good excuse to stay home.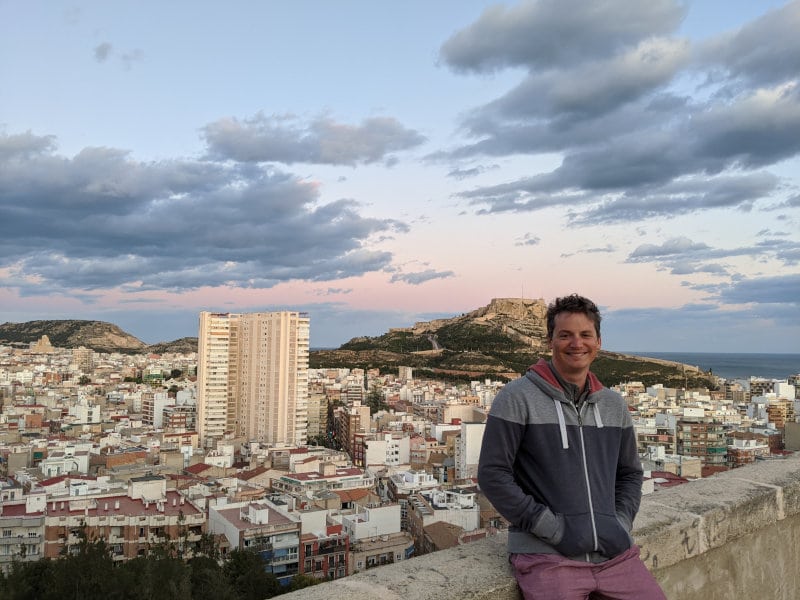 At about 6pm we headed out to Sant Ferran castle, the small castle just near our apartment, and went to watch the sunset up there. It was well worth it too, with incredible views over the city.
We had to sneak into a fenced off construction area to get the views, but it was well worth it!
Afterwards we headed to the supermarket and got some pasta for tea. Then we settled in for the night as Linda had a few Airbnb listings to write.
Saturday, Mar 7th
As is the theme of this holiday now, we lounged around most of the morning, then decided to go for a walk into town after lunch.
We went back to El Corte Ingles that we went to in week 1 for another look around. Adam thought he'd browse the portable pianos they had on offer, but there were only a couple there. Expensive as well.
After that we looked up some instrument shops around town, but unfortunately most of them closed early on a Saturday. Instead, we went up the mushroom street again, and walked around an area of town we hadn't seen yet.
By now we were tired of walking around, so went back home via the supermarket. Then we spent the rest of the afternoon and evening in our awesome room. Another fun, relaxing day in paradise.
Sunday, Mar 8th
Our plans for today were to go to the beach, we hadn't been for over a week now so were keen to get back. But unfortunately our plans had to change as it was a little chilly and windy outside.
Hmmm, what to do instead? Linnie suggested we walk back to the park from last week where we met Kryo (the stray cat). Starved of pet affection, we set off on the 3-hour round walk to get there.
Who else would spend 3hrs of their vacation walking around to find a cat that may or may not even be there?!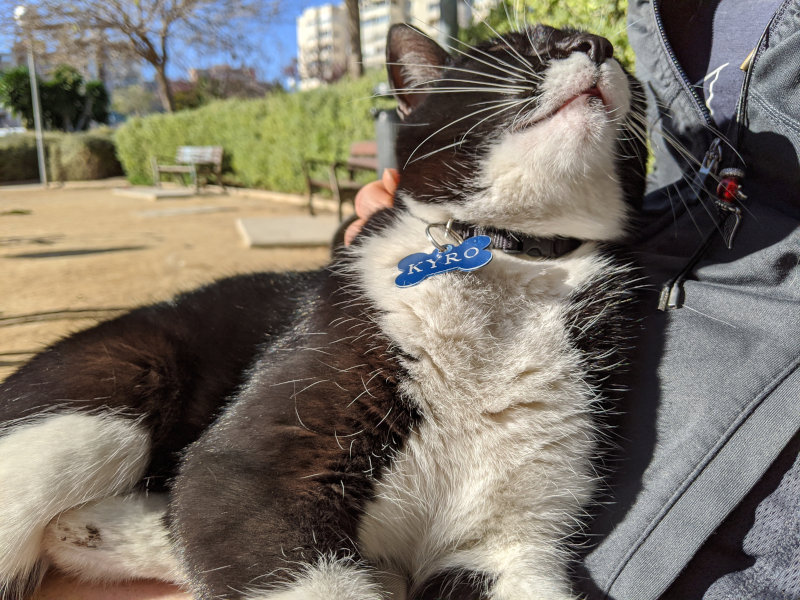 We set off around 3pm and by now it had turned into a lovely day indeed. Beautiful and sunny, perfect for an awesome walk along the beach.
Eventually we arrived at the park with our legs burning. No sign of Kyro, so we took a break on the seats and then played around on the exercise equipment.
Then Adam saw something movement out of the corner of his eye. It was only bloody Kyro! Walking up the path like he owned the park.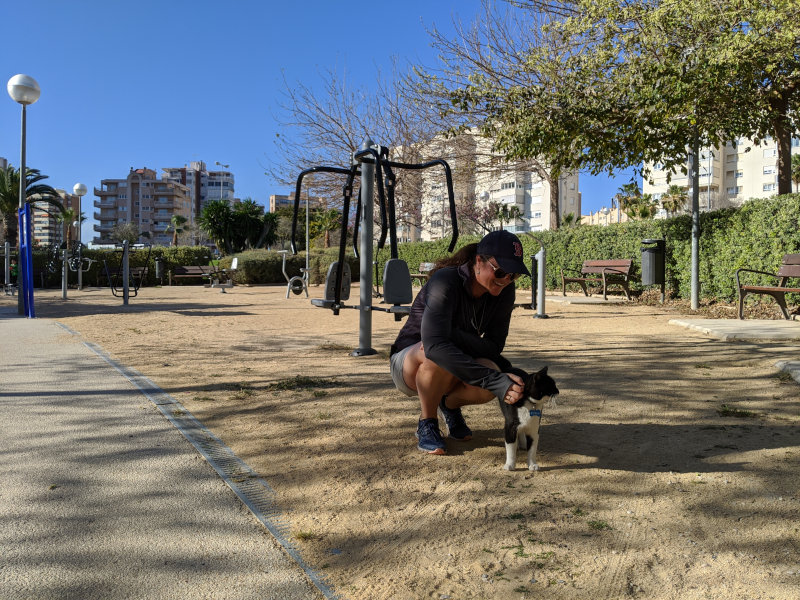 The three quarters of an hour were spent playing around with the little guy. He was the most friendly kitty ever and loved getting pats. We would have stayed longer, but noticed it was starting to cool down and we still had a 90 minute walk.
On the way back we planned to hit up the supermarket, as usual, to get some stuff for tea. But we'd totally forgotten it was Sunday and everything seems to shut on a Sunday.
Luckily we had some burgers that we bought earlier in the week, and a couple of potatos. The rest of the evening was spent resting our sore legs. Week 3 was now in the books!