What was meant to be our last week in Alicante actually turned into our last week in Spain. The dreaded coronavirus cut our 9 month trip short by 7 months!
Our week started off great, then it was a mad rush to get back home to Australia. This is what we got up to in Week 4, which was a fun week still. We have made a promise to ourselves to return to Alicante and continue this Southern Europe trip again in the future!
Monday, Mar 9th
There is no better way to kick off week 4 in Alicante than with a trip to the beach. That was our main plan for the day.
But before heading to the beach, we had to hit up the supermarket to get some more breakfast. Given the sueprmarkets shut on Sunday, we didn't get a chance to restock. We also got some salad rolls and snacks for the beach.
We set off for the beach around 11:30am and arrived just before midday. Unlike usual, it was pretty quiet so we could setup anywhere without too many people around.
It wasn't long before some acrobats setup a tightrope on the palm trees right next to us and were being super loud, so we moved about 20 metres away.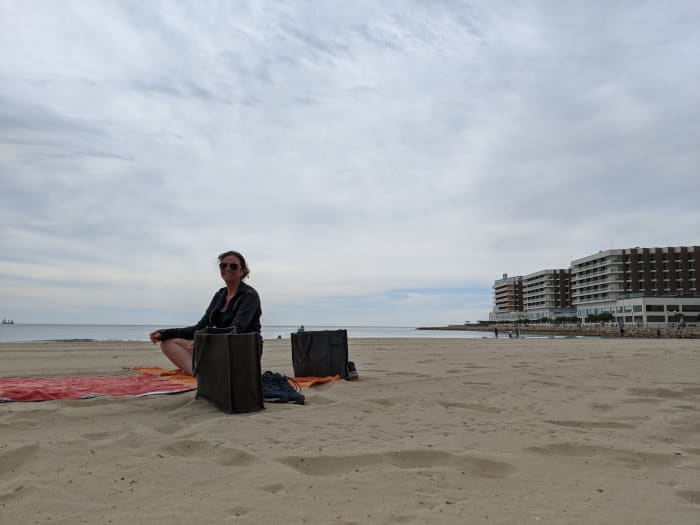 Thinking we had found an awesome spot, it wasn't long before we had to move again! Two ladies were having a disagreement very loudly in Spanish. It would have been fun if we could understand, or if it lasted only a few minutes, but it genuinely went on and on for an hour!
Our final resting place was perfect. Adam went for a swim and we spent half the day sleeping and reading. Exactly what we dreamed of for our Alicante trip.
After that we went for an hour walk looking for some tempeh for tea and then went back to make a delicious stir fry. Then after tea we caught up on work and updated the blog. Another easy, fun day.
Tuesday, Mar 10th
Well today may just well have been the most lazy day on our trip yet, but it was fun!
Pretty much the entire morning and afternoon was spent in the room either watching shows, reading books or catching up on work on the laptop. It was a relaxation day from relaxing.
It wasn't until about 6pm that we ventured out. We decided we'd finally go climb Santa Barbara castle and catch a sunset. Well it turns out that was an inspired decision, as it was one of the better views we've seen.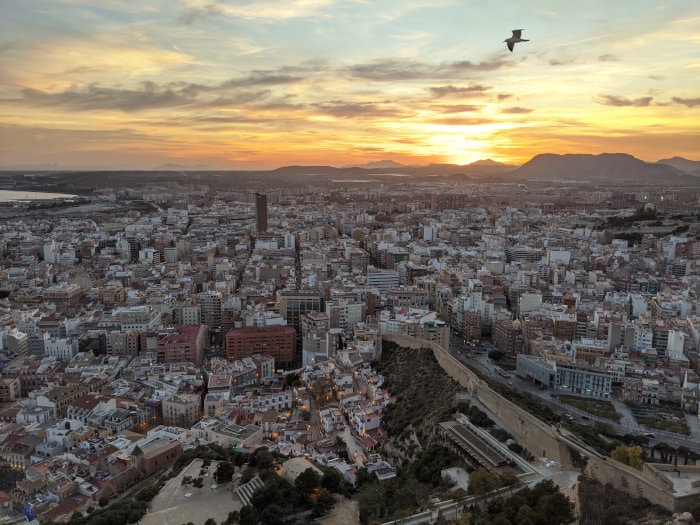 We walked the short way up the castle which only took about 20 minutes. Then we parked ourselves on an old canon at the top of the castle and waited for the sun to go down. It took about half an hour of waiting, but the wait was worth it.
The sun went down behind the mountains, then on the otherside of the castle was a beautiful purple and blue sky. Why hadn't we come up here prior to tonight?! Damn, so many missed opportunities.
Afterwards we headed back to the room and had some tea, then it was back to chilling out until bed time. An awesome day indeed.
Wednesday, Mar 11th
Today was another beach day. We headed out after lunch and then parked ourselves in the usual spot.
Although today we must have spent longer there than usual, as we got sunburnt for the first time on the trip so far. Not too badly, but just enough to be uncomfortable. Neither of us went swimming as it was so damn cold in the water.
We had also noticed that the sun seems to be staying out longer now and it has stopped getting cold at around 3pm. We didn't head off until after 5pm today, so certainly got our moneys worth.
Then it was back home via the supermarket (as usual). We made a quick tea, then decided to head back out to get one of those delicious apple tarts! As usual, it was bloody delicious.
When we got back home we started reading some converning stories of the coronavirus count rising in our area and soccer matches being cancelled. All of a sudden things started feeling a bit scary.
Thursday, Mar 12th
This morning we wake up to news that La Liga has been suspended and the coronavirus was starting to pick up. We now had a decision to make, should we stay on vacation, or high tail it home.
Things were not too bad yet, but given what had happened to Italy, we anticipated similar things could happen in Spain. So over breakfast we checked out what flights were available.
In the end we made a spur of the moment decision. We decided to pull the plug on our trip! We booked the 11:45am flight from Alicante to London for tomorrow morning, so today was now officially our last full day in Spain.
We spent most in the room. Linda had a few urgent jobs to take care of (more Airbnb listings to write) and then after lunch we took off for a walk.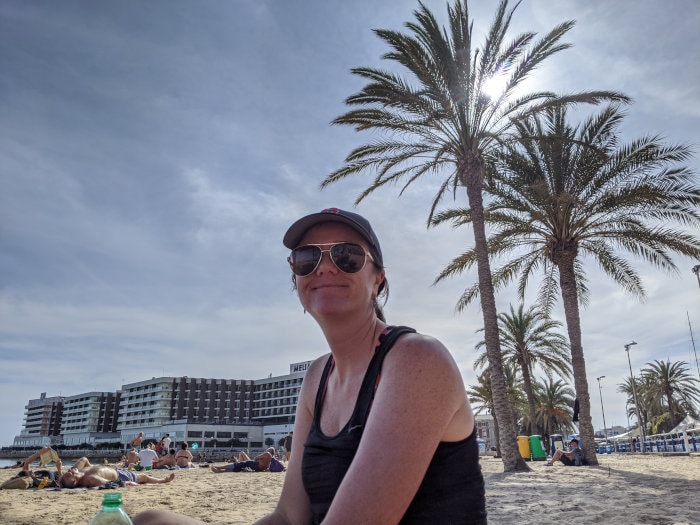 There was no way we could leave Alicante without saying goodbye to our friend Kyro, so we decided to make the long walk back to the park for one last visit.
Unfortunately Kyro was nowhere to be seen, we waited for around half hour but he never showed. We then decided to spend the rest of the day at the beach, parking ourselves under the shade of a palm tree and not moving till about 6pm.
Then we went to go meet Nuria in the city who'd printed off our plane tickets for tomorrow. On the way home, we went to our supermarket for the last time. We couldn't believe our eyes, almost all the shelves were empty and people were scrambling like mad for supplies.
It was starting to sink in now, we had made the right choice to come home, things were only going to get worse. When we got back we chilled out on our roof top for the last time, then made burgers for tea. Then we went for our last night walk and got another little apple tart. We also found a souvenir to bring home.
Friday, Mar 13th
This was it, time to fly back to Australia! We packed our stuff, watched a sunrise then walked to our bus stop at around 9am. Our plan was to land in London, jump on the Qantas website and then book a flight to Melbourne for tonight.
We caught the bus to the Alicante airport, after having missed the first one by mere seconds. The flight to London was about 3hrs and the flight was actually only half full. Apparently 55 people failed to show for our flight!
When we landed we jumped straight on the laptop to book our flight home, but wouldn't you bloody know it…. the Qantas website was down for schedule maintenance.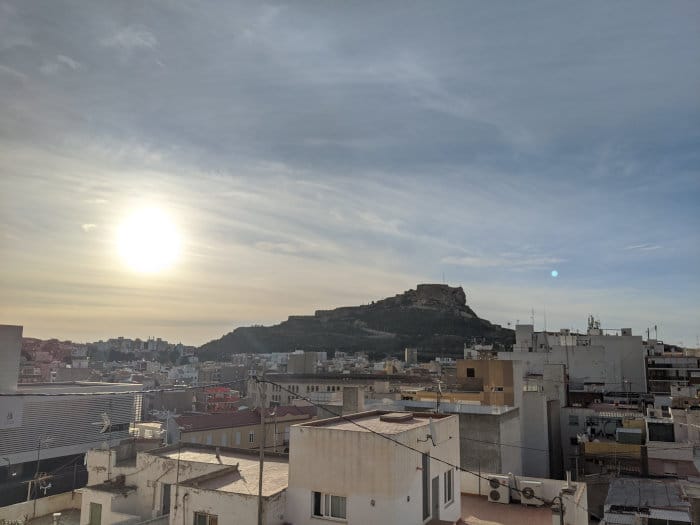 Given we'd flown into Gatwick, we thought we'd bus it to Heathrow and try and book a flight at the desk. The bus to Heathrow cost us $50ea (ridiculous!!). But turns out the lady on the help desk was absolutely useless.
Not only could she not book a flight for us, but she said you can't use reward points for flights 72hrs before departure. This changed things significantly. So we found a Costa coffee and then booked a hotel. The Renaissance about 1.5km away. We got it for free, including breakfast, using our Expedia points.
But the time we checked in the Qantas site was back up. Sure enough, it allowed us to book flights to Melbourne using points, confirming the lady at Heathrow was an idiot. Unfortunately all flights for today were gone, but we got one for tomorrow night via Singapore. It was business class, luckily.
For tea we found a strange little mini mart that was selling Indian food, but it was surprisingly delicious. Then it was back to the room where Linnie finished off some more listings, then we watched Hunted before heading to sleep.
LEaving Spain
A Night at Heathrow
Where we Stayed in London