After a nice rest day yesterday, today began with a lovely 5am wakeup call as we got up extra early to catch a rugby league match live telecast. That's right, rugby league!
Normally we aren't rugby fans, but you can't help but be fascinated by State Of Origin.
In the most anticipated Origin match ever, NSW were looking to break the QLD eight year stranglehold. In fact the last time NSW won a series, words like Facebook and Blog didn't even exist.
But anyway, we were up nice and early for breakfast, then caught a bus to a site The Fanatics had setup with a big screen and a special live telecast. There were about 1000 people here with 80% of them die hard and loud NSW fans, so the atmosphere was buzzing.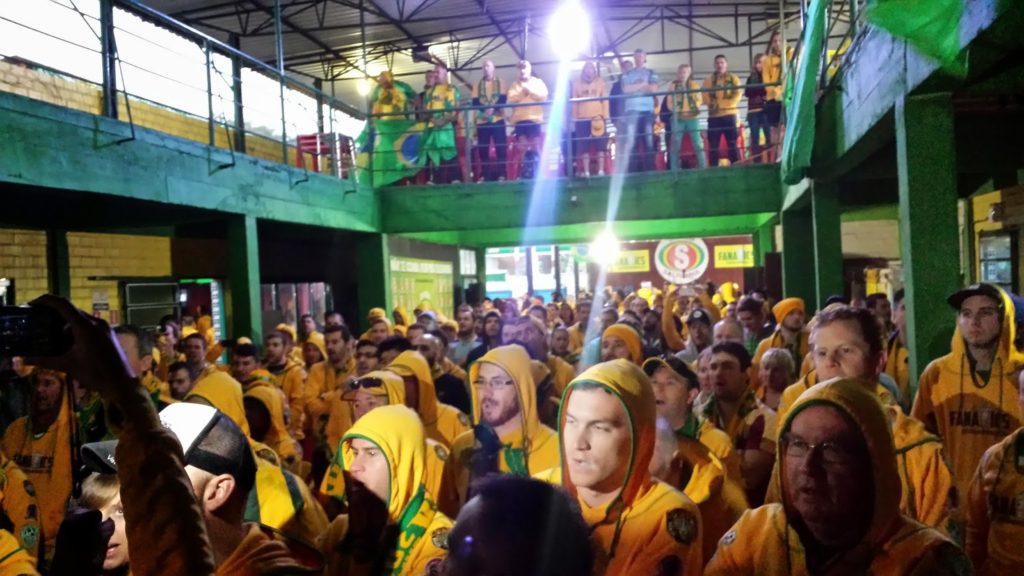 NSW went on to win a low scoring thriller 6-4 and their first series since 2005.
The atmosphere was electric, with everyone cheering all in unison for every play, there were even fans crying with joy at the result. Yes, literally crying!
Now it was time for the main event. We enjoyed a local live band and exotic dancers to get us all in the mood for the upcoming Socceroos game at 1pm, then we all marched to the ground about 1km away again creating a sea of yellow.
The locals absolutely loved it adopting Australia as their second team. There were television cameras and helicopters every where, as we walked past a sea of orange that were the Dutch fans.
They were a friendly bunch and we were giving each other high fives as we walked past each other, and wished each other luck.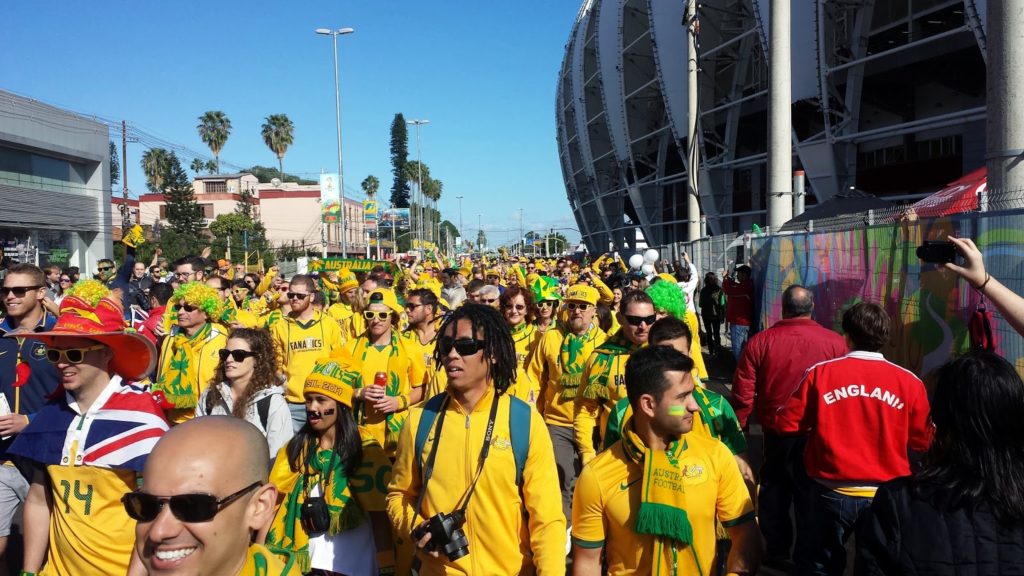 Australia pretty much came into this game with no hope. To set the scene, the Netherlands are a powerhouse of world football who have reached The Final on three occasions, including four years ago when they lost in extra time.
They were coming offer a 5-1 win over reigning champions Spain, who had also won the past two Euro Cups.
On the other hand Australia are minnows. They are made up of A-League players as well as players from the second and third tier of European football leagues. We were riddled with injuries and have just had a new coach taking over. So to say we were underdogs is an understatement.
Anyway we took our seats, excited about the match, only to find out we were sitting in the midst of all the Dutch fans. We had awesome seats though so that made up for it.
We started well controlling the ball for large parts, but Arjen Robben scored on a counter attack to put the Dutch up 1-0 early.
The best was yet to come. Only seconds later Tim Cahill scored one of the greatest World Cup goals in history, a volley out of nothing. The crowd went nuts, strangers were hugging each other and beers were flying through the air.
Then in the second half the unthinkable happened, Australia took the lead with a Mile Jedinak penalty. The stadium was absolutely bonkers and we were starting to believe. However the Netherlands found an equaliser not long after to make it 2-2.
Australia then almost went ahead 3-2 with Matthew Leckie trying to chest down a goal but falling agonisingly short. The Netherlands then went up on a counter attack and made it 3-2. We had plenty of chances, but we just lacked the polish.
It was a superb day and everyone walked away feeling like winners despite the scoreline. We then went back to the FIFA Fan Fest live site to watch the Spain vs Chile game, which Chile amazingly won and sent Spain packing out of the tournament.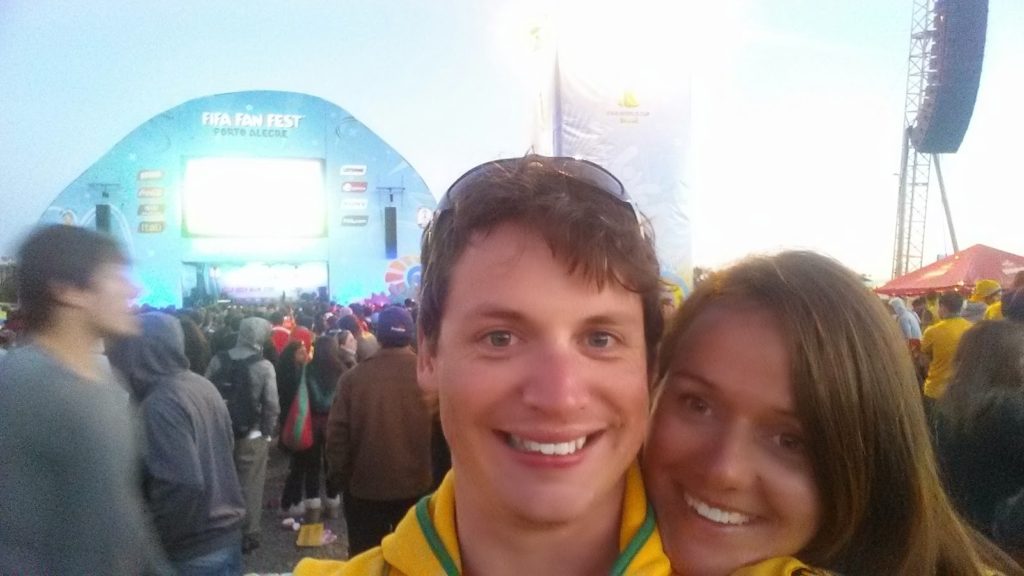 This means that Chile are guaranteed a spot in the second round and we will actually be in Chile for the match, which will likely be agains Brazil. Bingo!!
It was then back to the hotel for tea and we watched the Croatia vs Cameroon match while we ate, then headed back to the room for an early night, after what had been a long but exciting day.
Porto Alegre has been a blast and we will be sad to leave, but next stop is Florianapolis, a beach paradise and we are staying in a beautiful resort.
Tomorrow is another early start with a 7 hour bus trip to endure, but Florianpolis promises to be one of the highlights of the trip.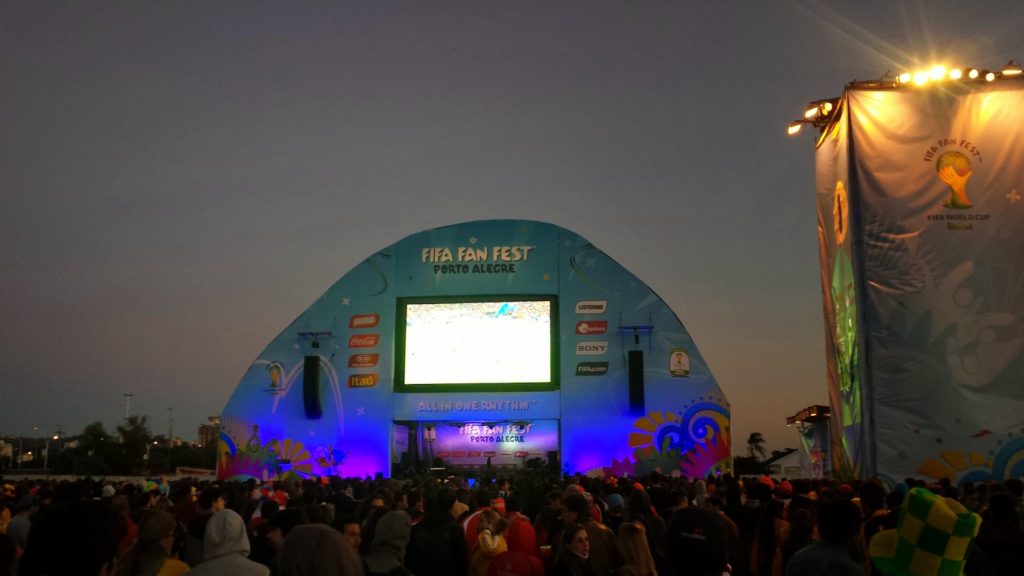 Where We Stayed in Porto Alegre