After a little sleep in we thought we'd go explore some of Santiago a bit. First impressions are this was a very nice city with a bit in common with European cities with plenty of bricks and cobblestones everywhere. We also noticed a lot of bakeries which was a change in scenery from Brazil.
Our aim today was to explore the city a little in the morning, then find somewhere to watch the much anticipated Chile vs Brazil second round match.We got quite a bit of luck coming in on the day that Chile
We got quite a bit of luck coming in on the day that Chile were taking on Brazil and we knew it would be a big afternoon.
Without any idea where we were heading or where the festivities were we set off on our way and got ourselves a Berliner for breakfast. Basically a jam donut, which was absolutely divine. They sold these in Germany so it took us back to our time there.
Next up, we managed to find the Mapocho River which runs directly through the city from The Andes. There was a beautiful view of The Andes in the background which is what makes this such a beautiful city.
We checked out a few stops and then realised the match was starting soon, so followed a few local fans kitted out in their Chile gear.
That led us to a Fed Square type area that had a big screen, police everywhere and over 5,000 fans cheering as the game was shortly due to kick off.
Of all the fans we saw on our Brazil trip, the Chileans were the ones who cheered the loudest and had the best chants and songs.
Listening to them belt out the national anthem was spine tingling. Kick off was just as exciting and the game started off pretty frantically. But things went quiet in the 18th minute when David Luis scored for Brazil and everyone dropped their head.
It didn't take long to get loud again as their star Alexis Sanchez scored an equaliser in the 32nd minute and the noise was absolutely deafening. They seem to celebrate their goals by throwing their beers in the air in which we were covered in, along with confetti everywhere. It was absolutely superb.
The two teams went into half time locked at 1-1 and that was the final score as well after they could not be split after 90 minutes. Next up was extra time and Chile almost stole the match in the last minute of extra time, only to hit the bar and fall agonisingly short.
Oh no, the dreaded penalty shootout! It was now a 50/50 and to say the fans were nervous was an understatement. It was an emotional roller coaster to say the least.
Brazil had a 2-0 lead at one stage before some goalkeeping heroics from the Chilean keeper got them back to 2-2 on the final kick.
Neymar stepped up for Brazil and made it 3-2. So here we go, if Chile missed this it was all over, if they hit it we continue on. Gonzalo Jara was selected to take the kick, much to the gasps of the fans. He stood up, took the kick and then saw the ball rebound off the side bar. Chile had lost 🙁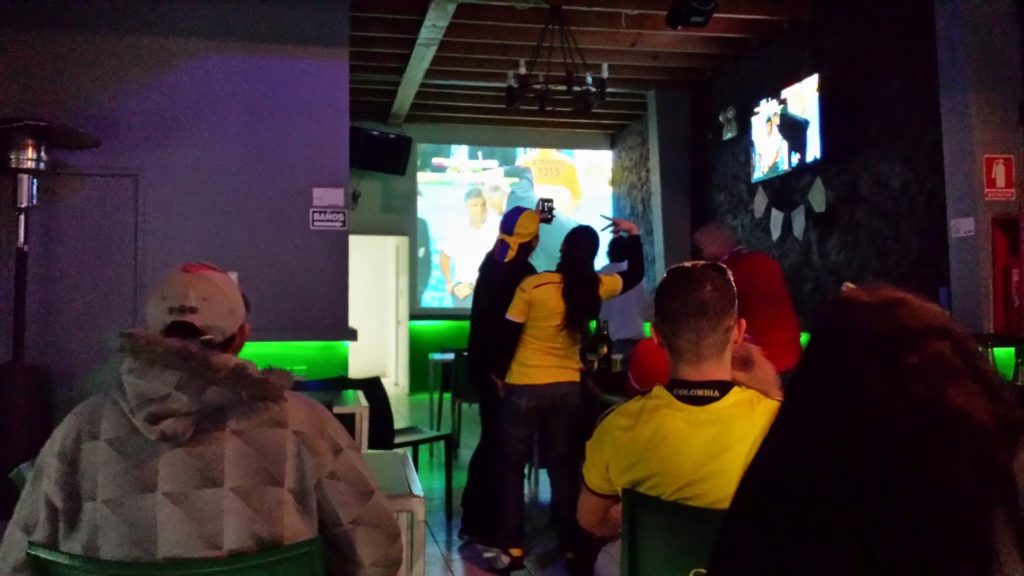 You could almost hear a pin drop. Chile fans were shattered, some on their knees crying, while most vacated the area pretty much instantly.
It was actually pretty sad as we felt bad for them. The party afterward would have been amazing had they won.
Anyway after a day which saw us get soaked in beer and confetti and god knows what else, we headed back to the hotel and had a shower and asked the hotel clerk where we should eat tea.
We also booked in a trip to The Andes for tomorrow which we were looking forward to.
We found a restaurant area and watched the Colombia vs Uruguay game with a bunch of Colombian fans.
That was also good fun as they went on to win the game 2-0 and it was a pretty good vibe in there. After that we grabbed some tacos and headed on home to the hotel to round out a pretty exciting day.
How Hotel Room in Santiago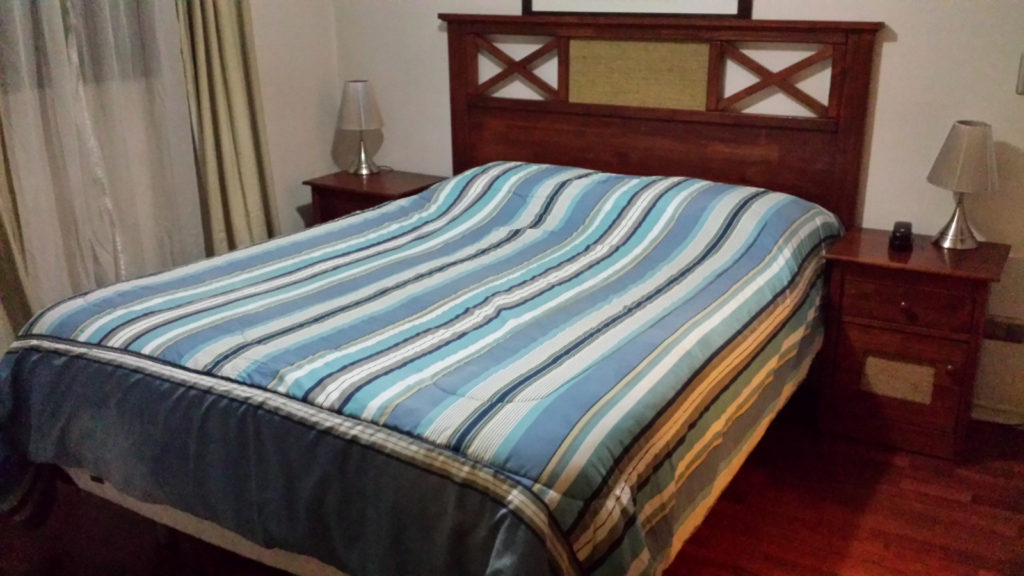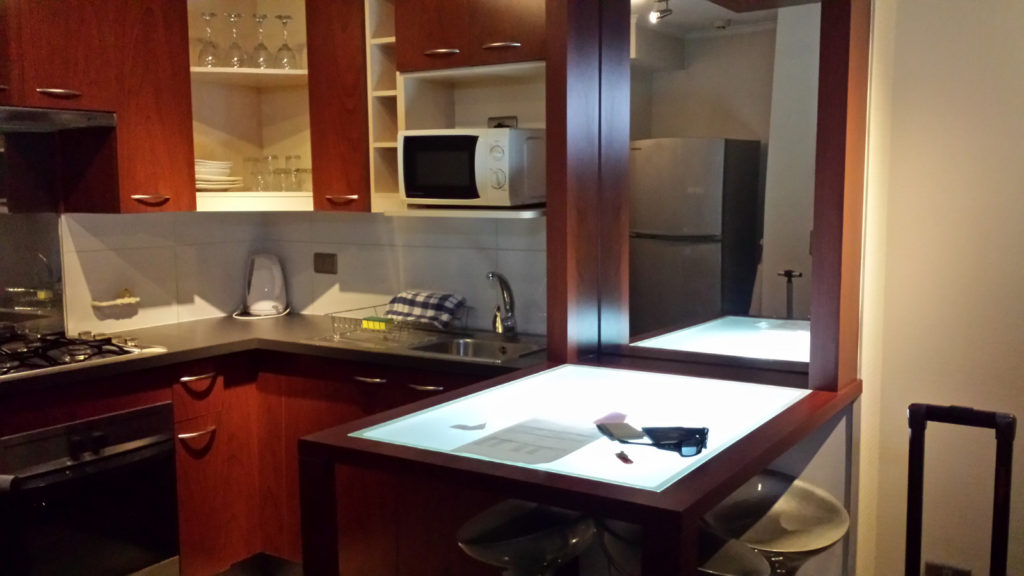 Where We Stayed in Santiago