Wrestlemania 34 was finally upon us! The day had finally come and we were super excited for the day ahead.
Our day began with a sleep in until about 10am, then a long walk around the city looking for somewhere to eat breakfast. This was not an easy task given there were thousands of other people doing the same thing.
Strangely, we ended up at the same place as yesterday without even realising. We'd gone in different entrance than yesterday.
After breakfast we decided to go for a walk to the Superdome to see what kind of festivities were going on.There was a Wrestlemania 34 block party going on with live music, activities and best of all – free Snickers like at WWE Axxess!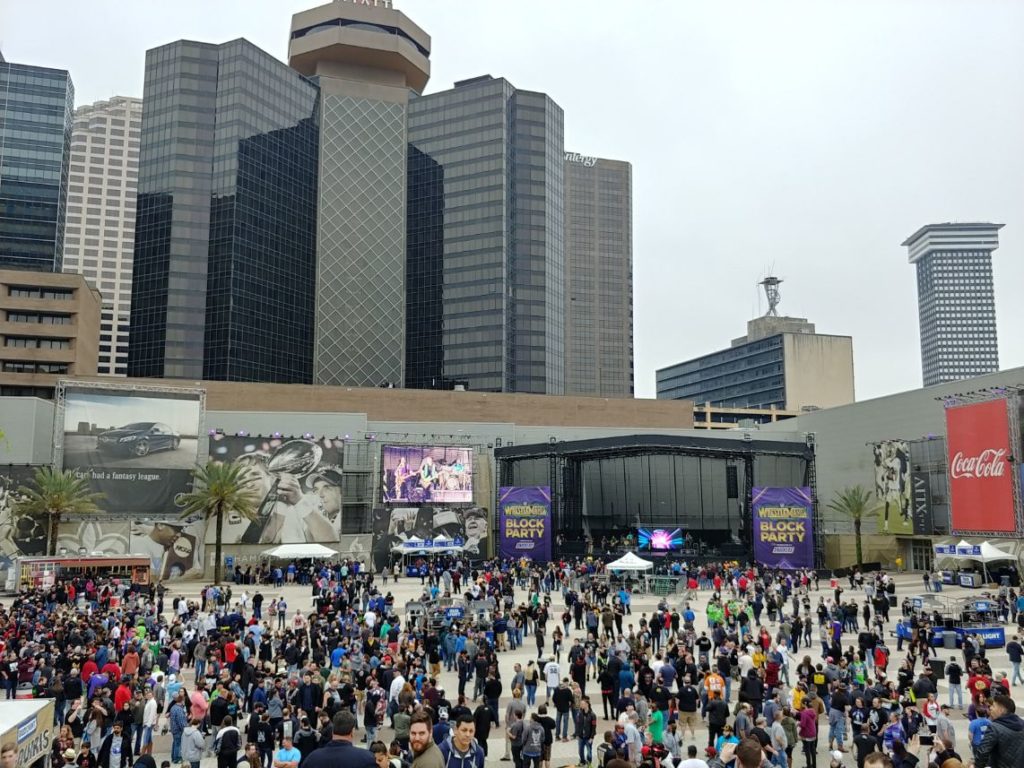 We knocked about here for a while, then went to grab some lunch from Rouses grocery store. Then met up with two to make our way to the Superdome for Wrestlemania 34!
WRESTLEMANIA 34 CARD
Men's Battle Royal
Cedric Alexander vs Mustafa Ali
Women's Battle Royal
Seth Rollins vs The Miz vs Finn Balor
Charlotte vs Asuka
Jinder Mahal vs Randy Orton v Bobby Roode vs Rusev
Kurt Angle & Ronda Rousey vs Steph & HHH
Bludgeon Brothers v Usos vs New Day
Undertaker vs John Cena
Daniel Bryan & Shane v Kevin Ownes & Sami Zayn
Niz Jax vs Alexa Bliss
AJ Styles vs Shinsuke Nakamura
Braun Strowman & Nicholas vs The Bar
Brock Lesner vs Roman Reigns
WRESTLEMANIA 34 HIGHLIGHTS
In what was a pretty stacked card, a card many were saying was the most stacked ever, there was always going to be plenty of highlights.
It was a 7-hour show with 14 matches, a Wrestlemania record. With such a long show, you'd expect plenty of filler or a lot of dull moments, but those moments were few and far in between.
The opening eleven matches were all exciting and unpredictable. The only dampener were that the final three matches on the card were big let downs, especially the main event.
It left a little bit of a sour taste in everyone's mouth, which is a shame because it was otherwise a fantastic event which I am sure everyone of the 78,000 in attendance enjoyed.
Wrestlemania 34 Photos
TOP 5 HIGHLIGHTS
#1 Charlotte ends Asuka streak
This match was brilliant. Heading in to it, everyone expected Asuka to continue her 244 match winning streak, and 914 day undefeated streak. The match was back and forth and was edge of the seat stuff, but just when we thought Asuka was going to win the match, Charlotte reversed and applied the Figure 8 Leglock, making Asuka tap in the process.
#2 Shinsuke Nakamura entrance
Wrestlemania entrances are always more elaborate, but the Shinsuke Nakamora entrance stole the show. A full band and dancers were on hand as Nakamora came to the ring in style. The entrances for Finn Balor and Triple H were not far behind, either. Unfortuntately, the Nakamura vs AJ Styles failed to live up to the hype, but the Nakamura heel turn was interesting.
#3 The Undertaker returns
John Cena had been calling The Undertaker out for weeks without getting a response. We had a sneaking suspicion he would be there, but there was still that element of doubt. Then when the bells rang the whole crowd lost their minds and we were lucky enough to see The Undertaker fight for a second consecutive year. It was a quick 2-minute squash match.
#4 Ronda Rousey debuts
Surprisingly, one of the best matches of the night was Ronda Rousey's debut in the WWE. She joined Kurt Angle in a tag team match against Triple H and Stephanie McMahon. Despite it being very obvious who'd win, it was still an entertaining match. The entrance of HHH and Stephanie was something to behold too, sparing no expense whatsoever.
#5 Daniel Bryan returns from retirement
One of the loudest pops of the night was for Daniel Bryan. It was his first fight in almost three years given he had retired. But a fortnight before Wrestlemania he received the news he could return to the ring. He teamed up with Shane McMahon to take on Kevin Owens and Sami Zayn in a tag match.