Another early wake up call today as we were heading off to the Whitney Plantation for another day of discovery in the deep south.
With Linnie still dead to the world, Adam heads out for breakfast on his own and ends up in the hotel lobby for some rather delicious oatmeal.
A far cry better than what Linnie has back in the room, microwaved oats with some nuts and berries on top. The addition of the microwave still proving to be an excellent idea.
We get picked up in a little black minibus and make our way back down the same roads as earlier for about an hour until we hit Whitney.
As it turns out this is out bus drivers first ever time taking a group to this plantation, so we end up getting there before it even opens.
So we all wait out front for about half an hour and then have to wait another half an hour for the tour to start.. Luckily there were a few rooms of history to read and look over that kept us busy while we waited.
Whitney Plantation
Time for our tour, we head out onto the property with our tour guide. This guy started by warning us that they don't hold back the truth on Whitney.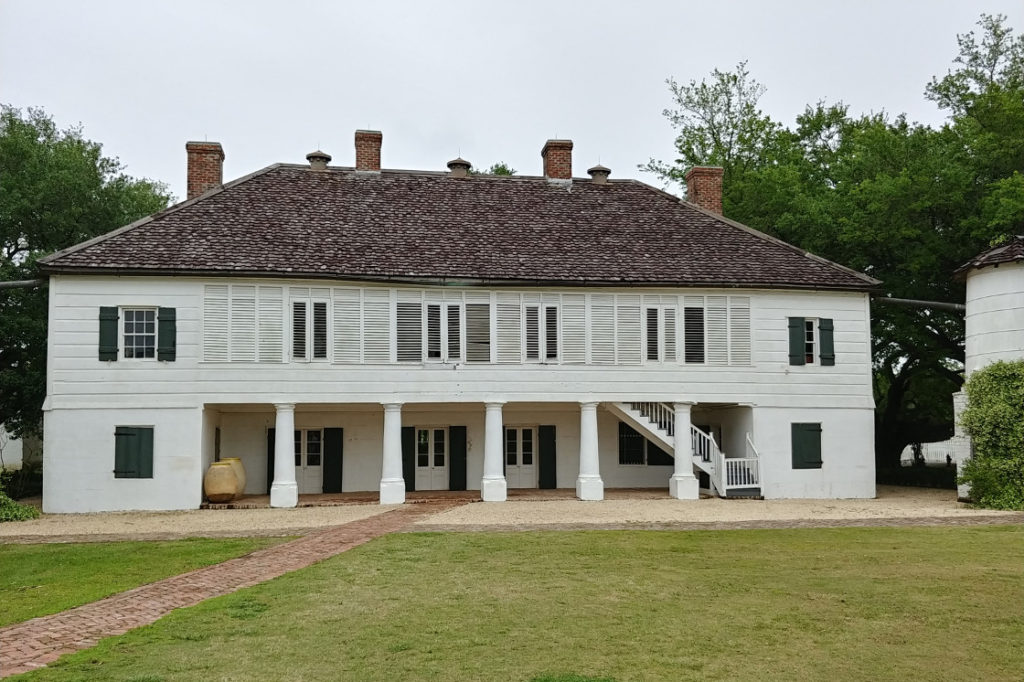 He goes on to tell us throughout the tour about how badly the slaves were treated and how easily they could be bought and thrown quite literally in the ditch when they could no longer work.
In fact, the plantation owner will have paid off what it cost to buy one slave in just 5 months.
The average lifespan of a slave in Mississippi was 10 years, no matter how old they were when they arrived.
So, instead of looking after the slaves, giving them quality food and housing, they simply used them for as long as they could, as cheaply as they could, as it was more cost effective to just buy a new slave. They were business transactions.
We toured a restored chapel, the memorial plaques that show every slave that was ever at the plantation, the main house and then over to the slave quarters.
It was a far cry from the cushy plantations that we saw only two days ago, the raw honesty of our guide was eye opening and we really appreciate that places like this still exist, controversial or not.
While it was a fascinating tour, we left feeling quite upset at how grim it must have been to live back then as a slave. We really had our eyes opened as this is stuff they don't really let you know in the mainstream.
Whitney Plantation Photos
Back on our little bus, we take the quicker route this time along the freeway and across the bridge to nowhere. Thankfully it wasn't long before we arrived back in the city.
The driver pulls up at the first hotel drop off point, and being that it was only a short walk to our hotel, we bail out early so we can stretch out legs, not surprisingly after sitting for 7 hours at Wrestlemania.
The next hour or so we spent in the hotel foyer area catching up on some blog entries, which has been hard to keep up with! We found an awesome little spot and had a great rest.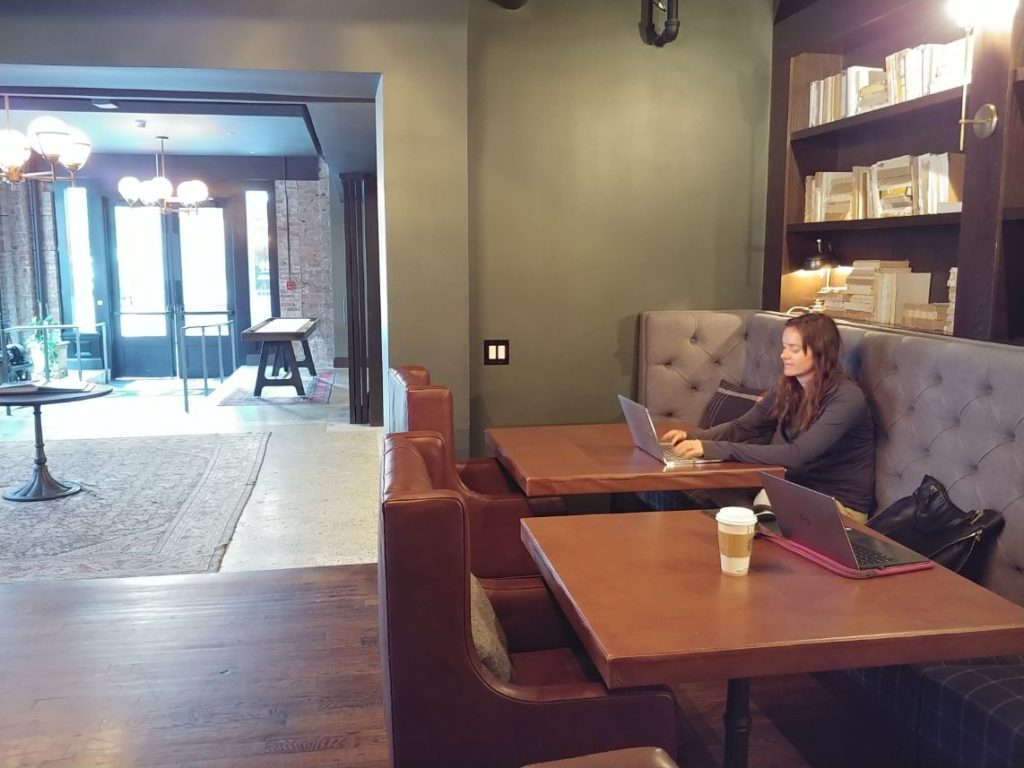 Quite hungry after our expedition, we head back to the Picayune Social House for lunch this time hoping to have the Vegetarian vegetable stuffed vegetable. But alas, this was only for dinner, so we settle for the black bean burger (minus the bun for Linnie) and chow down.
We met the nicest waitress there who is also a vegetarian and gave us some great pointers on not only vege restaurants but her favourite rock bands from Perth. She was quite happy to meet Australians and wanted to move there asap. I dont blame her!
We head back up to the room and have a nap, it had been yet another long morning.
Nearly time for RAW (yes more wrestling) we head down to the lobby area and do some work on our pcs before heading off to meet the others at Walk On restaurant right near the stadium.
Monday Night Raw
The RAW after Wrestlemania was always pumping with all the superfans from the day before. So we were excited to walk to the ground and get to our seats. We take our seats on the top level and get ready for the show..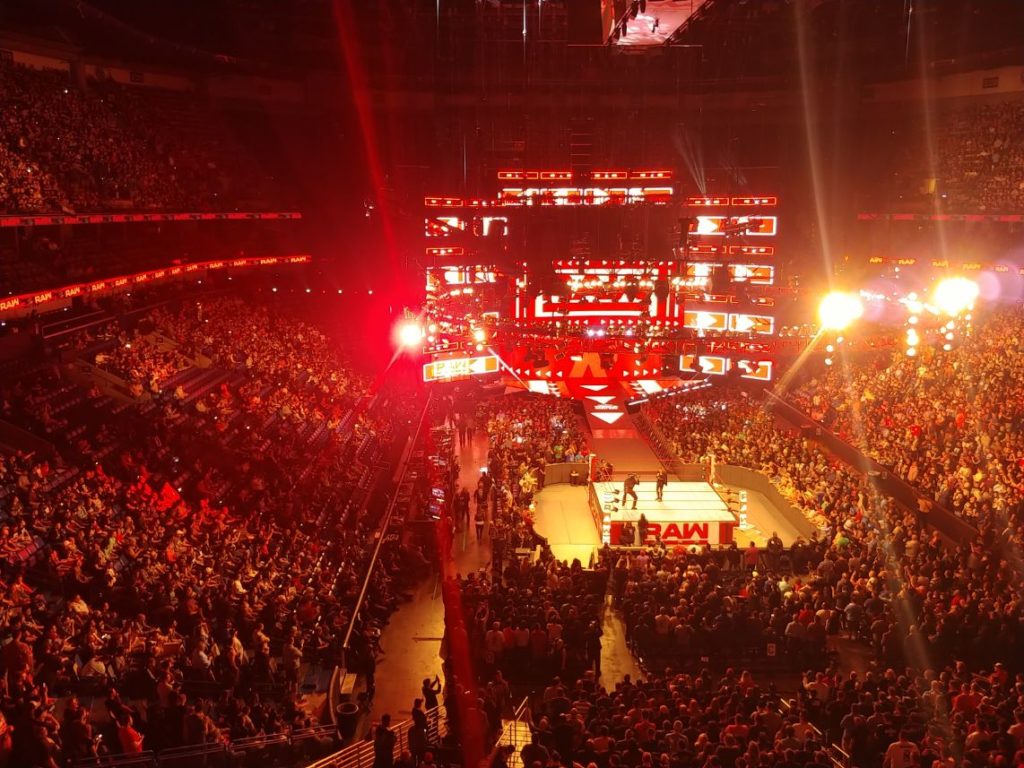 But wait, where is the screen to watch all the action? Being so high up you needed one to keep tabs on what was happening…
As it turns out, the big screen was covered up by a bank of speakers, and being that we were up so high we couldn't see the main screen either…
This was a bit shit! After two fights Linnie cracks it. We could see some spare seats down on level one and decide to try and sneak in for a better view.
The damn ushers here were vigilant, we tried sneaking in behind the curtain down into the better seats, but we could see her eyes us off from two aisles away… Fail.
We figure we'll just walk in confidently and see what happens, this has worked in the past. But no, we get asked for our tickets straight away.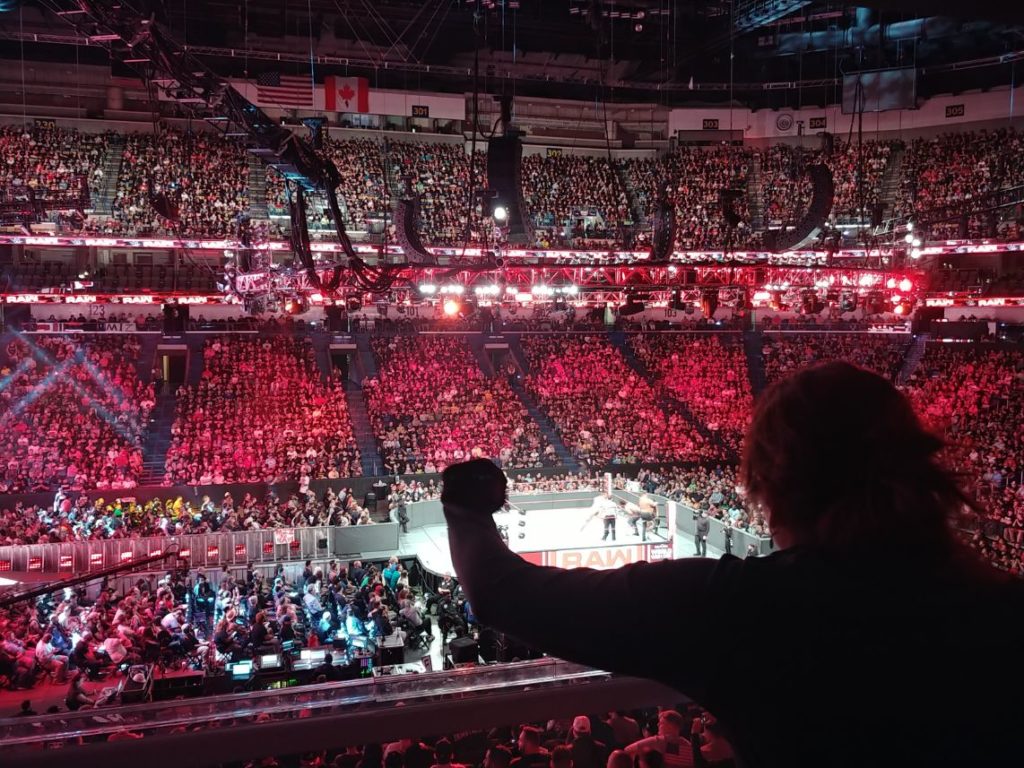 So Linnie does what she does best. Puts on a puppy dog face and accentuates the Aussie accent. "We cant even see whats going on up there, the big screen is covered up and we have come all the way from Australia to see the wrestling, can we not sit there?" She points to a spare bank of seats.
It worked! She let us sit there after some deliberation and even come back minutes later saying how she appreciates the honesty as everyone usually tries to sneak in. Little does she know thats exactly what we were trying to do.
As for the show itself, it was a decent episode. It kicked off with a segment with Ronda Rousey and Stephanie McMahon and it got a huge pop.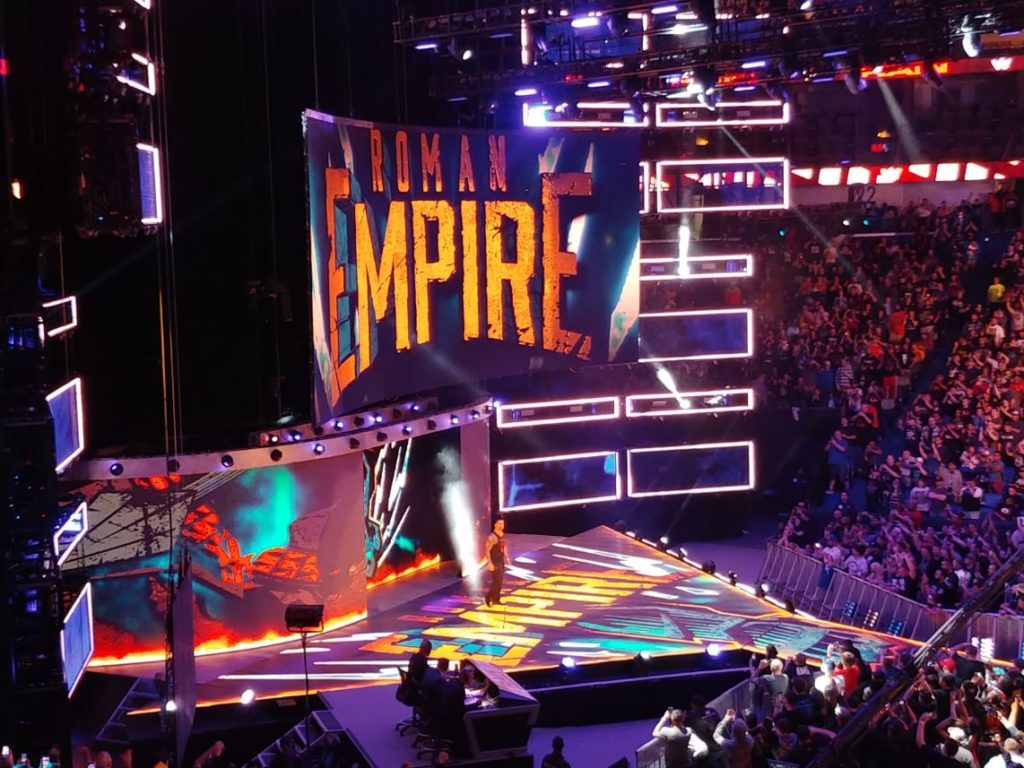 Bobby Lashley made his return to WWE after a long hiatus, while Kevin Owens and Sami Zayn appeared on Raw having been beaten at Wrestlemania last night on the Smackdown brand.
Other big news was Samoa Joe returning and calling out Roman Reigns for being a fraud. The boos that Roman got were massive, after the woeful match he had with Brock Lesner last night.
Apart from that not a lot else happened. It was a heap of tag team matches or crappy mixed tag matches that didn't mean anything.
The show finished, we head back to Walk On to meet back up with the others that we had left up on level 3. The menu being a bit shit and having nothing that we could ear, we opt for a side of fruit salad for dessert.
Time for bed now, we walk back to the hotel and hit the hay. It had been a very eye opening yet enjoyable day.
WWE Raw Photos