7:30am and both our alarms ring out simultaneously, it was time for rafting, the day we'd been waiting for the entire trip! We jump out of our tent, pack our waterproof day packs and pack the tent up, it was coming with us on our overnight stay along the Arkansas River.
We drive back to the Wilderness Aware Rafting HQ and meet our amazing guide who goes by the nickname Mother. We get our wet suits, booties and splash jacket all sized up and put them on, we look awesome!
After grabbing a quick breakfast we get our life jackets, helmets and our paddle and listen to a rather long safety briefing that explained what we do if we flip, fall out or get stuck up against a rock etc.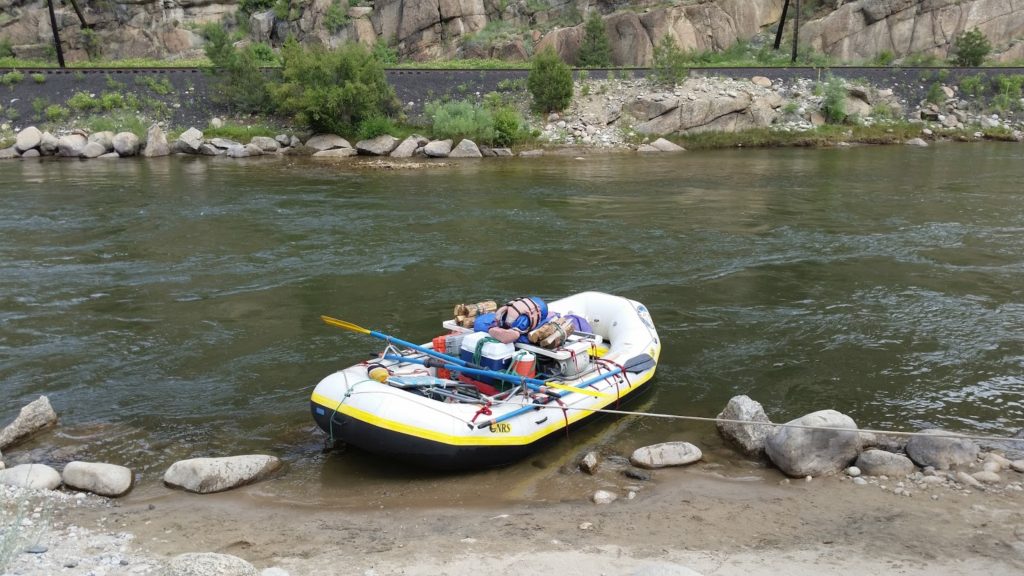 Pretty confident we can handle everything now, we all pile into a bus and make our way to the put in site about 20 minutes up the road.
Coming with us for the first half of the trip was a group of Boy Scouts that were earring their rafting and geology badges which was pretty cool to be a part of.
Our rafts there waiting for us we clamber in, the water only reaching about 10 degrees it was quite chilly but the water suits and the booties helped a lot and kept us warm.
We push off and begin our 2 day adventure, the first rapids came thick and fast, our guide Mother yelling out to paddle forward, backward and then yelling to stop it was exhilarating!
Completely soaked from numerous boat dives we are having a ball, one of the boats with the Boy Scouts it kept getting stuck on pretty much everything, even their guide fell out of the boat at one time trying to get around a rock and we had to wait close to 10 minutes for them to get unstuck, they're really earning their badge today.
We continue on for about another hour until we stop in for lunch, it was a feast for the ages with carrots, celery, cold meats, cheese and veggies for sandwiches, Mother had gone all out for us.
Stuffed full we push on leaving the Boy Scouts and heading out on our own, with just the 3 of us in our new bigger boat that had all our overnight supplies on it.
The rapids of the 2nd part were pretty epic, with the he bigger boat we were much heavier which meant we flew down through the bumps and drops.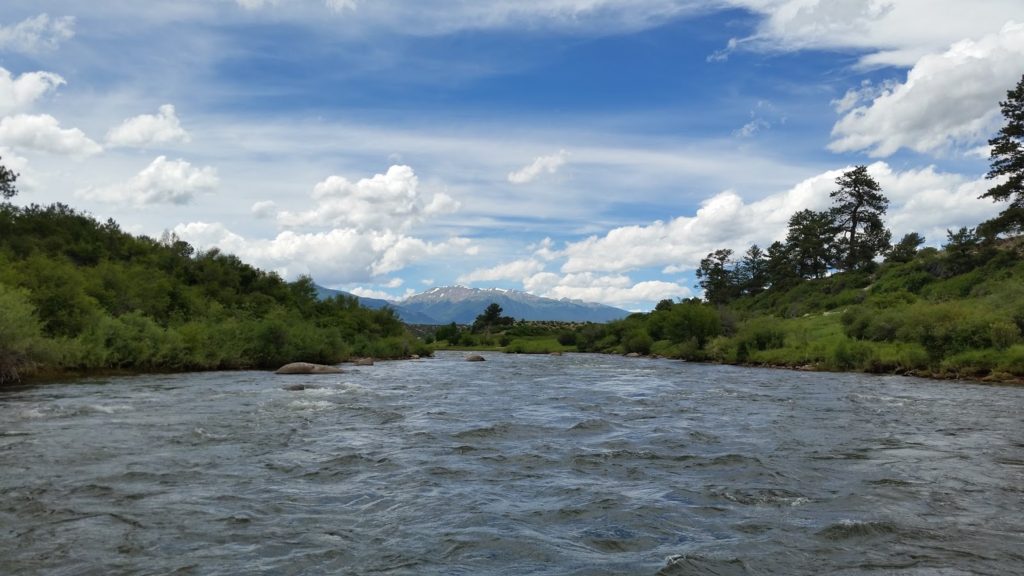 Still impressed that we hadn't fallen out yet, there were a few close calls where Adam fell into the boat while rescuing Linnie from falling out the other side on what was one of the biggest rapids we saw for the day.
With mother knowing all the good spots to camp we pull into our spot for the get after about 3 hours of rafting.
While we get our tent and bed mall set up Mother was busy unloading the boat and get all our food, fire and other comforts all set up, it was a little oasis on a tiny island in the middle of Browns Canyon with nothing but the sound of the river, paradise.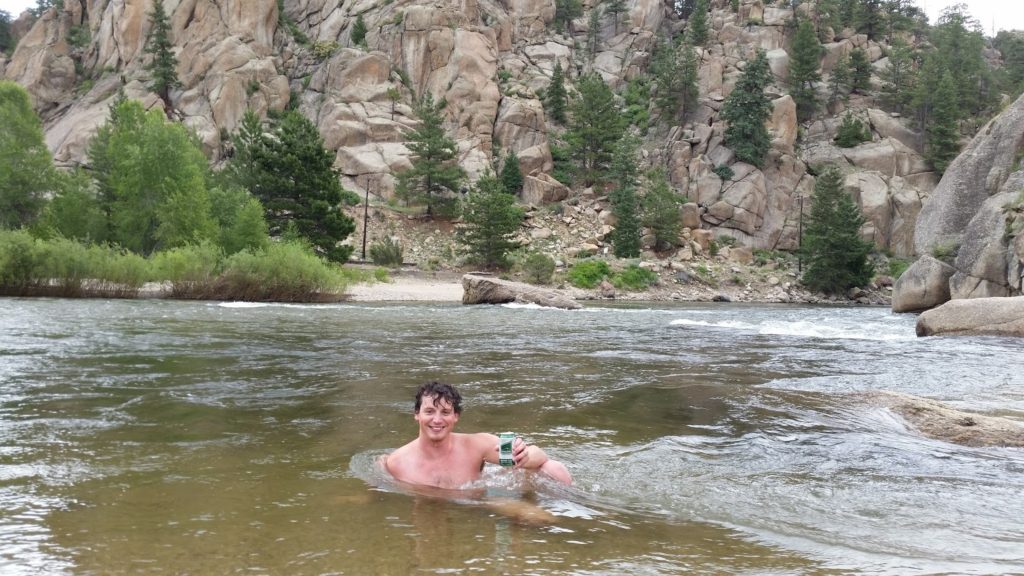 Jumping out of our wetsuits we step down into the river where Adam had a very very refreshing wash in the river, not knowing how he does it with the water being freezing, he managed to strip down to nothing and lay in the water for some skinny dipping. He is a freak of nature!
After we were all dry, Mother treats us to an amazing bread roll all hollowed out and filled with a delicious cream cheese and basil dip for our entree and then a chicken stirfry that he had made from scratch as well as a carrot cake for dessert, a very multi talented guy.
He even brought some local craft beers for us to try.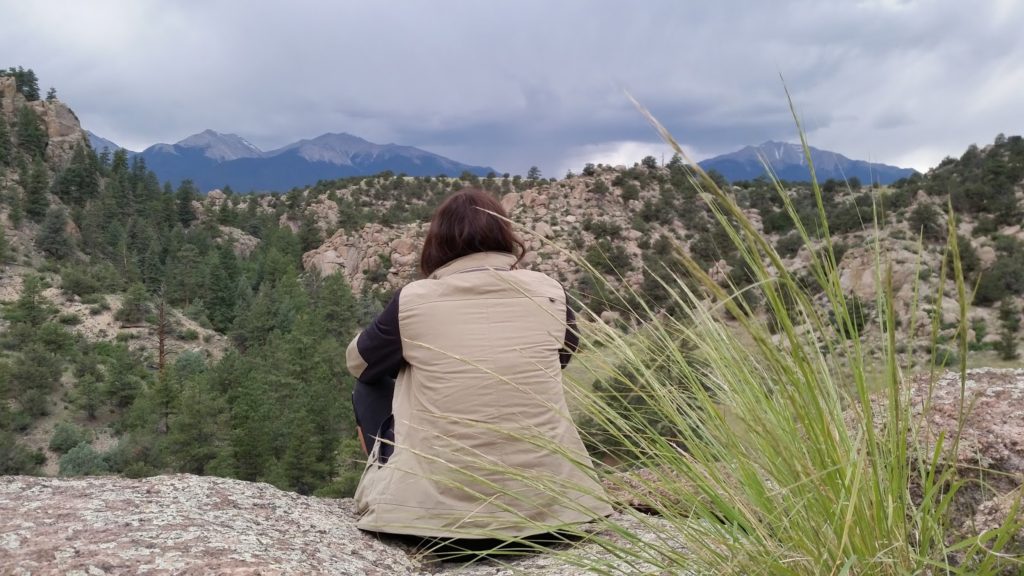 After dinner we hike up the the rocky cliff to see the sunset, it was so brilliantly pink and red with dark angry clouds above it, one of the nicest sunsets we had ever seen and definitely worth the climb up. We could even see lightning and hear thunder out towards the horizon.
However it was now close to pitch black and we had to get back down, lucky we had been eating lots of carrots lately and had a couple of head lamps which may have helped also.
We finish the night huddled around the campfire sharing stories of travelling and rafting until it was close to 11pm and very much time for bed. We tuck into our tent that was surrounded by pine trees and huge rocks and fall asleep listening to the sound of the river constantly flowing.
More Photos from Day 1 on the River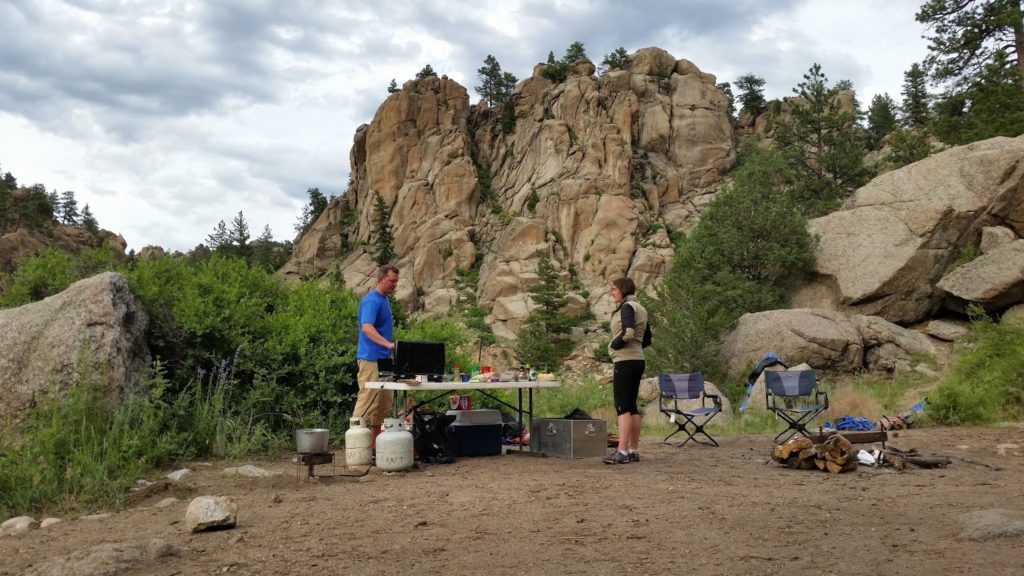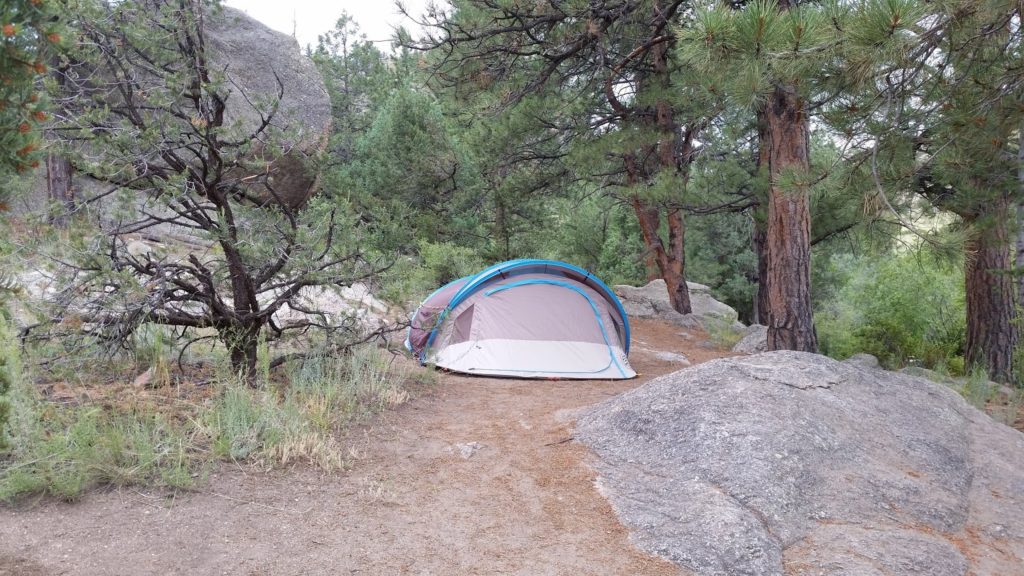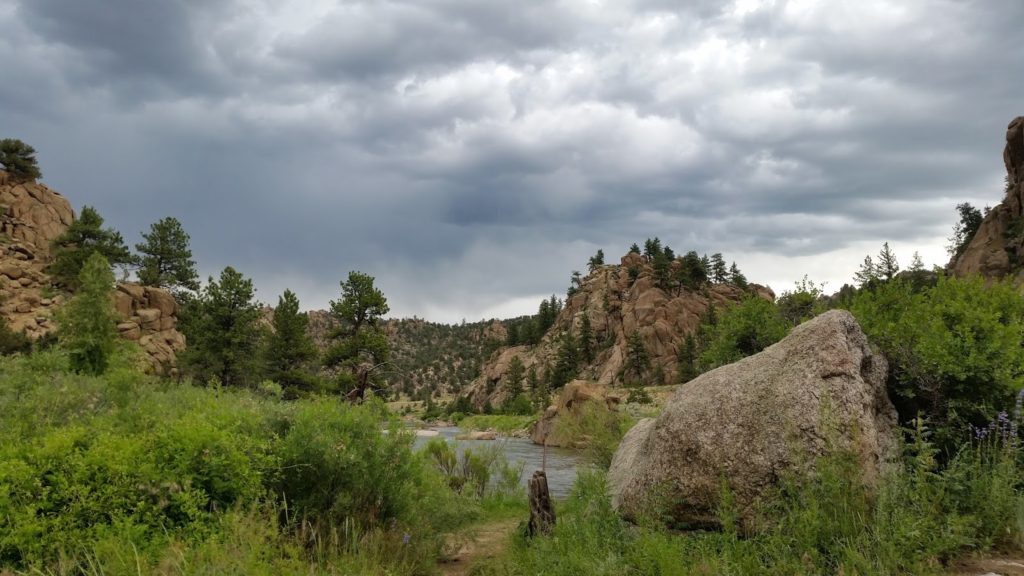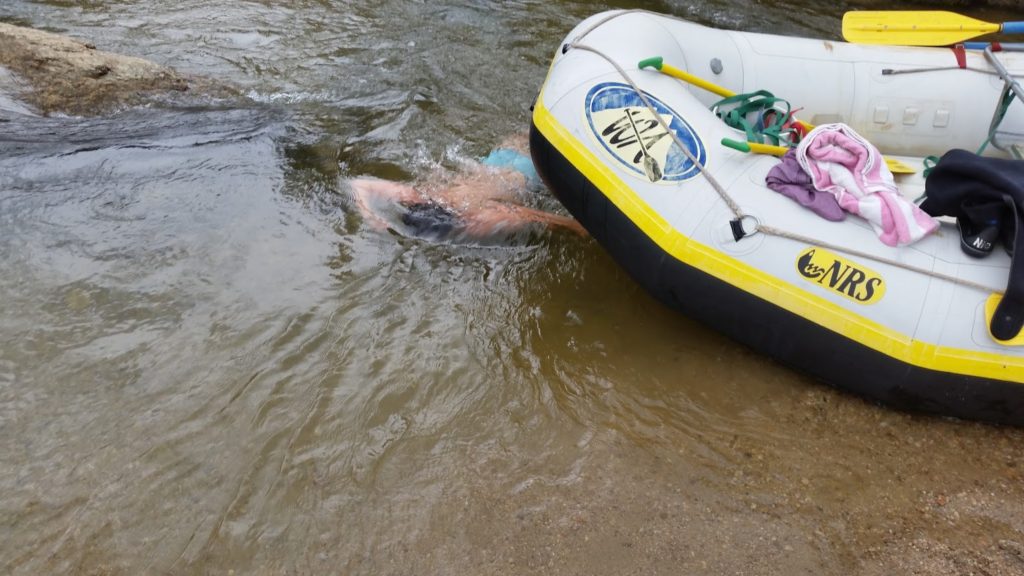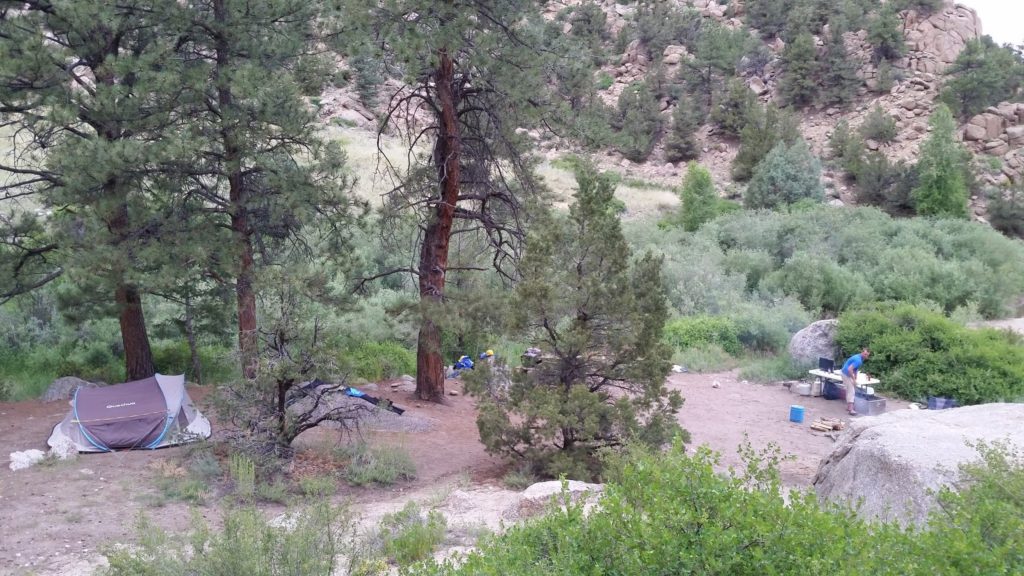 Where We Stayed – Colorado River