Excited to start day two of our rafting adventure we get up nice and early and meet Mother out on the shore for a very scrumptious breakfast of pancakes, sausages, strawberries, coffee and carrot cake.
We fill up our mugs with their special lemonade which tastes like it was made with real fresh squeezed lemons and then work on packing everything up and getting it all loaded back onto our boat so we can continue on our way.
Being that it was just us on the tour we could take our time and not having to wait for other people was a real bonus. We wriggle back into our rafting gear and sunscreen up, the sun was shining and it was going to be another beautiful day along the river.
Pushing off we are gliding along and hit a pretty big set of rapids right away which had us completely soaked within minutes of leaving our camp, this was about as much fun as a person can have on a river!
A little ways down the river Mother tells us of a really cool spot where you can see a little waterfall, so we pull the boat ashore and follow him up the cliffs claiming and jumping across rocks getting a little lost until we stumble upon a little nook against the cliff wall with a small but powerful waterfall running down it.
Not being able to resist we get right under it for an impromptu shower which really woke us up, it was as could as ice but quite refreshing!
Heading back down the cliff side we make it back to the boat, hurtling down more rapids we run into our old friends the Boy Scouts who had stopped for lunch, so once again we pull up along side them and walk up to where they were eating.
The next set of rapids was set to be a bit tricky and we had a pretty good view of exactly what we were in for up on the hill where the Boy Scouts were, a huge dip down into what they call the suckhole, if you got stuck in there it would take a long time to get pulled out, so Mother devised a plan and we were prepared to take it on.
We jump back in our boat, our paddles at the ready and with an audience of the Boy Scouts and their guides we meticulously make our way down and swing by the suckhole unscathed paddling like mad men the entire way, once through we can hear cheering from up on the hill, we raise our paddles in victory!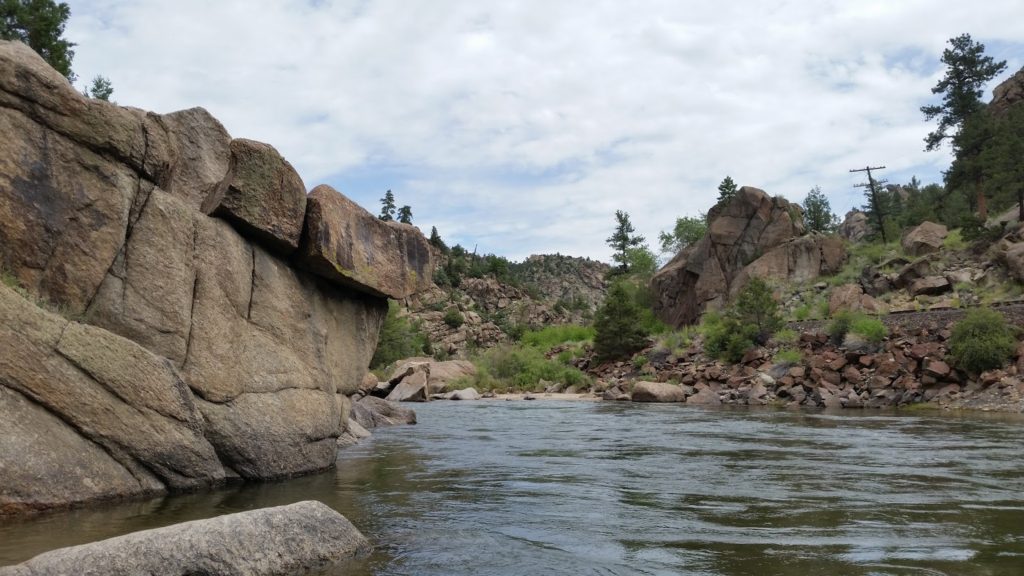 We float a little further down the river when Mother asked if we were game to jump off from a rock into the river, apparently the tour group doesn't let people do it.
But Mother, just being a part timer working over the summer, he said he'd risk it and just play dumb, this guy is a champion! So we pull up and see the rock, it was pretty high… mother goes first to show us how it's done and then it's our turn, eeeek!
Building up the courage to jump, Linnie goes first and plummets down, yeeeehhaaa, then Adam goes down and hits the bottom, what a jump! We swim madly back toward the boat so the current doesn't take us, if we weren't jacked up on adrenalin we were now!
Back down the river now we stop for lunch, while Mother prepared us yet another feast we went for a walk down along the river for about 30 mins and make it back right in time for the spread.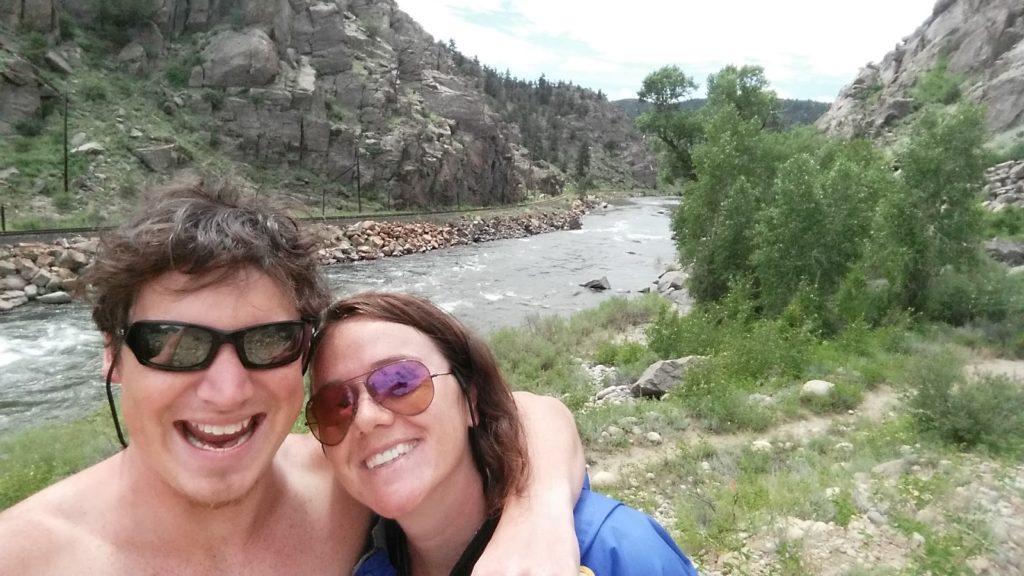 Nice and full yet again we make our way down a much calmer river, Mother gives us both a turn at steering the boat and let me say that it is a LOT harder than it looks with both of us running into rocks and hitting little currents, we were glad when he took back over, I think we'll stick to being told hot to paddle with our little oars from now on.
We have a really relaxing last half hour of paddling before it was sadly all over, pulling into our take out point we are happy to get out of our wet clothes and into some dry ones, on the way to the change rooms Adam get attacked by literally 100 mosquitoes that just keep landing on him much to Linnies constant shooing and slapping, it was bizzare.
All dry and laced with aeroguard we jump into the car and are on our way back, they even had snacks in the car, these guys really know how it look after us.
We then say our goodbyes to Mother and go our separate ways. We'll really miss this guy.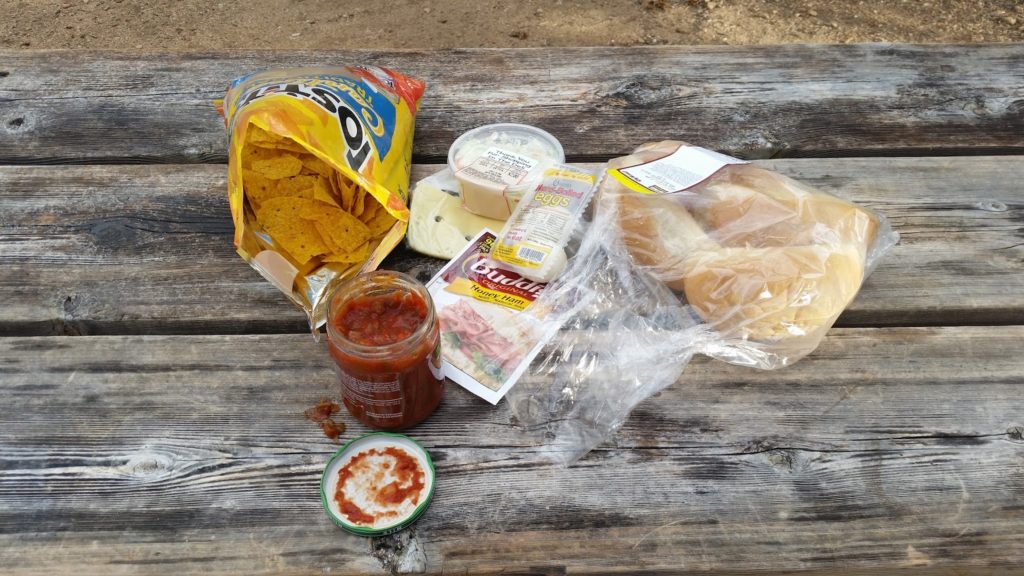 With not much to do in what is a quiet little town of just 2000 people, we head back to our campsite and setup our tent again.
About 6pm we head back into town and struggle to find somewhere to eat, so decide on hitting up a grocery store and getting a few things.
We head back and try to recreate our own little feast, but it was a poor mans version of what Mother made for us. We even got to see an epic rainbow on our journey in what was some of the best scenery we have ever seen.
Time went pretty quick and not it was time for bed. Tomorrow we head to Denver in the morning and it would be a good chance to have a nice clean shower after a few days of rafting.
Other Photos from Day 2 on the River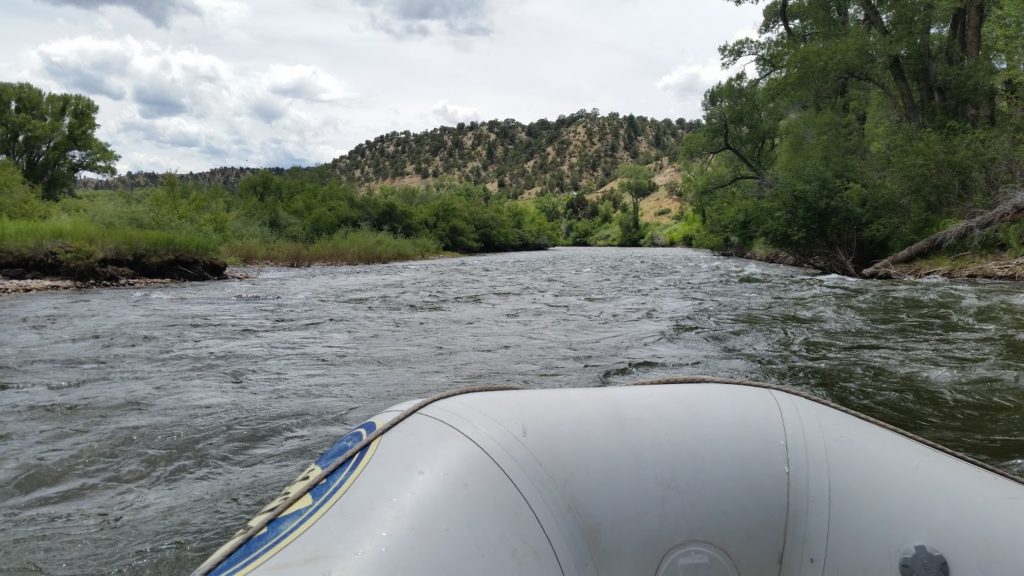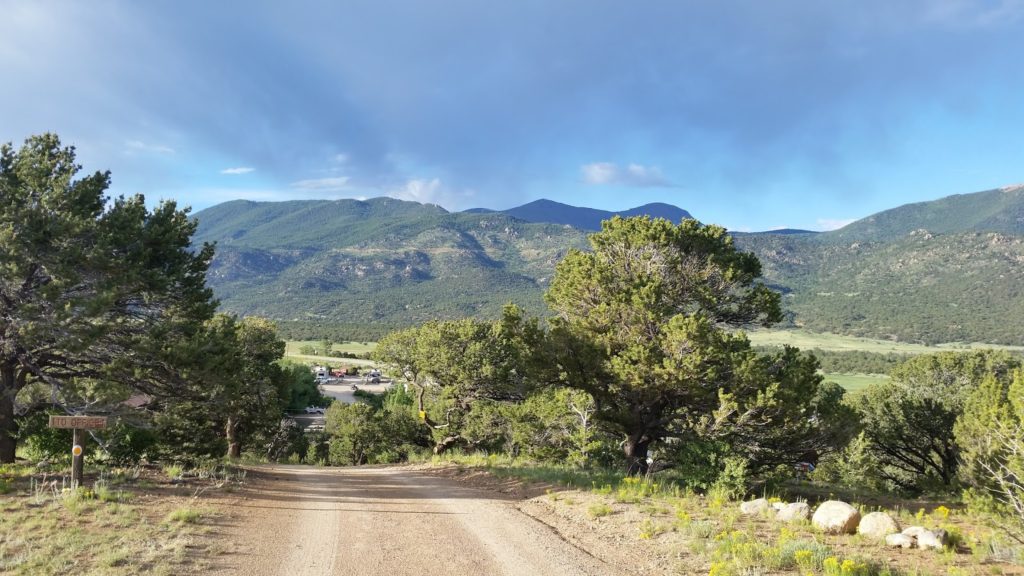 Where we stayed in Buena Vista