After such an amazing wedding and day of celebrating, we don't get up until after 10. We make our way to the premium breakfast room where we find a weary eyed Mark checking in with the hotel staff.
We have a quick breakfast and then walk back together to the room where we bump into none other than Yuri! We have a chat and organise to meet for some fireworks at 9:30 that night by the pier. We have no idea what is going to happen, or if it was even going to happen, but we believe him and can't wait for the spectacle.
Adam heads over to the beach and catches up with Chris and Lorraine while Linnie has a breather in the room until it was time to meet up with everyone for brunch.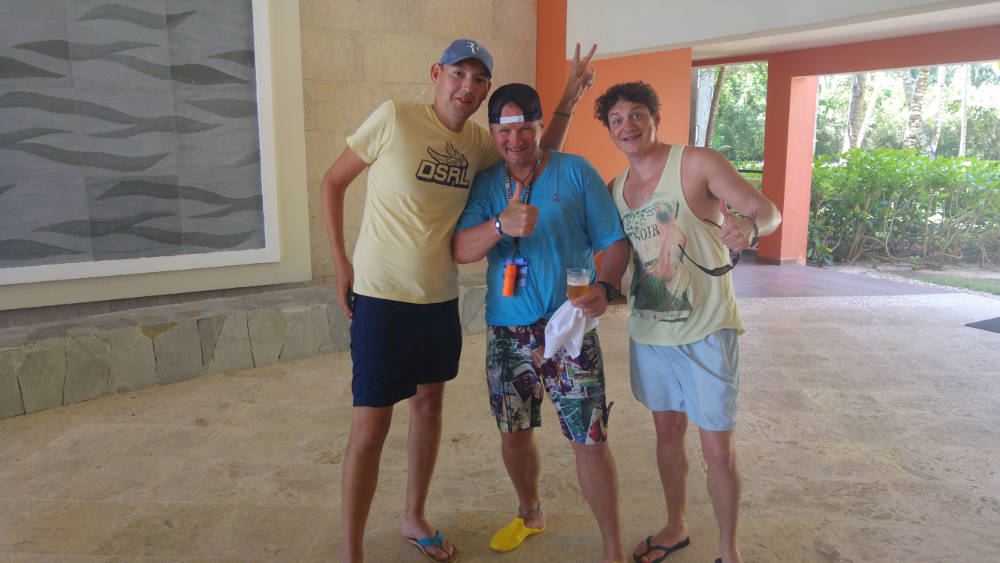 After meeting up with the crew we all head over to the volleyball pool and spend the next hour smashing the ball around. To our delight, we see Yuri and his wife and ask them to play, only Yuri's wife accepts and she turns out to be a merciless player who dominates the serve.
Next, we all head to the beach for a swim and some relaxation on the sun lounger until we all retire to the main pool.
Here we had our own waiter, a bottle of water that we played catch with for hours and the buffet full of food. What more could you ask for. So we stayed here for the rest of the afternoon until it got to about 6pm and we were all burnt to a crisp.
While everyone headed back to the room to get changed, we head to the spa and sneak Sam inside for a look. Luckily the staff their don't check arm bands and we get in easily. Then we shower, sauna, hot tub and swim in the private pool for another hour until we resembled prunes and were starting to get hungry.
So it was over to the buffet for our very last dinner. Linnie realised that she didn't bring her shoes to the spa and can't find them anywhere, so Adam has to go to the buffet and bring food out to the outdoor tables as you need footwear to go inside.
While we eat, we bump into Matt and Bri and end up all eating together, much to the annoyance of a waiter that made us change tables.
After another underwhelming dinner, we head over to Mark and Renee's room for some pre-fireworks room service and drinks and then make our way down to the beach to meet Yuri.
We get to the pier and find that a couple has booked the pier for a romantic dinner…. Bugger. With no way to contact Yuri we don't even know if the crazy Russian was even coming. So we pull up some loungers and wait. And there he is! He showed!
We were all amazed and enthralled at what these fireworks were going to be, so we run up and Yuri, not giving any shits about the couple having dinner, begins a rant about how the Russians,
English and Americans demoralised the German Nazis and that today was a day to celebrate. He then proceeded to pump out a Russian tune on his portable speakers while getting out a little firework gun and loading up the fireworks that looked more like a little flare.
Boom, boom, boom, off the went, everyone was cheering and the poor staff had no idea what to do or say. The security guard even comes down but wasnt game enough to mention anything to a huge Russian man armed with a firework gun. It was like something out of a movie, we LOVED it.
After Yuri left we all jump in the ocean for another of our now regular night swims where we chat away into the night until we realise how late it was. So we all say our goodbyes for the night and deem today one of the best days we have had so far.
Where We Stayed in Punta Cana