Another very hot day, we peel ourselves out of bed and discover that we have a 12pm checkout time, score!
So we head down the 4 flights of stairs to the little breakfast room and get some granola with milk and then head out to get some supplies for the cruise today.
First we walk down to the pier to see if we can see our boat from afar, after going around a lot of big buildings we can see it off in the distance, looking huge dwarfing all the other ships around it, this cruise is going to be amazing!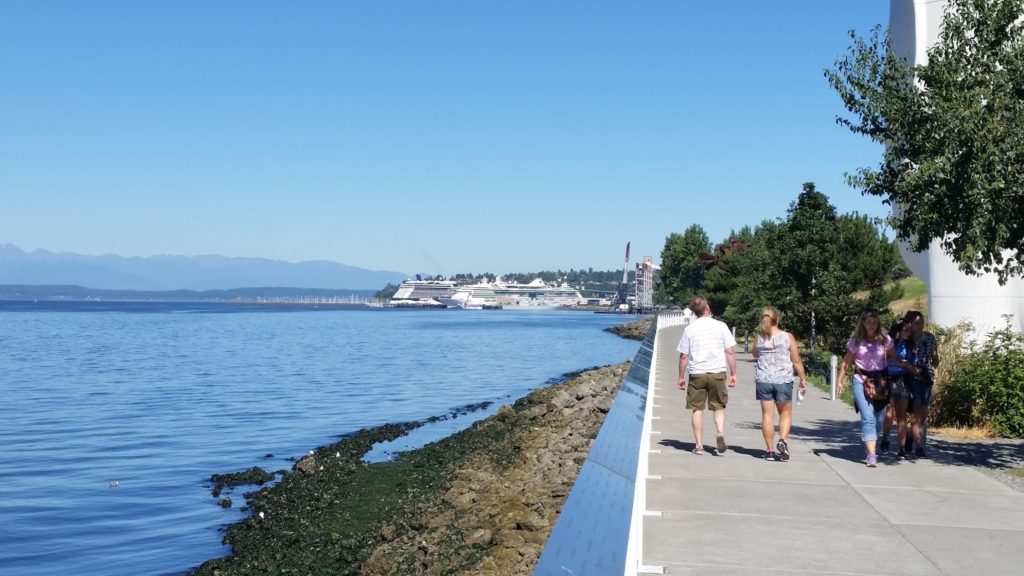 Back up the hill we find a pharmacy, we had to make sure we had our travel calm tablets and we needed some more toothpaste and sunscreen.
All sorted we make our way back to the hotel to pack all our stuff that once belonged in the car into out suitcases, a tough feat.
The hotel admin books us a taxi heading straight for pier 91 and we wait by the stairs until we hear the beep beep, we are on our way, car-less and onto another new adventure!
Boarding the ship was a lot less painless when you go up a few classes in stature, as we did, and with our concierge class express pass we skipped about an hours worth of queue, this was already worth the extra dollars.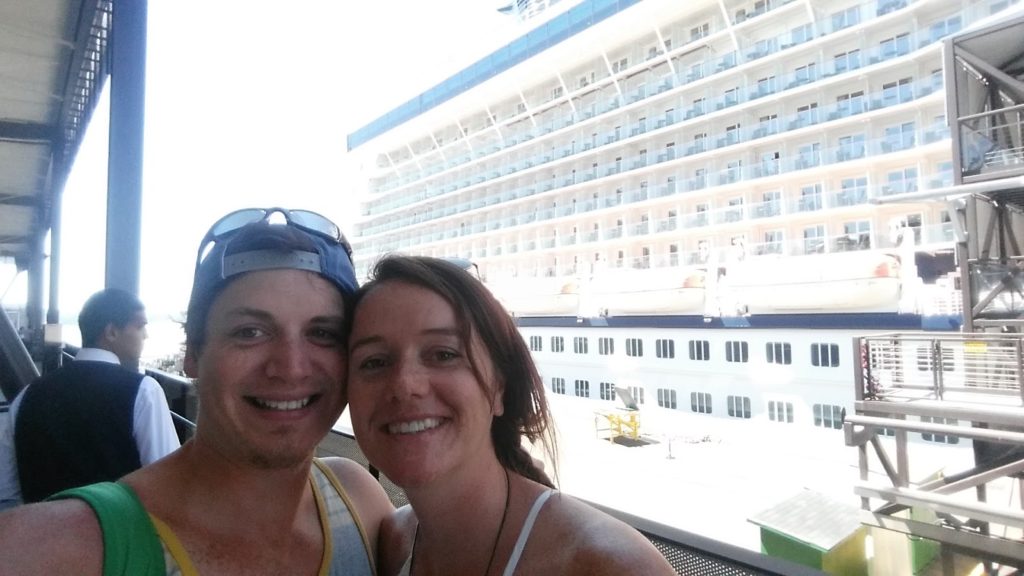 After the customs and security we are welcomed onto the boat with champagne and wine glasses being handed out everywhere, we couldn't get to our room just yet so we head into the dining area for a very sumptuous lunch whilst overlooking the yachts and sail boats docked in the pier next door.
We go exploring for a little while, we see the gym and spa rooms, the casino, the theatre and the expansive lounge areas but with not much open or functioning just yet we can't see a lot, but it looks the goods with very luxurious lighting, chairs and shop fronts.
Our room finally ready we go in and are wowed, we had gone from a tiny interior room on one of our first ever cruises to a huge room with a balcony, king bed and a sofa, we even had a bottle of wine waiting there for us, this was the life!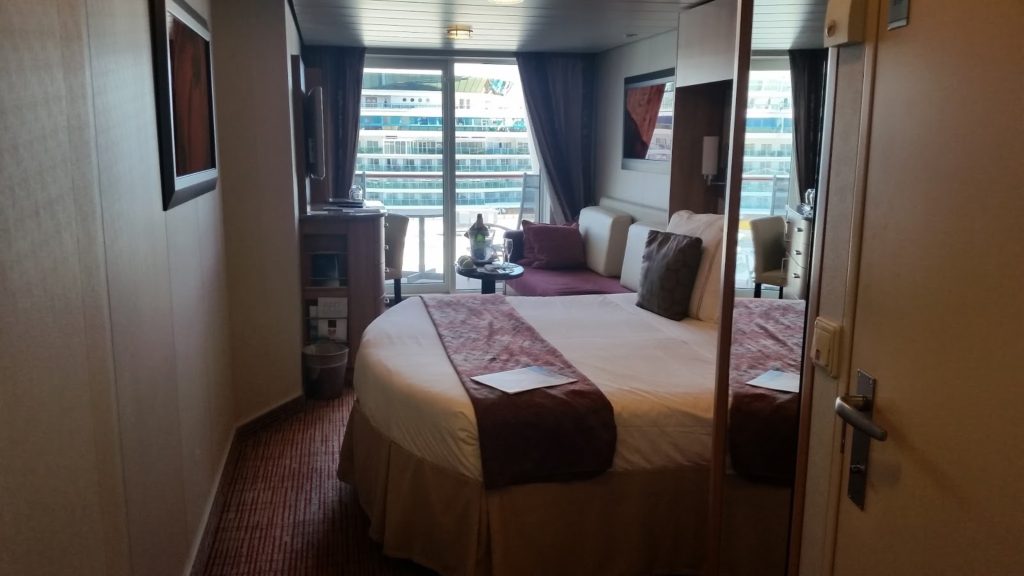 With the boat due to leave we make our way up the the very top level of the ship where to our delight they have an actual lawn area with real grass, this was too good a spot to pass up so we grab a picnic blanket from the big stack, find a sunny spot by the end get of the ship and watch us sail away from Seattle.
The city now long in the distance it was time for dinner, we make our way to the dining room and are greeted by about 20 waiters all eager to meet the new guests and seat them to their tables, and seat us they did, our waiter, Sapri, led us to a table by the window and we ate like kings for the night.
Then it was onto the opening night show, we got to meet the cruise director Rich who was quite enthusiastic and then onto the headliner act, a comedian called Fret Klett, we'd never heard of him but he's been on TV a lot apparently.
His comedy was a bit of a laugh track gone wild, we didn't love him but all the locals ate him up, must be a different type of humour to us brash Australians.
The show we head to the restaurant for a night cap of a hot chocolate and a cookie and then take the stairs back to the room to watch a few shows and wind down. We can't wait to explore everything tomorrow!
More Photos from Day 1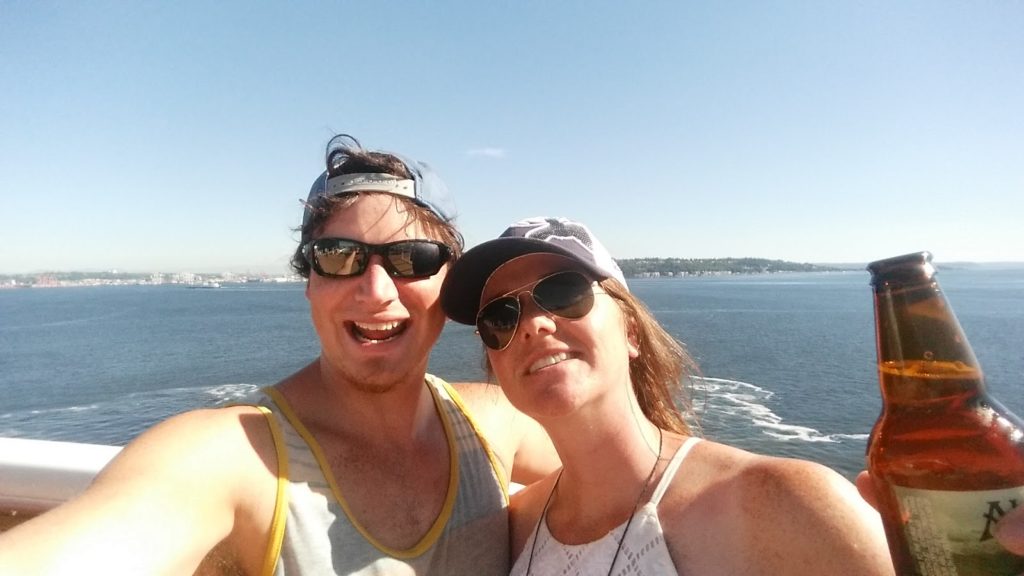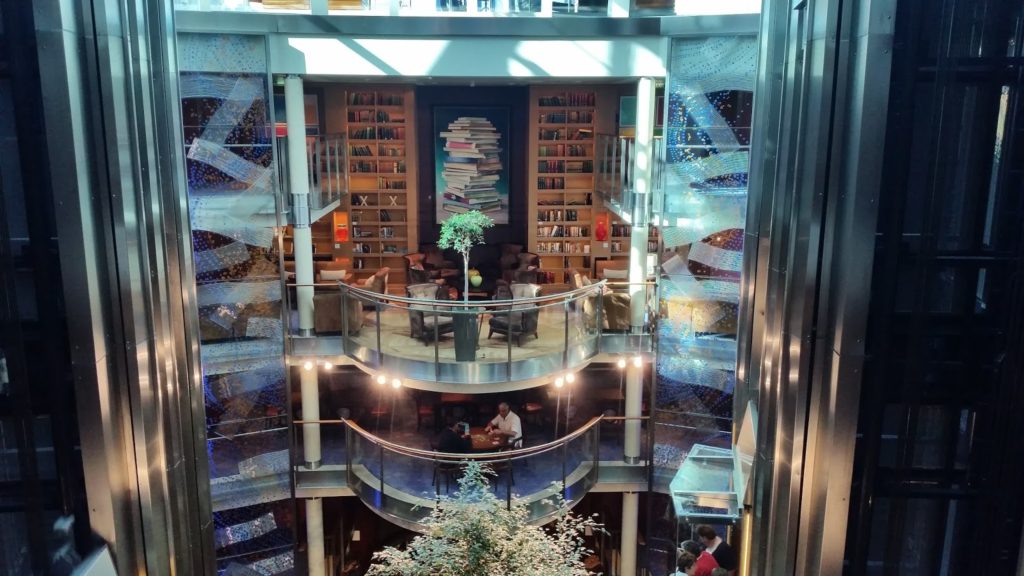 Where Our Cruise Set Off From