After spending so much on attractions yesterday and shitting ourselves that it was only day one, we decide that today will be a gratis day. No more splashing of the cash.
So, a free tour of the city was planned out by Linnie over breakfast and mapped out ready to go.
First up on our free tour was the Viaducto de Segovia, a big beautiful bridge in the middle of the city that was made to look like the famous viaducts in Segovia. We walked on it, over it and under it and stood in awe of it. It was quite impressive.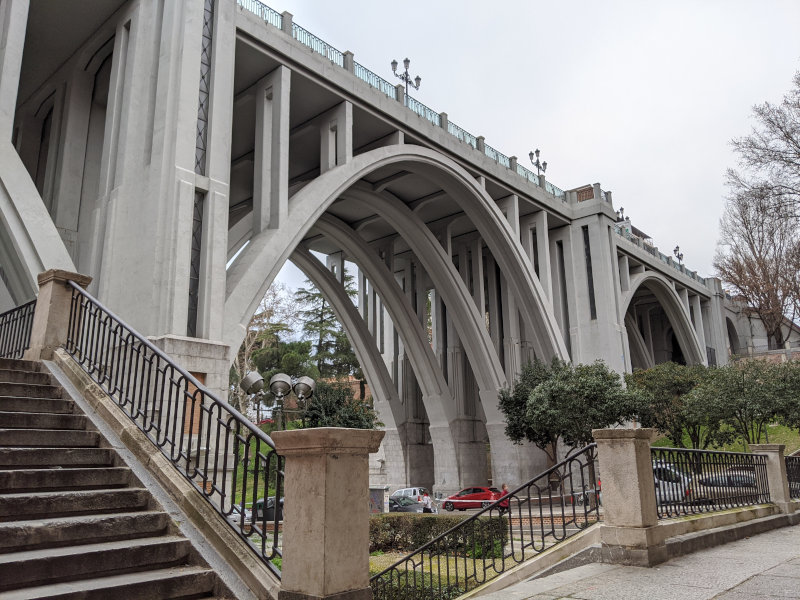 Next up was the Basilica de San Francisco, a huge old building housing a beautiful stained-glass dome on the inside. Unfortunately for us, the doors were all closed, so no dome, but we admired it from the outside all the same.
The Plaza Mayor was next on the most amazing tour of Madrid ever created and it certainly didn't disappoint. The plaza was a huge square surrounded by 4 storey high buildings with terraces at each window. The main building was covered in murals from top to bottom and was quite spectacular.
Feeling a little peckish our next stop was the Mercado de San Miguel – aka a very delish market with mouth watering delicacies at every turn.
We decide to sample the empanadas, our first proper Spanish food since we arrived and devoured every last morsel, it was goooooood.
Now it was time for a view of the city from up high. Now we could have gone to the big tower but they charge an admission fee. pfft, we are not about that today.
So, we make our way to a lowly shopping centre that reminded us of a half empty fledgling Myers store and took the elevator to the top floor. The steel doors opened up to a fancy food heaven. There were bars, ice cream, tapas, cakes and chocolate, everything you could sink your teeth into.
But this wasn't what we were here for. Walking toward the tables and dining area we see the huge floor length windows overlooking the main intersection of Madrid.
So, we sit and enjoy the view whilst eavesdropping a conversation between a typical rough, Harley Davidson riding southern American hick and his friend, surprisingly talking about how hard it was breaking up with his Spanish boyfriend. Riiiiight.
Still on a foodie trek, our next stop was one of the oldest bakeries in Madrid called Antigua Pastelería del Pozo. It was just as you would expect. Tucked away down a lonely street the little red shop stood proud with all the traditional pastries on show in the window.
We went inside and ogled all the glazed goodies and watched the shop keep wrapping their customers selections in paper, fish and chip style. It was like stepping back in time.
A bit of a hike away, we head to the Atocha Station. Not just any regular station, this one has a huge tropical garden right smack bang in the middle of it! To get a better vantage point we climb to the third level and take in the huge palms and fronds from above. The big overhead windows lighting up the entire area made it one of the most serene stations I have ever seen.
Our free tour of the city was coming to an end with only one stop left, it was back to the park that we visited on our first day. Being such a big park there was still so much we hadn't seen yet. First off, we find a pretty little lake that was full of mallards and bloody big white ducks. Seriously, these white ducks were huge… more like geese but still ducks.
Anyway, after the mesmerising ducks we meander our way through the winding path to find the Crystal Palace. A brilliant building made entirely of glass; it was more like a giant conservatory than something a royal would live in.
Onward we find an impressive monument of sorts with huge curved stone pillars and statue in the middle. It was like something out of a Jane Austen novel. So, we sit by the lake and watch the day go by before making the trek back to our room.
Real Madrid vs Real Sociedad
We have a good chill out session for a few hours before we make our way back to the big cement block that is the Bernabeu Stadium. Being the stubborn people that we are, we decide to walk instead of catching a train, I mean what's another hour when you've been walking all day. So by the time we got to the ground (with only minutes to spare) we race up to the top level and pass out in the seats.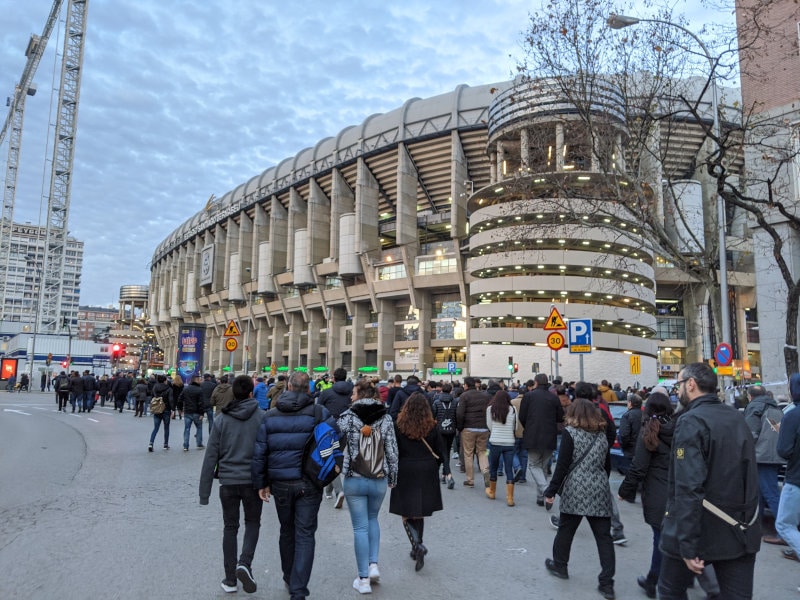 The game was quite eventful with Real Madrid and Real Sociedad battling it out in the quarter-final for the Copa Del Ray. About ten or so minutes into the game we can smell cigarette smoke…
Some jerk was smoking in his seat… But wait a minute, so were three other people and two people sitting next to us. A quick google later and yes, you are allowed to smoke in the stadium. WTF! In this day and age…
Our buzz ruined by the cigarette haze that we now had to sit through, it wasn't until the rival team started scoring goals, 3 in a row in fact, that some of the smoking Real Madrid fans started leaving, it was brilliant!
In the end the scores were 4 – 3 with Real Sociedad, the mighty underdogs taking the win – Eat that you second hand smoking cancer giving thugs!
Escaping the smokey haze of the stadium we make our way back to the apartment for the night, once again avoiding the subway and opting to walk… What's yet another hour long walk when you've been walking all day and then walked an hour to the stadium?
Safe to say our legs were happy to be tucked into bed and we both fell asleep within minutes of touching down.
More Photo's from our Walk