We awoke this morning fearing the worst, the room was super dark and there were no people stirring in the building. Had the jetlag taken hold and woke us up at stupid o'clock?
Well as it turns out, there are no windows inside our little apartment that face outside, so even if it was midday it would still be about as dark as it is now. And every building in Spain seems to be made of thick concrete and tiled floors, virtually soundproof.
So reaching for the phone, we look to see that it has just gone 6:30 am. Take that jetlag!
After a lie-in we head out for coffee and groceries for breakfast. We only got as far as the door before we retreat back inside to put on more clothes. Kinds forgot it was winter.
Back out, a little warmer now, Adam finds a Starbucks (seriously are these everywhere?) and then we stock up on muesli and milk from a very cramped and limited supermarket.
We walk back to our little apartment on Calle Del Reloj and plan our day whilst chowing down on oats.
It was decided that the old Red Bus Tour was back on the agenda and with a couple of clicks online we were out the door, tickets in hand.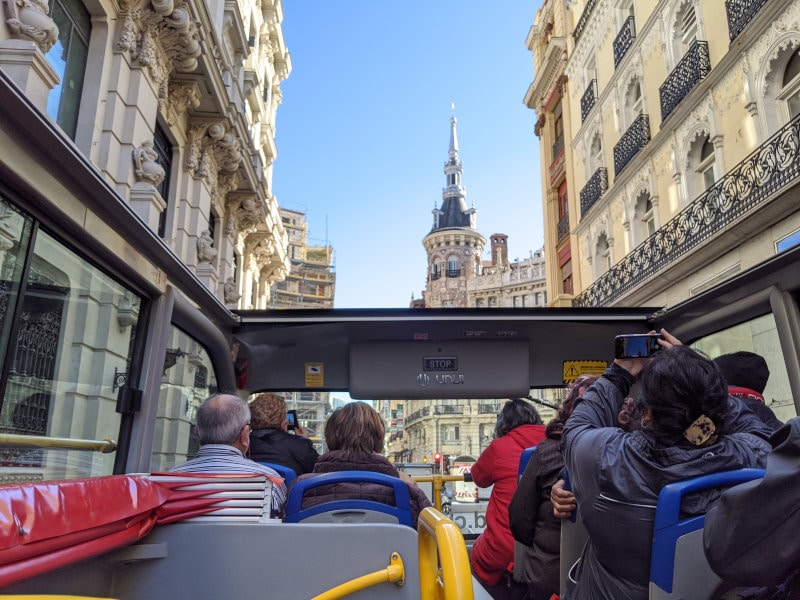 Finding a stop for the bus was easy, waiting for it was a pain in the ass. The sign said they come past every 8 minutes. 30-minutes later we were boarding the double-decker with the complimentary headphones in hand.
As we drove around Madrid listening to the tour audio we saw all the big highlights, fountains, museums, cathedrals, squares, parks and, Adams favourite, the Stadium where Real Madrid play.
So we jump off the bus at the stadium stop and take the tour of the stadium. The complex itself was like a big cement block laid in the middle of the city. For such a prestigious team we were expecting a bit of pizzazz. Maybe the pizazz was inside…
Nope, inside we also found a big cement block with a lovely fresh cut lawn and a lot of seating. While the grounds were a bit unimpressive, the actual tour was pretty good. We didn't have a guide which was nice, so we were free to roam around at our own pace.
We got to see the trophy room… which I might add was bloody huge with 100's of trophies. This led us to think what a St Kilda trophy room would look like, lol.
Next we went into the change rooms of the players, the spa/sauna area and were even allowed to stand on the ground and sit where the subs and managers sit on the sidelines. And might I just add, that the Audi supplied chairs were amongst the most comfortable chairs I have ever had the privilege of sitting in.
So after about 20 minutes of sitting.. or was that 30 mins.. we end the tour and make our way back outside, but not before buying some tickets for tomorrow nights game, we had to see this stadium in action.
Santiago Bernabeu Photos
Tickets in hand, we re-join the Red Bus tour nearly killing ourselves running across a busy road to get to the bus as it pulled in. We were not waiting another bloody half hour for the next one. Continuing along we see some more sights until we make it back to where we started and got off the bus.
As we started our walk home, Adam spotted a Hard Rock Café, so we decide to refuel here and enjoy a lovely burger and some spring rolls. So much for an authentic Spanish experience.
With the Café being so close to a city park, we head over to have a look. It being winter in Spain the park was less green and more branchy, but it was still a stunning, manicured and very symmetrical park.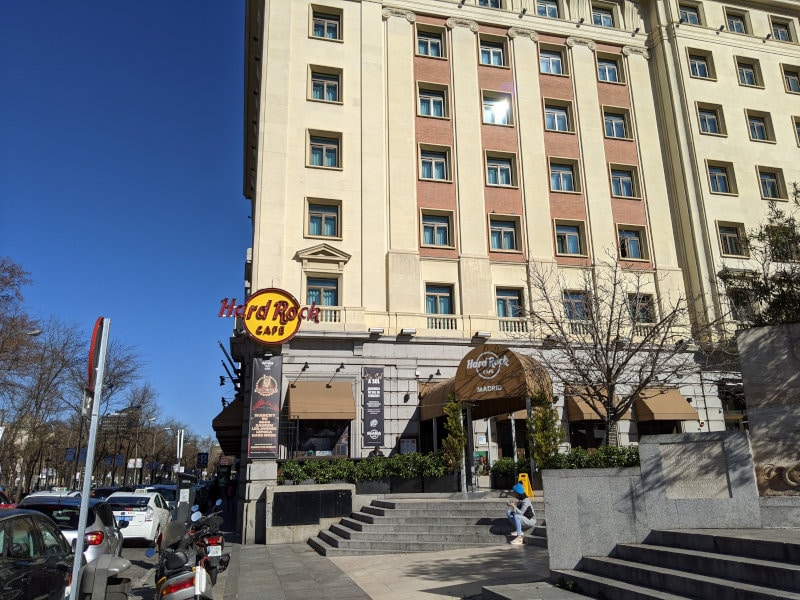 Walking along we stumble upon a beautiful lake with white ducks, mallards and lots of little boats. A picturesque scene with the cloudless blue sky above and a rather impressive monument in the distance framing the lake.
We leave the park and make our way back to our neighbourhood. Along the way we noticed the sun going down, so we bypass our room and take the short trek through the tall terraced buildings to the Royal Palace of Madrid and watched the sunset in the courtyard.
The people-watching while the sun was going down was a great treat. A couple dressed like they were stepping into a magazine were having their photos taken by a photographer. Some of the poses they were doing had us both laughing. The poor guy looked like he wanted to be anywhere else.
With the sunset on our first full day, it was time to relax and unwind in our little apartment until tomorrow.
Sunset in Madrid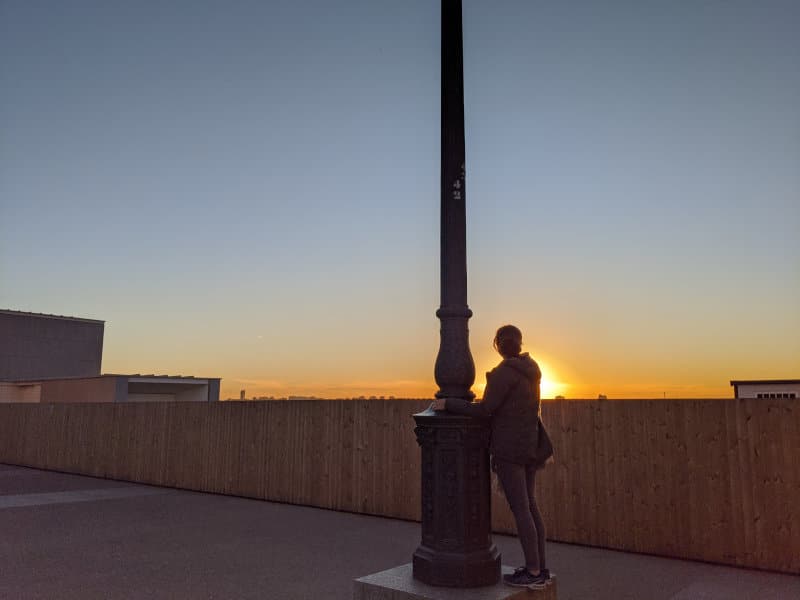 More Madrid Photos