The time had come for another overseas adventure, this time to southern Europe, starting in Spain. But before we headed off there was still plenty to do.
Our morning started with an early morning walk with Ash and Matt, then it was back home to pack up our house and get it ready for the removal truck guys to come. They came at around 10am and we moved the rest of our stuff into the storage unit.
The rest of the day was spent packing our bags and visiting people. We visited Adam's mum at work, then had tea with Linnie's family at Red Lion. Linda also had a wedding to prepare for, plus we had to meet the accountant.
Then it was back home for the last time as we killed time until 1am. We said goodbye to the house and drove our rental car to the airport.
We were now officially homeless!
First Class to Madrid
We arrived to the airport about 3am and dropped the car off. Next we checked our bags in and had about 40-minutes to wait for the international gates to open.
Fortunately we were literally the first people through the gates and got through security almost immediately. Then it was off to the Emirates First Class Lounge to chill out until our flight.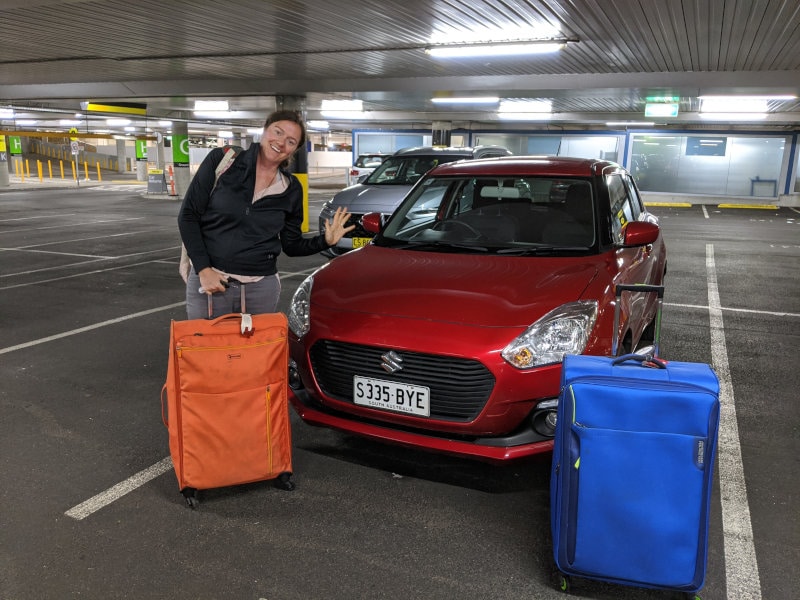 I had a quick shower, then we pigged out on the free food which was delicious. Time flew by and it was now time to board the flight. There was no queuing, it was straight on the plane where they greeted us as Mr Talbot and Miss Reus.
The flight to Dubai was 14hrs, followed by a 80 minute stopover, then another 8hrs onward to Madrid.
Given we had been awake for over 24hrs straight now, we were super tired. Most of the flight was spent eating food and sleeping. Oh, and using the onboard shower which is unbelievable!
In Dubai, we had a quick bite to eat, Linda got her shoes shined and we had a free massage. Not a bad way to kill an hour.
First Class Photos
First Class Shower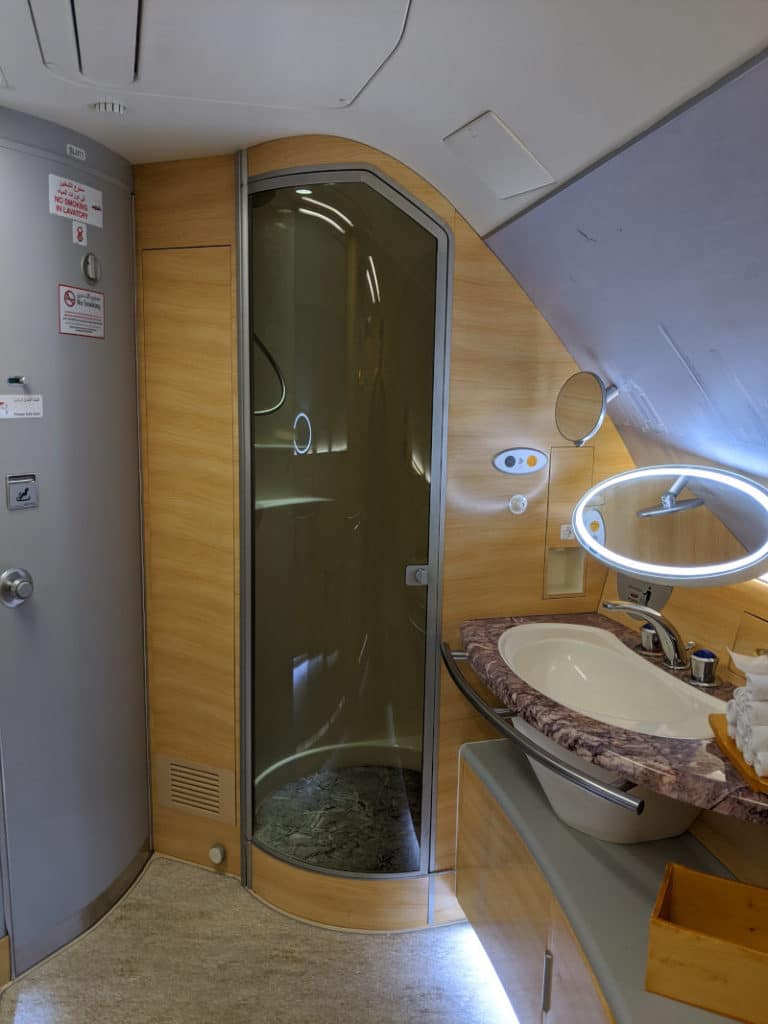 Then it was onward to Madrid where we arrived feeling fresh and like we hadn't even been in the air. First Class felt more like a hotel room than a flight.
Another perk of flying first class is that your luggage comes out first. We didn't have to wait at the baggage carousel for long before we were on our way.
Our last test was getting through customs on a way ticket. We had read that this is a red flag and can cause problems, sometimes with the threat of not being let in the country.
We had nothing to worry about though as the customs officer literally didn't ask us a single question. He stamped our passport and that was it. Nothing to worry about at all!
Next we navigated our way to the train station and caught a train to our Airbnb. This took about 45 minutes and after a couple of wrong turns with Google maps stitching us up, we finally reached our Airbnb.
Turns out that in Spain, hosts have to log all your details and write down your passport details, etc. It was a bit off, but not to worry. The room was pretty cheap and looked a lot nicer in the photos, but it was in a good spot and would be a good base for the next four days.
After a long 36 hours, we had finally arrived in Spain, ready to start our new adventure.
Our Apartment
Where we stayed in Madrid