After an eventful day yesterday, today was a lot more laid back. We had a little sleep in and didn't leave the apartment till some time after 10am.
One thing we have found here in Madrid is that nothing much happens until after 10am, and that things are open much later into the afternoon and evenings.
First on the agenda today was a visit to the Natural History Museum, or the Nacional de Ciencias Naturales, as they call it. I was super excited to see the T-Rex they had on show. It was about a 45 minute walk, close to the Bernabeu which we went to last night.
Turns out this museum was a fizz. There was no bloody T-Rex in sight. In fact, the floor plan was akin to a labyrinth and things were laid out in a weird way. A quick check on Google reviews showed that other people had similar issues with some no so favorable reviews. Still, some of it was pretty interesting, so it wasn't all bad.
By now we were pretty hungry and sore from all the walking of the past few days, so we headed back to the plaza area from yesterday. We grabbed a little pizza, croquettes and a fruit stick. I even made my very first Spanish speaking transaction where I had a conversation in Spanish. It was a good feeling.
We spent the rest of the arvo back in the room, chilling out and catching up on some work. Then about 4pm we went for another walk around to a new area of town.
First up was the Palacio Real de Madrid which was pretty stunning. Next was a walk along some river in what seemed a fairly derelict part of town. Then finally we ended up near Templo de Debod.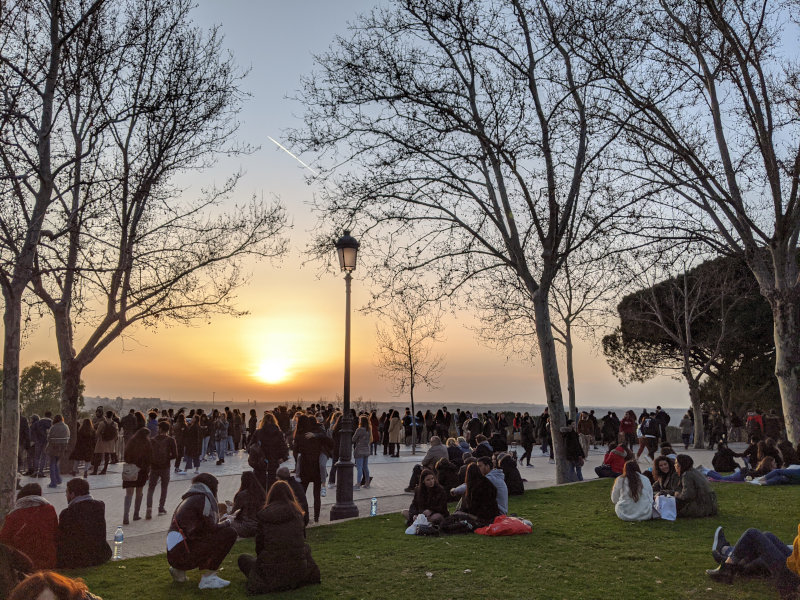 We had read you can getting stunning views of the sunset up here and it certainly didn't disappoint. We spent about an hour or so up here, watched the sunset and then headed off for tea.
The last few days we hadn't eaten much so it was time to pig out on some Spanish tapas. There was a restaurant we found called Tapa Tapa which was delicious and just what we needed. Not quite as delicious as Meigas back home, but still nice nonetheless.
After tea we went for another little walk, before calling it a night and then heading back to our room. Our last night in Madrid complete and ready for a new adventure tomorrow in Zaragoza.
More Photos