Unlike the rest of the week so far, this morning was an early start. We we're off to Valencia by train for the next part of our journey!
The train to Valencia was set for a 9am departure, so we set the alarm nice an early for 7am to give us plenty of time. Somehow, despite that, we still managed to cut it a little fine.
We left the apartment around 8am and luckily the first train station was directly next to our apartment. But unluckily for us, we had issues navigating the station, so had to ask for some help.
Eventually we boarded the 8:17am train to Barcelona-Sants and made our train to Valencia with plenty of time to spare.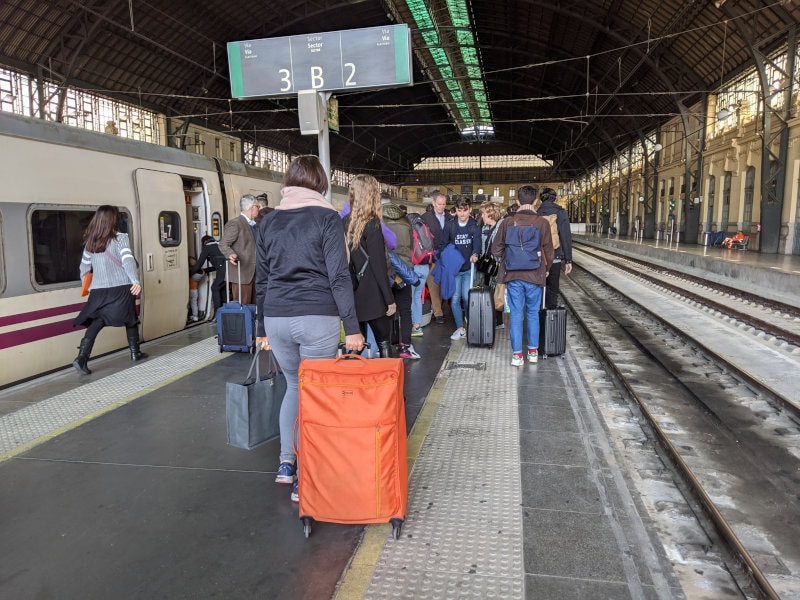 As for the train itself, it was like stepping back into the 1970s. It felt quite old, and to add to things, we had now window view because we had the side bit that separated the two windows next to us.
Ah well, lucky we had plenty to occupy our time with. I had just gotten hold of Longmont Potion Castle's entire back catalogue which is 50 or 60+ hours of material, while Linnie watched Spinning Out on Netflix. As expected, LCP certainly did not disappoint as I laughed most of the journey.
We arrived in Valencia and left the train station around 12:30pm. As luck would have it, we were able to check in an hour early at 1pm, so we stopped by Starbucks for a quick café Americano.
More Airbnb troubles
Just when we thought the Airbnb troubles were behind us, we were hit by the Airbnb curse again. While this room was actually lovely, it was lacking one crucial item – blinds!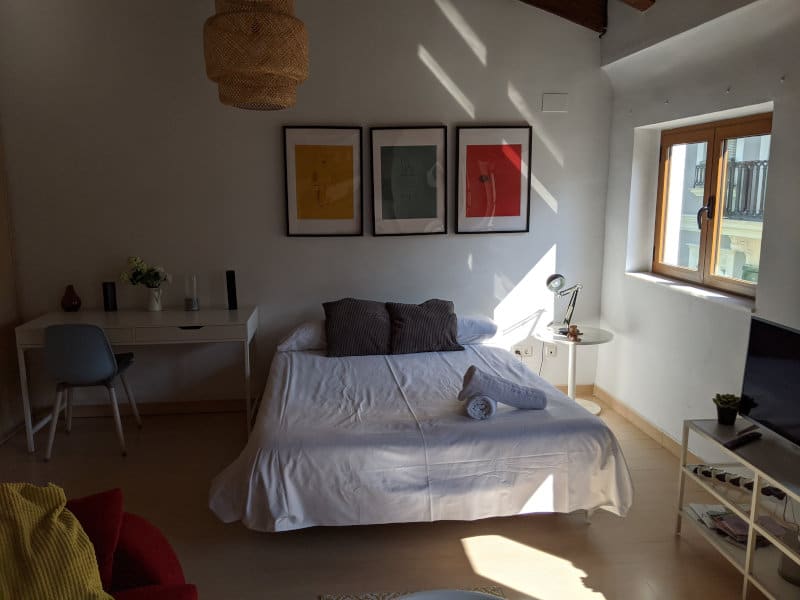 Turns out we had to settle for a room that is going to be bright all night and that people can see into with ease. Joy! The host was no help, placing the blame onto painters. On top of that, the WiFi internet was crap too, which is less than ideal when you need it to run internet businesses.
Ah well, not much we can do. Now it was time to go explore Valencia a bit. We spend a while looking for a restaurant to eat lunch at, settling on a place named Aloha Vegan Delights. It was an inspired choice too, we got burritos and chips and it was unreal.
Next we explored Torres de Quart which is not for the faint heart if you don't like heights. It's a medieval castle wall in the middle of the city that is still standing, originally built in 1461.
Torres de Quart Adventures
After that we found an Irish bar and watched the first half of the Barcelona vs Granada game. The match was at Camp Nou, so it was good watching knowing we had set foot there only two days ago.
By now we couldn't be bothered exploring any more, opting to save the exploring for tomorrow, so we headed back. We chilled out at the room for a while then went out again to grab some ingredients for tea.
There were only basic items in the Airbnb kitchen so that meant a basic tea. Packet risotto and avocado on toast! It looked boring, it sounds boring, but it was surprisingly not too bad.
Another day done. Now it's time to try and attempt sleeping in this noisy, light bedroom. Luckily it's a nice room!
Where we stayed in Valencia
Valencia Airbnb Room
Airbnb room at midday….

Airbnb room at midnight…
More Valencia photos