Insert tired yawn emoji here. As it turns out, not having blinds in a city like Valencia where street lights are on all night means you get a pretty shit sleep. Fancy ending up in an Airbnb with no bloody blinds!
Straight away Linnie jumps on the phone and messages the company looking after the apartment. And to sum up the message it went something like, this is bullshit, fix it.
They replied apologising again and said they would refund the last night and they will send someone over to fix the issue within the next few hours.
Fingers crossed.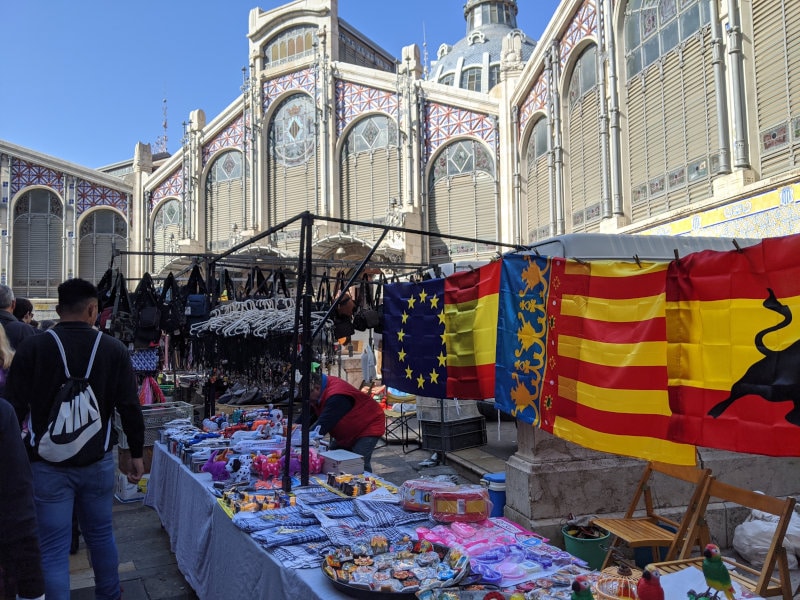 So, we plan another DIY day of touring around Valencia over breakfast with our blind less windows open wide, the sun streaming inside.
A nice feeling after waking up to fog nearly every day. Our itinerary planned, we head out, Linnie risking a sleeveless top and Adam risking shorts.
It turned out to be a lovely day, still chilly, but the sun was up and there wasn't a cloud in the sky.
Walking out of the apartment we are inundated with market stalls lining our street and continuing all around the block. There were people selling stamps, coins, socks, jocks you name it.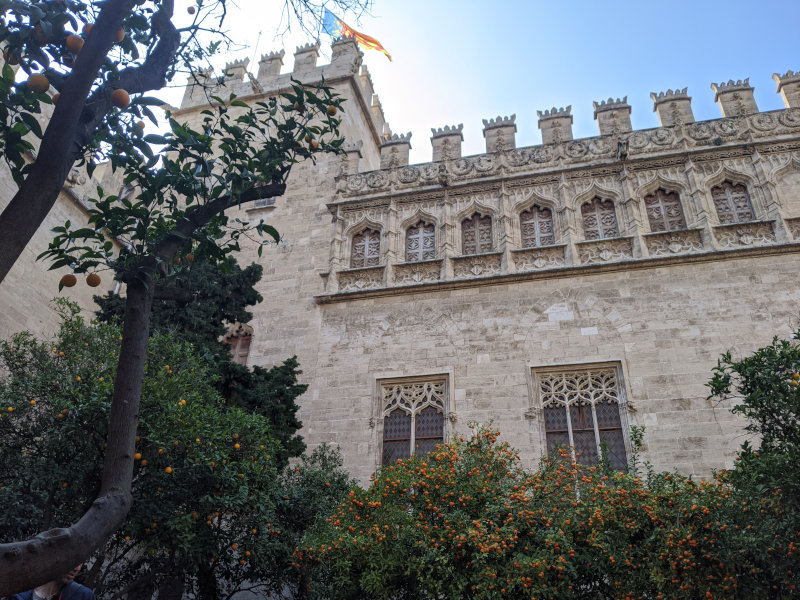 Adam pops into a bakery and orders up his usual coffee but with a pink donut this time. We hover around the market stalls until we walk past a pizza shop and grab a slice of cuatro queso's (4 cheeses) and devour it, not sure if we like the strong cheesy taste.
Along the tour we look through an old silk trading building. The inside was preserved to perfection with swirling pillars that winded up to the rooftop, a really unusual effect. Outside the had a pretty little courtyard garden with perfumed lemon trees which had the weirdest looking lemons hanging from it.
Next, we see a house literally called The Jewish House. It was very colourful, like Valencia's very own Gaudi building and right in the middle of a normal looking street. I guess they didn't have any heritage colours to abide by.
We then take a walk to the city park that back in the day was a long river. After the river flooded a number of times, they diverted the water and turned it into a beautiful long park. We could still see numerous bridges that looked a little out of place now that you could just walk underneath.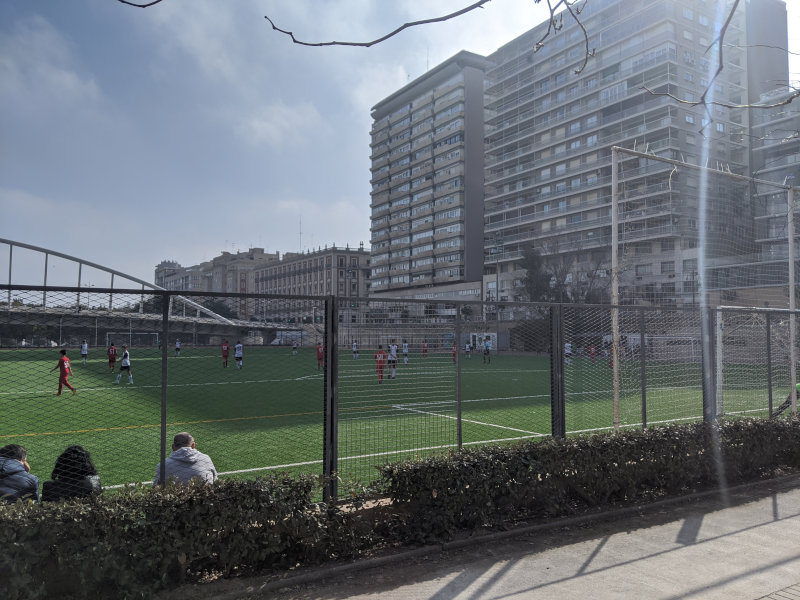 As we walked, we spotted a under 16s soccer game going on so we pulled up a park bench and watched the last half. One team was clearly dominating with one player absolutely killing it, a future star in the making.
Our next stop was the other guard tower pretty much identical to the one we explored yesterday. We weren't allowed to go up this one which was lucky as the Airbnb messaged saying the maintenance guy would be there in 15 minutes.
Hitting pause on our tour, we fast walk back to the apartment and meet them there. Their solution to no blinds was to just hang towels. White, thin towels that were so see through you could host a shadow puppet show behind them. Ugh.
It would have to do as he couldn't speak English and he looked so proud of his creation that we couldn't break his heart.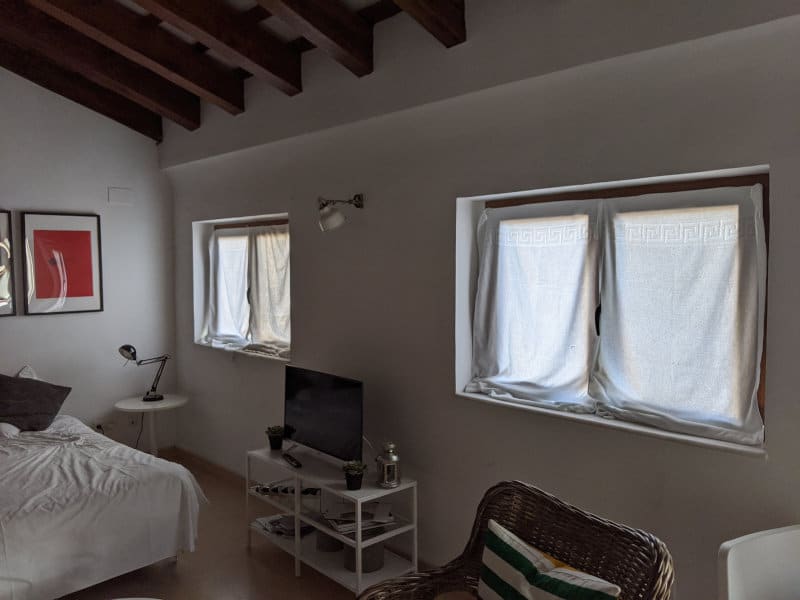 Restarting our tour again, we see a miniature house build into a wall in commemoration for all cats that live in the city. This was odd as the only cats we saw was the same black cat picture stuck on nearly every corner.
Next, we see the narrowest apartment building in all of Europe. It was about a doorway in width and stuck between a bar and a shop. I have no idea how they would fit a bed in there let alone a kitchen or a bathroom!
We ventured inside a number of churches and basilicas – Europe is never short of these – and a couple of other places that we just stumbled upon whilst walking around, not even knowing what they were.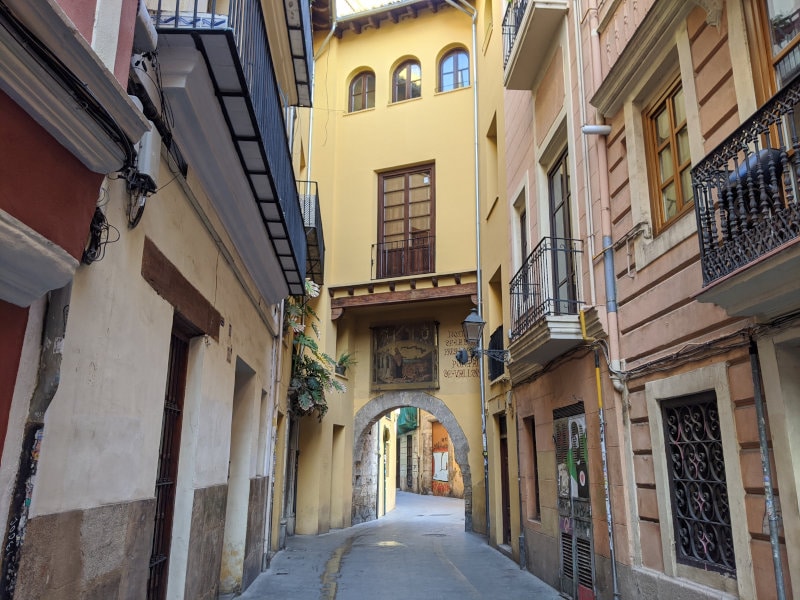 Before heading back, we drop into a pub for a beer and watch Arsenal v Newcastle until their App stuffed up and stopped working.
It was getting a little loud in there anyway so we headed back to our bright apartment and whipped up some more avo toast for dinner with some breakfast 2.0 for dessert.
The sun had gone down by this time and yet, our room was still bright despite the towels hanging from the windows. Again, it was going to be a long night.
Valencia walk photos