Today we were officially going to be Scots, which was going to be by far a highlight of the trip. We've been hanging out for Scotland.
So, it was up early to throw some coinages into the parking meter (as it ticked over at 8am) and to load up on hotel breakfast, which was a little bit boring compared to the feasts we were used to.
With all intentions of going to the Newcastle museum before we left, Adam found out that the planetarium was closed for renovations.. Booo, so we decide to make tracks for Edinburgh.
As it turns out, the parking situation in Edinburgh was horrific with parking garages charging about $90 for 2 nights and street parking virtually non-existent.
So we decide to use the old Park & Ride at one of the train stations just out of the city. For a whole of 50p per day, we could leave our car there and get the train in for about $8.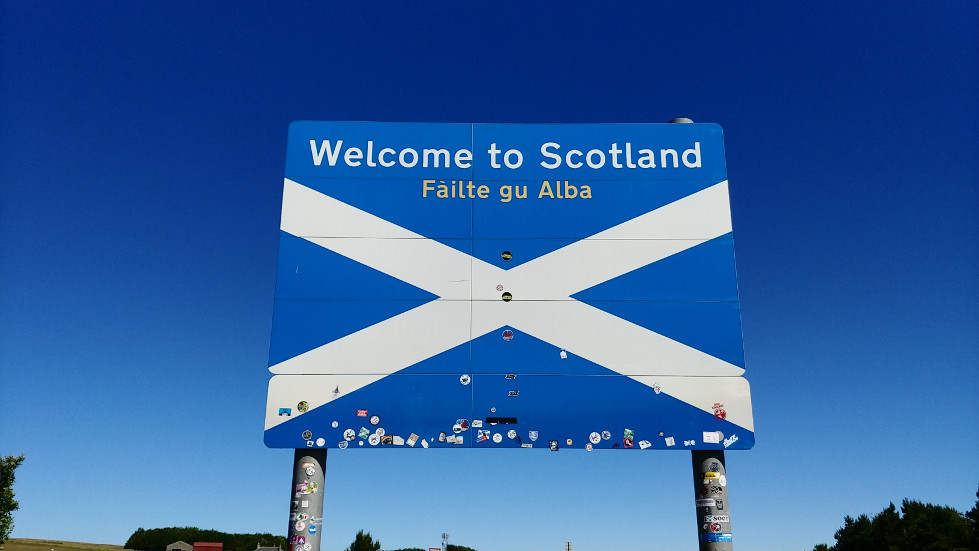 We had timed it to perfection getting on the train just as it pulled in (they ran every half hour).
Arriving in Edinburgh 2 hours ahead of schedule meant that we couldn't check into our Airbnb and had to wander the streets with 2 suitcases and a lot of cobbled stones underfoot.
And then we saw the old sightseeing hop on hop off bus whizz by and hop aboard. Why not take in a tour of the city while we wait.
The city was a mixture of beautiful, ancient, green, black, grand and busy. The bus took us past the old town, the new town, up to the castle and then back around to many other buildings of importance.
We get about halfway through the tour and decide to jump off and grab some food, we were starving.
So, trapesing around, we realise that our Airbnb for the night was only around the corner, so we give them a call (as they hadn't even sent check-in details yet) and see if we can drop our bags.
Sure he says, so we head over but find the lock box empty. The cleaner was still in there. So we call him up again, just ring the buzzer he says, and ill call her he says. We wait there for near on 15 minutes with no answer from the buzzer and no sign of the cleaner…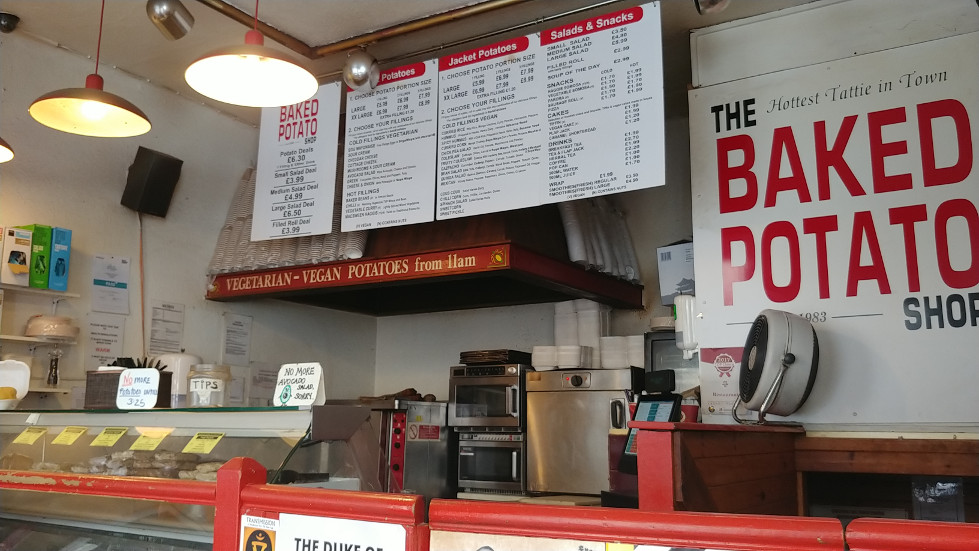 It was starting to warm up with the sun beaming down, so instead of standing on one of the busiest streets looking like muppets trying to get into a door, we give up and head around the corner to a baked potato cafe.
And damn this place was amazing, everything in there was vegetarian so we had the choice of about 20 toppings, we were in heaven!
While there were baked potatoes pretty much everywhere in the UK, our only option for a topping was baked beans from a can… No thanks!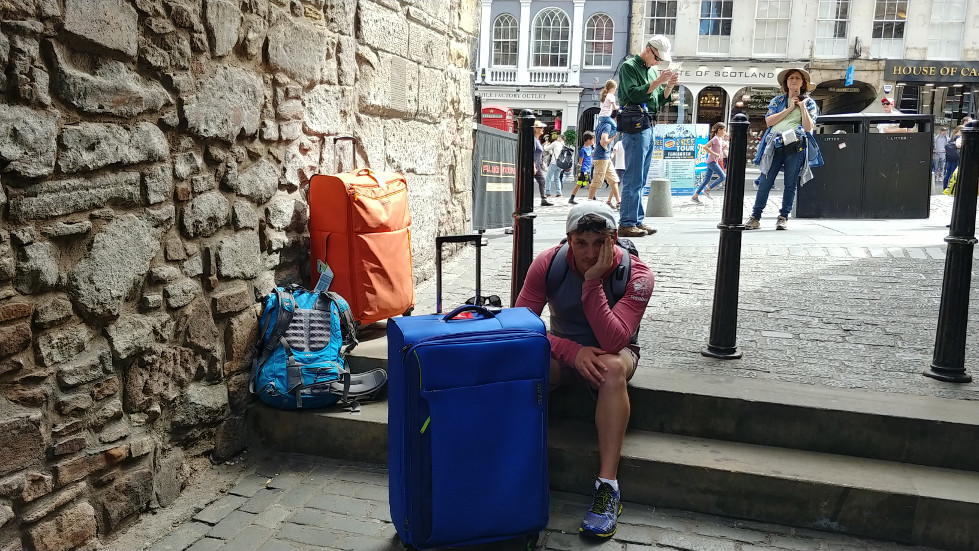 We grab a seat at the only table in there our of sheer luck and good timing and chow down on the deliciousness.
All done we head back to the Royal Mile and sit down in what felt like an airconditioned alleyway with a cool breeze shooting up the narrow passage cooling us down considerably while we waited the last half hour before we could check in.
After navigating the windy steps up to the apartment, we settle in and pretty much pass out on the bed for a good hour, both exhausted from the late night last night. Then it was finally time to head out to the city, without having to haul bags and enjoy the sites.
After a coffee stop and a rather weird church "exhibition" that we quickly left, we jump back on the bus to finish our tour of the city, chilling out on top of the double-decker bus, the sun hidden behind the clouds this time.
Starting to get a little bit peckish again, we find a nice little Thai/Indian restaurant and devour our favourite dishes.
On the walk back to the room we notice a sign for free ghost tours at 9:30, not being able to resist a freebie, we head over and join in.
"Free" meant pay what you want at the end.. But it was a pretty good tour. Our guide Kenny was a local to Edinburgh and told us some pretty gruesome, scary and plain weird stories while walking us through the city.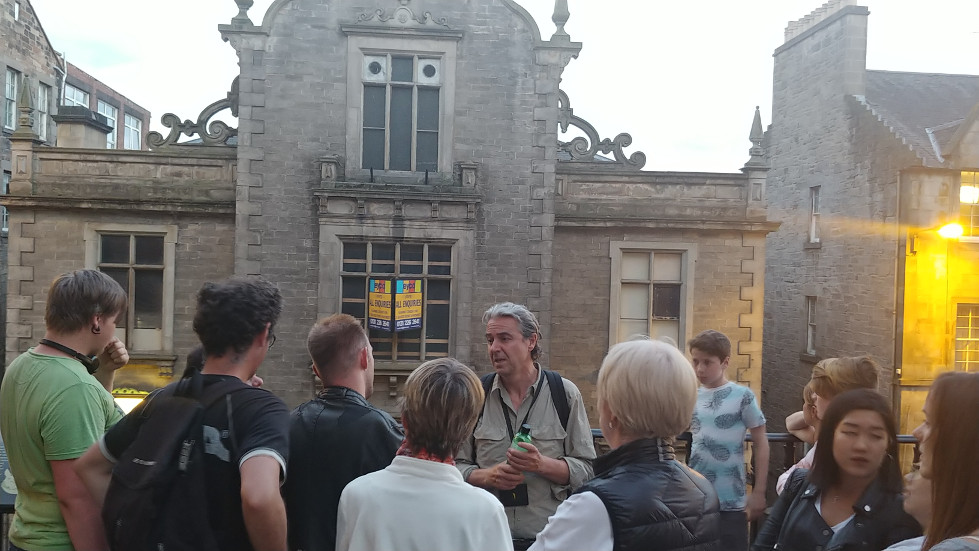 We ended up at a graveyard which was the site of mass graves, torture and body thefts.
A bit of a grim place, which has over 600 accounts of poltergeist attacks. Some people leave bit bruise marks, bite marks and even scratches on their arms…
One guy even took a photo of the tour guide out the front of a psychopaths crypt and got some pretty creepy looking gold and green waves all over the photo….
All creeped out now we head back to our room to get some well-earned sleep, I can guarantee some weird dreams will be had tonight!
Where We Stayed in Scotland