After a hot night sleeping in our Edinburgh apartment, which is something I didn't think I'd be saying in Scotland, we hop up and make a big pot of porridge and chow down by the open window.
With our pre-purchased tickets in hand, we head out and walk up the Royal Mile to the Edinburgh Castle, hoping that if we got there early we would avoid the queues.
But alas no, there was already a queue to get in, a queue to get an audio guide and a queue to see the prized royal jewels.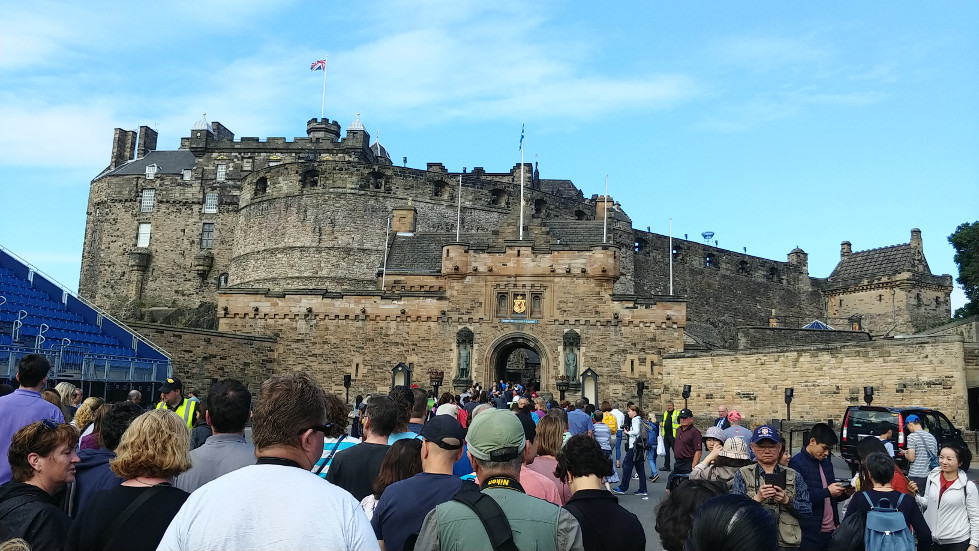 We make our way through the castles many rooms and floors, there was a dank prison, a great hall, many viewing platforms and the living areas.
But with so many bloody tourists, we decide to call it a day and head out to see what else we could find.
Just outside the castle, we find a very cool tartan making factory place where you can see the tartan being woven. Quite mesmerising to watch the huge contraption in full working mode.
We head back out and see a building full of optical illusions, 6 floors of them to be exact.
Not being able to resist, we go in and end up coming out near on cross-eyed and feeling a bit sick from all the spinning, concentrating and trying to get those evil 3D posters to work!
Getting excited for lunch today, we make a beeline to the potato shop again and order up some more deliciousness.
We take our potatoes down to the park and watch the world go by under a birch tree while devouring some of the best potatoes of all time.
On our walk back to the room for a break, Linnie spots a rather delicious and perfect looking scone. And not being able to resist a scone (especially in the UK) we pop in and order one with a coffee to take away.
Back in the apartment, we open up the windows and sit, with scone smothered in jam and cream, and enjoy the afternoon from 3 storeys high.
We had some very interesting characters to keep us entertained too. A very curvy Scottish lady singing along to Britney Spears songs, not wearing a lot, while brandishing a cup for donations.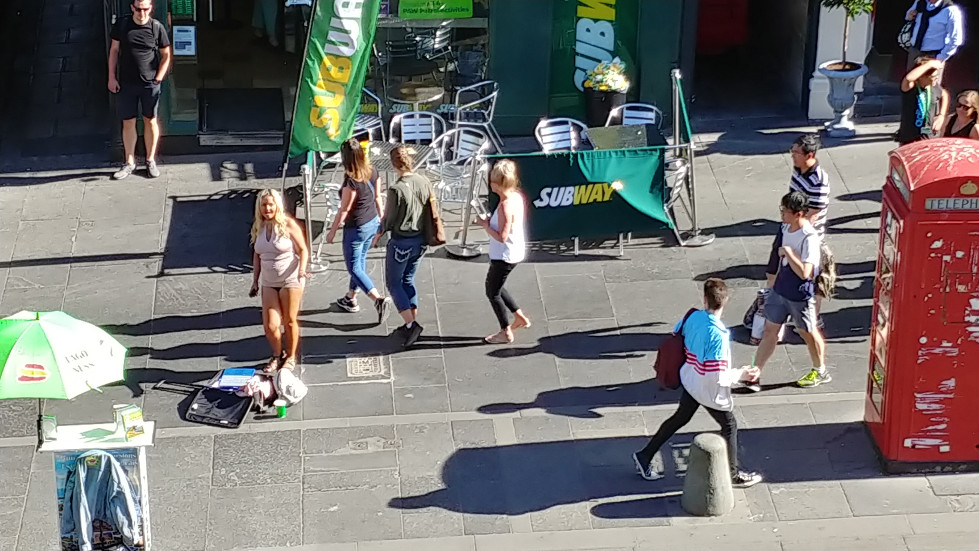 She was awful, and only ever got 2 people to give her change the entire time.
We spend the sunny afternoon relaxing, doing some work and watching tv until dinner time. So we head out to the local Sainsburys grocery shop and grab some ingredients for fajitas.
With dinner done for another night, we peer out the window and spot Kenny, our tour guide from the ghost tour last night getting all set up for yet another tour today. He was still as suave as ever with his slicked back salt and pepper hair.
Feeling a bit lazy from our afternoon in, we decide to take on Arthur's Seat, an extinct volcano that sits on the outskirts of the city.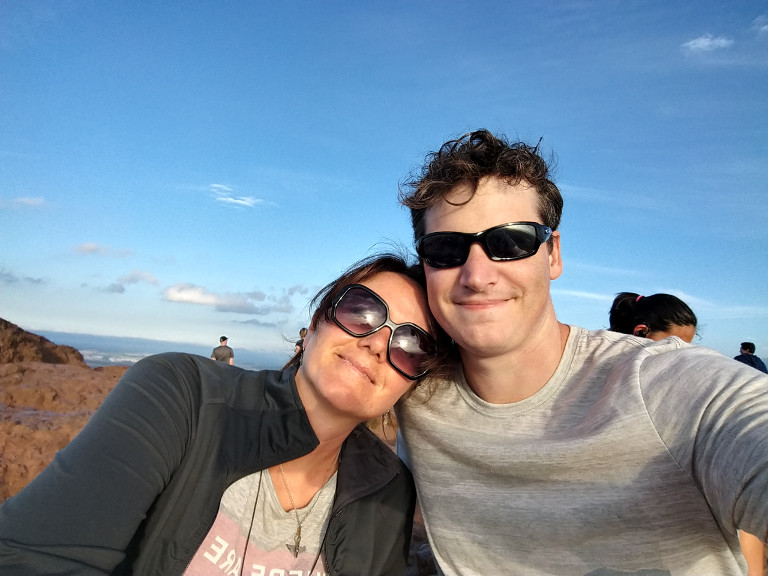 It was quite the climb in some places, but it was definitely worth it, the views from the top were breathtaking. We could even see Dundee our next stop for tomorrow.
We wanted to stay for the full sunset, but it was already 8:15pm and the sun wasnt due to set fo another hour and forty minutes.. So we decide to head back.
Down on ground level, we walk back up the Royal Mile with jelly legs to our apartment. The 9:30 ghost tour about to set off, we catch a glimpse of Kenny again wishing him a goodbye that he will never hear.
Time for bed, hopefully, tomorrow we won't get woken up at stupid o'clock by a big beer truck unloading kegs right under our window again.
Edinburgh Arthur's Seat Photos